What is a mop sauce?
This post may contain links from which I earn a commission. Please read my disclosure policy. As an Amazon affiliate, I earn from qualifying purchases.
A mop sauce is a thin vinegar-based barbecue sauce that is spiced with salt and black and/or red pepper. This sauce is used to baste meat on the grill and on a larger scale, to provide flavor and moisture at the end of cooking a whole hog, as is the tradition in South Carolina.
That tradition echoes the history of barbecue itself and you can taste that tradition in this recipe.
Watch as James Beard-award winning pitmaster, South Carolina's own Rodney Scott — originally of Scott's BBQ in Hemingway and now at Rodney Scott's BBQ in Charleston — literally mopping sauce onto a whole hog (and steak!) in this video:
What is in Rodney Scott's barbecue sauce?
Just watch and you'll see Rodney share the ingredients in his famous mop sauce: "Black pepper, red pepper, vinegar, and….." We'll let you listen in to find out the secret ingredient! (Skip ahead to 2:19 if you're impatient.)
Recently, he was seen on national tv, making an appearance on The Today Show.
Through this visit, the secret was revealed, and now we officially have Rodney Scott's mop sauce recipe and Rodney Scott's rib rub recipe, provided by the pitmaster himself.
If you make all of that, you'll have all the ingredients ready to make Rodney Scott's BBQ Ribs Recipe.
How is a mop sauce used?
In most applications, you simply baste your choice of meats periodically during the cook.
For quicker things like steak or chicken, you will want to hit them on the turns, as you are flipping the cuts. For longer cooks like ribs, you will want to mop occasionally throughout the time on the grill.
But won't your ribs become soggy?
Using a mop will not make your ribs soggy. In fact, the sauce will actually attract smoke to the meat, giving them smokier flavor in less time.
And, if you're grilling the ribs low and slow, as you should be, a mop will help keep the ribs from drying out.
Ok then, show me an authentic SC BBQ mop sauce recipe, please.
This anonymous submission is actually the second recipe submitted to our site. It is primarily used to mop ribs but works in any standard application.
"The mop sauce at once both slightly cool and flavor the meat, and because the sauce is so thin, it penetrates to flavor deeply," our contributor noted.
We're not sure if "Dad" is the person who submitted the recipe or, maybe, that person's father? Regardless, we pass it on to you.
Dad's vinegar-based Mop Sauce recipe works well in Rodney Scott's ribs recipe as well as his Collard Greens recipe, where a vinegar pepper sauce adds the critical flavor to the finished dish.
In addition, you can use this recipe in Rodney Scott's Smoked Turkey Recipe. There seems to be a trend here.
If you're looking for a different but equally authentic finishing sauce for when your barbecue comes off the grill, try the sauce my wife made famous among all our friends.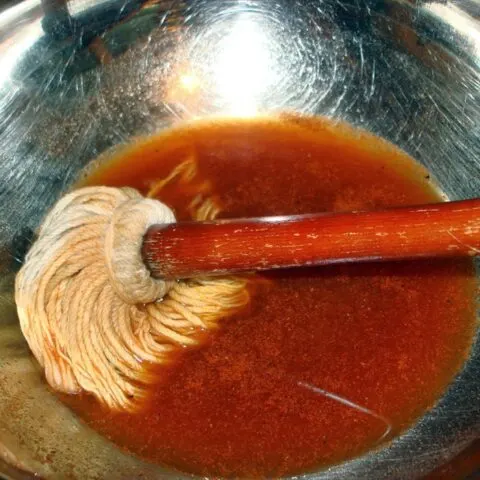 Dad's Mop Sauce
A vinegar-pepper BBQ mop sauce typical
Ingredients
2 cups apple cider vinegar, Heinz
1/2 cup white vinegar, Heinz
1/2 cup apple juice
1/4 cup dark brown sugar, firmly packed
1 tbsp Kosher salt, or any coarse salt
1/2 tbsp black pepper, freshly ground
1/2 tsp cayenne pepper
1/2 tsp sweet paprika
Instructions
Place all ingredients in a saucepan and bring to a boil.
Stir and reduce heat to low and simmer for 15 minutes.
Notes
I prefer to make this the day before cooking at the same time I season my ribs and allow it to cool overnight to room temperature. Baste ribs every hour during cooking.
Recommended Products
As an Amazon Associate and member of other affiliate programs, I earn from qualifying purchases.
Nutrition Information:
Yield:

24
Serving Size:

1 grams
Amount Per Serving:
Calories:

17
Total Fat:

1g
Saturated Fat:

1g
Unsaturated Fat:

0g
Sodium:

293mg
Carbohydrates:

3g
Fiber:

1g
Sugar:

3g
Protein:

1g
Like What We're Doing?
Want to see more coverage and features? Just want to show your support?
---
Like to Volunteer as One of our Recipe Testers?
We have a bookful of recipes to test and publish. Join the team and choose from our collection of unpublished recipes.
All we ask is that you photograph the process and share your thoughts on each recipe and the finished product. And we'll feature you when we publish that recipe.
Interested? Just send me an email.
---