This post may contain affiliate links to Amazon or other vendors I trust. Please read my disclosure policy. As an Amazon affiliate, I earn from qualifying purchases.
Eastern South Carolina barbecue is made special by many things, especially by the various vinegar-pepper BBQ sauce recipes that can be found throughout the Pee Dee region. Now you can make it at home.
I'll never forget my first bite of real BBQ.
I was a Cub Scout, maybe 7 or 8, and we had just returned from an overnight camping trip from somewhere at a nearby camp. Must have been owned by the First United Methodist Church in Cheraw, I don't know, but while we were there, I became cognizant of an oddity going on at the same time we were camping.
Some of the men were cooking entire pigs over coals. To a young mind, this was quite a curiosity, but not one that necessarily occupied that fleeting attention span for more than a few minutes and I was back off, playing with my troop.
Flash forward to the next day when we returned to the church and camping was over. Parents hadn't arrived yet, and I found myself again playing tag or hide-n-seek or something with my friends.
Anyway, at some point, I run into the church's kitchen, I'm all alone, and sitting on a low counter I find myself looking into a big silver chafing dish full of BBQ.
I reached in slowly, looking around to make sure I wouldn't be caught, and put a pinch into my mouth.
Literally, this was one of life's moments of epiphany. Light shined brighter, a knowing look of realization must have crossed my face, and I found heaven in a church kitchen.
Later, I would understand what it was that I tasted: whole hog BBQ cooked over glowing embers, mopped and served with a vinegar-pepper sauce.
To this day, for me anyway, this is the epitome of what real BBQ will always be. If you decide to hit the road, head up to the Pee Dee to the epicenter of the vinegar-pepper region of SC or use our map to search and you can filter for restaurants serving vinegar-based sauces.
Michael Ott, who originally grew up in Orangeburg County, the heart of Dukes BBQ country, shared his vinegar-pepper recipe with us.
"You might want the note on the vinegar sauce that this is a med spicy version and to add Tabasco, Texas Pete or more red peppers if they want to heat it up a bit," Michael added.
Enjoy this homemade Eastern SC Vinegar-Pepper BBQ Sauce Recipe: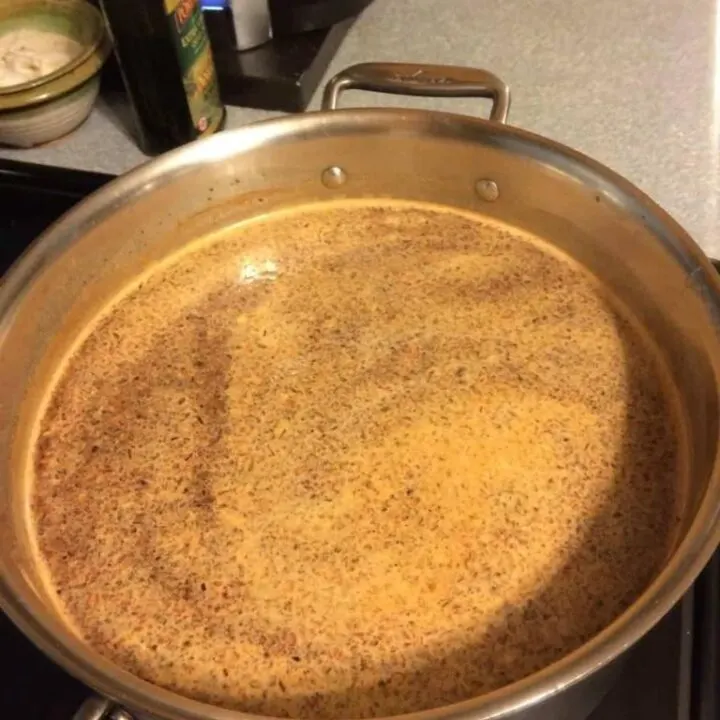 Eastern SC Vinegar-Pepper BBQ Sauce
An authentic vinegar-based barbecue sauce common in the Pee Dee region of SC
Ingredients
2 cups apple cider vinegar
2 tablespoon ketchup, or chili sauce
1 tablespoon kosher salt, or sea salt
1 tablespoon molasses
1/2 tablespoon black pepper
1/2 tablespoon red pepper flakes
Instructions
Put all ingredients in pot and heat until it starts to boil.
Take off heat and allow to cool.
Store in a small mason jar. Will keep in the fridge for several months.
Recommended Products
As an Amazon Associate and member of other affiliate programs, I earn from qualifying purchases.
Nutrition Information:
Yield:

48
Amount Per Serving:
Calories:

4000
Total Fat:

1g
Saturated Fat:

1g
Unsaturated Fat:

0g
Sodium:

153mg
Carbohydrates:

1g
Fiber:

1g
Sugar:

1g
Protein:

1g
---
Like to Volunteer as One of our Recipe Testers?
We have a bookful of recipes to test and publish. Join the team and choose from our collection of unpublished recipes.
All we ask is that you photograph the process and share your thoughts on each recipe and the finished product. And we'll feature you when we publish that recipe.
Interested? Just send me an email.
---
Check out these other SC BBQ sauce recipes we've published on destination-bbq, and we've published even more sauce (and rub) recipes in the SCBBQ Recipes: Going Whole Hog Cookbook. Read more about that here.
Sauces and Rubs:
Vinegar-Pepper Sauces
Mustard Sauces
Tomato-Based Sauces
Other Sauces
Rubs