This post may contain affiliate links to Amazon or other vendors I trust. Please read my disclosure policy. As an Amazon affiliate, I earn from qualifying purchases.
Homemade Salsa Verde for pulled pork barbecue on a site about SC BBQ?
Well, who said all the recipes had to be traditional?
This recipe comes all the way from Cabo San Lucas, Mexico, where John Padgett helped open The Naked Pig BBQ, a southern BBQ restaurant. He told us the story of how it originated:
"The salsa verde recipe is a little more interesting because of the avocado twist.
My wife is Mexican, so she talked me into having a salsa verde in the restaurant in case the locals asked for something more like their traditional carnitas style pork. I remember always having carnitas with the green salsa but had never made it, so I found a simple recipe.
By the way, there aren't many variations of salsa verde in Mexico, so they're all simple.
I headed out to the farmers market for the ingredients. While I was shopping for the tomatillos, there was a little old lady picking through them, so I began asking her questions in my broken "Spanglish" about the salsa.
She explained how to make it, and her recipe was the same as the one I had…with the exception that she added avocados, which really piqued my interest.
One morning while I was preparing the salsa, one of the Mexican boat captains that hung around the restaurant was watching me. When I started to add the avocados, a huge smile came over his face and he shook his head in approval.
He did this because not many taco stands or restaurants will add avocados due to the cost, but it is actually how the salsa is traditionally made.
I made this salsa verde with avocado chunks for pulled pork sandwiches and it is awesome, kinda like carnitas, only on a bun."
Yum. Thanks, John!
Here's John's recipe for Salsa Verde with Avocado for Pulled Pork: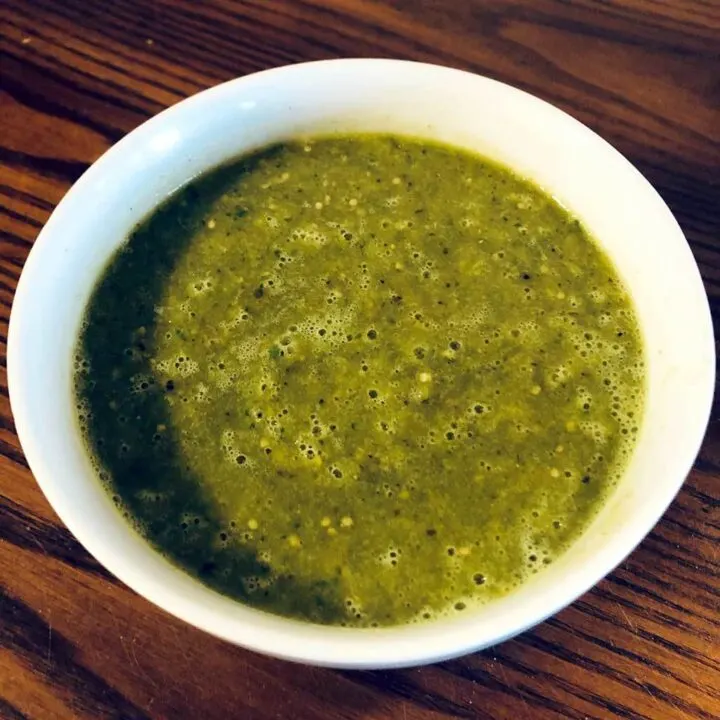 Salsa Verde with Avocado for Pulled Pork
Blending and Mixing:
5 minutes
Ingredients
1 pound tomatillos, husked
1/2 cup onion, finely chopped
1 teaspoon garlic, minced
1 Serrano chile peppers, minced
2 tablespoons cilantro, chopped
1 tablespoon fresh oregano, chopped
1/2 teaspoon cumin, ground
1 1/2 teaspoons salt, or to taste
2 cups water
1 avocado, diced, or maybe 2
Instructions
Add the husked tomatillos and chopped cilantro into a blender or food processor and blend the ingredients with a few quick pulses. You are going for just a quick blend, not a puree.
Pour the blended tomatillos into a bowl, and stir in the remaining ingredients.
Recommended Products
As an Amazon Associate and member of other affiliate programs, I earn from qualifying purchases.
Nutrition Information:
Yield:

20
Serving Size:

2 Tablespoons
Amount Per Serving:
Calories:

26
Total Fat:

2g
Saturated Fat:

1g
Unsaturated Fat:

0g
Sodium:

177mg
Carbohydrates:

3g
Fiber:

1g
Sugar:

1g
Protein:

1g
---
Like to Volunteer as One of our Recipe Testers?
We have a bookful of recipes to test and publish. Join the team and choose from our collection of unpublished recipes.
All we ask is that you photograph the process and share your thoughts on each recipe and the finished product. And we'll feature you when we publish that recipe.
Interested? Just send me an email.
---
Check out these other SC BBQ sauce recipes we've published on destination-bbq, and we've published even more sauce (and rub) recipes in the SCBBQ Recipes: Going Whole Hog Cookbook. Read more about that here.
Sauces and Rubs:
Vinegar-Pepper Sauces
Eastern SC Vinegar-Pepper Sauce Recipe
Lowcountry Vinegar Sauce Recipe
Mustard Sauces
Dukes BBQ Sauce – "Actual Recipe"
Simple South Carolina Mustard Sauce Recipe
Bessinger's-Style Gold Sauce Recipe
Tomato-Based Sauces
Bullies BBQs Thin Basting Sauce Recipe
Cherrywood Signature BBQ Sauce Recipe
"Carolina Red" Light Tomato Barbecue Sauce Recipe
Basic Tomato Barbecue Sauce Recipe
Other Sauces
Roller Family Hot Sauce Recipe
Rubs
Sticky Fingers' Basic Dry Rub Recipe
JB's Smokeshack-Style Spicy Dry Rub Recipe
Sticky Fingers' Texas Rub Recipe
BlackJack Barbecue Dry Rub Recipe
Sticky Fingers' Sweet Rib Rub Recipe
Home Team BBQ Dry Rub Recipe for Chicken Wings Recipe
John Lewis BBQ-Style Brisket Dry Rub Recipe