Listen to this Destination: BBQ article.
Holden's Ranch Chicken Stew: A Legendary Spartanburg Staple
This post may contain links from which I earn a commission. Please read my disclosure policy. As an Amazon affiliate, I earn from qualifying purchases.
This Holden's Ranch Style Chicken Stew recipe is a keeper. The recipe is also very similar in style to the chicken stew you might enjoy at Midway BBQ in Buffalo.
Chicken stew may well be the most popular item ordered at Holden's Ranch. Even though they cook the stew in a 60-gallon pot, the restaurant has sold as much as 120 gallons of that famous recipe on cold, rainy days. It is not uncommon for folks to buy it by the gallon.
Even with a kettle that large, sometimes it is hard to keep up with the demand. In fact, in 2014, Holden's alluded to that fact in a Facebook post:
"We know y'all enjoy our chicken stew on these cool, rainy days. Hope it was worth the wait for many of you. We will do our best to keep a close eye on the weather and be more prepared.
"We don't want to disappoint y'all by running out of stew this year!! Our new kettle should help solve some of the problems we have had in the past. Thanks again…and God bless."
When you have to get a new and improved kettle just to try to keep up, you know your chicken stew recipe is a good one.
Public Praise
Truth is, Holden's Ranch Chicken Stew recipe is so amazing that people rave about it on social media and the review sites.
For instance, English B wrote effusively about the chicken stew at Holden's Ranch on Yelp:
"I have grown up eating this chicken stew since I was an infant in Spartanburg, and have since made sure to eat it at least a couple of times a year, even after moving 2 hours away to Columbia at 2 years old, and then moving 24 hours away to Colorado 1 1/2 years ago.
"I dream of the chicken stew for the majority of my days, and I devour as much of it as I can when I get home.
"The chicken stew is always there for me. Its tastiness is one of my earliest memories and will hopefully be one of my last. Don't worry about any other reviews on here about the proteins or the hash, do yourself a favor and eat this chicken stew at least once in your life if you want it to be a life worth living."
Meanwhile, Ashleigh Lancaster feels blessed just to get to enjoy a bowl of the legendary Holden's Ranch Chicken Stew recipe:
Holden's Ranch Chicken Stew. ??? Blessed pic.twitter.com/WTkNW6vFow

— Ashleigh Lancaster (@ashleighlancs) December 14, 2019
A Little History
Holden's Ranch was founded by Phil Holden.
Serving the Spartanburg area since the 1970s, Holden's Ranch has stood the test of time. In the restaurant business, where places so often come and go, Holden's longevity deserves respect.
The simple, homemade roadside sign read "Hash and Bar-B-Cue for Fourth of July."
This unassuming proclamation introduced the world to what would become a Spartanburg mainstay when Holden first opened. That restaurant stood on Blackstock Road. He called the restaurant Holden's Ranch to evoke the western theme he wanted to reflect in his menu.
The sign tradition, started by Holden's sister Diane King, has continued to this day. On special holidays, it is not uncommon to see similar signs on display around Holden's Ranch.
Before long, Holden moved to a strip mall near Westview School because he needed a larger space. Not surprisingly, it didn't take long until he outgrew that location, and he was forced to move to a spot on W.O. Ezell Boulevard.
Holden literally moved that restaurant — the entire building — to its current location on the 295 Bypass, where it has served the Spartanburg community ever since. Unfortunately, Holden passed away in 2014.
Today, Holden's Ranch is owned by former manager Jeff Hodges.
Want to visit? If you are taking a road trip along Interstate 26 or simply in the Spartanburg area, you'll find Holden's Ranch less than four miles from Exit 21.
Family Recipes
Holden's Ranch is, of course, famous for its chicken stew. You can get a small bowl with crackers for under $4 or go for the stew dinner for less than $6. Or you can make your own using the Holden's Ranch Chicken Stew recipe below!
Like many recipes the restaurant is known for, the original chicken stew recipe came from family. In addition to the Holden family's chicken stew recipe, Holden's mother, the late Ethel Holden-Kempel, created the hot dog chili recipe as well as the recipe for their coleslaw.
"Some of these recipes have been around a long time," Hodges was once quoted as saying. "Some are about 100 years old, especially ones from Phil's family. I don't know where they are anymore. They are just in my head."
"The chicken stew brings them out like crazy," King professed.
Hodges claimed people often try to duplicate the Holden's Ranch Chicken Stew recipe, but he warned that it's not easily copied. The restaurant boils whole chickens before combining the meat with milk and certain spices they are not willing to name.
Today, you can try your hand at this Holden's Ranch Chicken Stew recipe. We feel it is as close as you're going to get at home…unless, of course, you're one of the folks who brought one of those gallons home for yourself.
The Process
The truth is, this version of Holden's Ranch Chicken Stew recipe is not that complicated. This version is inspired by one devised by Jewels Crowe on the site Jewels Eats, as well as a couple of others we tested.
In short, you will boil a chicken, whole or cut into parts, in water that you may optionally season with carrot, celery, and onion. You may also throw in a few peppercorns, too, if you like.
Boil the chicken until it is falling apart. Then remove the chicken and pull the meat from the carcass when it is cool enough to handle. Add the skin, cartilage, and other unwanted bits back into the stock as you are pulling the meat. This allows the stock to absorb even more flavor from the chicken.
Reduce the liquid down to about 2 cups of stock, once strained. Don't get too worried about this measurement. Just understand that the more you reduce the stock, the more concentrated the chicken flavor will be and the less you will "water down" the stew later on.
As the stock is reducing, "squeeze" the reserved chicken meat with your hands to break it down into fine strands.
Chop and sauté some onion in butter. Add in the two types of milk, stock (or substitute the shortcut below), and add the salt, pepper, and paprika.
Once you've added these ingredients, allow to simmer for 10 minutes or so, then pour in some cream of chicken soup at the end for a final simmer and enjoy.
That's all there is to it!
(I'd like to thank Wiley Adams, our recipe tester, for his help with this Holden's Ranch Chicken Stew recipe.)
A Shortcut
Of course, the process of boiling a chicken, picking it, and reducing the stock can take some time.
If you'd like a shortcut, skip the part above and buy a rotisserie chicken. Use the juices from the store-bought chicken along with about 2 teaspoons (or so) of Better than Bouillon Chicken base (or even regular chicken bouillon cubes, if you must). Just add the bouillon and juices (no extra water needed) to the stew in place of the reduced stock.
Some Tips
Some like to add up to a tablespoon of sugar to this mix for a subtle sweetness.
Substitute some heavy whipping cream for an equal part of the whole milk.
Some suggest pureeing the chicken skin in the stock for a richer finish.
Saltines are suggested, but for a kick try Alabama Fire Crackers (as seen in photo).
Stir regularly to avoid scorching.
So whether you're looking to recreate the chicken stew recipe you have tried at Holden's Ranch or at Midway BBQ, this is the recipe for you.
Simple, creamy, warm. What more could you want on a cold, rainy day…or any day, really?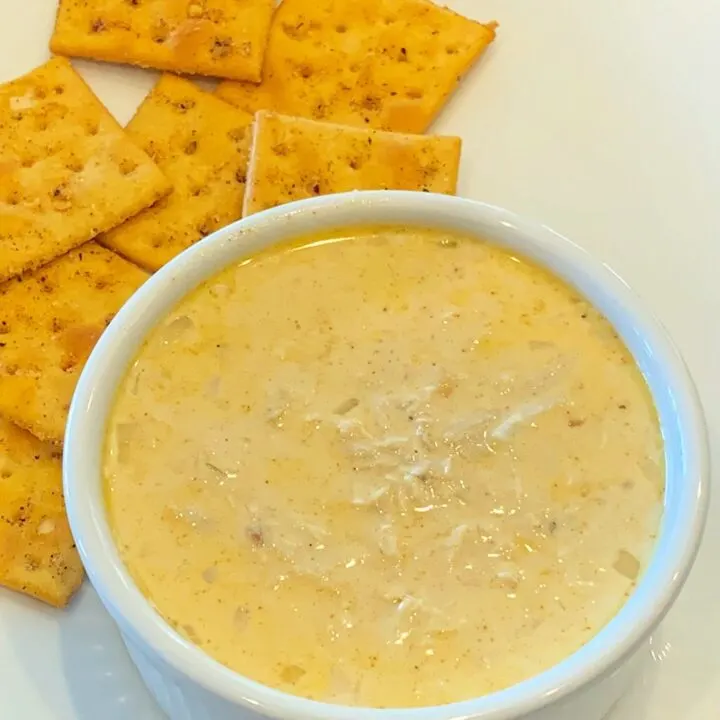 Holden's Ranch Style Chicken Stew
For the Stock Reduction:
2 hours
Creamy and comforting, this rich chicken stew is a copycat recipe of the much-loved Spartanburg classic.
Ingredients
1 Chicken, whole or cut into pieces
1 Gallon Water, or enough to cover the chicken
1 Onion, quartered
1 Carrot, quartered
1 stalk Celery, quartered
1 Teaspoon Peppercorns, optional
2 Tablespoons Butter
1 Onion, chopped fine
4 Cans Evaporated Milk
2 Cups Whole Milk
2 Cups Reduced Stock*, strained, skimmed
1/8 Teaspoon Paprika
Salt, to taste
Pepper, to taste
1/2 Can Cream of Chicken Soup, or more
Instructions
For the Stock
Add the chicken to a stockpot, along with the carrot, onion, celery, and peppercorns.
Cover with water, bring to a boil, then reduce to a simmer, skimming foam as necessary.
Cover and cook until the chicken is starting to fall apart, at least an hour.
Remove chicken from pot and allow to cool. Continue to simmer stock on stove.
When cool enough to handle, separate meat from skin, bone, and other undesirable bits. Add those bits back into the simmering stock.
Return stock to a boil, then turn down to heavy simmer to reduce stock down to about 2 total cups, strained, with fat removed.
For the Stew
Squeeze the chicken meat in your hands until it is finely shredded. Set aside.
In a large pot, sauté the onion in the butter until the onions are translucent.
Add the evaporated milk, whole milk, and the strained stock reduction (or the bouillon).
Let all these ingredients simmer on low for 20 minutes stirring constantly until the milk mixture is hot.
Then add the chicken and the seasonings. Continue to let the stew simmer for 10 minutes.
Finish with 1/2 can of cream of chicken soup, or more to thicken.
Cover and let the stew simmer another 10 minutes on low-medium heat to let all the flavors meld.
Notes
*Substitute 2 teaspoons of Better than Bouillon chicken base by adding directly into stew instead of the stock reduction.
Special Thanks to Wiley Adams who served as tester and photographer on this recipe.
Recommended Products
As an Amazon Associate and member of other affiliate programs, I earn from qualifying purchases.
Nutrition Information:
Yield:

10
Serving Size:

2 cups
Amount Per Serving:
Calories:

449
Total Fat:

28g
Saturated Fat:

13g
Unsaturated Fat:

0g
Cholesterol:

112mg
Sodium:

447mg
Carbohydrates:

22g
Fiber:

1g
Sugar:

19g
Protein:

27g
---
Like to Volunteer as One of our Recipe Testers?
We have a bookful of recipes to test and publish. Join the team and choose from our collection of unpublished recipes.
All we ask is that you photograph the process and share your thoughts on each recipe and the finished product. And we'll feature you when we publish that recipe.
Interested? Just send me an email.