This post may contain links from which I earn a commission. Please read my disclosure policy. As an Amazon affiliate, I earn from qualifying purchases.
If you're looking for great food and meat at a GREAT price, you need to visit Midway BBBQ and Market in Buffalo just outside of Union.
It's probably a bit different than any other barbecue joint you have tried.
First, the smell the hickory smoke immediately gets your attention when you walk in the door. The restaurant has a rustic feel with muted lighting hanging from cedar walls. More striking, Midway BBQ regularly has sawdust scattered upon the floor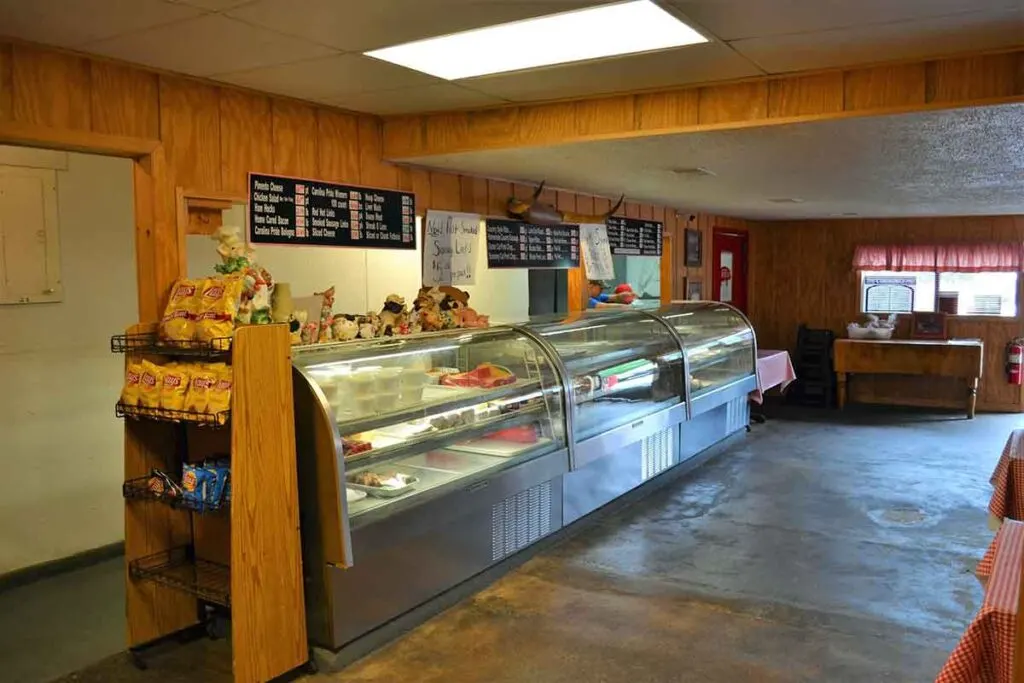 As you enter, you'll first find the cases for Midway's meat market. Yes, not only is Midway a BBQ joint, but it is also a butcher shop. You can purchase bacon, sausage, ground beef, steaks, and other assorted, uncooked meats there.
Barbecue, however, is what the restaurant built its reputation upon.
Jack Odell founded Midway BBQ in 1941, though it wasn't always at the current location. Odell started serving barbecue at his family's grocery store and restaurant in the early 40s.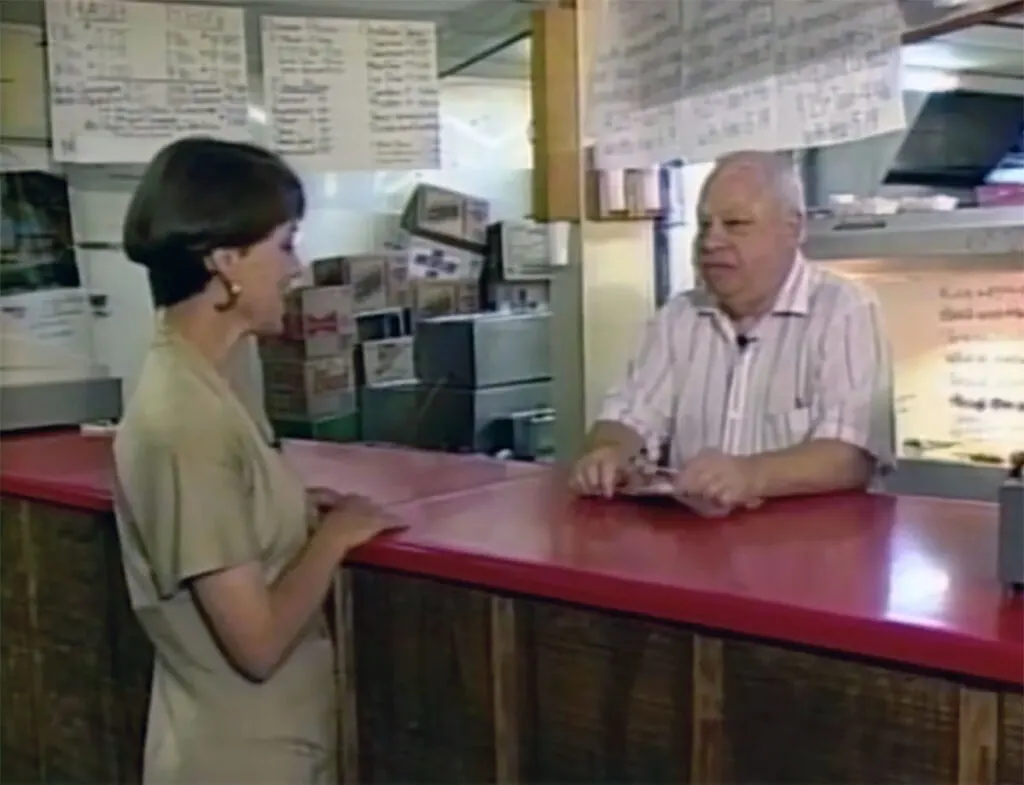 In 1967, Odell moved his operation to their location in Buffalo. Odell has since passed and today, Odell's daughter, Amy Allen and her husband Jay own and operate the restaurant.
South Carolina hash varies in different parts of the state. In and around Union and Gaffney, the hash is made primarily with beef.
The beef hash recipe at Midway is the most popular item on the menu. Each batch is stewed in a 100-gallon cast-iron pot.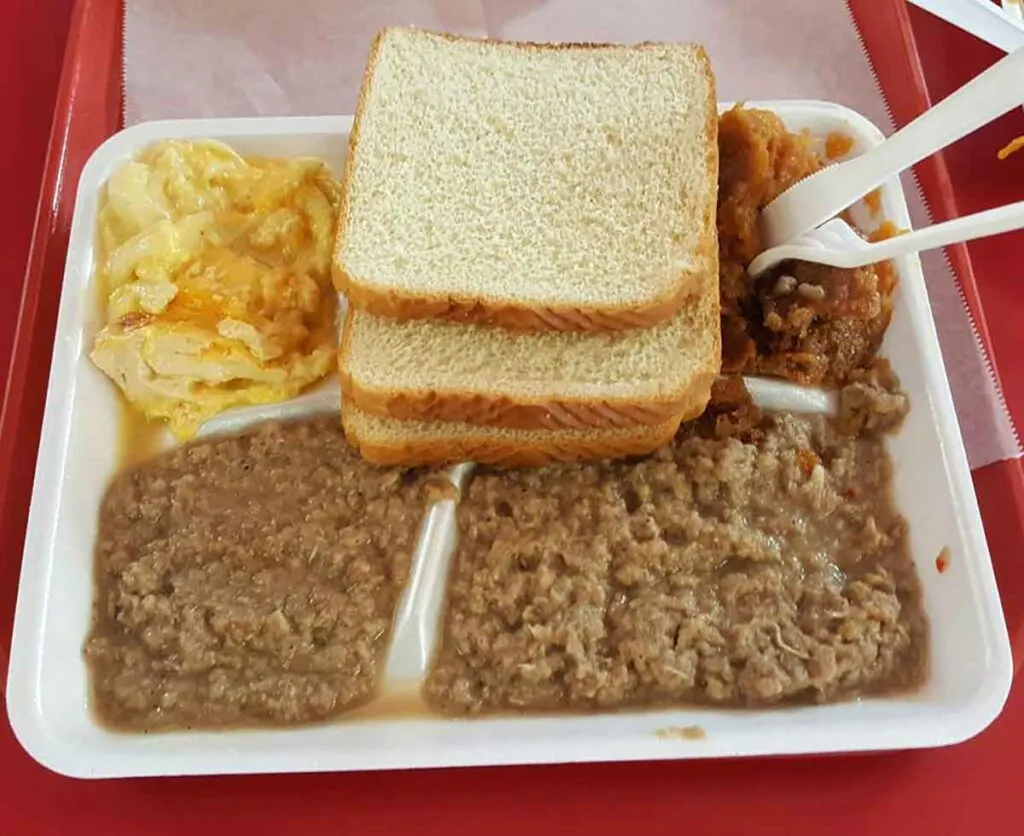 "I don't know how old it is," Jay Allen told Dudley Brown, reporter for The Spartanburg Herald Journal. "It's probably been here longer than any of us. It does the trick."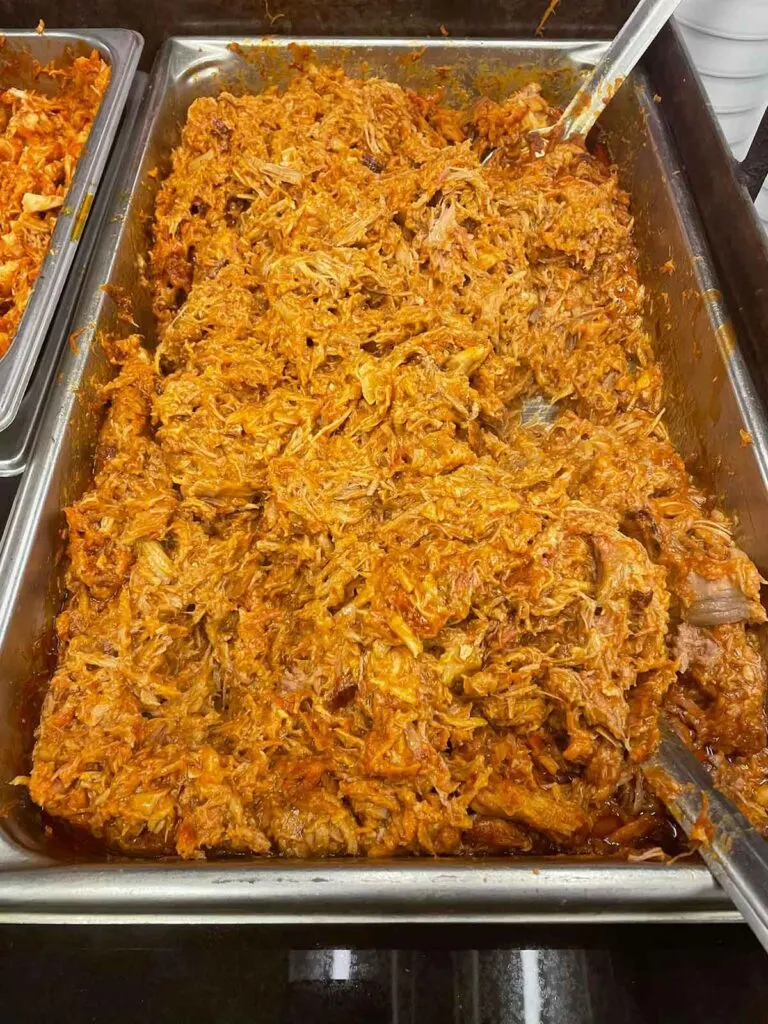 As for the barbecue, Allen said the barbecue at Midway gets its flavor from being cooked over hickory wood and seasoned.
"We cook like we like to eat it," Allen told Brown. "We like it seasoned."
Another popular item on the menu is Midway's chicken stew. It's a creamy take chicken stew, not at all like chicken stew in most other parts of the US. Known in other areas as chicken mull, Midway's version is exceptional.
If you'd like to try your hand at recreating Midway BBQ's chicken stew at home, our Holden's Ranch Chicken Stew recipe is remarkably similar in every way.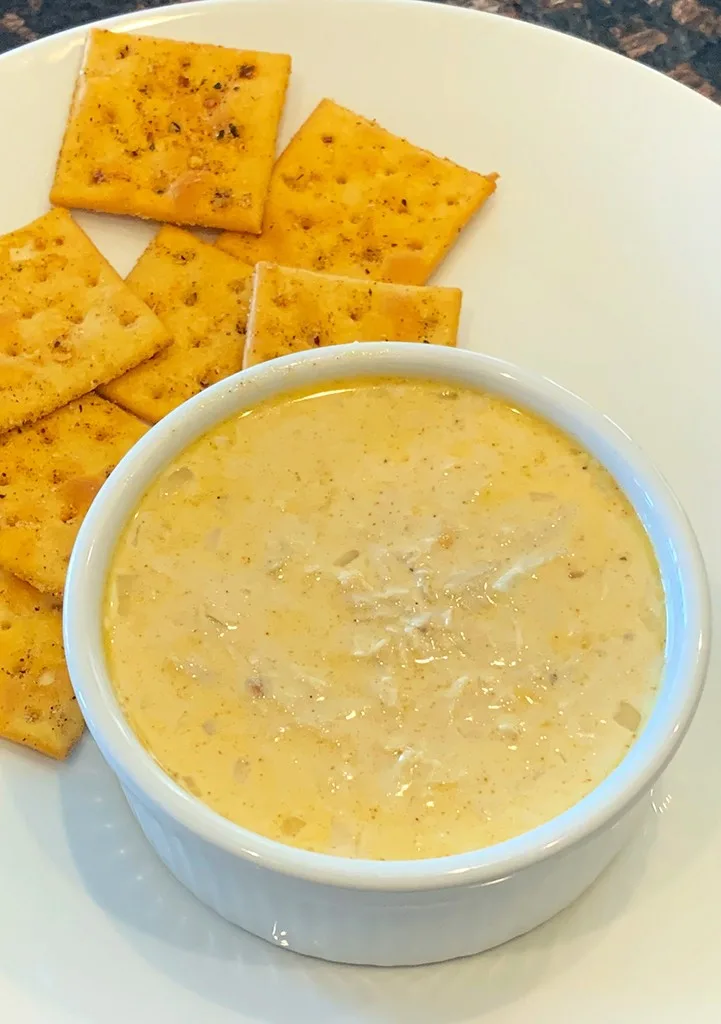 What Folks are Saying
Google Review
Among the many Google Reviews, Local Guide Michael Babb reported that he tried Midway BBQ because of its reputation and soon understood why it has stood the test of time:
This place was an excellent lunch spot for a fantastic bbq meal with delicious sides!
A coworker had told me about the restaurant and, of course, I had to try it the next time I was traveling through and today was the day!!!
The plate is BBQ pork, beef hash (new to me but delish, usually have pork hash where I'm from), SOME OF THE BEST collards I've ever eaten at a restaurant and sweet mix pickles with loaf bread!!
They must have some of grandma's recipes handed down and followed with care to get such GREAT FLAVORS since 1941!!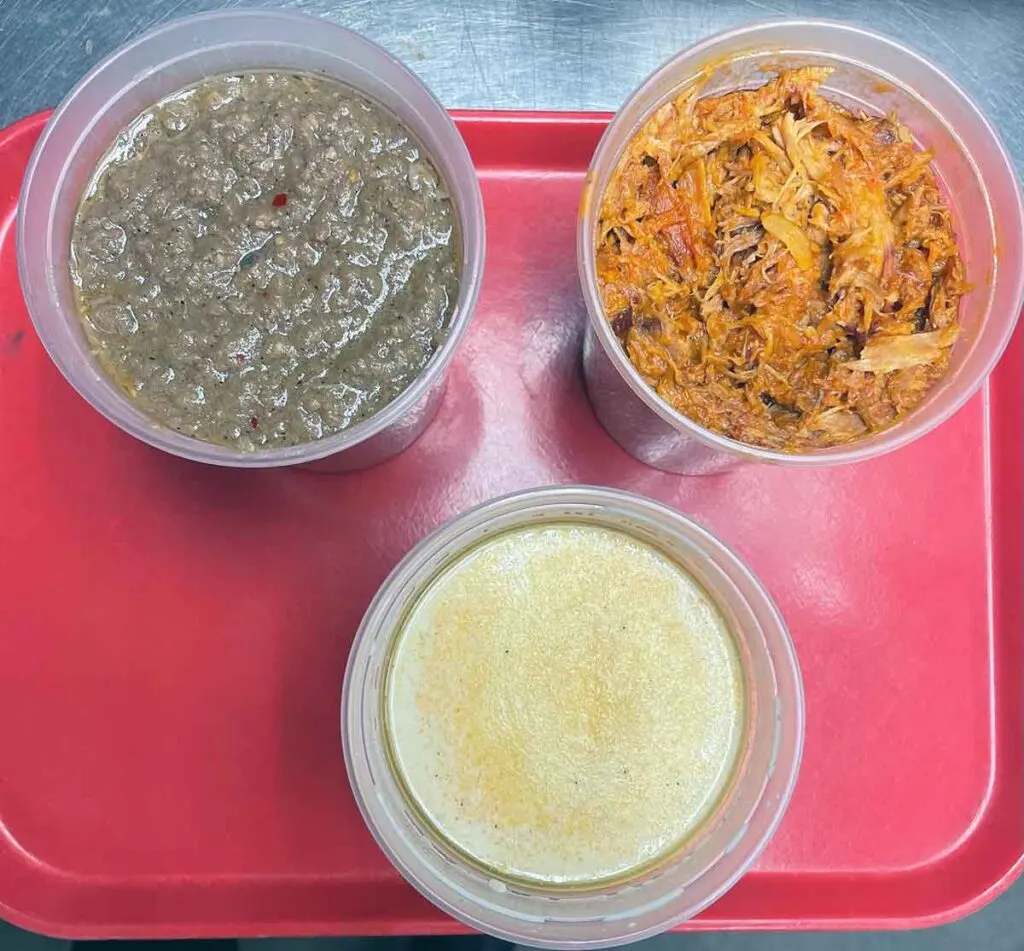 Yelp Review
Over on Yelp, Amy B said the food at Midway BBQ was so good no one in her family would share:
DELICIOUS, AMAZINGLY GOOD, keep doing what you're doing!! BBQ done RIGHT!
I could go on and on. Have you ever been to a place that caused your tastebuds to be overwhelmed in yummy goodness? Well, this place did it for us!!
Our family loves to share ….however here, it was get your own!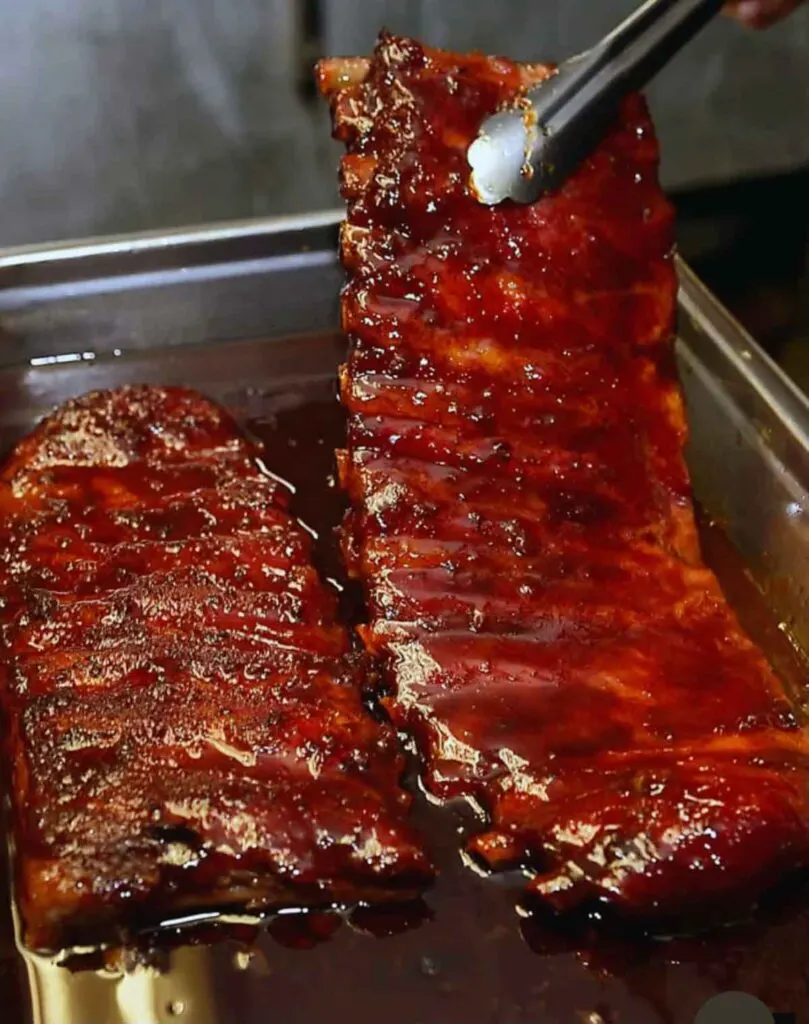 BBQ RIBS, finger licking good…about the best we've ever had. Pulled pork; hello yum! Sides, sweet potato casserole off the hook, baked beans a whole lot of tasty goodness.
And for dessert, trust me, all you need to order is the banana pudding…but you might need more than one!
This is seriously some delicious BBQ! Sweet tea was spot on, they have their tea-to-sugar ratio perfected.
The employees are all very helpful and friendly and hard working. The restaurant is very clean, tables and condiments are well maintained. There was not one employee that wasn't working in some capacity. The restrooms were very clean too.
If you have a chance to stop in and eat, I highly recommend it!
SC BBQ Association
Sure, folks on review sites often have great things to say about a place, but what about the folks who really know SC BBQ better than anyone? What about the folks who actually train the judges for SC BBQ competitions?
What do they think of this place?
The SC BBQ Association has deemed Midway BBQ to be 100-Mile BBQ, BBQ worth driving 100 miles for. Here's an excerpt from their review:
Midway Barbeque has been in the same location since 1941 and that probably makes it the oldest continuously operated barbeque restaurant in South Carolina. And if you go there at lunchtime you will be lucky to get a parking place. Those two indicators will tell you almost all you need to know.
…and, boy is that beef hash good. It's one of their biggest sellers. But the barbeque is the thing.
It's cooked over coals in an ancient (original), semi-indoor pit over hickory and oak. Then it is chopped and pulled and mixed with two types of sauce that gives you a choice between an upstate mustard sauce and an upstate red sauce.
I like them both. My favorite is the red sauce, but, in truth, I prefer it without sauce just as it comes off the pit.
---
Get to Know Them
Enjoy this interview with Jay Allen of Midway BBQ:

Menu for Midway BBQ
Note: Menu prices and options are subject to change over time. Contact the restaurant for the most up-to-date information.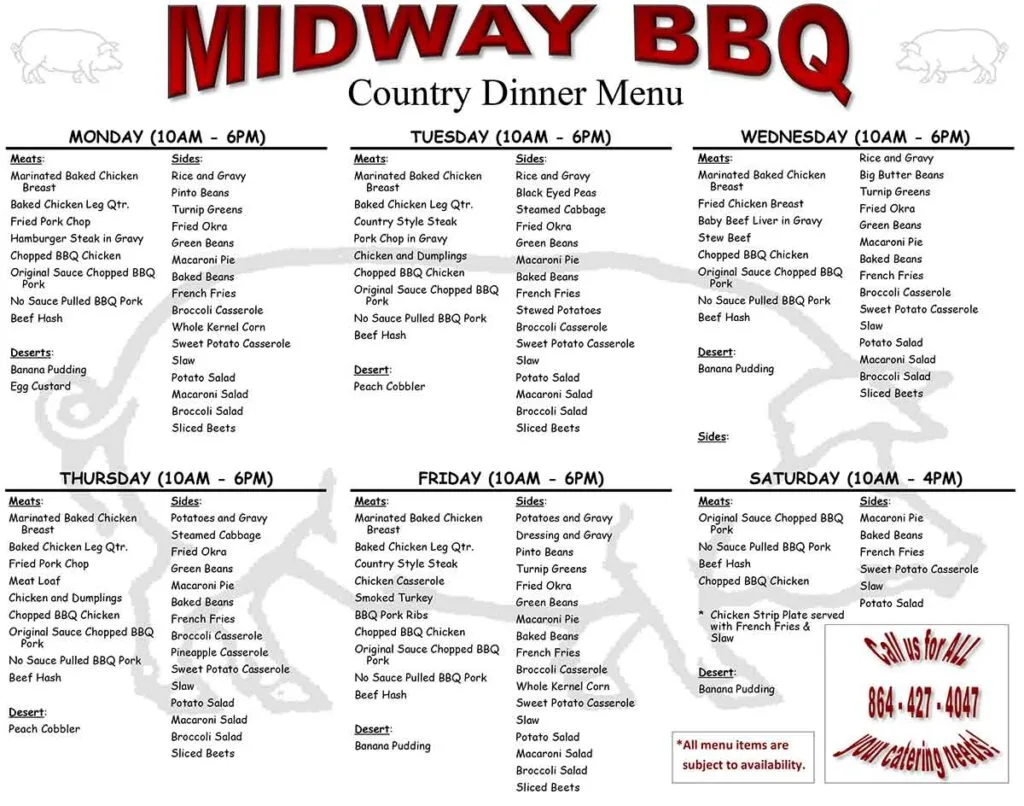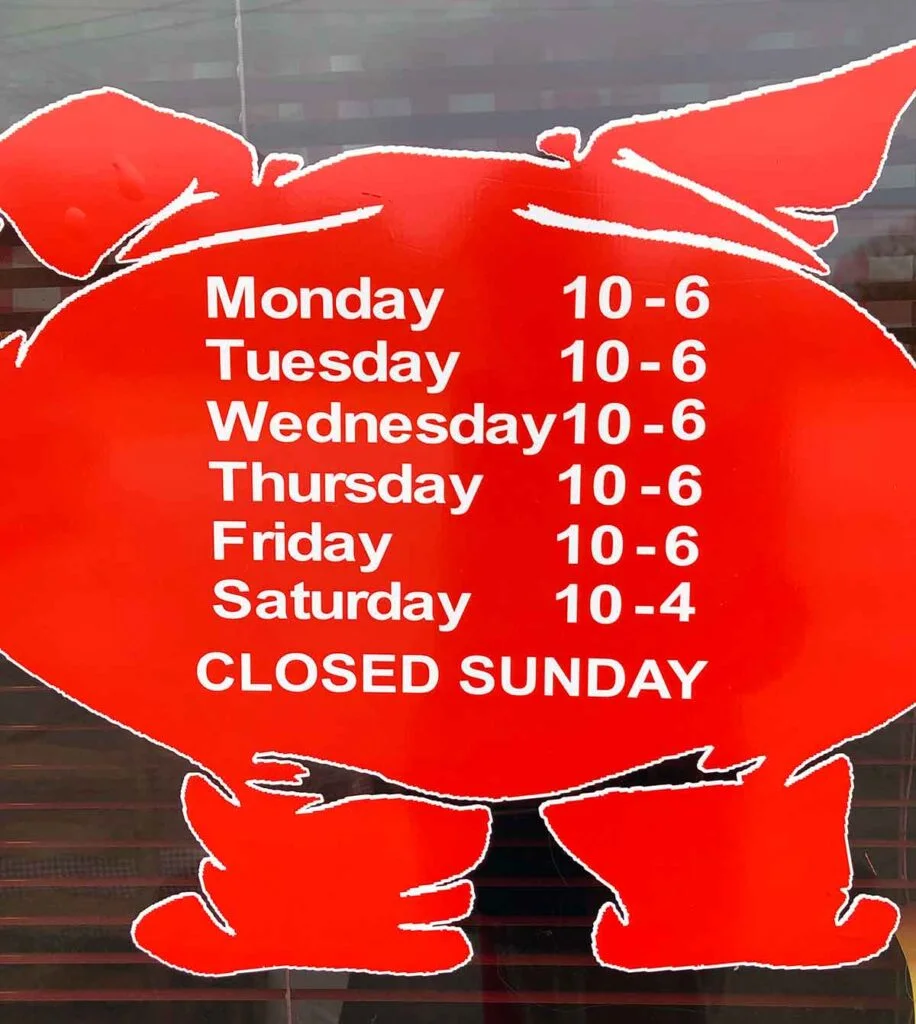 Location, Hours, Contact Info, and More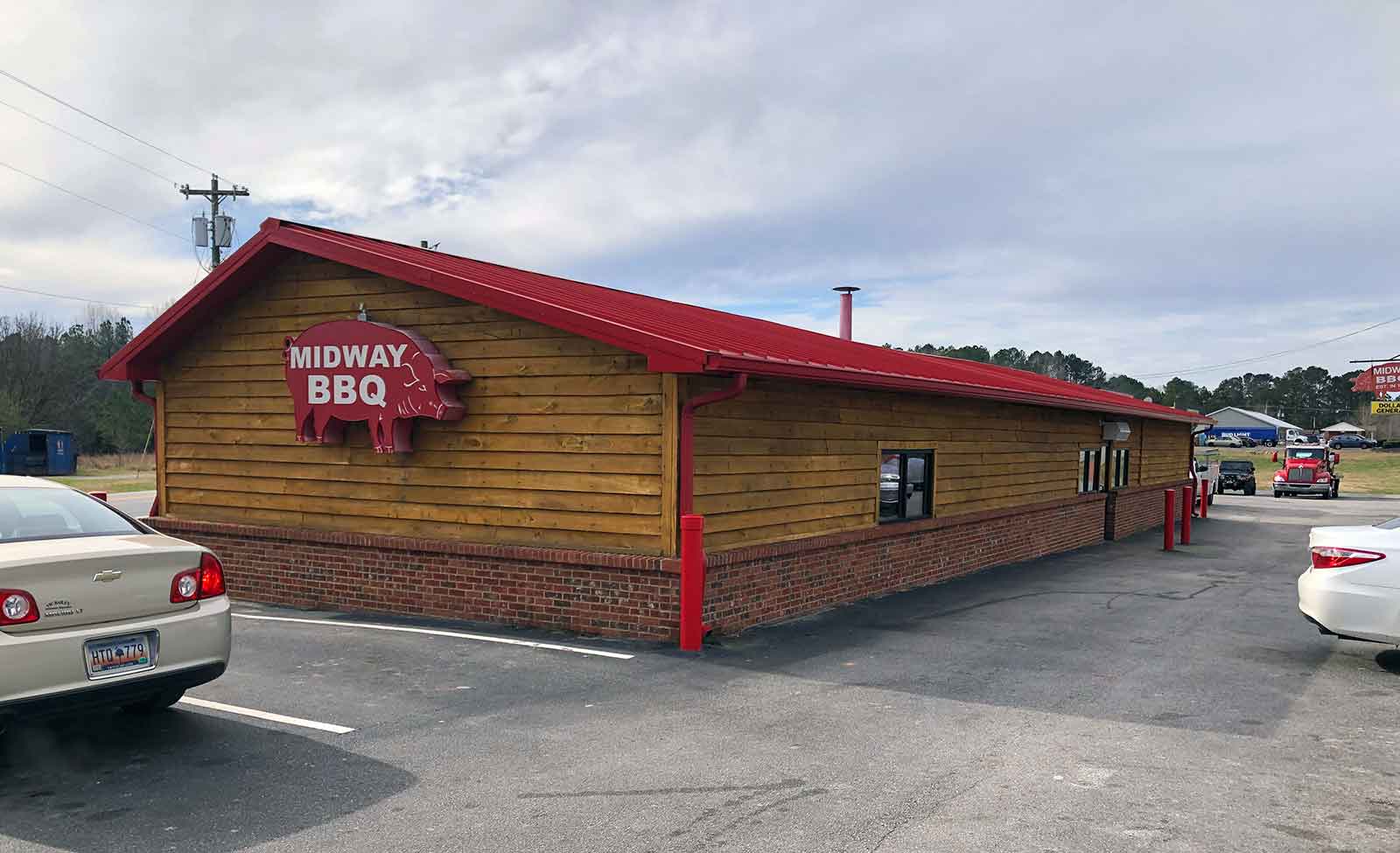 Map
Directions
Contact Midway BBQ
811 Main Street
Buffalo,
SC
29321
Hours of Operation
| | |
| --- | --- |
| Monday | Closed |
| Tuesday | |
| Wednesday | |
| Thursday | |
| Friday | |
| Saturday | |
| Sunday | Closed |
Social Media
Review Sites
Features
100 Mile BBQ, Cards and Cash, Hash, Heavy Tomato Sauce, Mustard Sauce, True 'Cue Certified, Vinegar Pepper Sauce