This post may contain affiliate links to Amazon or other vendors I trust. Please read my disclosure policy. As an Amazon affiliate, I earn from qualifying purchases.
The recipe for the easiest Southern Tomato Pie comes from Lone Star BBQ in Santee, SC. Without question, Lone Star is known far and wide for its tomato pie.
One of the things that makes it special and one of the easiest tomato pie recipes to make is the fact that it does not even require a pie crust.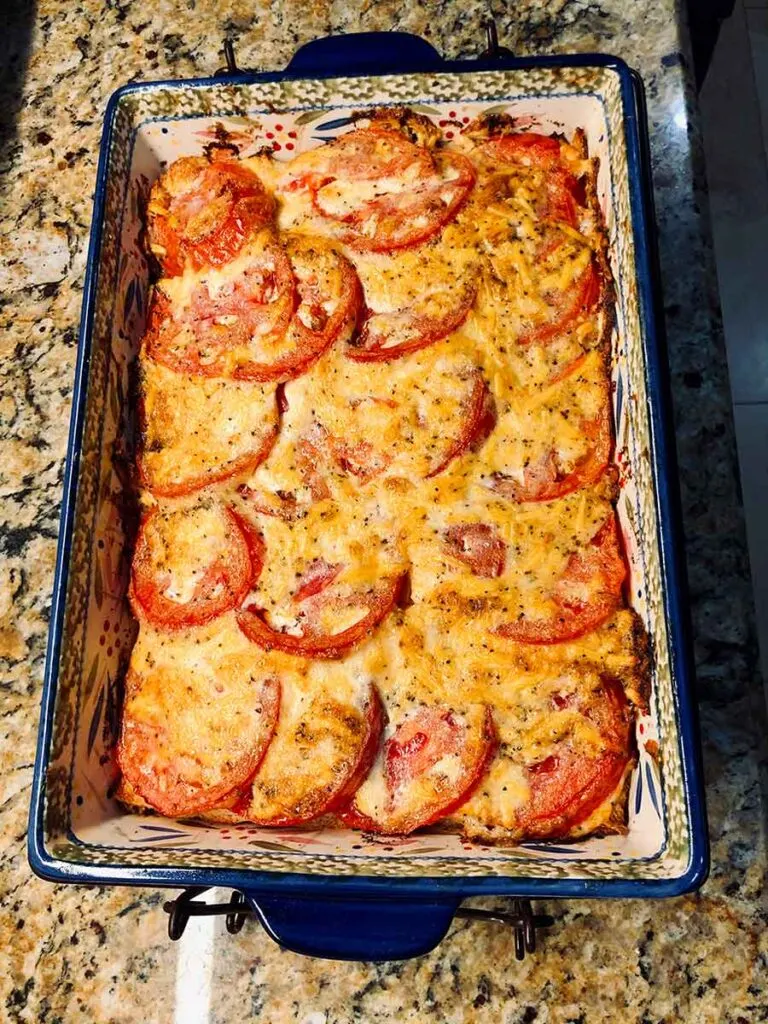 Read on:
What is tomato pie?
"Tomato pie" can mean different things to different people.
If you're from the Northeast, tomato pie is something entirely different than what someone from South Carolina pictures when hearing the name. Around New Jersey, when someone asks for tomato pie, they want what amounts to a pizza in reverse.
Trenton's Tomato Pie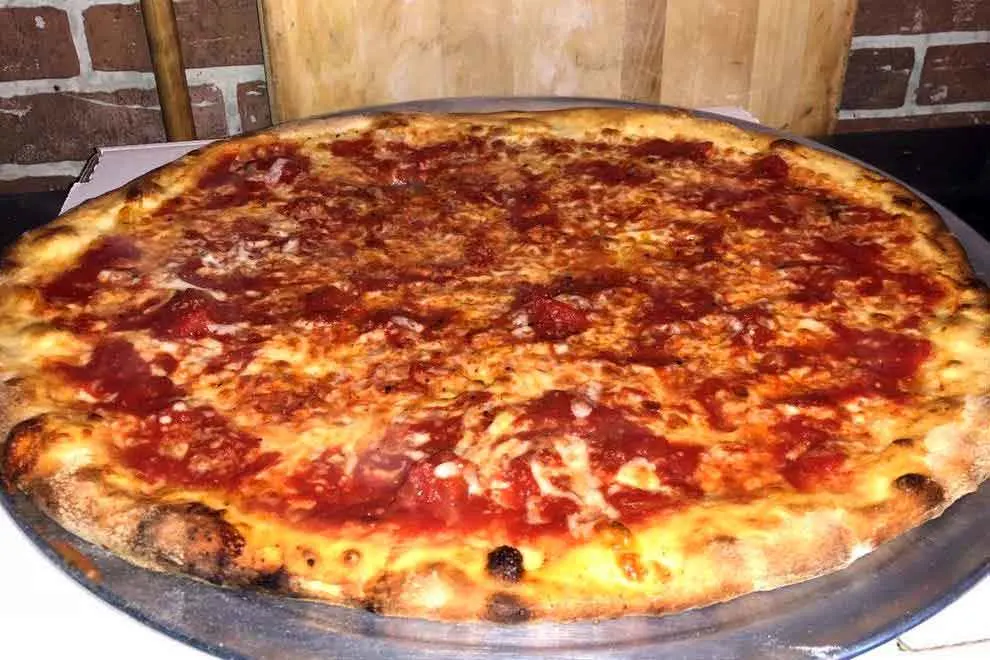 Dan Bergstein wrote about the topic for Best of NJ. In the article "NJ Vocabulary: What Is a Tomato Pie?" Bergstein interviewed the owner of Papa's Tomato Pies, Nick Azzaro, just outside of Trenton.
"People up and down the street will tell you what a tomato pie is and isn't," said Azzaro. "But it's very simple: for a tomato pie, we put the cheese on first, and the tomatoes on top.
"If they order a pizza, we put the cheese on the top. If they order a tomato pie, we put the tomatoes on top, but it's all the same ingredients."
South Philly's Tomato Pie
In Philadelphia, however, your tomato pie is going to come without any cheese at all.
Caroline Russock, reporting on tomato pie for Eater, notes that South Philly is the "epicenter" of this style of tomato pie, often served in bakeries and pizzerias. She quotes pizza tour guide Scott Weiner on the difference:
"There's Philly bakery style and then there's Trenton style," he says.
"The bakery tomato pie starts with pan-proofed, focaccia-like dough that's topped with a chunky tomato sauce, has little to no cheese, and is served at room temperature."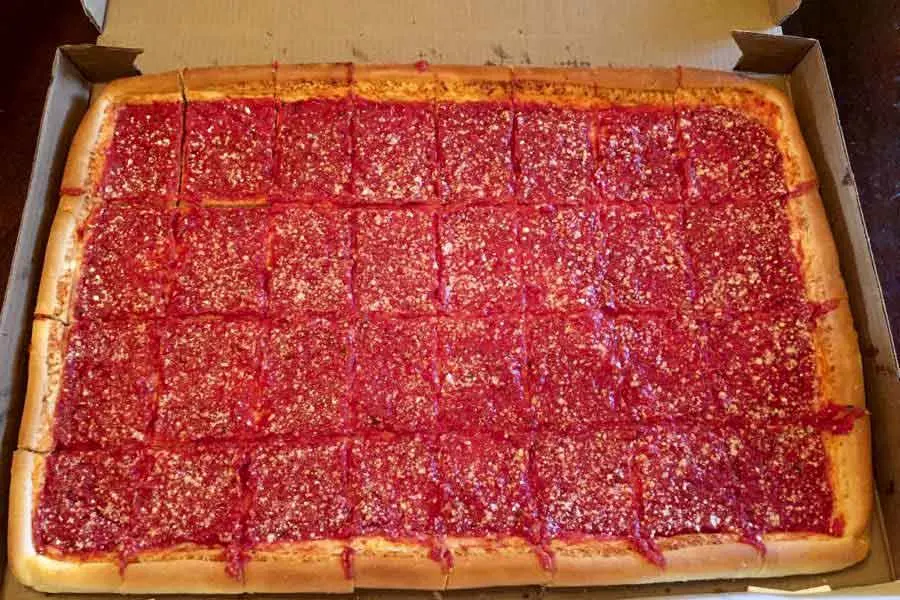 "Trenton-style tomato pie, meanwhile, is basically another name for a regional pizza style featuring a thin, crunchy crust that's topped first with cheese, then finished with a lightly crushed tomato."
Whether it is a reverse pizza like you see in New Jersey or tomato sauce on thick breading, that's not the tomato pie recipe you're going to get in the South.
Southern Tomato Pie
During summer in the South when gardens are brimming with ripe fruit, tomato pies become a staple.
Virtually everyone has his or her own version. Those who have the foresight to bring one to pot-lucks or other gatherings are hailed and celebrated, especially when it is a particularly good recipe.
Down here, tomato pie recipes are much more like the name suggests: tomato with other fillings, almost always including mayonnaise and cheese, in a pie crust.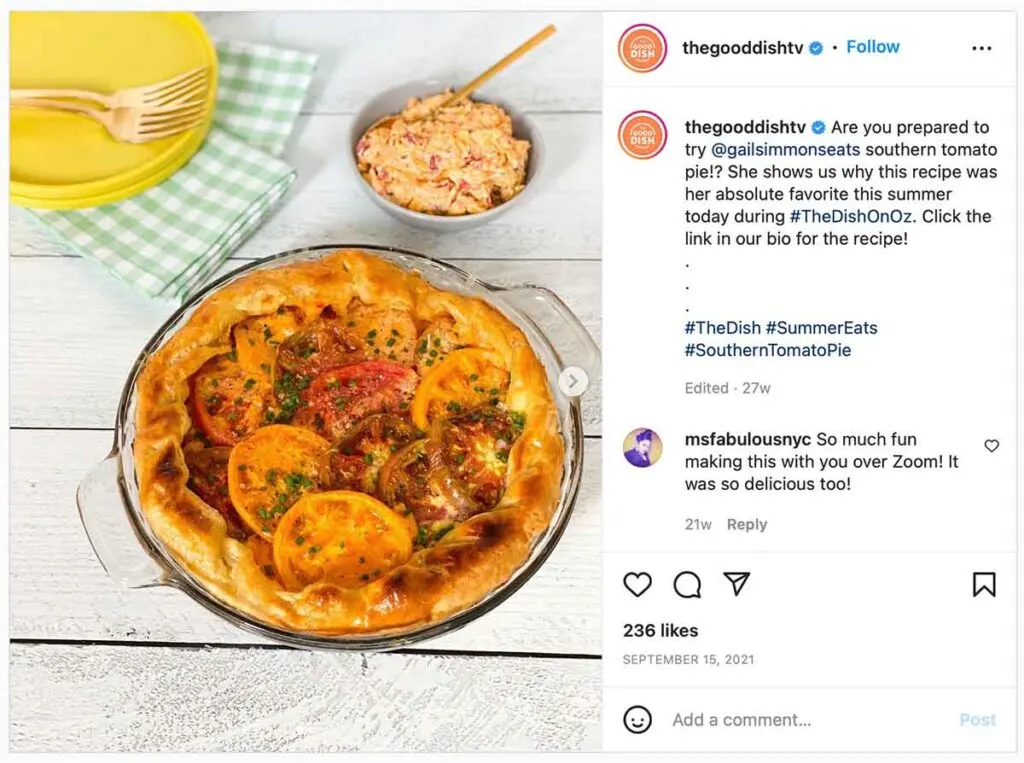 Origins of the Southern Tomato Pie
Let's be honest: like with the origins of barbecue itself, there is no clear answer to who developed the recipe or even where the southern tomato pie originated. The best we might be able to answer is when tomato pie entered southern culture.
The earliest references to tomato pie actually go back to the 1800s. However, this was for a green tomato pie.
The Green Tomato Pie
In this case, green tomatoes were used more or less as a replacement for apples in what is a dessert pie.
According to Wikipedia, "Green tomato pies and indeed green tomatoes, in general, were more common in 19th-century American cooking than they are in the present day, and this sweet pie is less common than the savory southern tomato pie. Green tomatoes were a common substitute for apples during the summer in the 19th-century, and are more consistent in tartness and texture than apples."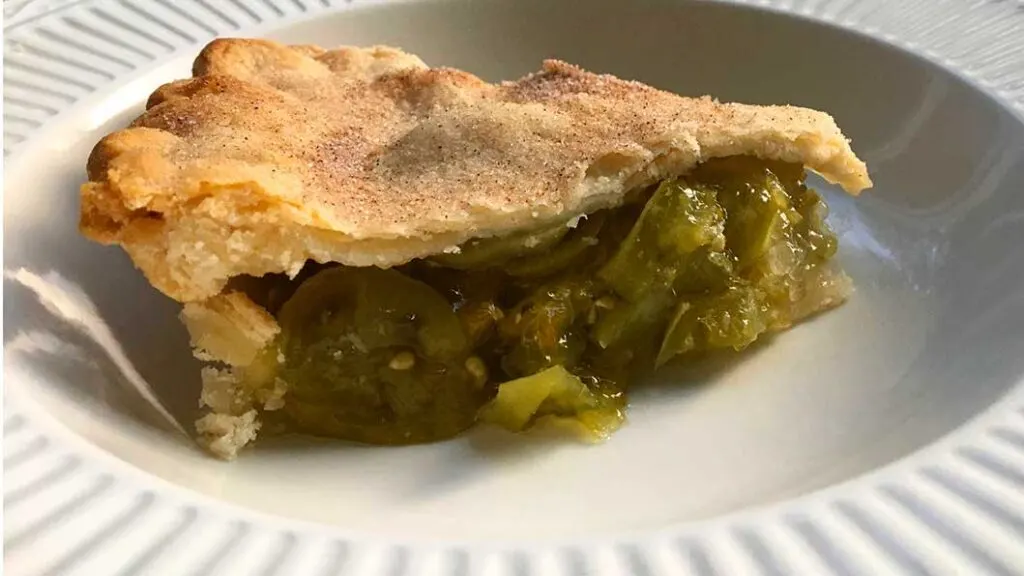 In the 19th-century, green tomato pie was remarkably similar to apple pie. Sliced green tomatoes and sugar were baked in a pastry crust, sometimes with water, flour, molasses, cinnamon, and lemon zest or vinegar added.
If you have a few green tomatoes and a hankering for some dessert, we'd suggest this recipe from Southern Living.
A Shaker's Pie?
As for the origin of our standard (red) tomato pie recipe, some folks suggest Shaker recipes from the 1800s may have been the first. These pies were made with ripe tomatoes, cream, and bacon.
While these savory pies are much more like the version we enjoy today, they are obviously not exactly the same. Today, we don't normally use cream or meat in our southern tomato pies.
No matter how delicious, meat is, at best, a rare and optional ingredient. Most purists turn up their noses even at bacon.
From Mayo Makers?
In an article for Southern Living entitled "Why Tomato Pie Is a Summertime Classic," Sandra A Gutierrez writes that cookbook author Damon Lee Fowler believes the southern tomato pie became widely popular in the 1970s.
She quotes Fowler as saying, "None of my community cookbooks from before then or the big Southern food writers of that time—Mrs. S.R. Dull, Mildred Evans Warren, Marion Brown, Grace Hartley—have anything like that."
In fact, Fowler suggested that "mayonnaise manufacturers might have come up with the original recipe and included it in promotional materials for the home cook, causing this tasty idea to soon spread across the South."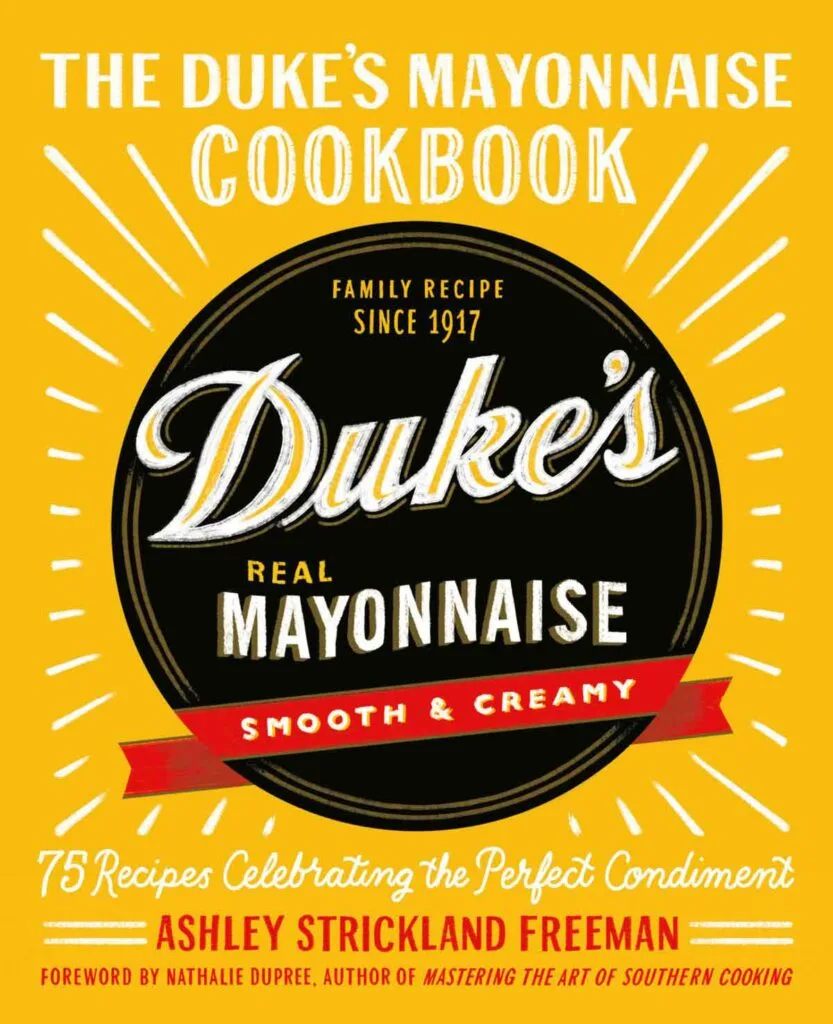 For the record, the first tomato pie recipe in Southern Living appeared in June 1978. It was submitted by Mrs. Rose Welsh from Seabrook, Maryland.
Her recipe included both provolone and cheddar cheese. In addition, it called for the tomatoes to be coated in flour and sautéed in hot oil before being placed in the pie.
Not exactly the pie most of us make today, either.
Invented by Editors?
Writing for Epicurious, Sam Worley discusses the issue of Southern tomato pies with Nancie McDermott, author of Southern Pies. He writes that "she'd put the pie in the 'modern-classic category,' surmising that it's a product of 20th-century magazine editors that wended its way into the canon."
"My guess is that it's a creation of Junior League cookbook people and Southern Living magazine readers and 'women's pages' newspaper food editors," McDermott said, "coming up with tasty ways to make use of the summer's abundance.
"Tomato pie is from the new old school, not the old old school—the category that contains such venerable favorites as chicken and dumplings and spoonbread."
Whatever the origin, today, tomato pie recipes can be found in cookbooks and on "recipe cards" across the South.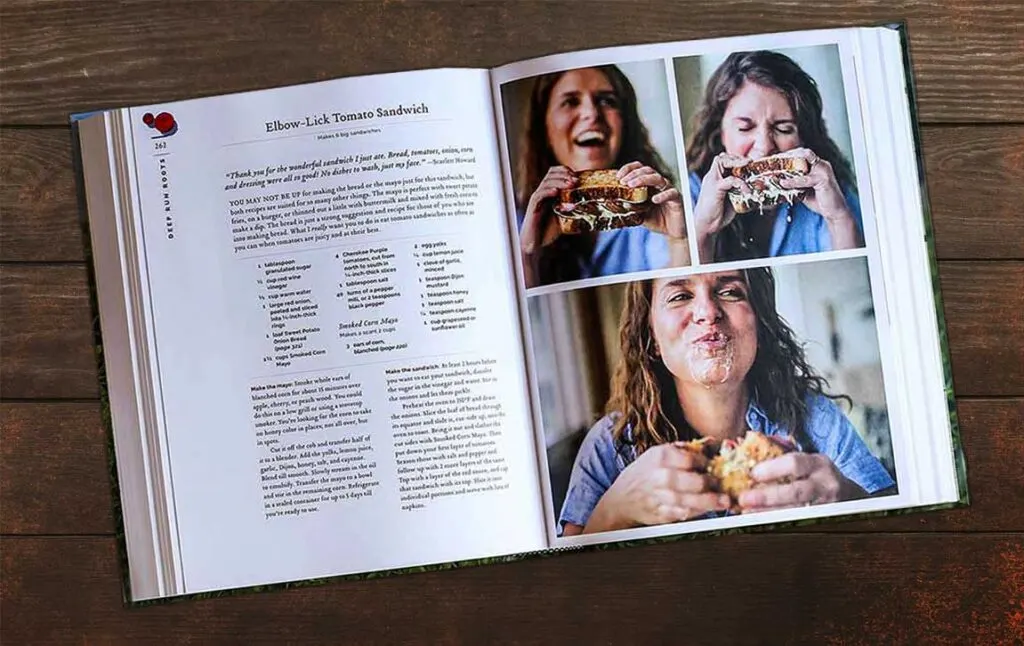 Vivian Howard, featured in the PBS series A Chef's Life and author of the cookbook Deep Run Roots, offers an interesting twist on the tomato pie. While the filling includes both roasted and fresh tomatoes and even a little sugar, at least her pie crust recipe is standard.
Fortunately, to make Lone Star BBQ's tomato pie recipe, you won't even need that.
No Pie Crust Needed
Virtually every southern tomato pie recipe is going to ask you to make or buy a pie shell, which you should then blind bake before making your pie. The truth is, you can do that with this recipe from Lone Star Barbecue, but the great thing is that it is not required and it is not the way they make it at the restaurant.
In place of the traditional pie crust, Lone Star uses day-old bread. Unlike a pie crust, the bread handles the moisture of the tomatoes with no problem.
Two problems solved: no shell to buy/make and no soggy crust to endure.
What Folks are Saying about Lone Star BBQ's Tomato Pie Recipe
On TripAdvisor, Lone Star currently has 279 reviews. If we filter those reviews by searching for "tomato pie," there are seven pages of reviews mentioning it. Their tomato pie is clearly a hit.
Reading through, you'll see comments like the following:
Tomato Pie is the absolute best! – R648FVkarenb
I was excited for the tomato pie and it was so delicious I could have eaten a whole plate full. – Joan G
Best tomato pie ever! Love the fresh vegetables and most of all the tomato pie. I purchased the recipe and make it often!! – Margaret B
Over on Yelp, you'll find more of the same. Of the 111 reviews there, you'll find almost a quarter of them include "tomato pie." Among them, you'll find comments like these:
The tomato pie was worth the stop! – Ali C
Tried the tomato pie! It was delish! Will definitely be stopping there again. – MAW
The hit of the day was the Tomato Pie. – Luann V
Making Lone Star BBQ's Southern Tomato Pie
As titled above, this is the easiest southern tomato pie recipe you'll find. Not only is the preparation simple, so are the ingredients. All you'll need is the following: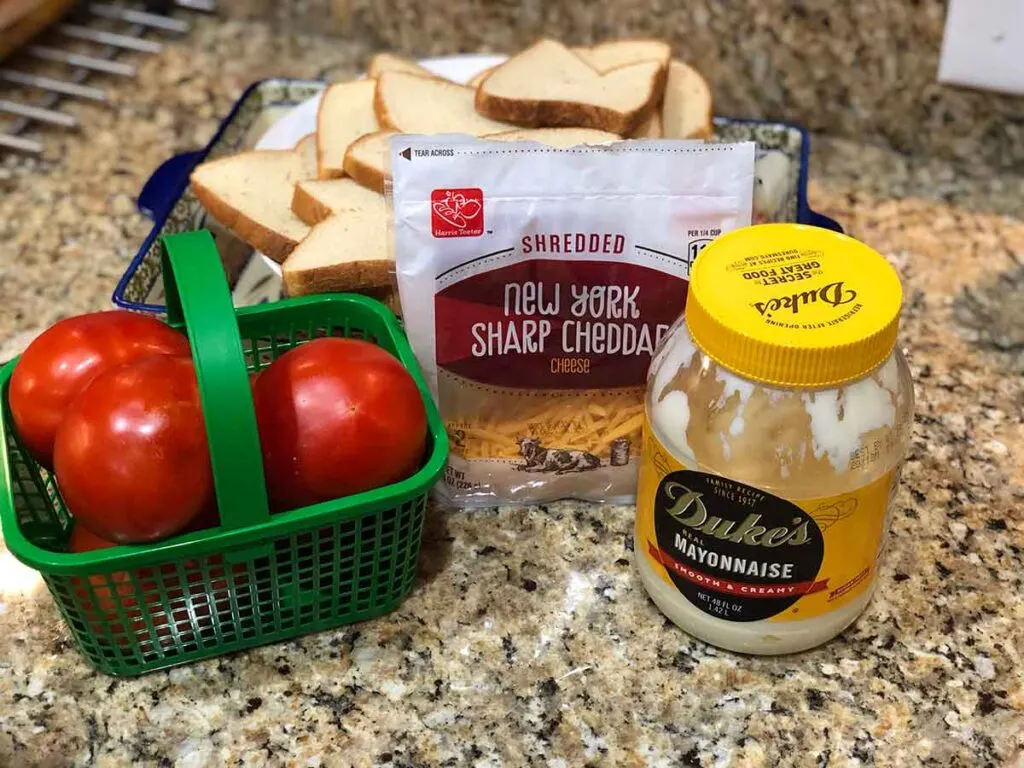 Tomatoes
Onion
Cheddar cheese
Mayonnaise
Bread
Salt and Pepper
Butter, oil, or cooking spray
To make your tomato pie, begin by warming your oven to 375°. Then wash, core, and slice the tomatoes about a 1/4-inch thick.
There is no need to peel them, though you are certainly welcome to do so. If you do, we'd recommend a tomato peeler or simply dipping the tomatoes in boiling water for about a minute then plunging them into an ice bath. The skins will easily slip off.
Create your cheese spread by combining the mayo, grated cheddar cheese, and grated onion, seasoning to taste with salt and pepper.
Next, grease your baking dish and cut 7 of the bread slices into medium-sized cubes. Add those cubes evenly over the bottom of the greased dish.
Afterward, make a layer of tomatoes by shingling them slightly over one another. Season this layer with salt and pepper.
Next, trim the crust from the remaining slices of bread and put those on top of the tomatoes. On top of the bread, you will then spread part of the cheese mixture. Be conservative here, reserving the remaining spread for later.
On top of that spread, you will add your remaining tomatoes. Consider reserving the best-looking ones for the top.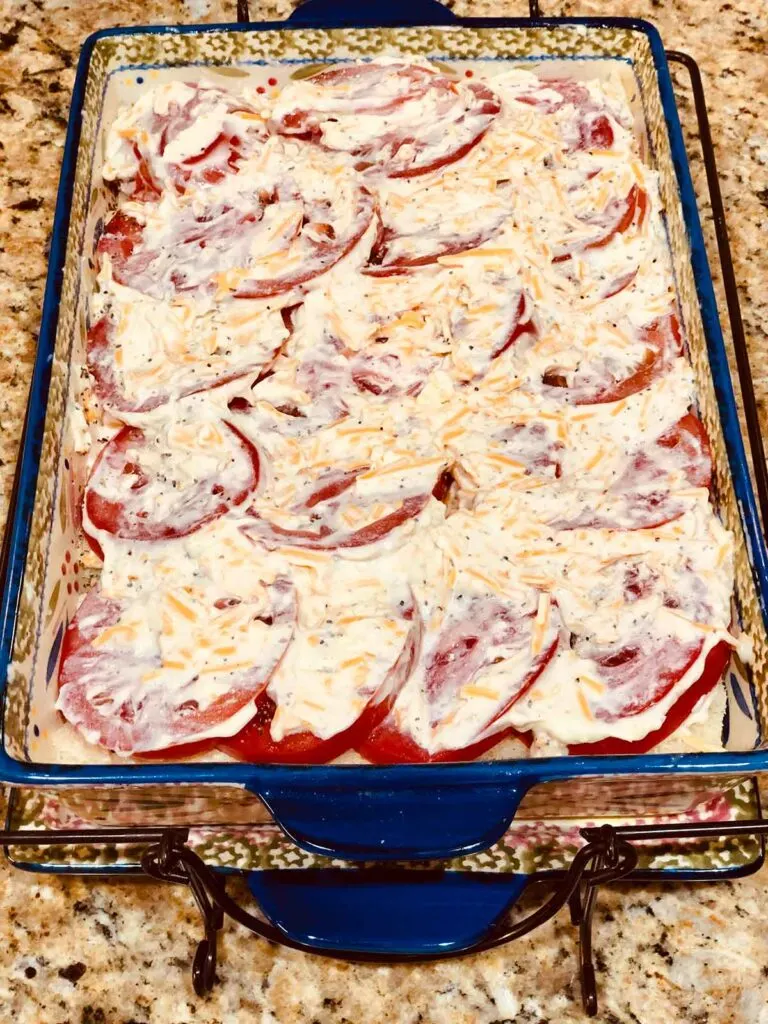 Season as before with more salt and pepper, then "dollop" the remaining cheese mixture across the top. Bake uncovered for about 25 minutes.
Note: Here's a recipe for an awesome Southern Tomato pie without mayo.
Recipe Testers Comments
Andy Petrone and Dawn Verbarg were kind enough to test Lone Star BBQ's southern tomato pie recipe for us. Here's what they had to say about the recipe:
"I had the pleasure of enjoying that dish at Lone Star on many an occasion," Andy said, "and that recipe seemed spot on and incredibly easy."
Dawn volunteered this: "I know you already have some people doing this one, but it is one of our favorites and I made it last night to go with our leftover wings."
Here is her final product: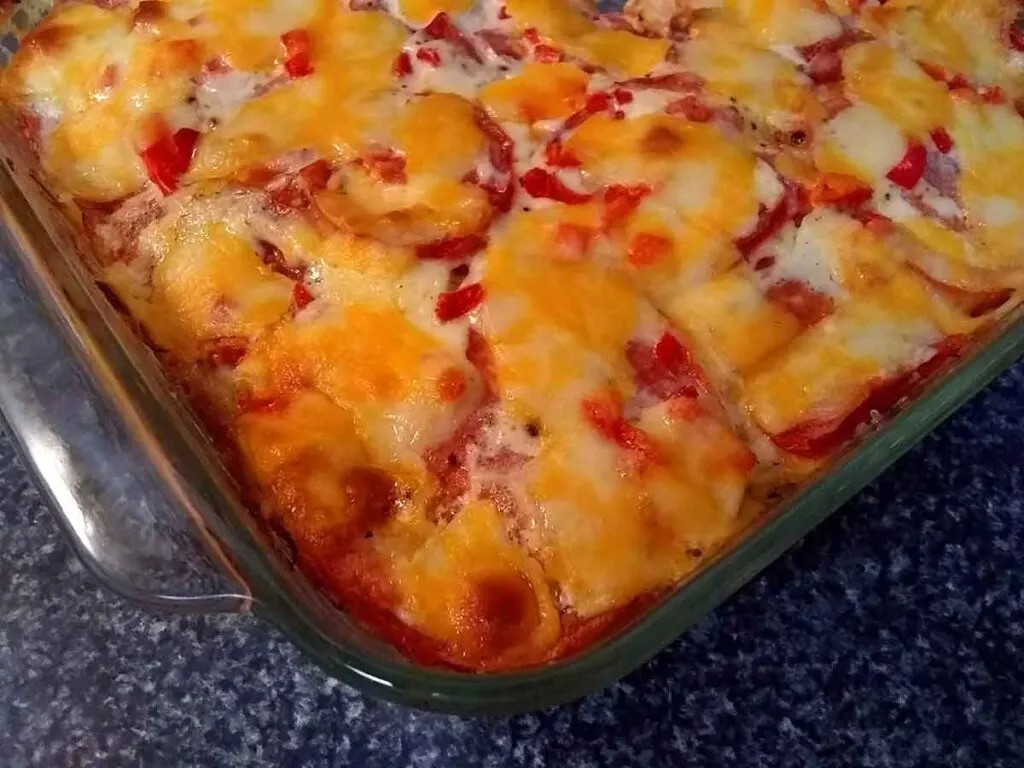 Like to Volunteer as One of our Recipe Testers?
We have a bookful of recipes to test and publish. Join the team and choose from our collection of unpublished recipes.
All we ask is that you photograph the process and share your thoughts on each recipe and the finished product. And we'll feature you when we publish that recipe.
Interested? Just send me an email.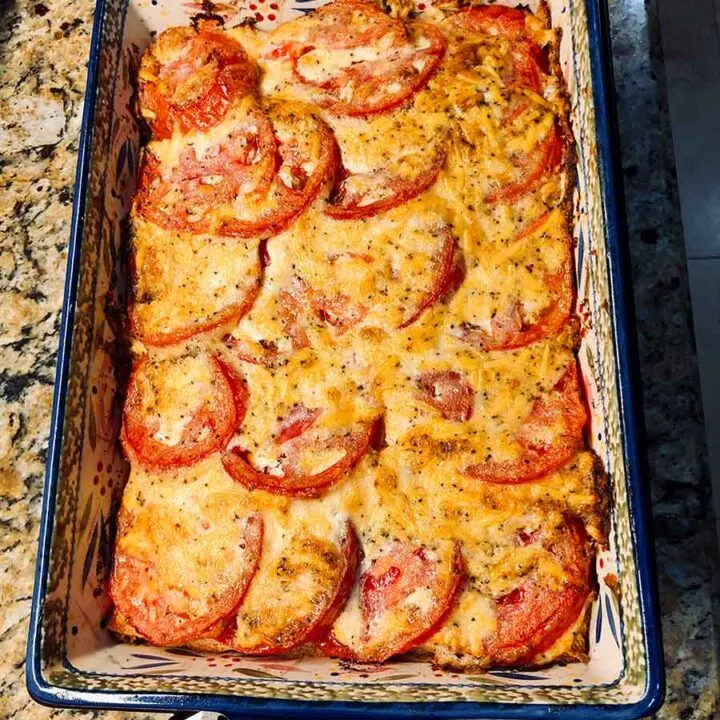 Easiest Southern Tomato Pie (No Pie Crust)
This simple southern tomato pie recipe does not even require a pie crust. With just mayo, cheese, onions, tomatoes, and some day-old bread, you can make this dish in about half an hour. The easiest southern tomato pie recipe around is also the most popular dish on the menu at Lone Star BBQ in Santee, SC.
Ingredients
1 Cup Duke's Mayonnaise
1 ¼ Cups Sharp Cheddar Cheese, grated
1 Tablespoon Onion, grated or minced fine
To Taste Kosher Salt and Pepper
As Needed Cooking Spray, butter or oil
15 Slices "Day Old" Bread, divided
10 Medium Tomatoes, washed, cored, and sliced (peeling is optional, but suggested)
Instructions
Preheat oven to 375°.
Prepare cheese spread by combining mayonnaise, cheddar cheese, and grated onion.
Season with salt and pepper to taste.
Grease a 9x12 casserole dish with butter, olive oil, or pan spray.
Layer the bottom evenly with 7 slices of the bread, crusts and all, cut into medium-sized cubes.
Create a layer of tomatoes, by overlapping them in "shingle" fashion the length of the casserole. (It is important to use the freshest and ripest you can find.) Usually, a casserole will require 4 rows using 5 medium-sized tomatoes, give or take, depending on the size of the tomatoes.
Season liberally with salt and pepper.
Trim crusts away from the remaining 8 slices of bread and arrange them on top so that they cover the entire surface area of the tomatoes.
Spread the slices with the cheddar cheese spread. Cover well but don't be tempted to use too much or the "pie" may become soggy. Reserve some for step 7.
Arrange the remaining tomatoes in the same manner as before. Reserve the nicest-looking tomato slices for the top. Season again with salt and pepper.
Dollop the rest of the cheese mixture in rows across the top, or in whatever design you like.
Bake your casserole, uncovered, for approximately 25 minutes,
Notes
This tomato pie can be dressed up with the addition of fresh herbs to the cheese mixture. Try basil, marjoram, or oregano. It can also be baked in a pre-cooked pie shell, homemade or otherwise, only omit the bread and be sure to blot your tomato slices with a dry towel first.
Recommended Products
As an Amazon Associate and member of other affiliate programs, I earn from qualifying purchases.
Nutrition Information:
Yield:

6
Serving Size:

1
Amount Per Serving:
Calories:

627
Total Fat:

43g
Saturated Fat:

11g
Trans Fat:

0g
Unsaturated Fat:

30g
Cholesterol:

44mg
Sodium:

842mg
Carbohydrates:

48g
Fiber:

5g
Sugar:

10g
Protein:

14g