Lone Star BBQ Tavern and Grille
This post may contain links from which I earn a commission. Please read my disclosure policy. As an Amazon affiliate, I earn from qualifying purchases.
If you like cooking that is reminiscent of the Old South, you will love the "All You Can Eat" buffet. Lone Star Barbecue features fresh vegetables from the local fields and South Carolina's Farmer's Market, and it's just minutes from I-95.
Lone Star Barbecue is housed in 4 old country stores or "plantation commissaries" dating back to the 1800s.
All buildings are filled with antiques and other collectibles, most of which were in the old buildings when they were moved to their present site some 15 years ago.
The restaurant also has an extensive gift shop, full of old-timey soft drinks and old-timey candy, among other things.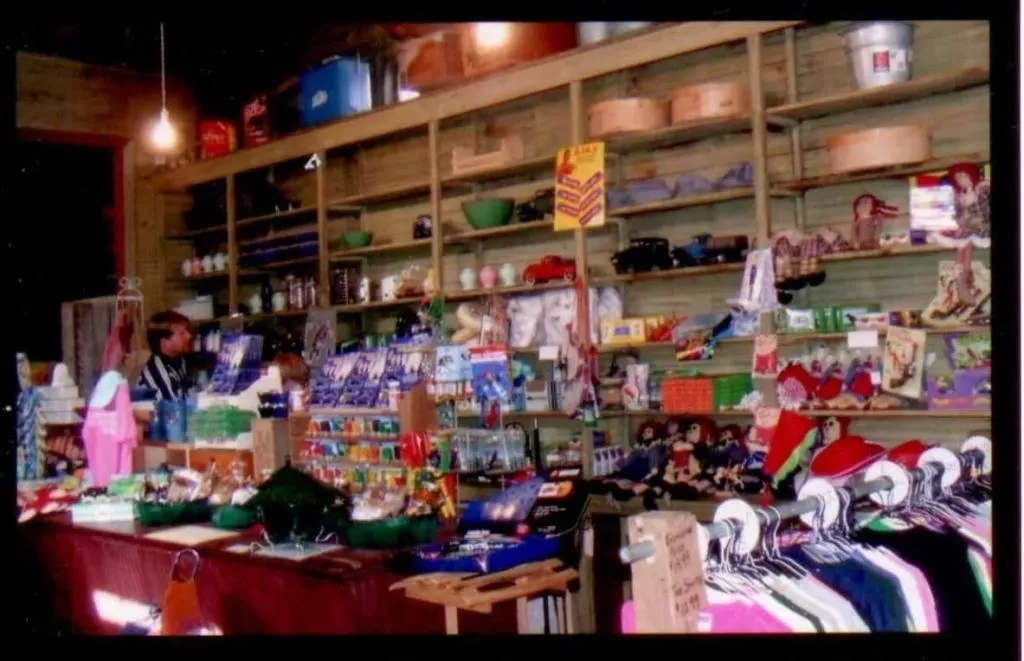 On the Menu
Lone Star smokes their BBQ using hickory to make their chopped BBQ pork. They cook it overnight over hickory chips in a Cookshack Cooker.
They only use top-quality pork — only hams and shoulders, for the BBQ meat and hash.
Lone Star Barbecue offers an extensive "all you can eat" buffet, serving chopped pork with two kinds of sauces from which you can choose.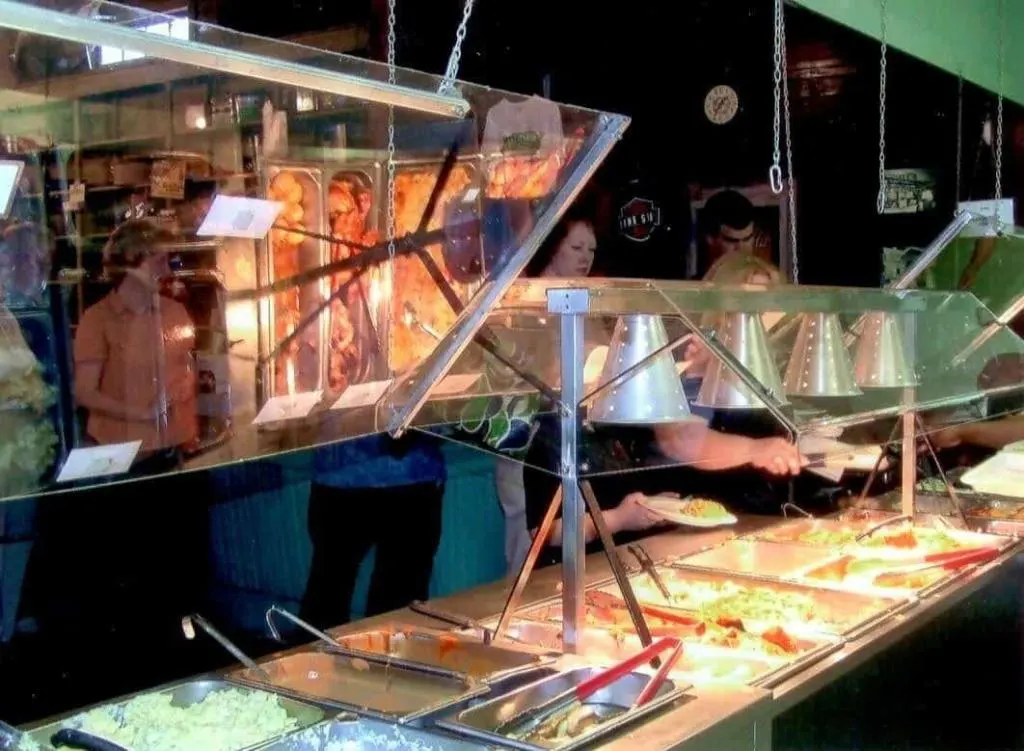 On Friday, beginning at 5 PM, they have BBQ ribs on the line. The extra entrée on Saturday is shrimp and grits.
On Sundays, they always offer one or more extra entrees.
You can choose from sweet & spicy sauces. They offer a sweet mustard-based sauce and a spicy mustard-based sauce.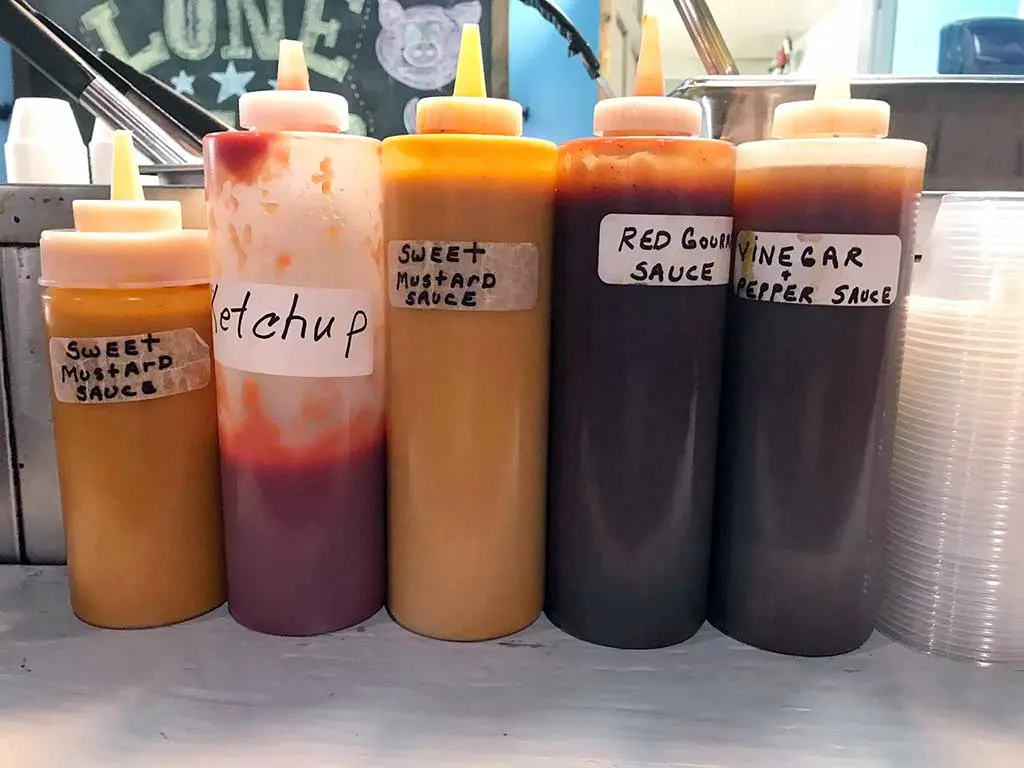 Lone Star chops the BBQ meat, and the patron has the option to add the type of sauce he prefers to the meat.
The BBQ buffet includes a multitude of fresh vegetables, macaroni & cheese, banana pudding, and much more. The one thing you will have to try is their southern tomato pie recipe. Legendary.
Lone Star Barbecue also has Bluegrass and Country music every Saturday Night, complimentary to our diners. Plus, for over 15 years, they host a Bluegrass & Country Music Festival for Memorial Day Weekend and also for Labor Day Weekend.
Named one of the "Ten Best Joints in America," by USA Newspaper, and "The Best of Downhome Cooking," by The State several years ago, a visit to Lone Star Barbecue is like going back in time.
So if you're driving on Interstate 95 and looking for a true SC BBQ experience, take Exit 98 into Santee and Lone Star Barbecue will be about a mile away.
What Folks are Saying
Google Review
Among the many Google Reviews, Local Guide Victoria Cowert took a step back in time to enjoy some of today's tastiest SC BBQ at Lone Star Barbecue and Mercantile:
OMG, this is THE BEST Southern food buffet I have ever eaten!
Located in a quaint, cozy, and rustic setting. Truly it is like taking a walk back in time.
They have different foods on different days. But today I would describe the food as Southern comfort.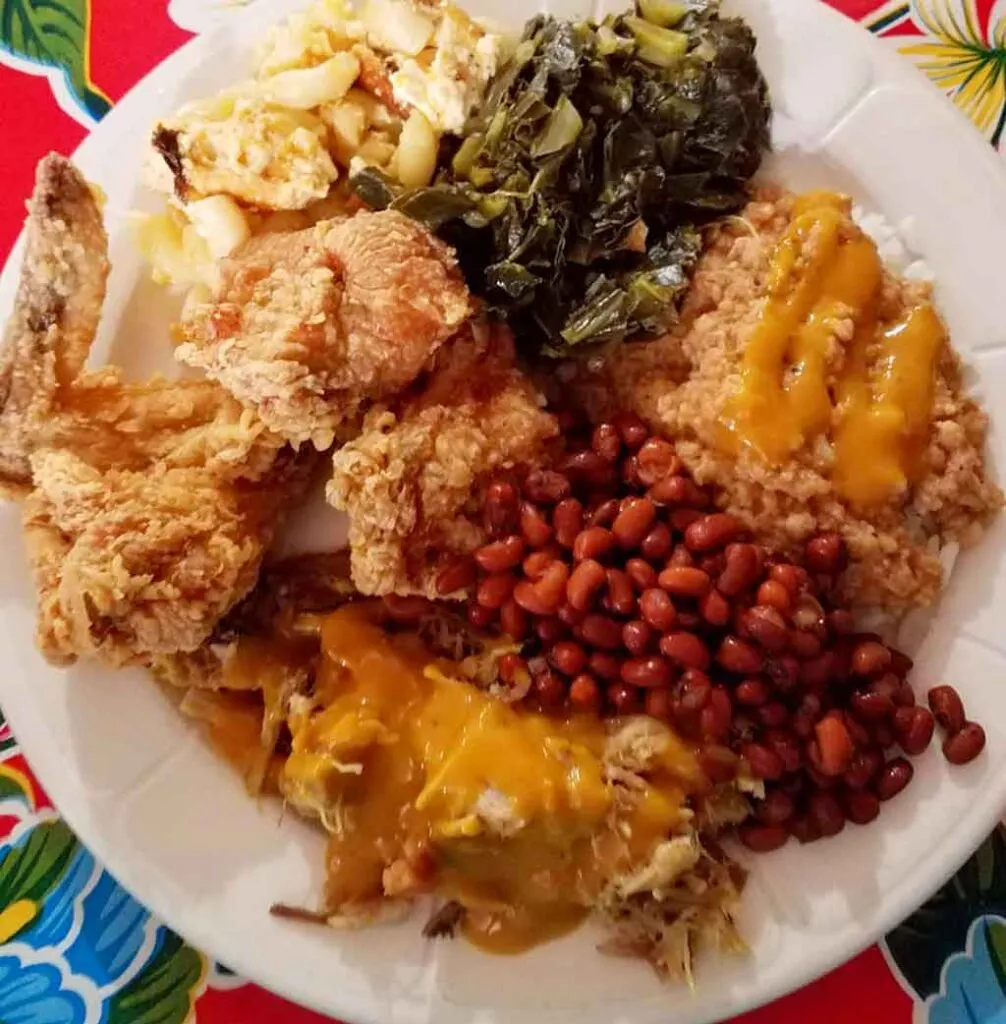 Hash and rice, teriyaki chicken wings, fried chicken, pulled pork bbq, and then the sides…oh my! The sides included rutabagas, mac & cheese (oh my!), tomato pie, green beans, hush puppies, fried okra, collard greens, and different salads.
And when you are full of the most amazing food, sit and listen to live music, and take a breather–because you WILL WANT to eat dessert!
And when you are full of the most amazing food, sit and listen to live music, and take a breather–because you WILL WANT to eat dessert!
For example, they have cakes, pies, pralines, brownies, cobblers, and ice cream. The blackberry cobbler was the best any of has ever had!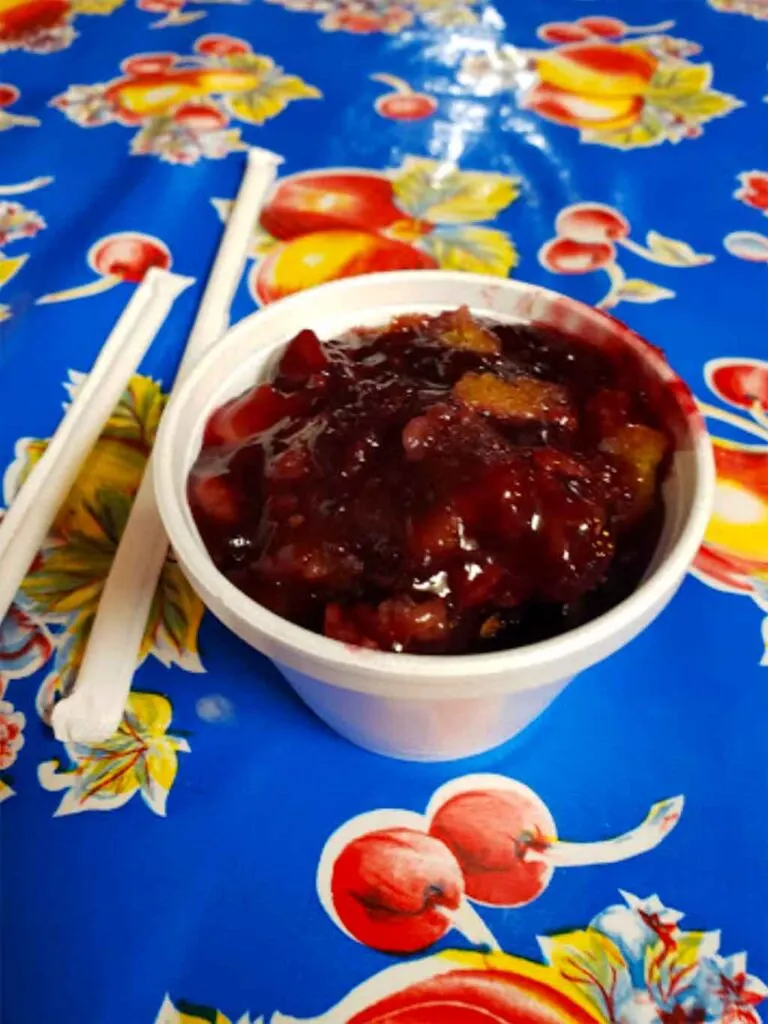 Drinks were served, while everything else was self serve. Everything was amazing, and it was clean and offered service with a smile.
Take a drive and enjoy stepping back in time and eating an amazing meal!
Yelp Review
Over on Yelp, Kate A couldn't say enough about Lone Star Barbecue and Mercantile, it just took her a while to do it:
I have been doing the entire world a huge disservice for not writing a review on Lone Star Barbecue sooner. I deeply apologize.
If you are a tourist traveling near this area, stopping at Lone Star is going to be the best decision you ever made.
If you are from the North and you want to experience true Southern ambiance and cuisine, then I can't recommend a better place than Lone Star Barbecue, and if you are from the South, you will feel right at home when you walk in the doors.
There isn't just one great thing about Lonestar, there are several things:
The Breakdown
1. The original buildings look like something you'd see in a Nicholas Sparks movie…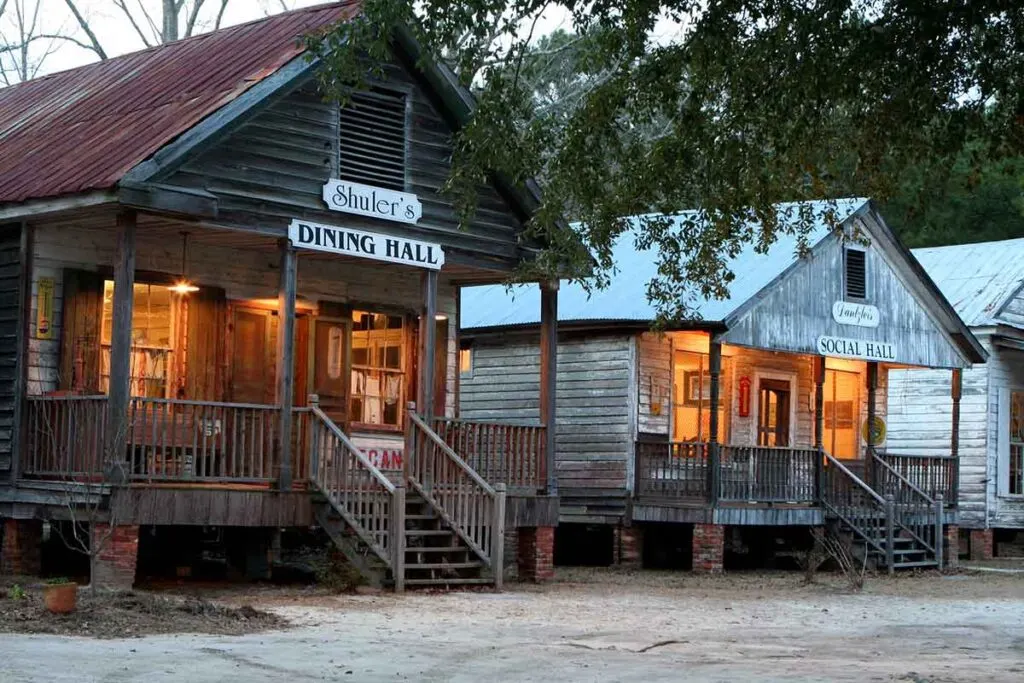 2. There isn't a bad seat in the entire restaurant. Please take your time to closely look around the area where you choose to sit.
(I know this will be hard to remember because your eyes will be mesmerized by the delectable food sitting right in front of you screaming your name).
As you are in a state of euphoria (this is right before the food coma sets in), that's when you can appreciate the WWII artifacts and southern history you are surrounded by.
Please don't rush this opportunity. (I promise the traffic will always be there no matter what time you make it to Charleston or whichever tourist town you are heading to).
3. The food….oh the food.
You know that fictional grandmother that you envision making fresh macaroni and cheese, fried chicken, tomato pie, and banana pudding? Well, she can remain in your imagination as you make your third trip up to the buffet line.
But I do want you to know you are eating food prepared by an extremely talented culinary artist, Chris Williams. He graduated from a culinary in New York, but his culinary style is completely inspired by his deeply southern family roots.
4. If you have the pleasure of enjoying the live music, you're in for an extra special treat!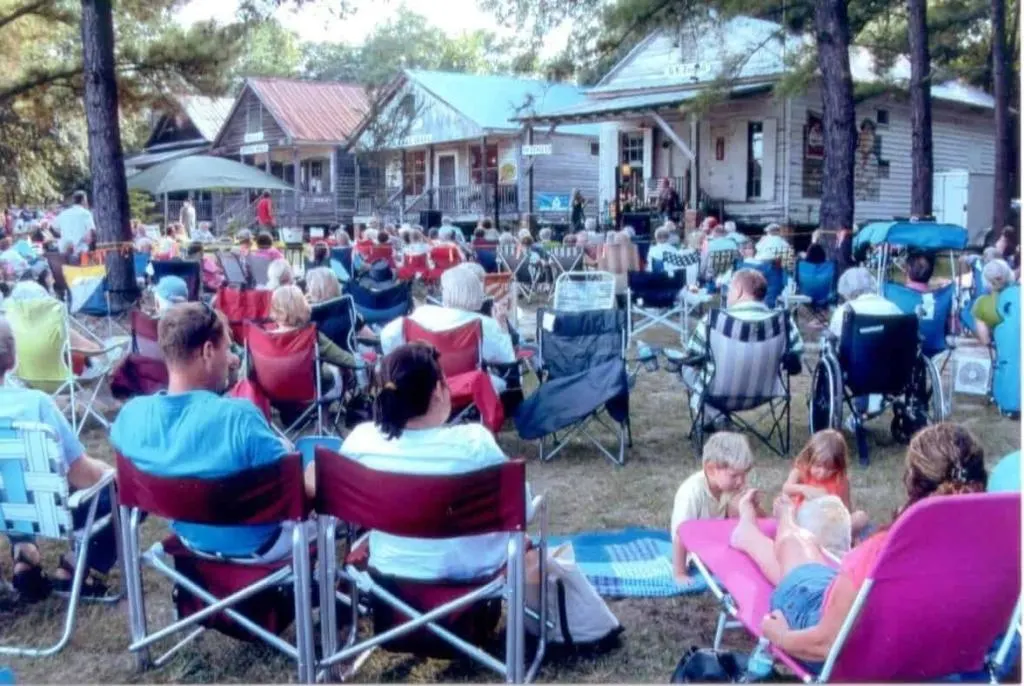 Enjoy every minute and every bite; I have no doubt that after you visit one time it won't be the last!
I will not be responsible for any self-induced injuries caused by eating too fast or delayed travel plans due to said food coma that I warned you about.
SC BBQ Association
Sure, folks on review sites often have great things to say about a place, but what about the folks who really know SC BBQ better than anyone? What about the folks who actually train the judges for SC BBQ competitions?
What do they think of this place?
The SC BBQ Association has named Lone Star one of the Top 100 BBQ houses in the state.
Here is an excerpt from their review of Lone Star Barbecue and Mercantile:
The food out of that kitchen is marvelous. They have in-house specialties like tomato pie that people come from miles around just to get.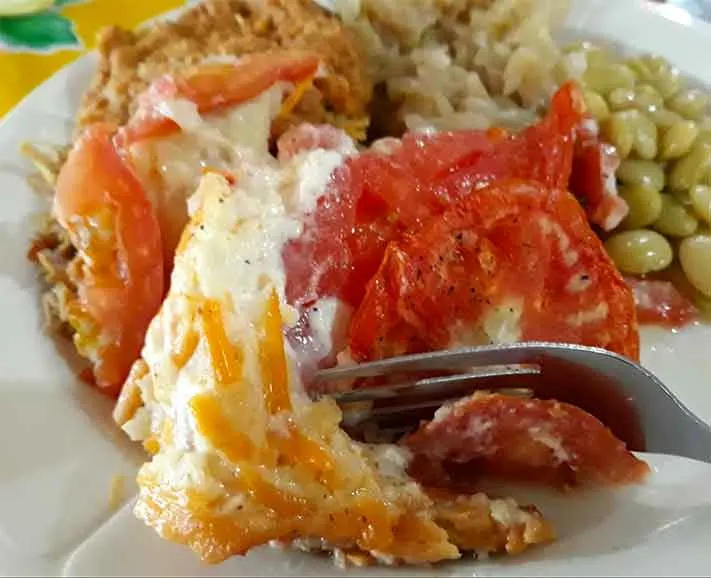 They also have fresh in-season vegetables cooked the old-fashioned way. And they have barbeque, of course, and they serve it up in both low country and mustard style.
And their buffet even has ribs. But on the large buffet, you can also find barbequed chicken, fried chicken, and fish, and, depending on the day you are there, surprise items.
In short, they are all good.
Menu for Lone Star Barbecue and Mercantile in Santee
Note: Menu prices and options are subject to change over time. Contact the restaurant for the most up-to-date information.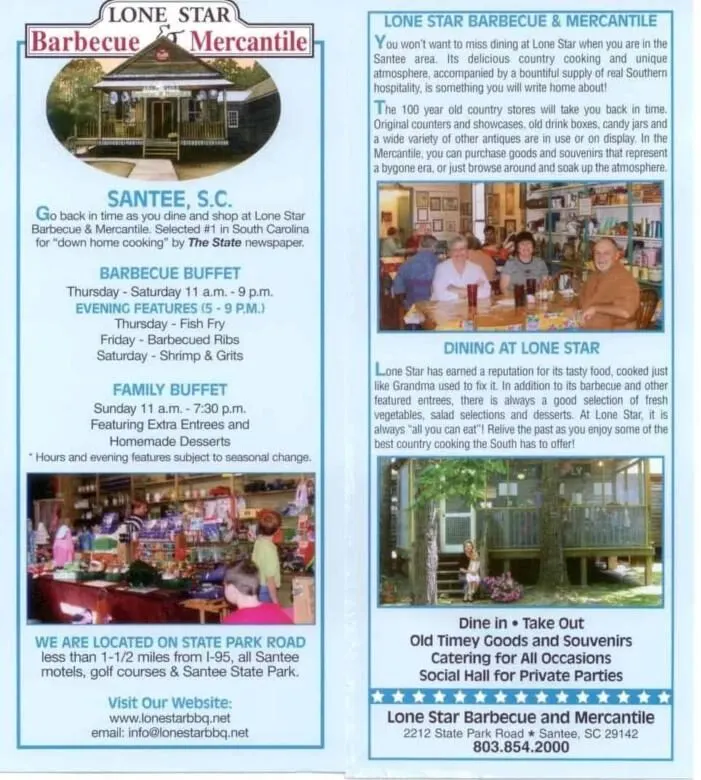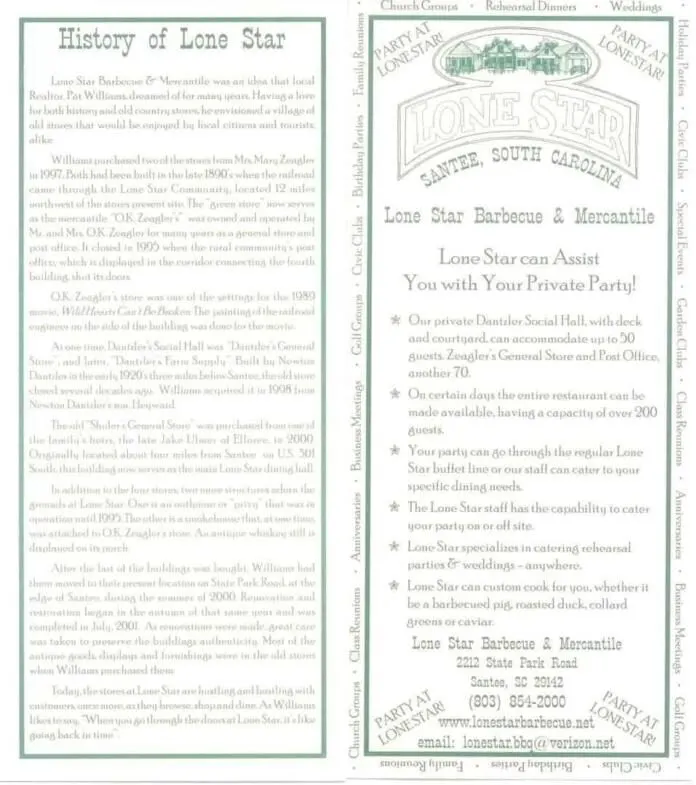 Best Lodging Near Lone Star
---
Location, Hours, Contact Info, and More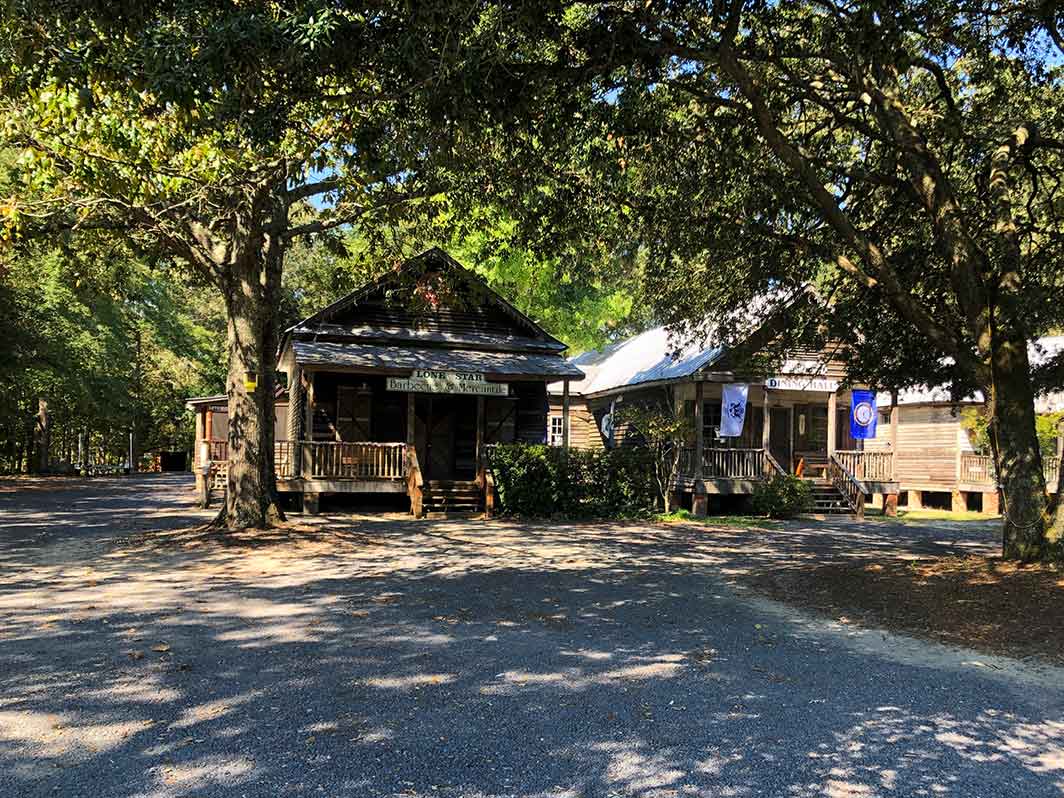 Map
Directions
Contact Lone Star BBQ Tavern and Grille
2212 State Park Road
Santee,
SC
29142
Hours of Operation
| | |
| --- | --- |
| Monday | Closed |
| Tuesday | Closed |
| Wednesday | Closed |
| Thursday | Closed |
| Friday | |
| Saturday | |
| Sunday | |
Social Media
Review Sites
Features
Buffet, Cards and Cash, Hash, Light Tomato Sauce, Mustard Sauce