The Bessinger family of Holly Hill is arguably the most important family in the history of SC BBQ, and that is a long and storied history.
Originating in Orangeburg County in the late 1930s, when patriarch Joe Bessinger opened his Holly Hill Café, the Bessingers became the first family of SCBBQ.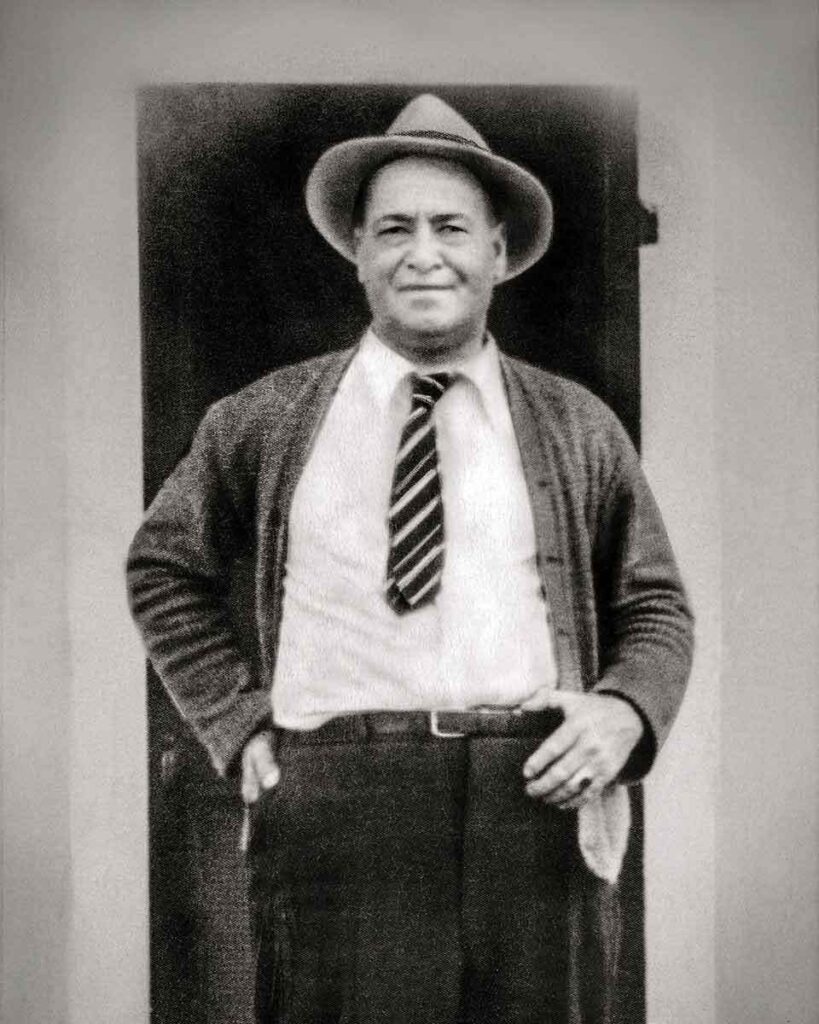 From Joe, his boys learned to cook whole hogs over wood embers and learned to make what may well have been the world's first mustard-based BBQ sauce.
Over time, the boys split out to establish a number of SCBBQ's favorite restaurants, including Melvin's, (Mt Pleasant and James Island locations), Maurice's, 13 Piggie Park locations at the time of this writing, Bessinger's, Robert's, Joe Bessinger's, and others.
While the BBQ and the sauce are SCBBQ classics (and Melvin's onion rings deserve a mention here as well), I can't remember the last time I ate BBQ and didn't have a serving of collards on the side if they were available.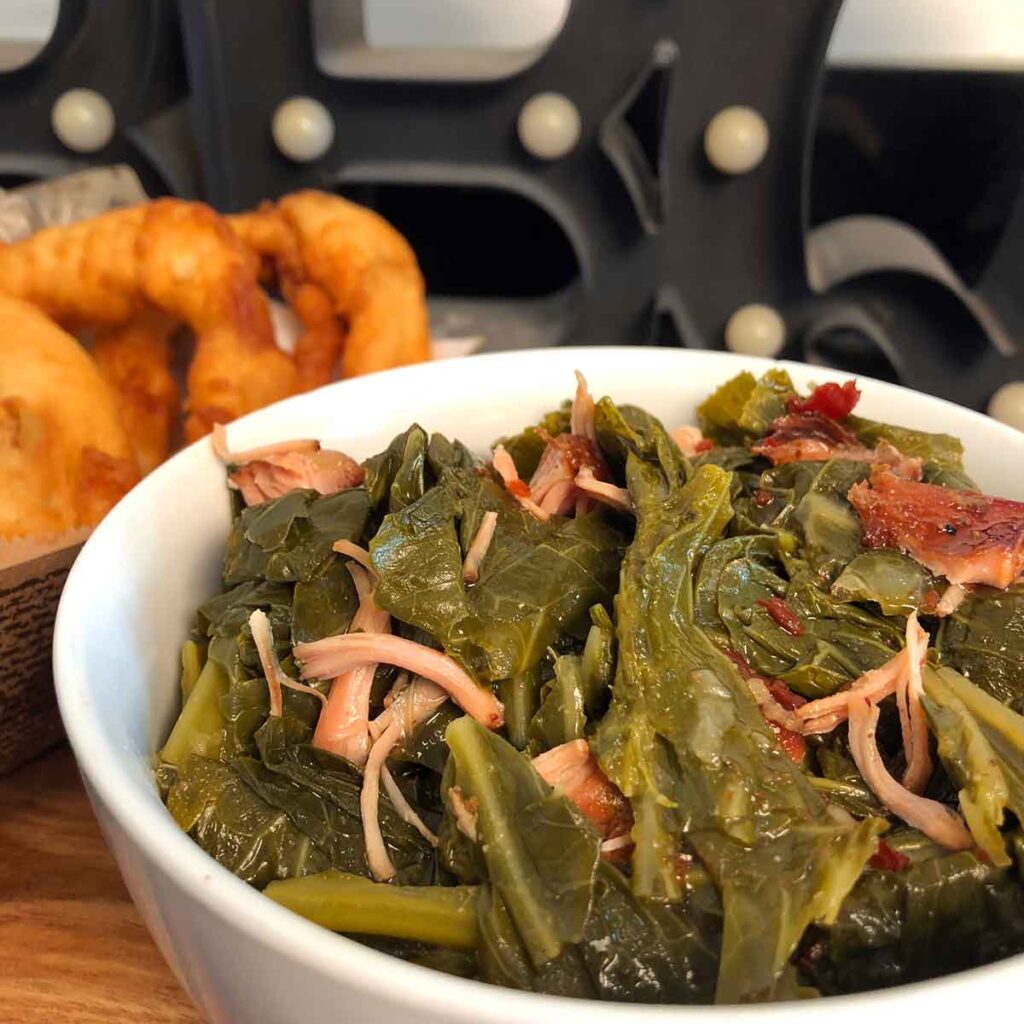 Some are salty, some are sweet, but when done right, they all are delicious…..and Melvin's does them right!
Melvin's collard greens recipe creates a savory green with the right amount of salt. This is not a sweet collards recipe but one with the perfect seasoning.
If you're looking to make an authentic Southern collard greens recipe, this is it.
Some Things to Know about Cooking Collard Greens
How do I get the bitterness out of collard greens?
Start with fresh, younger collards if you can, but two basic seasonings will help tame the bitterness you can sometimes find in collards, sugar and salt. In addition, fat — like from smoked ham hocks — tends to mask bitterness as well. (Think of what cream does with coffee.) This recipe offers all those elements so you end up with collards without the bite.
Are you supposed to soak collard greens and if so, how long?
While it is not necessary to soak collards, it's not a bad idea. Soaking will help cleanse any grit, bugs, or residue, but don't soak them too long or they may become waterlogged. Here's how:
Fill a kitchen sink with cold water from the tap with enough water to float the collards. Some folks will add vinegar and/or salt to the water to help with the cleansing, but plain water is fine.
Agitate the collards in the water, stirring them around a couple of times during a 10-15 minute soak. Let them rest for the last five minutes, allowing any sediment to settle to the bottom of the sink. Remove the collards to a towel or colander to drain, then drain the water from the sink.
Can I use turkey or another broth instead of chicken broth for Southern collard greens? How about a low-sodium broth?
The choice of broth is up to you. Chicken, turkey, pork or even vegetable broth will work fine. Obviously, your choice of broth will influence the final taste of the dish, but the type of broth is not a deal-breaker.
Keep in mind, you may need to adjust salt level to taste based on your choice of broth and any medical or dietary needs.
How many people will one quart of cooked collard greens feed?
A quart of cooked collard greens would feed 2-4 people comfortably. This recipe will make significantly more.
Do people drink the water from cooking collard greens?
Potlicker or "pot liquor" is the term given to the broth that remains in the pot of collards. Believe it or not, it is a tonic of great nutrition. Dark green leafy vegetables are among the healthiest of foods.
Have you noticed the cooking water turns green when you cook collards? What you get in the remaining broth are the nutrients that have been leeched out of the greens and into the water. So eating the greens and drinking some of the broth is giving you an even more complete serving of collard goodness.
By reader request, The Sun Sentinel reached out to Melvin's BBQ and was granted the privilege of publishing the following recipe for Melvin's Legendary Collard Greens: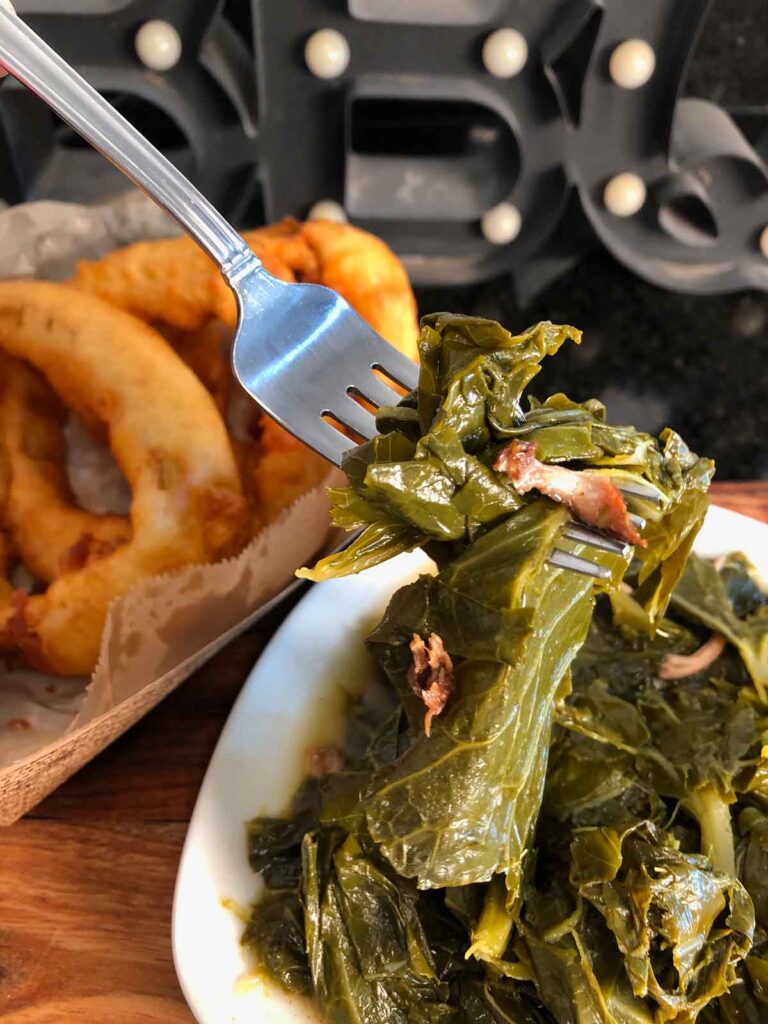 Get all the recipes we've published on this site and more collected together in over 150 pages of recipes, stories, and history in our cookbook, SCBBQ Recipes: Going Whole Hog. And if you enjoy Melvin Bessinger's collard recipe, you're sure to enjoy Maurice Bessinger's mustard sauce recipe.
Melvin's Legendary Collard Greens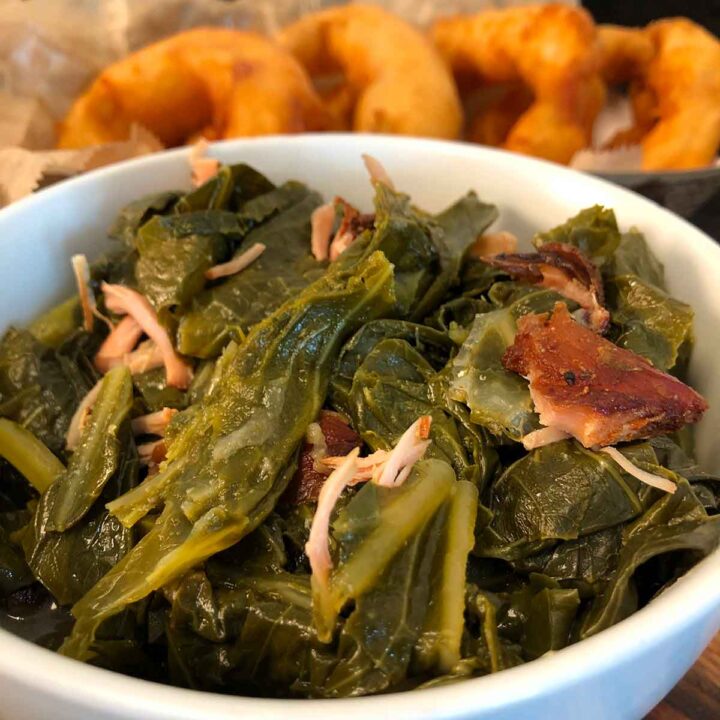 Melvin's Legendary BBQ Collard Greens Recipe
Total Time:
2 hours
15 minutes
Melvin's Barbecue in Mount Pleasant and James Island are famous for their legendary BBQ: pulled pork, ribs, and more -- as well as their golden mustard sauce. In fact, Melvin's father, Joe Bessinger, may well be the person who invented mustard-based BBQ sauce in the 1930s in Holly Hill, SC. But their sides are just as noteworthy. Melvin's collard greens, for instance, are exceptional. Smoky with a slight sweetness, these collards will please even the pickiest of eaters.
Ingredients
1 gallon water
2 smoked ham hocks
1 large white onion, diced
½ cup Knorr's chicken base
1 cup brown sugar
2 tablespoons ground black pepper
6 bunches fresh collards
Instructions
Using a large saucepan over medium-high heat, combine water, ham hocks, onion, chicken base, brown sugar, and pepper and boil for 30 minutes.
"Peel collards" by separating the leaf from the thick center stalk, discard stalks. Coarsely chop leafy collards.
Add collards to seasoned water. Boil until collards are tender, about 60-90 minutes, adding water as needed to keep collards submerged.
Recommended Products
As an Amazon Associate and member of other affiliate programs, I earn from qualifying purchases.
Nutrition Information:
Yield:

32
Serving Size:

1 cup
Amount Per Serving:
Calories:

43
Total Fat:

1g
Saturated Fat:

0g
Trans Fat:

0g
Unsaturated Fat:

0g
Cholesterol:

2mg
Sodium:

29mg
Carbohydrates:

8g
Fiber:

2g
Sugar:

6g
Protein:

2g
---
Like to Volunteer as One of our Recipe Testers?
We have a bookful of recipes to test and publish. Join the team and choose from our collection of unpublished recipes.
All we ask is that you photograph the process and share your thoughts on each recipe and the finished product. And we'll feature you when we publish that recipe.
Interested? Just send me an email.
---
Check out these other authentic SCBBQ sides recipes we've published on destination-bbq:
Lone Star BBQ's Tomato Pie Recipe
Swig & Swine's Pork Rinds with Tabasco Honey and Blue Cheese recipe
And we've published the following sides recipes in the SCBBQ Recipes: Going Whole Hog cookbook (read more about that here):
Sides
Rodney Scott's Banana Puddin' Family Recipe
Melvin's Legendary Collard Greens Recipe
Fried Corn, Shuler's BBQ-Style
Swig & Swine's Pimento Cheese Recipe
Swig & Swine's Quick And Easy Creamy Coleslaw Recipe
Swig and Swine's Beans with Brisket Recipe
Home Team BBQ's Mac and Cheese Recipe
Home Team BBQ's Collards Recipe
Jimmy Hagood's Cast-Iron Skillet Corn Bread With Cane Syrup Recipe
Jimmy Hagood's Lowcountry Brunswick Stew Recipe
John Lewis's Hatch Green Chile Corn Pudding Recipe
Lewis Barbecue-Style Cole Slaw Recipe
John Lewis's Buttermilk Potato Salad Recipe
John Lewis's Hatch Chile-Cheese Biscuits Recipe
Price's Bar-B-Que's Macaroni and Cheese Recipe
Price's Bar-B-Que's Broccoli Cornbread Muffins Recipe
Joe Dabney's Palmetto-Style Hush Puppies
Bessinger's Copycat Onion Ring Recipe