This post may contain links from which I earn a commission. Please read my disclosure policy. As an Amazon affiliate, I earn from qualifying purchases.
Swig and Swine's Chef Anthony DiBernardo recently shared their pork rind recipe, shedding light on a process that has long been a mystery to pork rind lovers everywhere.
This dish is a staple on the Swig and Swine menu and, of course, pork rinds are a common sight in BBQ restaurants across SC. However, this is the first pork rind recipe that we have run across adapted for the home cook by an SC barbecue restaurant.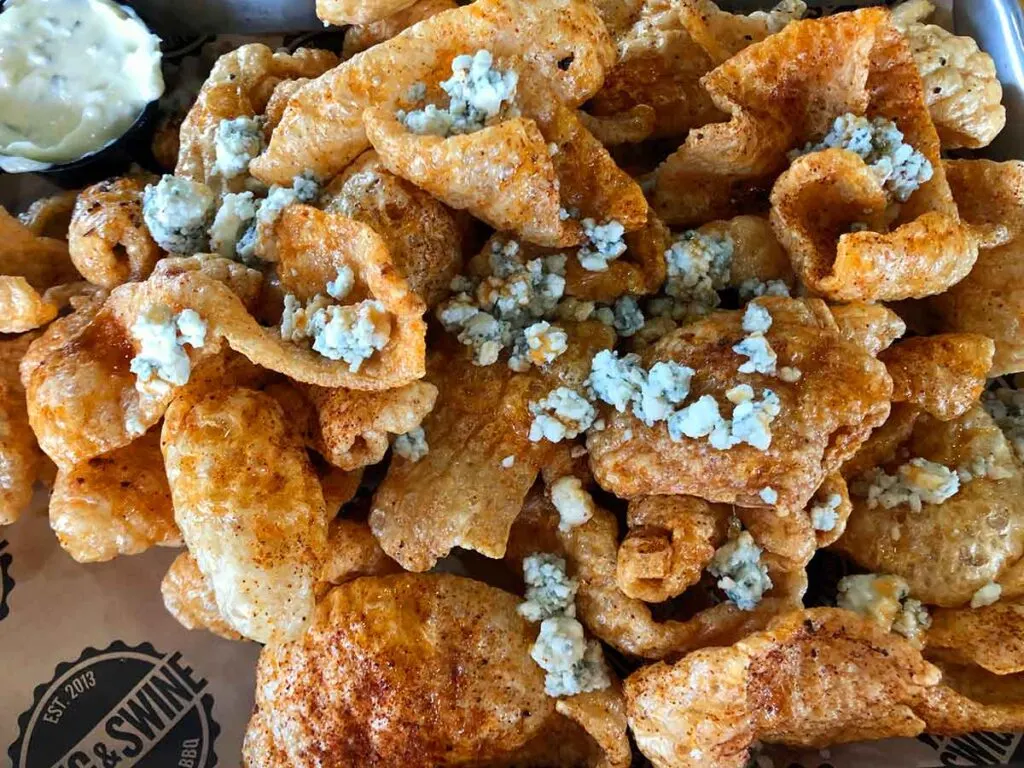 Most of the rinds we've seen cooked have been on a whole hog, over the pit, puffed quickly with direct heat at the end of the cook. Obviously, that's not practical for those of you at home.
That said, this pork rind recipe is not exactly a quick process either.
Swig & Swine's recipe involves several, distinct stages and requires at least two days.
Pork Rind Recipe: Day 1
In the first stage, you will prep the pork skin by submerging and boiling. After boiling, you'll cool and refrigerate for a couple of hours.
Once cooled, you'll scrape away the fat from the skin, being cautious to avoid tearing the skin.
Once cleaned, you'll need to dehydrate the skin in your oven overnight, with the temperature set at the lowest setting.
This should cause the skin to become dry, brown, and brittle. That's not a mistake; it's what Swig & Swine's pork rind recipe calls for.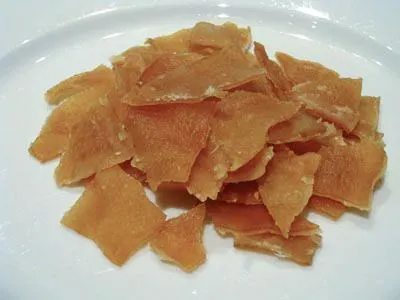 When you reach that stage of dryness, you'll break the skin into pieces roughly 1-inch square. You can keep these pieces on the counter in an airtight container for up to two days.
The drying stage is a good time to make the Tabasco Honey. Simply mix the two ingredients and set aside for the freshly cooked rinds.
Day 2
To cook the pork rinds, simply heat a few inches of peanut oil (or lard) to just under 400°. Add the pork skins pieces, one piece at a time, to the heated oil.
The skin should puff and crisp in just a few seconds. It may take up to 15 seconds but use your best judgment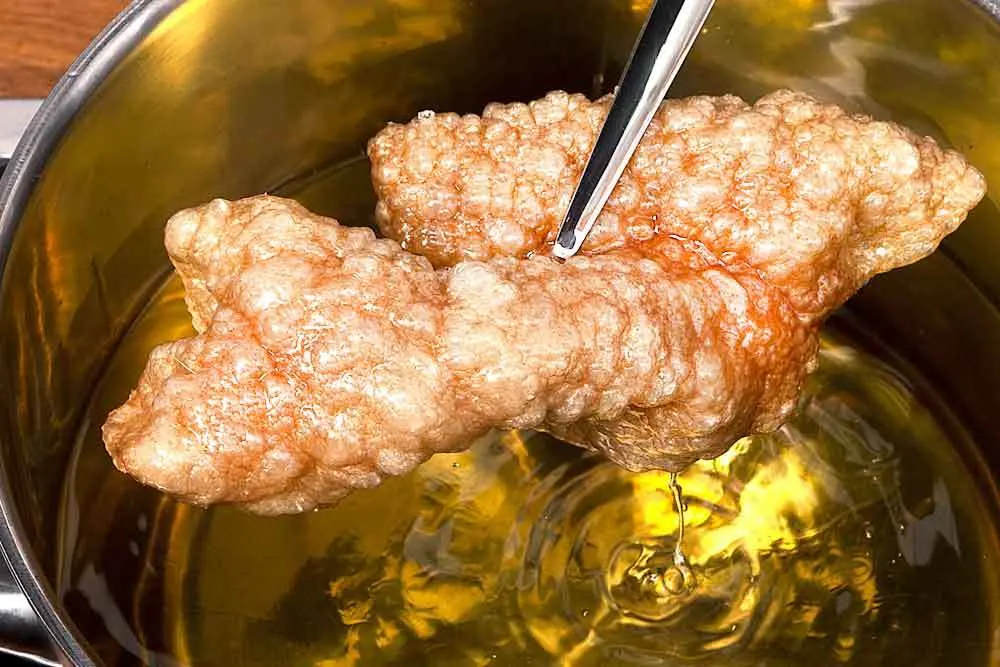 So, really, it's not that complicated. Boil, cool, scrape, and dehydrate the skin. Break into pieces. Cook in hot oil. Enjoy.
That's it really. Don't be daunted by the idea. You can make this pork rind recipe.
If you want to try "the real thing" first, check them out at Swig & Swine. They currently have several locations in the Charleston area: West Ashley, Mt. Pleasant, and Summerville.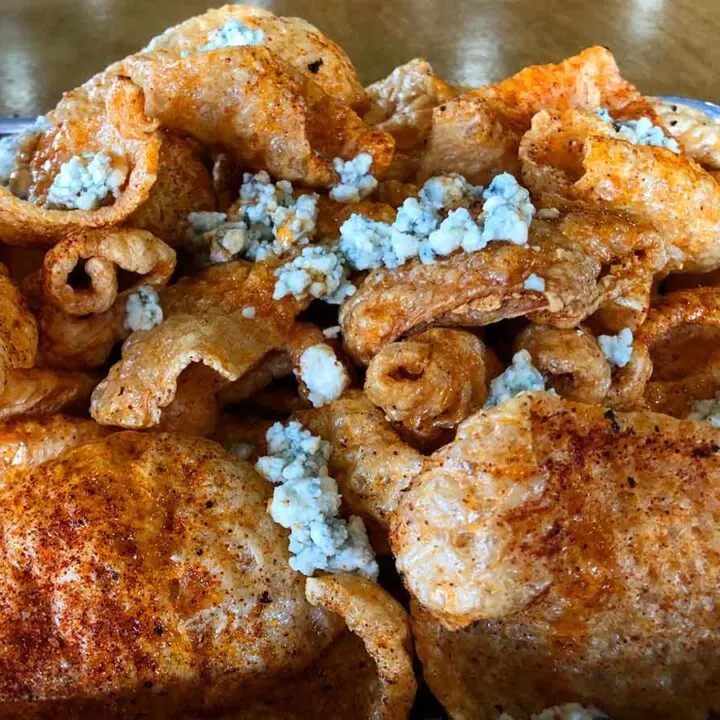 Swig and Swine's Pork Rind Recipe with Tabasco Honey & Blue Cheese
Prep Time:
4 hours
30 minutes
Dehydrating Time:
8 hours
Total Time:
12 hours
45 minutes
Chef Anthony DiBernardo's pork rinds are amazing. Crispy, salty, sweet, spicy...the perfect start to a great BBQ or just a delicious snack any time.
Ingredients
1 pork skin, large piece, trimmed of excess fat and nipples if present
4 cups lard, and/or peanut oil, for deep frying
1/4 cup honey
1/4 cup Tabasco hot sauce
1 cup Blue Cheese crumbles
salt, to taste
pepper, ground, to taste
Instructions
Preparing Pork Skin
Place pork skin in a large pot and cover with water. Weigh down with a plate to submerge.
Bring to boil over low heat and cook until skin is soft and pliable, but not falling apart and water is white, approximately 1.5 – 2 hours. Add more water if necessary.
Carefully remove the skin with a slotted spoon and arrange it in an even layer, with no folds, on a cooling rack placed over a sheet pan. Place in refrigerator and cool completely, approximately 2 hours.
Once the skin is cold, use a spoon or bench scraper to remove all subcutaneous fat, being careful not to tear the skin.
Return to the cooling rack set over a sheet pan.
Set oven to the lowest possible setting, around 200 degrees, and dehydrate skin overnight until dry, brown, and brittle.
Break skin into 1-inch square pieces.
Make Honey-Tabasco Sauce
Mix honey and Tabasco until combined.
Set aside for later use.
Cooking the Rinds
Heat deep-sided pot with 4 inches of lard or peanut oil (or a combination) to 385– 400 degrees.
Fry one square at a time until puffy and crispy, about 15 seconds.
Remove from oil and place on a paper-towel-lined tray.
Drizzle Honey-Tabasco mixture on hot rinds.
Finish with crumbled blue cheese.
Notes
Note: Squares can be stored in an airtight container at room temperature for up to 2 days before frying.
Recommended Products
As an Amazon Associate and member of other affiliate programs, I earn from qualifying purchases.
Nutrition Information:
Yield:

25
Serving Size:

12 rinds
Amount Per Serving:
Calories:

337
Total Fat:

35g
Saturated Fat:

14g
Trans Fat:

0g
Unsaturated Fat:

20g
Cholesterol:

36mg
Sodium:

171mg
Carbohydrates:

3g
Fiber:

0g
Sugar:

3g
Protein:

2g
---
Like to Volunteer as One of our Recipe Testers?
We have a bookful of recipes to test and publish. Join the team and choose from our collection of unpublished recipes.
All we ask is that you photograph the process and share your thoughts on each recipe and the finished product. And we'll feature you when we publish that recipe.
Interested? Just send me an email.
---
Check out these other authentic SCBBQ recipes we've published on destination-bbq:
Rodney Scott's Collard Greens Recipe
And we've published the following sides recipes in the SCBBQ Recipes: Going Whole Hog cookbook (read more about that here):
Sides
Lone Star BBQ's Tomato Pie Recipe
Rodney Scott's Banana Puddin' Family Recipe
Melvin's Legendary Collard Greens Recipe
Fried Corn, Shuler's BBQ-Style
Swig & Swine's Quick And Easy Creamy Coleslaw Recipe
Swig and Swine's Beans with

Brisket

Recipe
Home Team BBQ's Mac and Cheese Recipe
Home Team BBQ's Collards Recipe
Jimmy Hagood's Cast-Iron Skillet Corn Bread With Cane Syrup Recipe
Jimmy Hagood's Lowcountry Brunswick Stew Recipe
John Lewis's Hatch Green Chile Corn Pudding Recipe
Lewis Barbecue-Style Cole Slaw Recipe
John Lewis's Buttermilk Potato Salad Recipe
John Lewis's Hatch Chile-Cheese Biscuits Recipe
Price's Bar-B-Que's Macaroni and Cheese Recipe
Price's Bar-B-Que's Broccoli Cornbread Muffins Recipe
Joe Dabney's Palmetto-Style Hush Puppies
Bessinger's Copycat Onion Ring Recipe
Swig and Swine's Pork Rinds with Tabasco, Honey, & Blue Cheese Recipe
Swig & Swine's Pimento Cheese Recipe