Swig & Swine at Shipyard Park in Mount Pleasant
Lowcountry BBQ never tasted any better. We're smoking all day so you don't have to!! Stop by for some Q and a cold pint of your favorite craft beer. Sit back, relax, and get your Swig & Swine on with us…
Chef and owner Anthony DiBernardo boasts a background in food that is as diverse as their selection of BBQ sauces. From cooking on a Submarine to Chef at Kiawah Island Resort, Anthony has done it all.
He shares his passion for naturally smoked bbq and is a competitor with the KCBS. His competitive nature shows in the quality of the smoked meats he serves.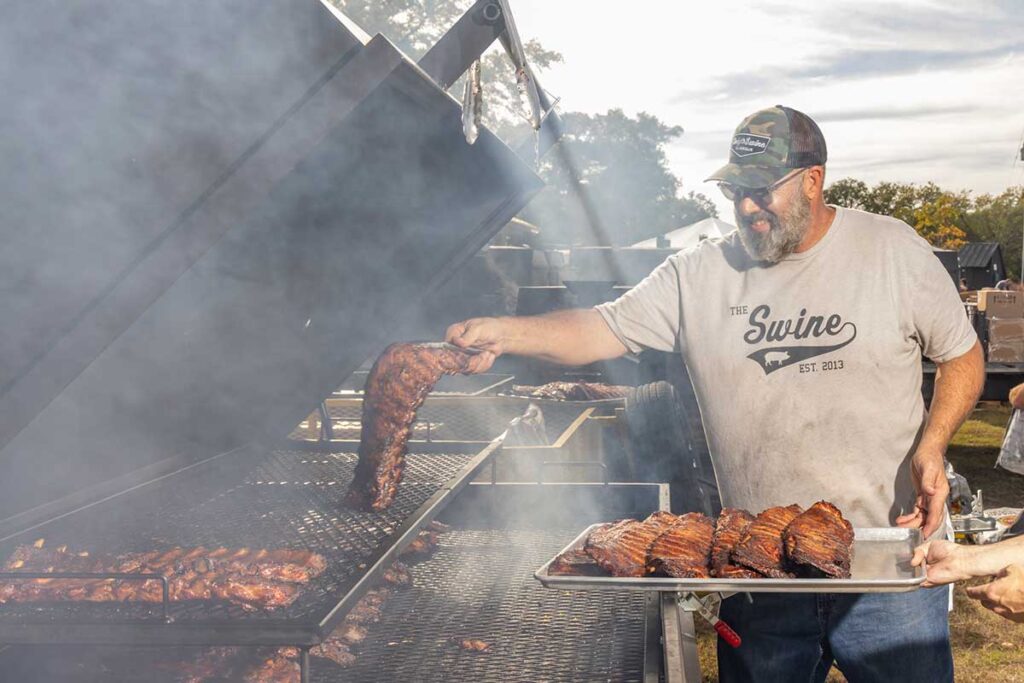 "We are very excited to bring Swig & Swine across the river to Mt. Pleasant and are thrilled for the opportunity to partner with Shipyard Park in providing concessions and an on-site caterer for their events," DiBernardo wrote in a press release.
Take a look at Swig & Swine:
What Folks are Saying
Google Review
Among the many Google Reviews, Local Guide Roger C reported he found everything of the highest quality at Swig & Swine, from the food to the service:
After reading such great reviews my wife and I headed to the Mount Pleasant restaurant with hopes the reviews were accurate.
Upon arrival the parking lot was packed but it was packed because of the adjacent baseball fields. The restaurant was about half filled and it had a nice informal atmosphere with ample inside/outside seating.
Once we were seated our server Callie promptly took our drink order and explained in great detail some of the more popular menu items. Since it was our first time to Swig & Swine, we elected to split the Three Meat Plate with two sides.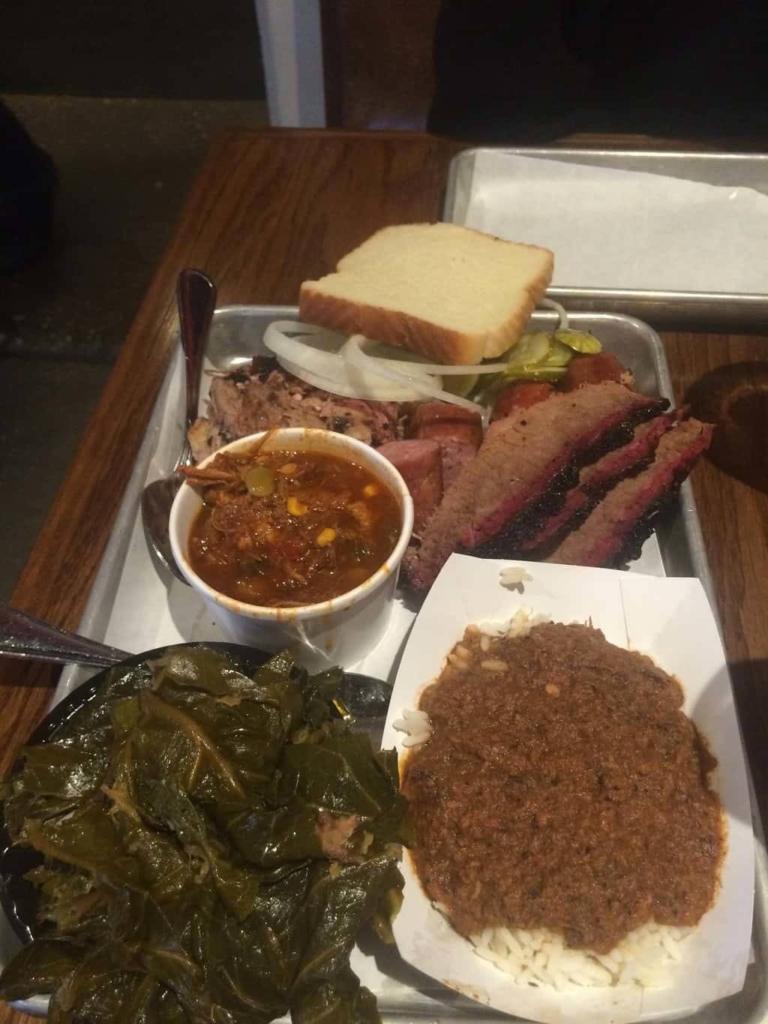 For our three meats we selected the Prime Beef Brisket, Smoked Turkey, and Pulled Pork. Our two sides were Mac & Cheese and Corn Pudding. Our order arrived within minutes and Callie was quick to explain the ingredients of each of the five different BBQ sauces (squeeze bottles were on our table).
Well, our meal was absolutely delicious (top quality meats and perfectly made sides) and perfect for sharing and sampling the different meats between two people. Callie was outstanding, she was extremely friendly, helpful, and attentive.
We felt the BBQ was some of the best we've had in a long time, we highly recommend the Swig & Swine in Mount Pleasant, we will return!
Yelp Review
Over on Yelp, Charleston-area local Jamie D shared that she and her husband dropped in because it was nearby, but kept returning because of the people and the food:
We first ate at Swig & Swine because it was close to our home but we keep going back because of the food and service!
My husband and I eat there about once a week. The staff is friendly and very attentive. We usually have Anson as our waitress and she's awesome.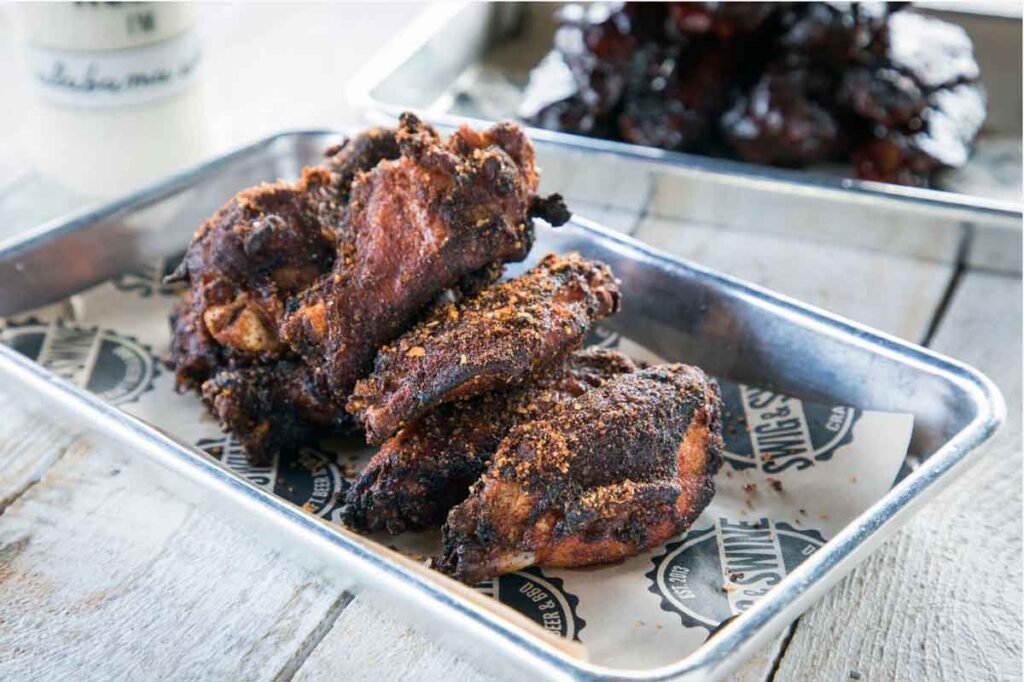 My favorite 2 dishes are the wings and ribs. The flavor is amazing on the wings and the price is good. Especially on wing Wednesday. The ribs have a good amount of meat and are moist. I like trying the different sauces too.
I definitely recommend eating here (or taking out).
Reviews from the original location:
Read our Review of Swig & Swine
In addition, here is another review you may enjoy:
Allston McCrady's Review in Charleston City Paper
What's on the Menu?
Swig & Swine's menu centers around its wood-cooked barbecued meats. You can order pulled pork, ribs, brisket, chicken, turkey, sausage, and more.
Their sides are just as good. Among the choices, you will find their amazing mac & cheese, Brunswick stew, pickled vegetables, corn pudding, and baked beans.
You'll certainly want to try specialties like their pork rinds with pimento cheese or desserts like their famous Nutter Butter pie.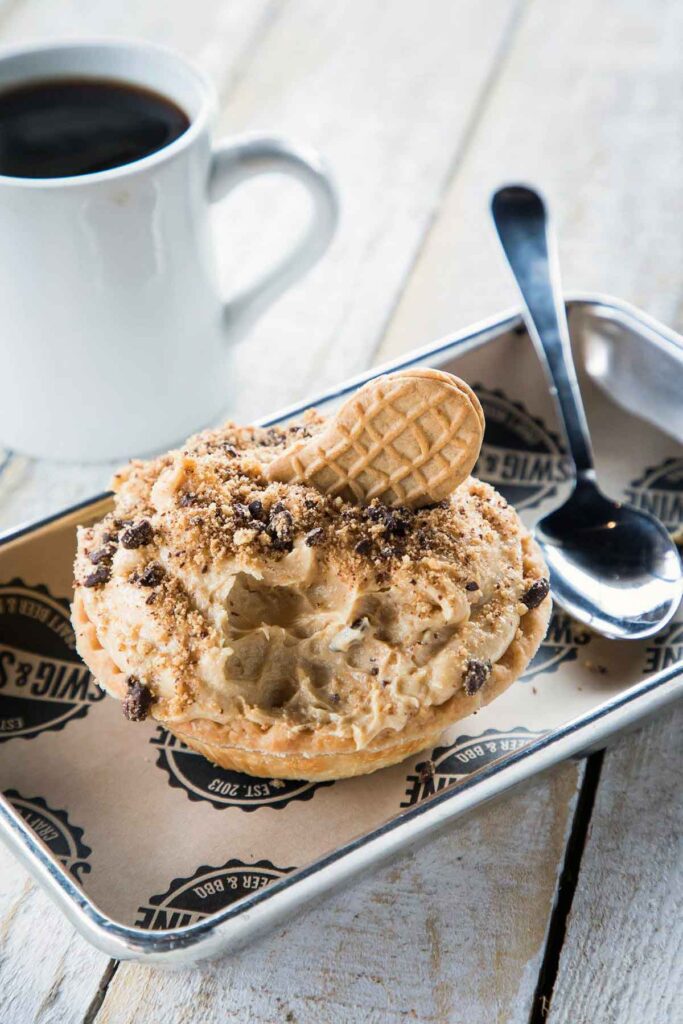 In a nod to our history, Swig & Swine also offers South Carolina barbecue hash, an original dish unique to our state.
Swig & Swine offers an array of sauces sure to please any palate. You'll find mustard, vinegar, tomato, and Alabama White sauce.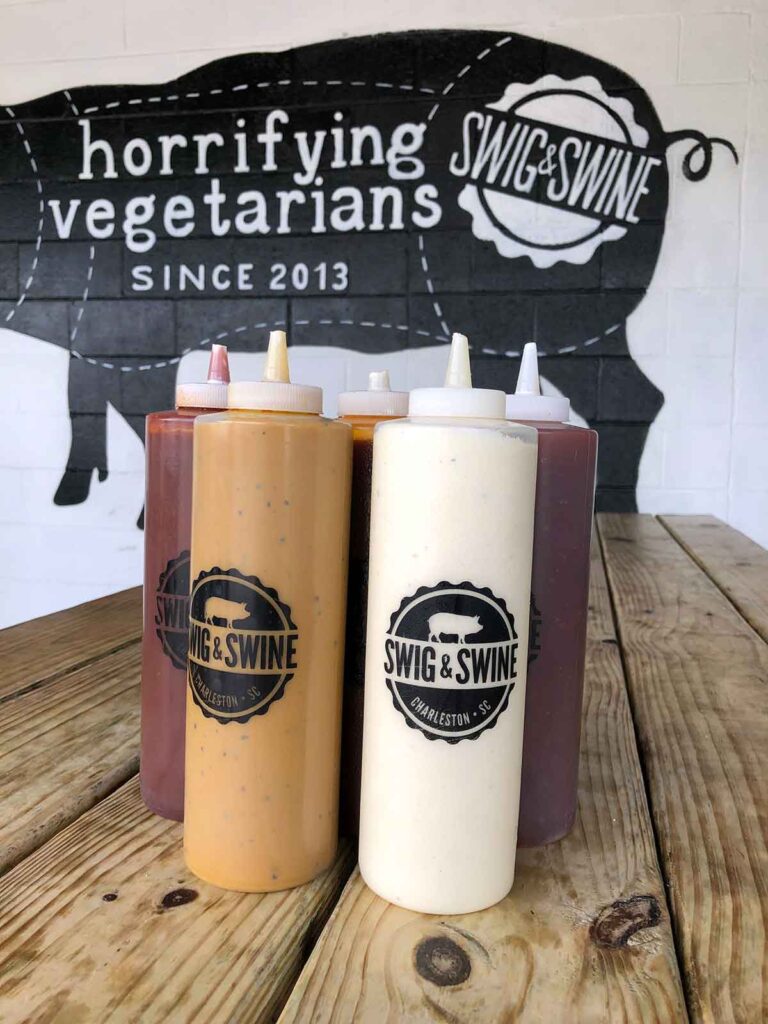 The desserts are hard to save room for but worth making a bit of extra room in your belly. That said, you won't find their desserts on the menu. For those, you have to check the chalkboard.
Food and Beverage Menus for Swig & Swine
Note: Menu prices and options are subject to change over time. Contact the restaurant for the most up-to-date information.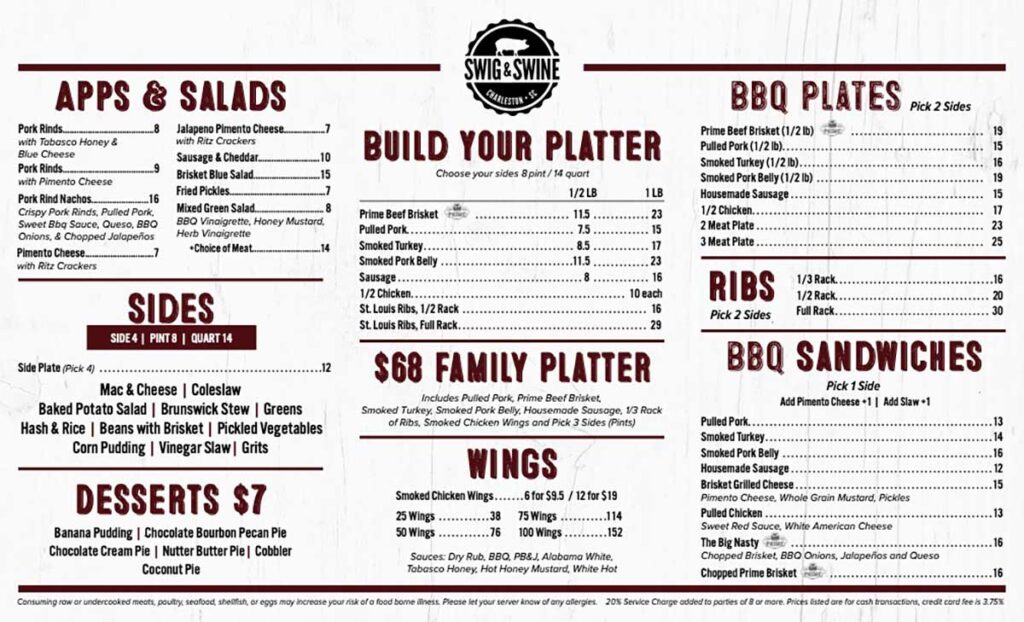 ---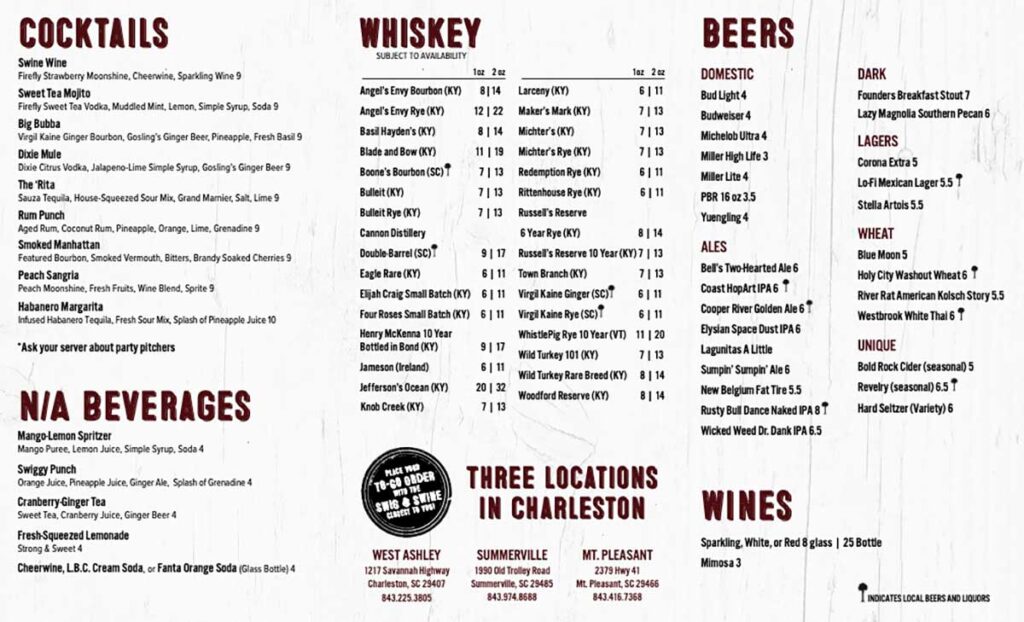 Swig & Swine FAQ
Does Swig & Swine ship fresh food nationwide? How about merchandise?
Swig & Swine does not ship fresh food items like BBQ and ribs at this time; however, they do ship the following items which you can purchase in their store: your choice of their bottled Jalapeño Red, Carolina Mustard or Sweet Red sauce, gift cards, koozies, hats, and t-shirts.
What desserts does Swig & Swine offer?
You won't find dessert on the Swig & Swine printed menu. However, you can regularly order bourbon chocolate pecan pie, banana pudding, oatmeal cream pies, ice cream, and more. You'll have to check the chalkboard menu when you visit.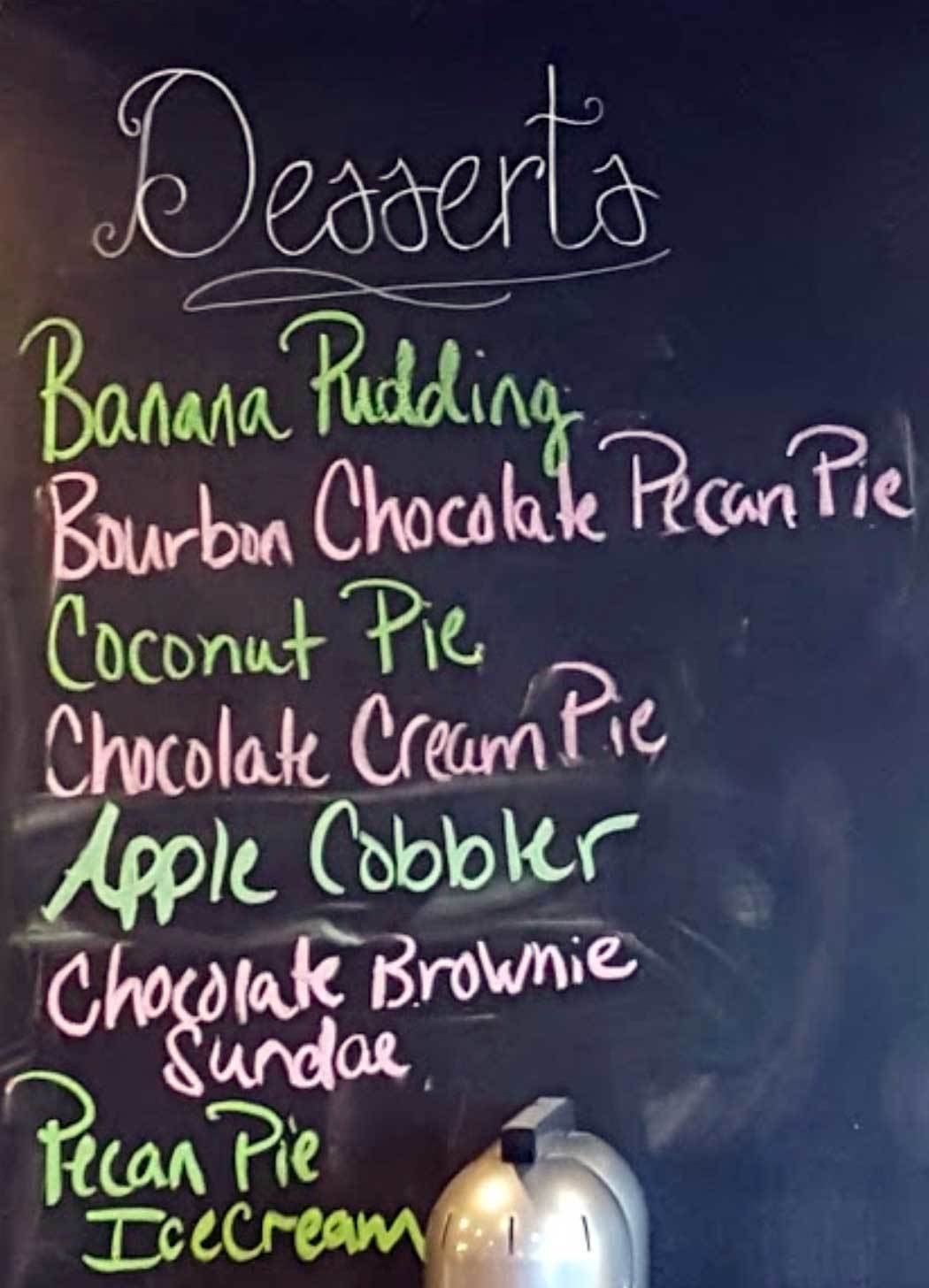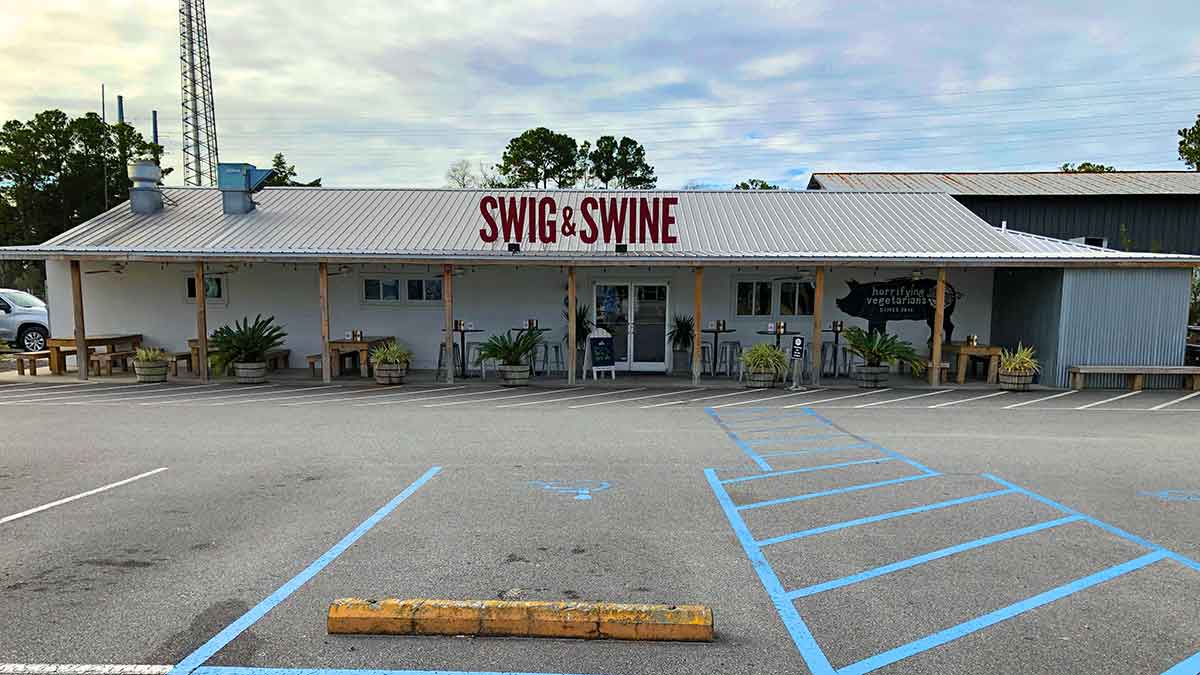 Swig & Swine at Shipyard Park in Mount Pleasant
2379 S.C. Highway 41
Mount Pleasant,
SC
29466
| | |
| --- | --- |
| Monday | |
| Tuesday | |
| Wednesday | |
| Thursday | |
| Friday | |
| Saturday | |
| Sunday | |
Features
True 'Cue Certified, Cards and Cash, Hash, Whole Hog, Mustard Sauce, Vinegar Pepper Sauce, Heavy Tomato Sauce, White Sauce