Listen to this Destination: BBQ article.
Swig & Swine's Banana Pudding Recipe: A Big Hit
This post may contain links from which I earn a commission. Please read my disclosure policy. As an Amazon affiliate, I earn from qualifying purchases.
Swig & Swine's banana pudding recipe is a big seller at each of their restaurants in the Charleston area. Among the desserts, their pudding stands alone. Just ask owner/operator Chef Anthony DiBernardo.
"Oh, and the standby [dessert] is our banana pudding, which is our number-one seller," DiBernardo once told Charleston Living Magazine.
The customers seem to agree. Just check out this Instagram post, by Joan from ThatPastryLife, who wrote, "Come for all the meats, stay for this amazing banana pudding!"
Yes, indeed, Swig & Swine's banana pudding recipe is popular. So popular, in fact, that Ed Randolph, author of Smoked: One Man's Journey to Find Incredible Recipes, Standout Pitmasters and the Stories Behind Them had to mention their top-selling dessert (and one other Swig & Swine sweet) in the book.
"Save some room for dessert," he writes, "the banana pudding and the peanut butter pie are both worth the calories. Remember, if it tastes good it must be good for you."
High praise from a tried and true BBQ expert. It's the reason why Swig & Swine earned a spot on our feature entitled "BBQ in Charleston, SC: The Definitive Guide."
But you don't have to be an expert in the kitchen to make this recipe at home.
A Family Recipe
This recipe is a dish DiBernardo learned from his mother, whom he, unfortunately, lost in the spring of 2020.
View this post on Instagram
That said, Swig & Swine's banana pudding recipe is a true custard.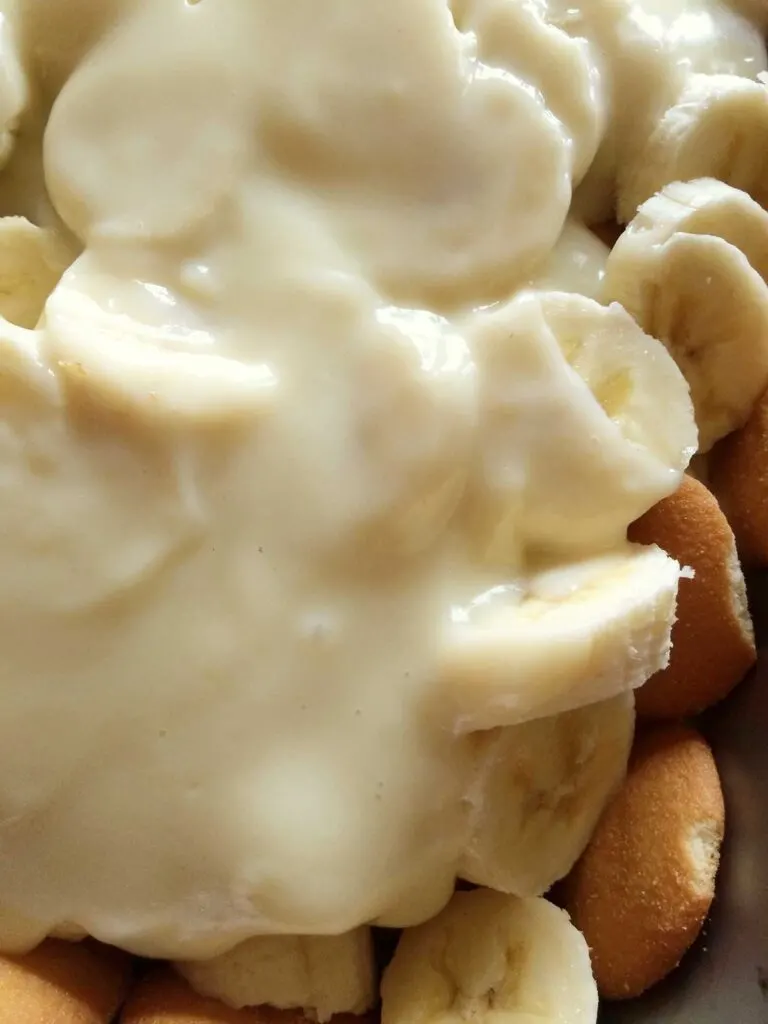 It doesn't involve Jello-brand banana-flavored pudding mix. It involves you…mixing. But we promise it is both simple and absolutely worth the effort, like most good things.
Get to work and soon you can enjoy this:
And if you want to make this recipe and compare it to the "real thing," Swig & Swine has locations on Highway 17 West of the Ashley, in Mount Pleasant at Shipyard Park, and on Old Trolley Road in Summerville.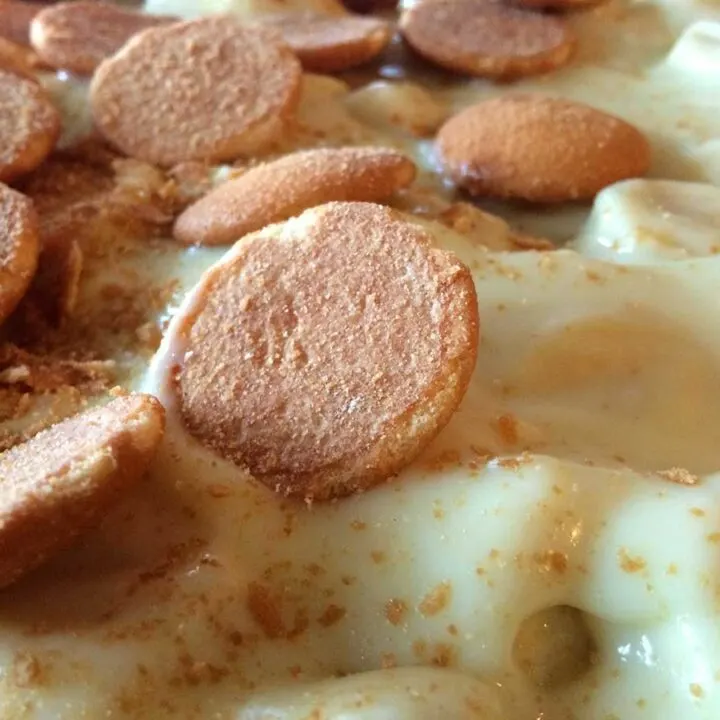 Swig & Swine's Banana Pudding Recipe
Total Time:
12 hours
30 minutes
A classic Southern banana pudding made with a real custard that's perfect for BBQ or any meal.
Ingredients
1 quart milk
1 teaspoon vanilla
2 whole eggs
5 egg yolks
1 cup sugar
1/2 cup all-purpose flour
Pinch salt
4-5 bananas
Vanilla Wafers
Instructions
Bring milk and vanilla to a simmer in a double boiler.
Whisk together eggs and yolks in a separate bowl.
Blend flour, sugar, and salt together in a separate bowl.
Temper eggs with some of the milk.
Slice bananas.
Make a layer of vanilla wafers on the bottom of a 9×9 dish and top with bananas.
Add flour mixture to the milk in a double boiler while whisking steadily. Once flour mixture starts to thicken, whisk in eggs. Continue to cook until thickened.
Pour mixture over bananas and wafers and refrigerate overnight or until set.
Top with Cool Whip to serve.
Recommended Products
As an Amazon Associate and member of other affiliate programs, I earn from qualifying purchases.
Nutrition Information:
Yield:

8
Serving Size:

1 cup
Amount Per Serving:
Calories:

302
Total Fat:

8g
Saturated Fat:

4g
Unsaturated Fat:

0g
Cholesterol:

175mg
Sodium:

73mg
Carbohydrates:

51g
Fiber:

2g
Sugar:

38g
Protein:

8g
(Note: DiBernardo first shared this Banana Pudding recipe with Deep South Magazine)
---
Like to Volunteer as One of our Recipe Testers?
We have a bookful of recipes to test and publish. Join the team and choose from our collection of unpublished recipes.
All we ask is that you photograph the process and share your thoughts on each recipe and the finished product. And we'll feature you when we publish that recipe.
Interested? Just send me an email.
---
Check out these other authentic SCBBQ recipes we've published on destination-bbq:
Eastern SC Vinegar-Based Sauce Recipe
Home Team BBQ's Alabama White Sauce Recipe
And we've published the following sauce recipes in the SCBBQ Recipes: Going Whole Hog cookbook (read more about that here):
Sauces and Rubs:
Vinegar-Pepper Sauces
Mustard Sauces
Tomato-Based Sauces
Other Sauces
Rubs
Learn More About Our SCBBQ Cookbook