This post may contain links from which I earn a commission. Please read my disclosure policy. As an Amazon affiliate, I earn from qualifying purchases.
Lowcountry BBQ never tasted any better. At Swig & Swine Summerville, we're smoking all day so you don't have to!!
It's a point of pride for Swig & Swine to cook the Lowcountry's best barbecue. To do that, they simply take their time and slowly smoke their meats. This locks in both the flavor and natural juices.
They use custom-built smokers and only burn wood to cook their meats, adding more logs to their burn barrel every 15 minutes for a continuous source of hardwood embers for cooking.
Stop by for some Q and a cold pint of your favorite craft beer.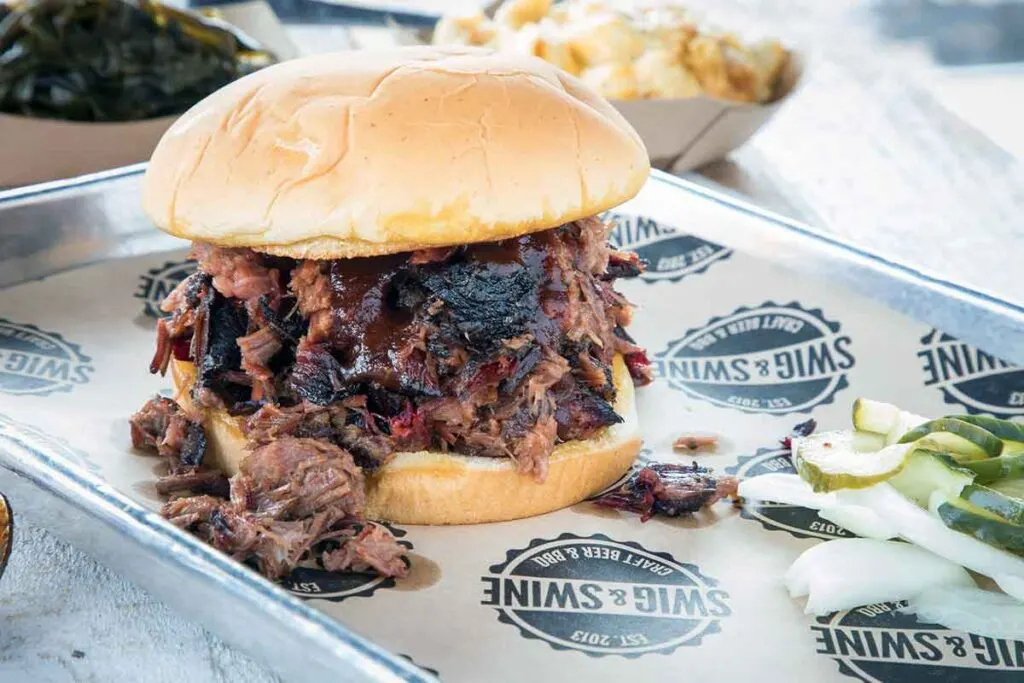 Rising from the Ashes
Heard about the fire that closed Swig & Swine Summerville?
No worries. After a 10 month rebuild, the Summerville location reopened. The Trolley Road restaurant was forced to close after a June 2018 fire left the pit room and dining area "ravaged."
In fact, firefighters fought to put the flames out twice in a span of five hours.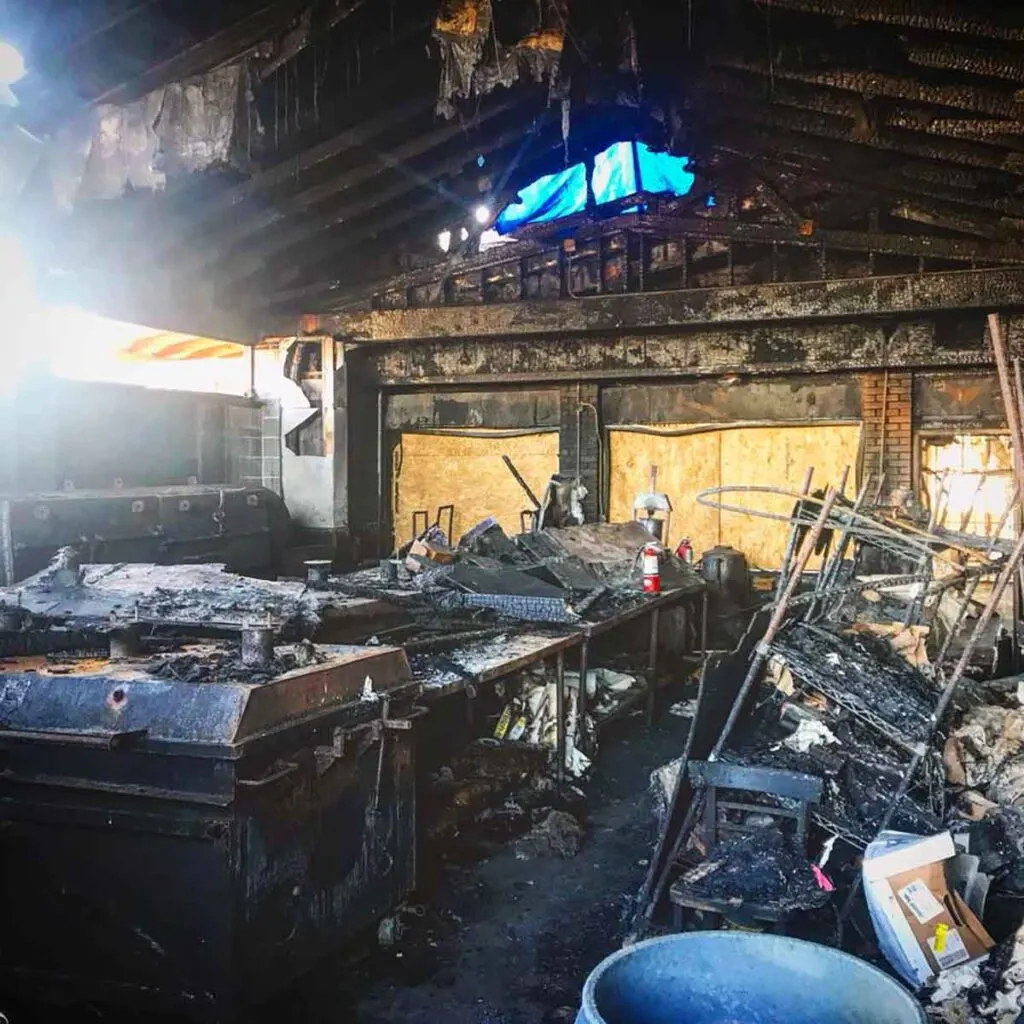 Fire is common in the barbecue business. For example, the Summerville fire is not the first fire to break out in a Swig & Swine location.
The original restaurant in West Ashley suffered two fires, one in 2016 and another around a year later.
"A fire is a humbling experience, to say the least," said Swig & Swine pitmaster/owner Anthony DiBernardo.
"In my line of work, you have a tendency to think you control the fire when it's actually the other way around. It's been the longest 10 months, but we're so thrilled to get back to work at Swig & Swine Summerville and serve our awesome guests!"
Meet the Chef
DiBernardo's background in food is as diverse as the restaurant's selection of BBQ sauces. From cooking on a submarine to serving as chef at Kiawah Island Resort, DiBernardo has done it all.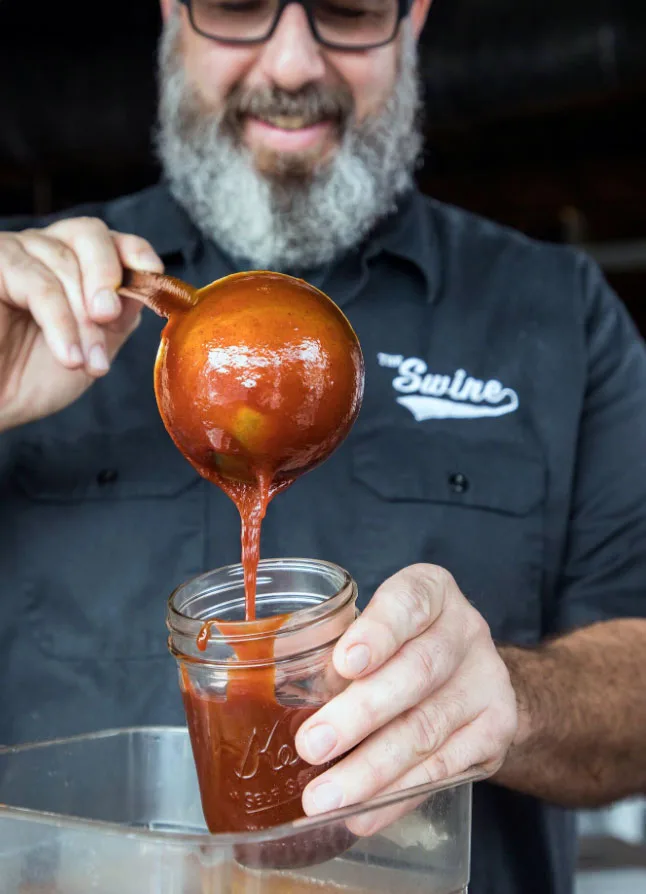 For instance, he has a passion for naturally smoked BBQ and competes as a competitor with the KCBS. His competitive nature shows in the quality of the smoked meats he serves at Swig & Swine Summerville.
Enjoy this audio interview with DiBenardo on The Manual Podcast. That is followed by a video that gives you a look inside of Swig & Swine.
What Folks are Saying about Swig & Swine Summerville
Google Review
Google's Local Guide Evan Guthrie, the author of over 850 Google Reviews, boasts that Swig & Swine Summerville is one of the best in the area:
I really like Swig and Swine at Oakbrook in Summerville and it is one of my favorite BBQ restaurants in the area.
I have had excellent BBQ every time that I have been here and they consistently deliver on everything they put out. Like the location as there are not too many other restaurants like this in the vicinity and it is always a good option and especially when you are hungry and want some consistent quality BBQ.
Really like the layout and vibe of the restaurant as it is cool and laid back and fun.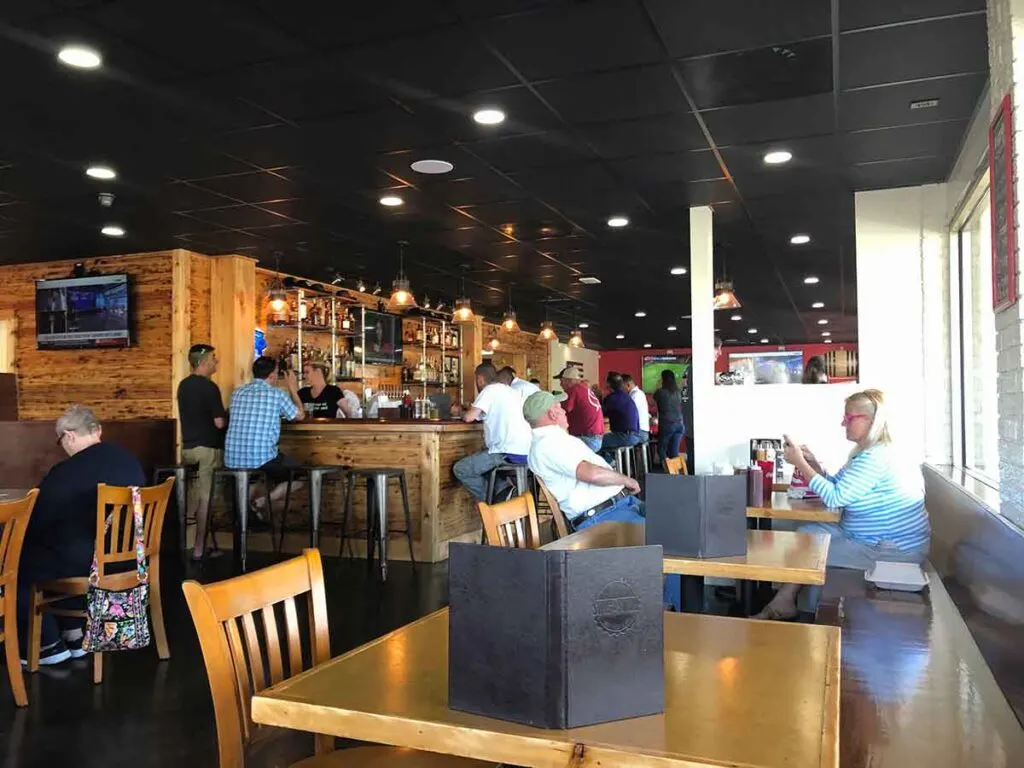 The staff here is very efficient and works hard to make sure that you have everything you need and does it in a friendly way that stands out.
I look forward to being able to come back here many times in the future for great BBQ.
Yelp Reviews
Over on Yelp, Brittany A shares her experience as the daughter of a pitmaster herself:
My dad owns a commercial smoker and his own business, so I know my way around some BBQ. This place is phenomenal.
The meat has been perfect every time, the sides are so so good, the service is excellent and beyond friendly. Even the sauces are amazing.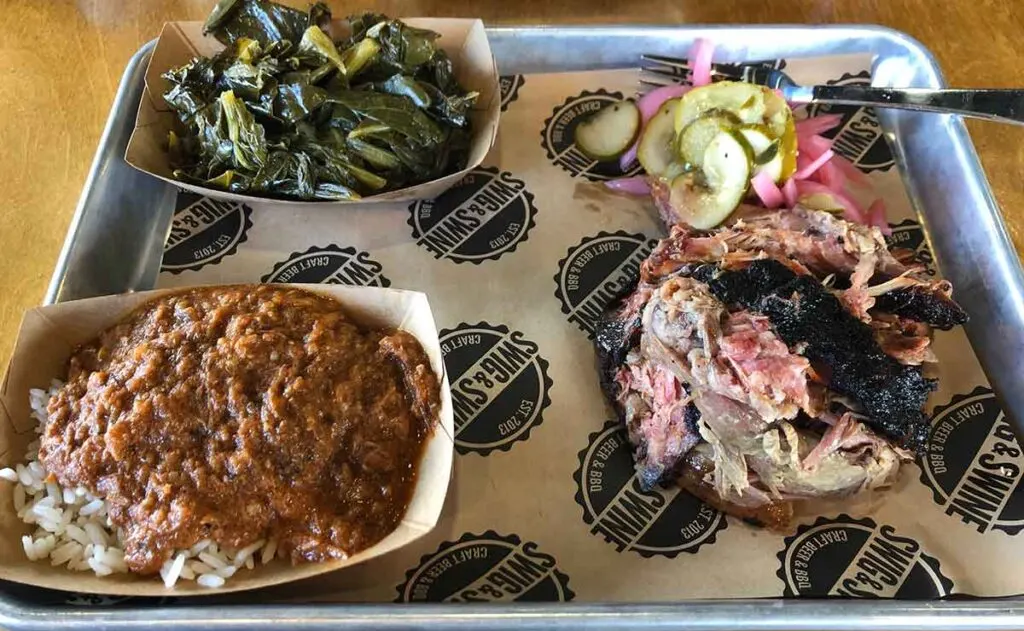 The restaurant is very clean. Open concept with a full bar, and good local brew on draught.
This place was highly recommended when I moved to the area and now I know exactly why! Sure to be a quick fave for everyone in the family.
In short, you must eat here!
Charleston-area resident Frank P wrote the following:
Swig is the go-to BBQ spot for us and All guests that visit us in CHS. The group that runs Swig is under 82 Queen St hospitality
Group and it shows. Staff is always knowledgeable and eager to make sure you have a great experience.
Now to the meat of the review- Wings are the BEST in CHS. Smoked dry rubbed- then flash-fried to order – they are the best.. 5 "house-made" sauces are great (Alabama white is sneaky good).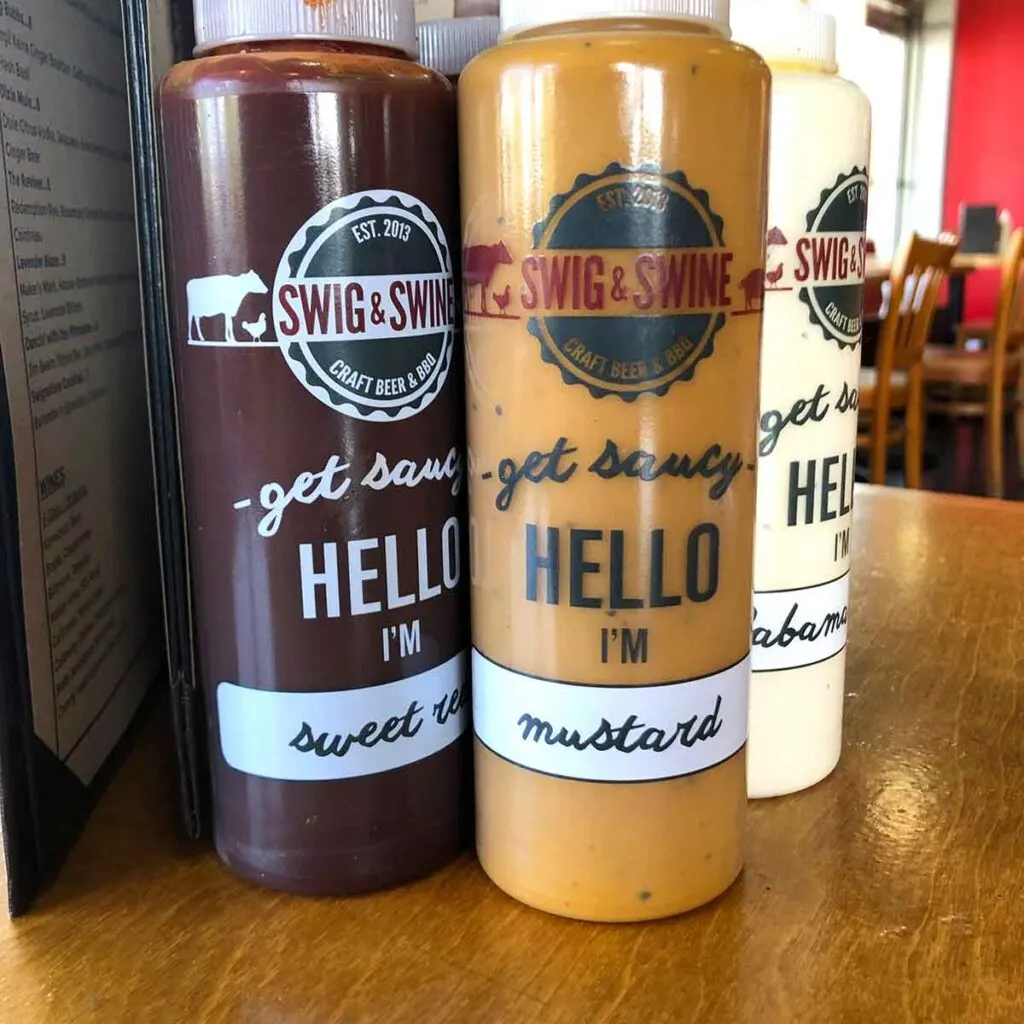 The family platter is a gift as you get to sample all the meats from the smoke room. The house-made sausage is silly, ribs and brisket are always on point, pulled pork is obviously legit.
Sides- Corn pudding for the win, beans w chunks of brisket, mac n cheese are solid. Homemade desserts are above expectations always.
Pro Tip – get an order of burnt ends and thank me later.
Reviews of the original Swig & Swine West of the Ashley:
Read our Review of Swig & Swine
In addition, here is another review you may enjoy:
Allston McCrady's Review in Charleston City Paper
What's on the Menu?
Swig & Swine's menu centers around its wood-cooked barbecued meats. You can order pulled pork, ribs, brisket, chicken, turkey, sausage, and more.
Their sides are just as good. Among the choices, you will find their amazing mac & cheese, Brunswick stew, pickled vegetables, corn pudding, and baked beans.
You'll certainly want to try specialties like their pork rinds with pimento cheese or desserts like their famous Nutter Butter pie.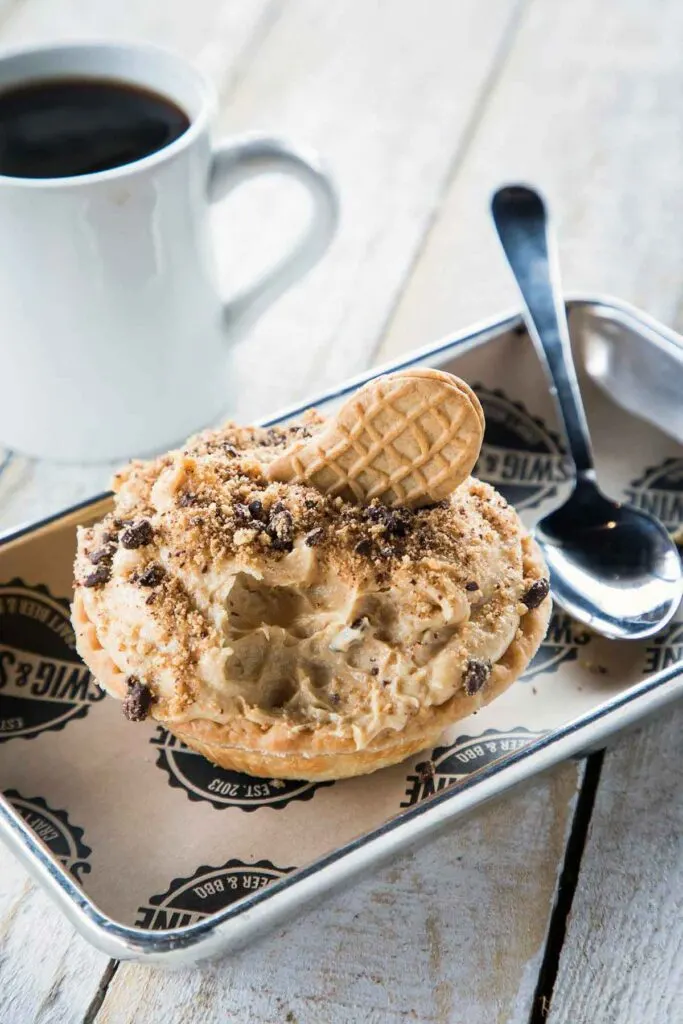 In a nod to our history, Swig & Swine also offers South Carolina barbecue hash, an original dish unique to our state.
Swig & Swine offers an array of sauces sure to please any palate. You'll find mustard, vinegar, tomato, and Alabama White sauce.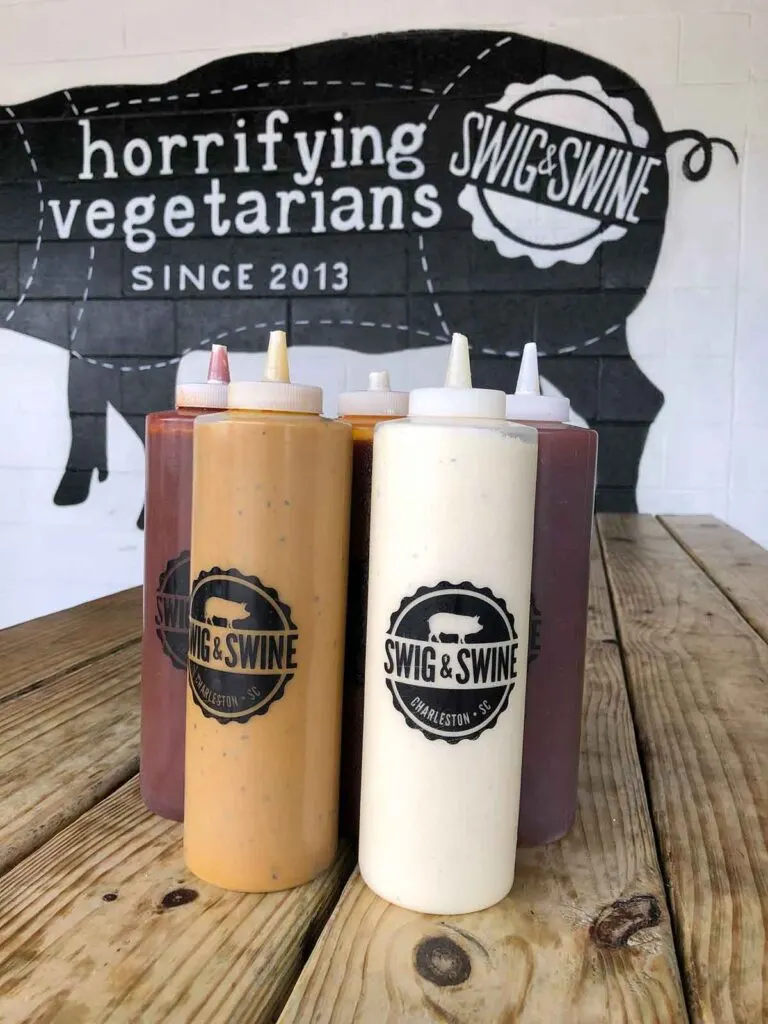 The desserts are hard to save room for but worth making a bit of extra room in your belly. That said, you won't find their desserts on the menu. For those, you have to check the chalkboard.
Food and Beverage Menus for Swig & Swine
Note: Menu prices and options are subject to change over time. Contact the restaurant for the most up-to-date information.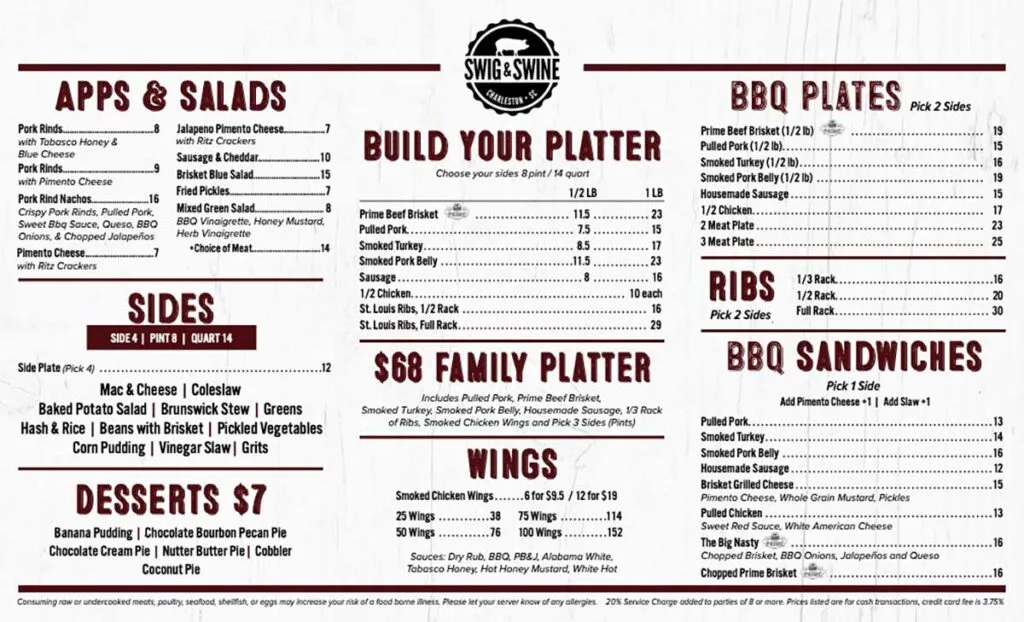 ---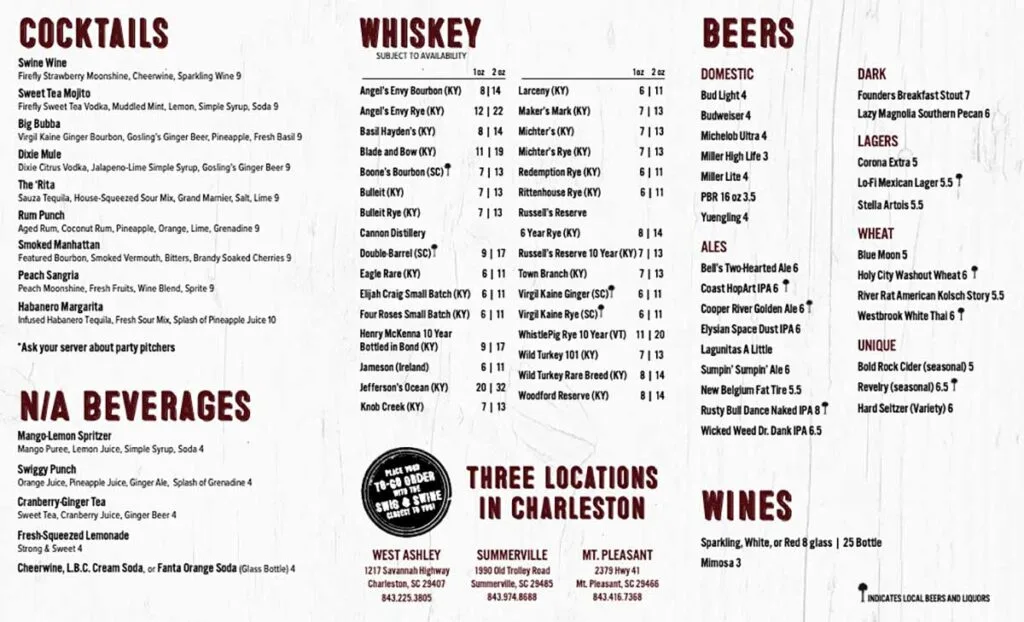 Swig & Swine FAQ
Does Swig & Swine ship fresh food nationwide? How about merchandise?
Swig & Swine does not ship fresh food items like BBQ and ribs at this time; however, they do ship the following items which you can purchase in their store: your choice of their bottled Jalapeño Red, Carolina Mustard or Sweet Red sauce, gift cards, koozies, hats, and t-shirts.
What desserts does Swig & Swine offer?
You won't find dessert on the Swig & Swine printed menu. However, you can regularly order bourbon chocolate pecan pie, banana pudding, oatmeal cream pies, ice cream, and more. You'll have to check the chalkboard menu when you visit.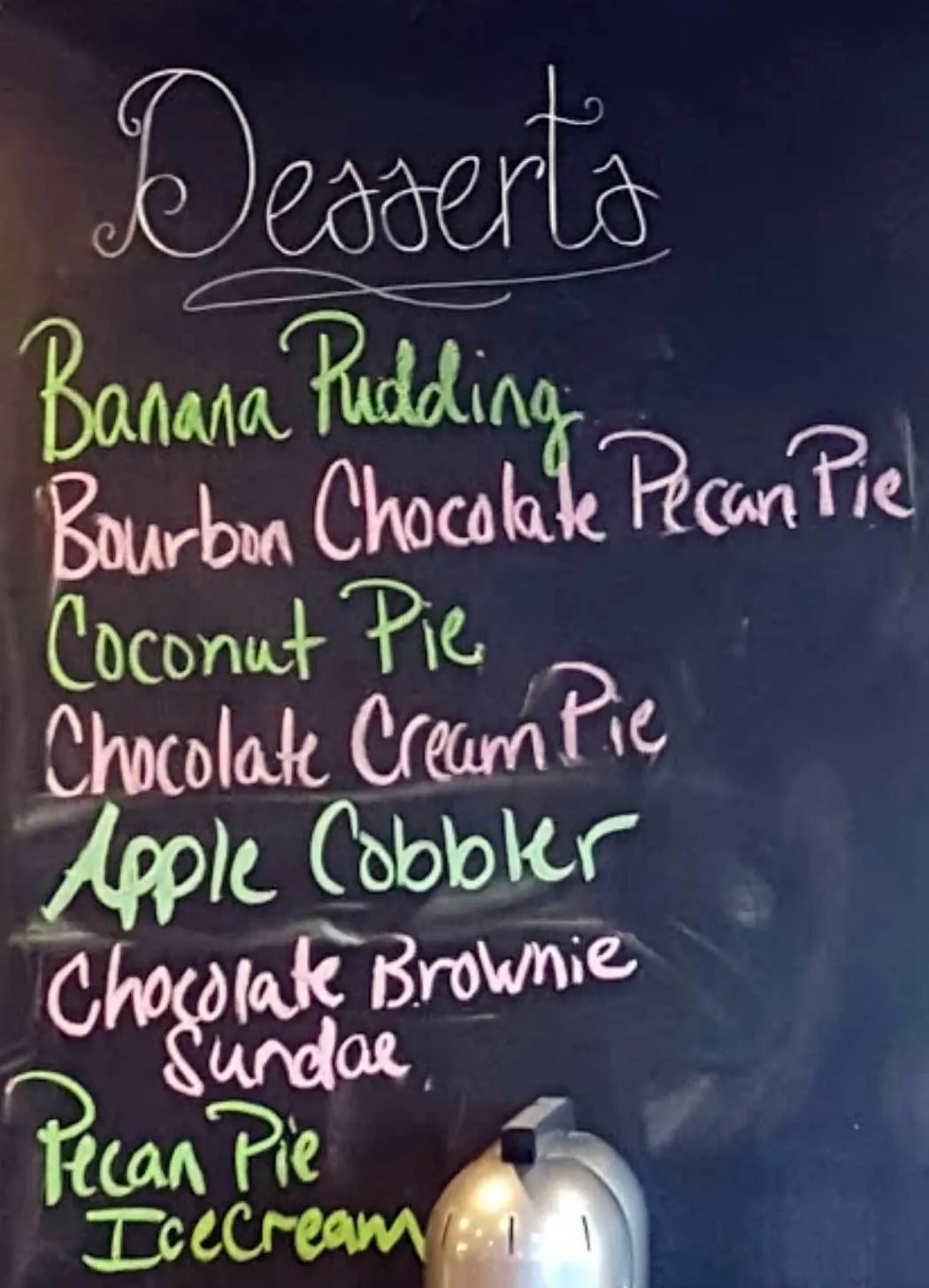 Location, Hours, Contact Info, and More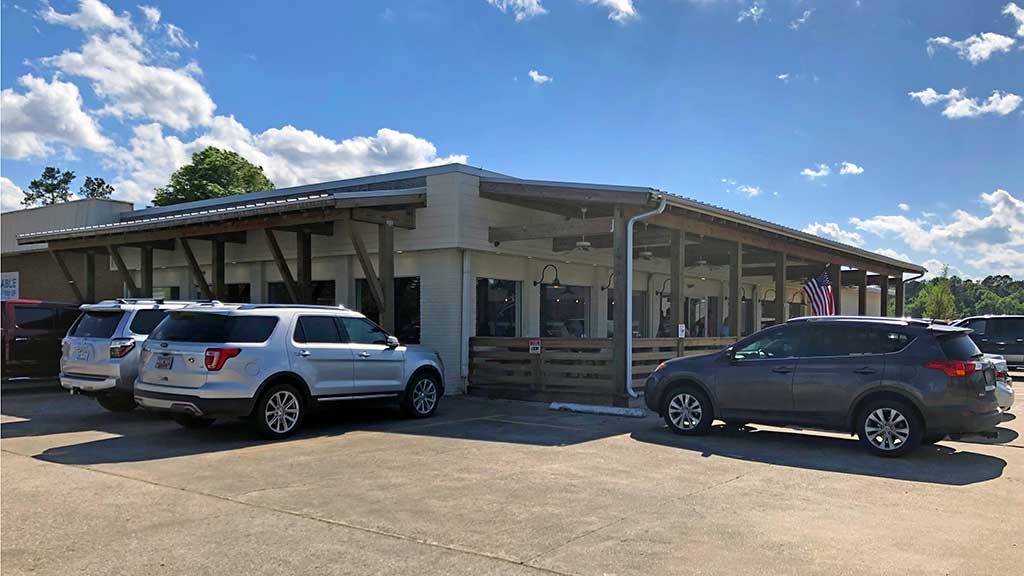 Map
Directions
Contact Swig & Swine Summerville
1990 Old Trolley Road
Summerville,
SC
29485
Hours of Operation
| | |
| --- | --- |
| Monday | |
| Tuesday | |
| Wednesday | |
| Thursday | |
| Friday | |
| Saturday | |
| Sunday | |
Review Sites
Features
Cards and Cash, Hash, Heavy Tomato Sauce, Mustard Sauce, True 'Cue Certified, Vinegar Pepper Sauce, White Sauce, Whole Hog