This post may contain links from which I earn a commission. Please read my disclosure policy. As an Amazon affiliate, I earn from qualifying purchases.
Heather and I had been itching to get out to Swig & Swine ever since it opened not too long ago, and the opportunity finally presented itself during the holiday break, so we set out on our journey to pick up New Year's Day collards and a BBQ lunch.
Swig & Swine is located in what was once a car detailing building, so if you try Google's Street View (at least at the time of this writing), you will not find anything really even resembling the building standing there today. In fact, they took the existing structure and really did a great job converting it into a restaurant.
But does the food you get on the inside live up to the building you see from the outside?
First, driving in, it was hard to find a parking spot, not because the inside was very crowded as you can see in the photo below, but because there simply isn't much room to park.
You may find it helpful to know that if parking is an issue when you arrive, you can drive to the left side of the building and take a hidden "road" over to the Doscher's IGA parking lot.
Swig & Swine is often crowded, so I am sure the Doscher's lot is used quite often.
Upon entering, you will be greeted by a host or hostess who will seat you.
Heather and I took a spot in the middle of the dining area. The interior is done as nicely as the exterior with an open design, rich red walls, some country touches here and there, including Mason jar chandeliers. At the far end, you'll find a bar with a meat case where you can check out whatever has come out of the smoker. On the left, as you enter, you will find the bar area.
We were seated and quickly seen by our waitress. I ordered a Milk Stout and Heather got an Ale to go along with a Pickled Vegetable Jar ($4) and 6 Smoked Chicken Wings ($6).
The pickles were sweet. "Not bread and butter, more like a Sweet Gherkin," Heather said.
I agreed and thought they were a good balance of sweet and tart, though definitely on the sweet side. They weren't processed but more like a "refrigerator pickle," fresh packed and never heated. Inside our jar, we had thinly sliced carrots, small, whole okra, and thinly sliced cucumbers.
The wings were sweet and smoky, and moist, and delicious. They were simply perfect.
The skin was flavorful, definitely not flabby or undercooked. The interior was pink from the smoke and perfectly cooked. Generally speaking, I like my wings crisply fried then wet with sauce. These were the best wings I've eaten outside of Wild Wing…and maybe inside there as well.
For our meal, we decided to share a 3 meat plate ($21) to which we added 3 sides. The plate came with 2 sides; I think it was $3 to add the additional side.
With the three meat plate, you get your choice of the five meat options. We chose pulled pork, beef brisket, and homemade sausage. The other options were smoked turkey and smoked pork belly. I'm still intrigued by the pork belly.
When our plate arrived, we found 3 thick slabs of brisket, a good quarter pound or so of pulled pork, and 4, 2-3 inch chunks of sausage.
I'll start with the brisket. I don't know much about brisket, honestly. I had never even tried it until we went to Kelly's BBQ in Summerville recently. So take what you read here with a grain of salt.
Randy Hosley, a good friend from Vermont, tells me that brisket should be moist and have a good slab of fat on the top. He said some people "down here" cut that layer of fat off, but that it is important to the overall taste and should be left on.
Again, I don't know, but I found the brisket on our plate to be good. It had a nice ¼ inch or so of smoke ring, a black "crust" and tender overall meat. I didn't find ours all that moist, but I wouldn't call it dry either. There was not a layer of fat on the top either.
You should know I HATE fat and fatty bits in my BBQ; it disgusts me, actually, but the brisket I tried at Kelly's was not fatty at all, even though it had a clear fat layer. It was more part of the overall experience and added a depth of…moisture, really, to the overall taste.
Swig & Swine's brisket lacked this layer of fat and maybe that's the reason it seemed less moist.
Regardless, I found it to have pretty good flavor with a clear impact from the smoke, particularly when I sampled the leftovers later that evening. Heather didn't really care for it, but she doesn't like beef anyway, and the beef was the primary taste she drew from it.
We found the brisket to be flavored with anything but the smoke, which we generally prefer. That is, we didn't sense a rub or anything else had been used on the meats. We could be wrong about that, but if it was used, it was subtle in its impact on our dishes.
The pulled pork was tender. I did find a bit of fatty skin in mine, which as I said, I hate, but it did not detract too significantly from the meal. Like the brisket, we didn't sense the meat had been cooked with a rub based on the sample we received, and again smoke was the primary flavoring. Though we thought both needed sauce to really complete the experience and that the meat seemed a bit flat without it.
We will get to the sauces in a minute.
Finally, we had the homemade sausage. It is very good.
It had taut, almost crisp skin that yielded to a succulent, flavorful interior. Not sure what "style" of sausage it was, but I would compare it to a Kielbasa, which frankly I don't care for. That is not to take away from the product served at Swig & Swine; it is just a personal distaste. I feel like the rich, moist, fattiness of the sausage is too much for me (hmm…sensing a trend here).
The sausage served here is certainly way better than any store-bought Kielbasa and Heather certainly enjoyed it. If you like that style of sausage, I certainly recommend theirs.
Ok, the sauces.
Swig & Swine serves 4 different styles of sauce: vinegar, mustard, heavy tomato, and white….yes, white.
I had never heard of a white sauce until I spoke with the owners of Q on Bay in Beaufort. They call theirs an "Alabama White Sauce," and further research shows that, yes, that actually is a thing: mayo-based BBQ sauce.
I was skeptical but eager to try it when we found it in person for the first time at Swig & Swine.
I don't like it. Really, I should say "we," because Heather didn't care for it either. I didn't really expect to like it, but I was hopeful. I knew she wouldn't like it because she doesn't like mayo anyway, really.
It's just weird. At the time, I compared it almost to a coleslaw dressing. It is a thinned-out mayonnaise base with additional ingredients. There had to be vinegar in the mix. Also, I would guess there is a sweetener (sugar?) and pepper (cayenne and/or black?) though not heavy, and, of course, salt.
Beyond that, I have no idea. And why you'd want coleslaw dressing on your BBQ is beyond me, but if that's your thing, then, enjoy.
While the white sauce was an outlier, the other sauces were obviously more typical of the area. The Carolina mustard sauce was a true Midlands mustard, with a strong yellow mustard taste. We've tasted similar — but much stronger — at Cannon's and Jackie Hite's (now closed) and really don't care for their version of mustard sauce.
Like the mayo, I'm not sure why you'd want something that tastes like straight mustard on your BBQ, but, again, if that is your thing, then enjoy. That said, Swig & Swine's is milder, maintaining the mustard flavor but having deeper, more palatable layers to it.
I like Swig & Swine's mustard sauce.
The vinegar-pepper BBQ sauce, typically my favorite, was good, a rich concoction of vinegar and flavorings. You could see the sediment took up a good third of the bottom of the bottle. A good shake sent them swirling into the mix. A very good vinegar sauce.
The heavy tomato-based BBQ sauce is what most people think of as BBQ sauce. It was sweet and smokey and tangy and delicious. I think it is what they used on the wings. I really enjoyed it on both the brisket and the pulled pork, but especially the brisket.
As for our sides, we ordered hash and rice, collard greens, and Brunswick stew.
The collards were delicious. The first taste and you knew immediately they were good. Sweet, mind you, but smokey with bits of meat and melt-in-your-mouth tender. I love great collards and recommend these highly.
The hash and rice was interesting. Heather really enjoyed it.
She described it as "meaty." It reminded me a bit of the hash we had at Midway BBQ in Union, which makes a beef hash.
"The hash was delicious and meaty, and it wasn't so sweet, like everything else was," Heather said. "Maybe this one is a beef hash; we'll have to research it and find out if it is a beef hash, 'cause if it is, it is the only way I like beef."
The Brunswick Stew, like much of the meal, was sweet. We suspect they used the Sweet Red BBQ sauce as part of the flavoring of the stew. It was different from the stew we make, but it was good. Sweet, tangy, and meaty. It included corn and lima beans, which were a bit undercooked in our serving.
Because we were both full at this point, we didn't opt for dessert, but there were tempting options: banana pudding and an assortment of little 4-inch pies; all are $5.
On so many levels, Swig & Swine is a sweet place to enjoy a meal. From the location to the building to the food inside, you can't really go wrong by choosing to eat at Swig & Swine. It's the reason why Swig & Swine earned a spot on our feature entitled "BBQ in Charleston, SC: The Definitive Guide."
---
Business Hours and Location
Here is a map of Swig & Swine's location:
Hours of Operation:
Serving all day Mon-Sat 11:00 am – until
Sunday 11:00am – 8:00pm
Phone:
843-225-3805
Payment:
Card or Cash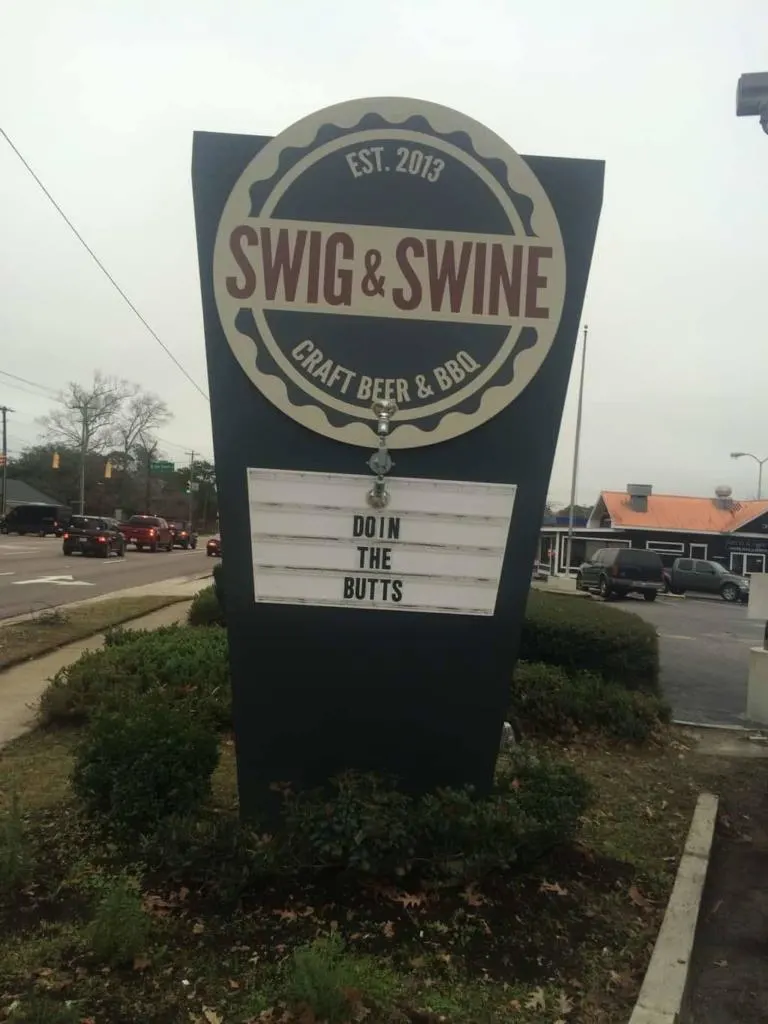 ---
If you're a Swig & Swine fan, we have a treat for you. We have published a couple of their recipes on this site. See those here:
Swig & Swine's Pork Rinds with Tabasco Honey & Blue Cheese Recipe
Swig & Swine Style Mustard Sauce Recipe
And if you enjoy those, we have published four more in our cookbook: SC BBQ Recipes: Going Whole Hog.
You can read more about our cookbook here. Here are the additional recipes we've published there:
Swig & Swine's Smoked Ham Recipe
Swig & Swine's Pimento Cheese Recipe
Swig & Swine's Quick And Easy Creamy Coleslaw Recipe
Swig & Swine's Beans with Brisket Recipe