This post may contain affiliate links to Amazon or other vendors I trust. Please read my disclosure policy. As an Amazon affiliate, I earn from qualifying purchases.
Note: This Restaurant Has Closed. If looking for BBQ in the area, check out BBQ in Charleston, SC: The Definitive Guide
We found ourselves in Goose Creek on Saturday for a baseball tournament. Camden made the Wando JV baseball team, and they were playing their first two games of the season at Goose Creek High School for the Rotary Baseball Classic pre-season tournament.
As with much of our BBQ tasting, baseball often is at the root of the locations we choose.
Heather and I actually tried to visit TJ's BBQ and Burgers for a quick lunch before his first game at noon, but we didn't make it in time, so Heather hopped out and asked for a menu, thinking we might come back between games.
That was our first interaction with their staff and service.
Heather came back out saying it took a while because the hostess went out of her way to find a menu for us but found one she did and we were on our way to the game. Score one for TJ's staff.
(Later, we would be waited on by a very friendly server who was a few short weeks from her due date. She was great. In fact, all our interactions with the staff were genuine and positive.)
Fate and baseball didn't allow us to visit between games, but that was fine. Normally, Camden wouldn't have been able to ride back from a Wando game with us as he would have to take the bus back with the team, but today the bus was needed elsewhere, so he was able to join us on our trip to TJ's.
His first question was: "How many days a week are they open?"
"Every day…" we responded, knowing why he was asking.
"I don't want to eat there…" was his reply.
Camden has learned with us that you can rarely find high-quality BBQ in places that are open more than a few days a week, one of the simple truths we discovered quickly when all this began during our Summer BBQ Tour of 2012.
"Well, you can have something else, then," we said, determined to try a new BBQ place.
TJ's is situated at the end of a strip of stores in the center of Goose Creek's business district. Coming in, we saw TJ's cooking/catering rig on the side in the ally between two strips of stores. It was a cold, miserable day, so we didn't stay outside to look it over.
We entered to a small area and were greeted by the hostess who had helped Heather earlier. She took us to a booth directly across the room to our left.
TJ's feels part sports bar, part restaurant, with several TV's hanging in view wherever you sit. Booths surround the perimeter and tables fill the center of the dining area.
There is a well-stocked bar just to your right as you walk to the dining area. There are two couches and a coffee table beside what I am guessing was a faux fire, with illuminated glass panels…looked warm and inviting on a day where we watched two baseball games in a cold, damp wind; unfortunately, I didn't notice it until our meal was done.
Taking our seats we noticed that a "chalkboard" of sorts runs around the perimeter of the dining area.
This something we have had in our own home for years. We converted most of the garage into a playroom when the kids were all young. (We have two older children, Christian and Chelsea, who are now living on their own.) Heather painted one entire wall with "blackboard" paint. Yes, it is actual paint for drawing on the walls with chalk. Fun!
TJ's has a strip of this running on the wall beside each of the booths and a tub of chalk on each table to allow their patrons to draw or write on the walls. I suspect this is something the management has to keep a close eye on, but we didn't see anything inappropriate on our visit. Quite the contrary, we thought it added a bit of fun to the experience.
We started with TJ's Onion Rings and Fry Basket ($6, see photo below). It was a generous serving, with a strip of onion rings down one side and a mound of fries filling the remainder of the tray (it was more tray than basket).
Both were very good and well seasoned, but the onion rings stood out.
I love a good onion ring, as does Heather. Many are greasy because of the batter used. These were not greasy in the least.
The batter became more like a crust than the fluffy breading that you often find on an onion ring, and inside this crust was a tender, moist, thick-cut onion. The batter was well seasoned and complimented but did not overpower the onion, itself. Well done.
"10 of 10," Camden said.
"Among the best I've tried," I agreed.
Heather said, "I loved the onion rings because the batter actually stuck to the onion and didn't fall off, and it was seasoned really well." Heather thought they might use the same seasoning in the batter that they used with the fries, but whatever…it was was good.
The appetizer gave us a good opportunity to taste the sauces. TJ's provides three: a golden mustard sauce, a heavy tomato sauce, and a vinegar-pepper sauce.
The mustard sauce reminded me of what you might taste at Maurice's in Columbia or Robert's in N. Charleston. It is a sweet mustard, avoiding the pungent tang and too strong taste of mustard we've found in some mustard sauces (Jackie Hite's — now closed — and Cannon's, for instance).
"It was good," Heather said. "It wasn't too sweet, had a smokiness and was thin, not thick." I agreed, it is a good mustard sauce.
The vinegar-pepper sauce, however, left us disagreeing. Heather found that "all [she] tasted in that was white vinegar." (Neither of us cares for white vinegar as it comes off more as tasting of cleaning chemical than a food product.) Although, she agreed with me that the sauce wasn't "too vinegary" in the sense of tasting raw vinegar, assuming the sauce was boiled with its other ingredients which "takes the edge off" of the vinegar.
I favored the vinegar sauce of the three sauces and kept returning to it later in the meal for my pulled pork sauce of choice. "It wasn't flavorful, but it was flavoring," I contended…if that makes any sense.
The red sauce reminded Heather of her homemade ketchup because of its viscosity and texture, and it had undertones of clove that seemed to stand out before the smokey sweetness took over. I tend to not care for these heavier tomato sauces on my pulled pork, but I did enjoy it on the ribs.
As for the entrees, Camden…true to his word…did not order BBQ. He ordered the Southern Burger ($8.50), a bacon-stuffed burger with cheese spread, onion ring, and coleslaw. We don't review burgers, but as a quick aside, here is his take:
He ordered his burger cooked medium. What he got was not.
"The burger was burnt and didn't taste good," Camden said. "The bacon…not much in there; coleslaw…too much in there. The burger itself was burnt and the bun was strange."
(For an interesting twist on your next burger, try this homemade wild boar bacon recipe.)
On the side, Camden ordered the Smoked Mac and Cheese.
"Delicious…" he said. "Amazingly tasteful. The mac and cheese had a smokey flavor that I thought was interesting. It just tasted good. It had a nice smokey flavor, the cheese was…cheesy and not dry."
Heather ordered the "One and Two," your choice of a meat — brisket, chicken (half or pulled), flounder, pulled pork, or ¼ rack of ribs — and two sides. Heather chose the pulled pork with sweet potato fries (yea…she likes fries) and baked beans.
We both got the pulled pork, but we'll take a look at our sides first:
"The sweet potato fries were eh…nothing to write home about," she said. "They were a nice cut but weren't crispy. The baked beans were very smokey, heavy on the smoke…sweet. They had onions and peppers in them, which was nice. And the sauce that was with the baked beans was thin and not thick and goopy like you sometimes get. That was nice."
I ordered the "Two and Two," pulled pork and ribs with vinegar coleslaw and potato salad (yea…I like my potatoes, too, I guess).
As for the coleslaw, "I did like it….almost," I said. Heather suspected they used white vinegar in both the coleslaw and vinegar-pepper sauce. I commented, "it was sweet, crunchy (or crisp), but very 'dry' for a coleslaw. I enjoyed it, but I didn't love it."
My other side was the potato salad, "which was just weird."
"It had too much dill in it," Heather interjected, "and it was like mush, too."
I agreed it had a lot to "fluff" to it and was not chunks of potatoes like you typically get with potato salad. I wasn't sure it was dill, but whatever it was made the potatoes look like pulverized Oreos in whipped cream. That's the best image I can draw for you. "So, anyway, the potato salad, I wouldn't order again," I concluded.
For the record, the other side options included onion rings, fries, and smoked Cajun green beans. Wish I had gotten the green beans…they sound tasty.
The pulled pork, "it looked good, and there was no fat," Heather said. I agreed generally, though I got a small amount of "tissue" that was neither fat nor meat, but not appetizing whatever it was. That happens sometimes with BBQ, and while not to be forgiven outright, is something the diner should be aware of.
However, the more disappointing part was that there was simply no flavor to the meat. While it had a dark exterior and some amount of smoke ring, the meat was essentially flavorless, which we found strange.
"It didn't have any salt or pepper seasoning or anything. It wasn't dry…and I liked the fact that they didn't put the sauce on it, but there was no seasoning to the meat," Heather reported.
"There wasn't even a lot of smoke taste either I didn't think," I continued. "I did have one little chunk where I was like 'Oh, there was a lot of flavor.' I wish more of it was like that. It was definitely…not seasoned."
As for the ribs, my serving was a small end of a rack. It was a fair portion, I thought, and I suspect they typically will use that short, tapered end of the rack for these ¼ rack servings, saving the larger ribs for those ordering "Ribs."
"The ribs were pretty good, actually," I said. "They weren't fatty. They weren't heavily seasoned, but there was a good smoke flavor. They were meaty and tender, a little bit on the dry side but not bad. I mostly ate it with the red sauce as the rub didn't offer much in the way of flavor. Kind of reminded me of Home Team's a little bit in that there is almost a powdery substance on the top of it that I don't quite understand, but it doesn't seem to add a lot of flavor. Maybe it is intended to absorb the smoke flavor during cooking? I don't know…"
If I were to choose between the two in the future, I'd probably go with the ribs. Though I did comment earlier that the pulled pork "served as a good foundation for a sauce," it just didn't stand out on its own.
We finished our meal with the "House Made Banana Pudding."
Now, I have admitted in almost every review that we always judge all banana pudding against Heather's. It is a family favorite. In fact, Christian, our oldest, doesn't ask for a cake for his birthday, he always asks for his mom's banana pudding, so you know it's good.
Well, I don't know what house TJ's makes this pudding in, but it is no home of joy and comfort.
It came straight from a box of Jello pudding and they added a few Vanilla Wafers to the top. It was awful. There was not a single banana in our bowl and the only taste of banana is the artificial flavoring that Jello added to the mix.
Folks, real banana pudding has bananas in it…that is the only reason it tastes like bananas.
The "pudding" part doesn't come from a box… it is a vanilla custard you make on the stove with milk/cream and eggs… there are no powders involved. You pour this delicious mixture over your layers of bananas and "nilla wafers" and allow the flavors to meld overnight.
The result is worth skipping birthday cake for, I assure you.
In the end, our TJ's trip offered a mixed bag of flavorful, flavorless, and downright disappointing.
Always keep in mind that these reviews are just small snapshots into one part of a day and things aren't always perfect, as you can understand, but TJ's staff was exceptional, the food came out fast and we didn't have to wait.
"It is football-game bar food; it is that caliber," Heather said.
"Would I go back? If I was in the area and was looking for that sort of experience, yes…. but I wouldn't order the banana pudding," I finished.
---
Business Hours and Location
Here is a map of TJ's location:
Hours of Operation:
Mon – Thu: 11:00 am – 12:00 am
Fri – Sat: 11:00 am – 2:00 am
Sun: 11:00 am – 12:00 am
Phone:
(843) 818-1950
Payment:
Card or Cash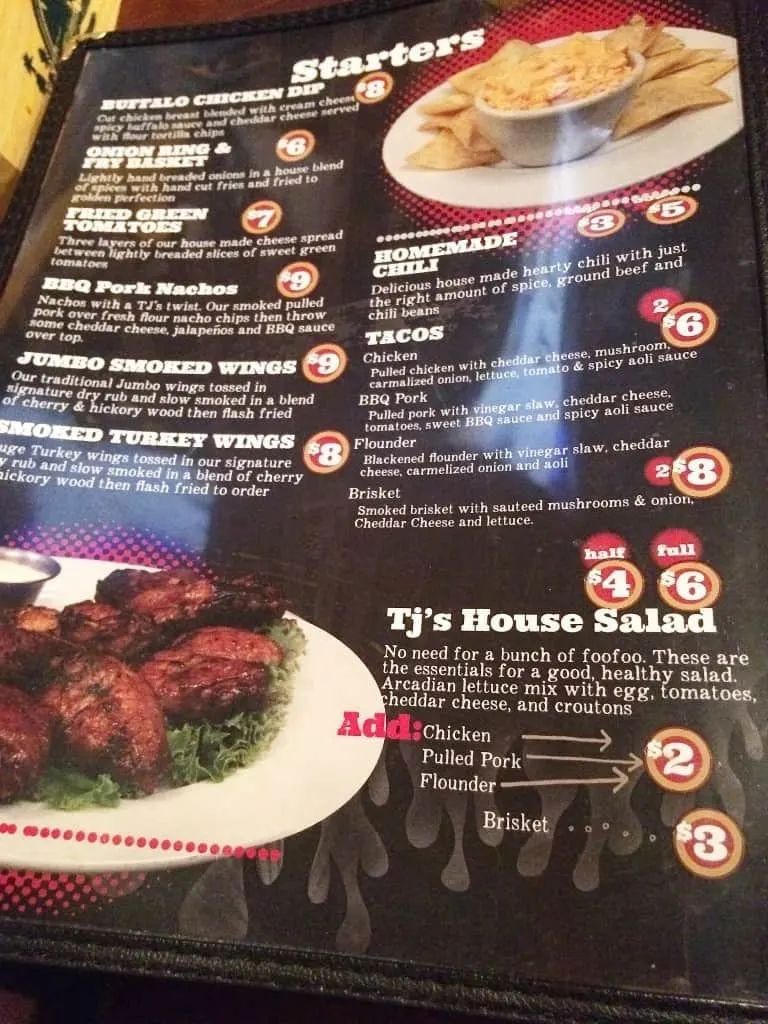 ---
If you find yourself hurtling along I-26 on a road trip, where you would have originally found Fulford's, consider checking out our SC BBQ Road Trip series. It will show you all of the BBQ places that you can access within 10 miles of an interstate exit in SC.
The Interstate 26 edition can be found here for the exits from Columbia to Charleston.
For the rest of I-26, check out the Landrum to Columbia edition.