This post may contain affiliate links to Amazon or other vendors I trust. Please read my disclosure policy. As an Amazon affiliate, I earn from qualifying purchases.
Home of the Super Pig!
Robert's Bar-B-Que: Family-owned, Great Homemade BBQ – Best Cheeseburgers In Town! – Best BBQ, Potato Salad, Onion Rings, Hash, and more served daily.
Robert's is yet another restaurant in the line of the Bessinger-family lineage. Big Joe Bessinger, very likely the inventor of mustard-based barbecue sauce, developed his secret sauce in the 1930s.
Father of many children, several of Bessinger's children eventually left home to start their own, separate restaurants, and, in doing so, spread the gospel of their father's mustard sauce. Bessinger's, Melvin's, Maurice's, Robert's Bar-B-Que, and others trace their history back to Big Joe.
Like those other Bessinger brands, Robert's offers mustard-based BBQ and their version of SC barbecue hash. Robert's version is a red hash.
In addition, Robert's offers a deep menu, providing everyone in your party something to enjoy.
---
What Folks are Saying about Robert's Bar-B-Que
Google Review
Among the many Google Reviews, Local Guide Gary Crossley waxes nostalgic in his review of Robert's:
Robert's Bar-B-Que is like stepping back in time!
While this location is much newer than the original drive-in with curb service in the late 1960s at the intersection of rivers avenue and remount road, the food is still throwback quality!👍
From the burgers & barbecue pork drenched in sweet mustardy BBQ sauce, to perfectly fried onion rings. All are quite tasty!
(Note: If you'd like to make a Bessinger-style sauce at home, check out this copycat Maurice's BBQ sauce recipe. And try this simple, perfect onion ring batter to make Robert's onion rings at home.)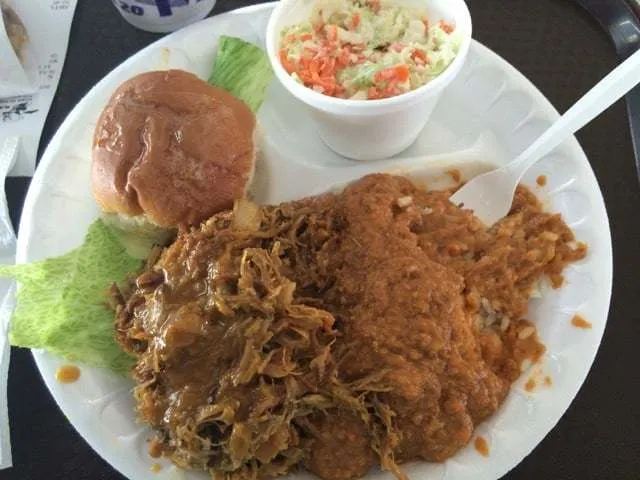 Yelp Review
Over on Yelp, Roger Y discusses his long history with and love for Robert's Bar-B-Que:
I've been eating Robert's Bar-B-Que since the 70's when it was a drive-in at Rivers and Remount.
It moved to Rivers and Otranto area in the '80s, expanding to Dorchester Road's current location but closing Otranto store when DOT cut off their main ingress and egress 10+ years ago.
Food is exactly the same it has always been from the mustard-based sauce to the house-made onion rings. If you want a mustard sauce bbq sandwich then you can't get much better IMHO.
Lots more competition in the BBQ market these days, and if you want to compare Robert's to Home Team or Rodney Scott or Lewis, well, they just ain't doing the same thing.
Robert's Bar-B-Que does what they do extremely well but this is more like fast food that serves a decent burger but mainly a really fine BBQ sandwich with no frills.
My basket sandwich with soda was $11 and change. Prepared to order and hot.
SC BBQ Association
Sure, folks on review sites often have great things to say about a place, but what about the folks who really know SC BBQ better than anyone? What about the folks who actually train the judges for SC BBQ competitions?
What do they think of this place? Here's an excerpt from their full review:
Robert's Bar-B-Que Menu
The menu at Robert's Bar-B-Que looks just like a fast-food restaurant too. I had to look through all of the many sandwiches, chicken tenders, shakes, burgers, corn dogs, hot dogs, fries, soups, and milkshakes, and so forth to find the three listings for barbeque.
Once found on the menu it consists of either a barbeque sandwich, barbeque plate, or a hash and rice plate.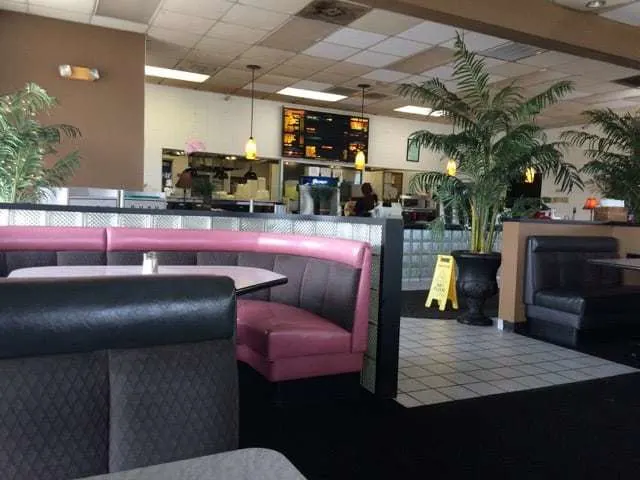 The strength of Robert's, in addition to its cleanliness, is a few of its sides, or at least the ones I tasted.
They make a great onion ring and you can order them by two's, four's, and even larger amounts. They were a little sweet (most people like it that way) and maybe some of the best I've had. Their baked beans were very good and the lady behind the counter told me that they make all of their sides there. The slaw I had was good and with a couple of shakes of hot sauce, it was a good side dish.
The Barbecue
The barbeque was not pulled but rather chipped with some sort of mechanical device. In fact, I remember seeing that somewhere in some of their information, either on their website or in one of the reviews that someone had done previously.
As a chipped barbeque it had the texture of chipped beef and I've never seen that anywhere else. The barbeque served to me was also drenched in their sauce.
If I had known that it was going to be so covered with sauce, I would have ordered it with the sauce on the side and when you try it I recommend that you do the same.
Unfortunately, it was not the best barbeque I've ever had but it was good enough to make the Top 100 even if it is farther down on the list.
Another good thing was the price; Robert's is not expensive.
Read our Review of Robert's Bar-B-Que
Menu for Robert's Bar-B-Que
Note: Menu prices and options are subject to change over time. Contact the restaurant for the most up-to-date information.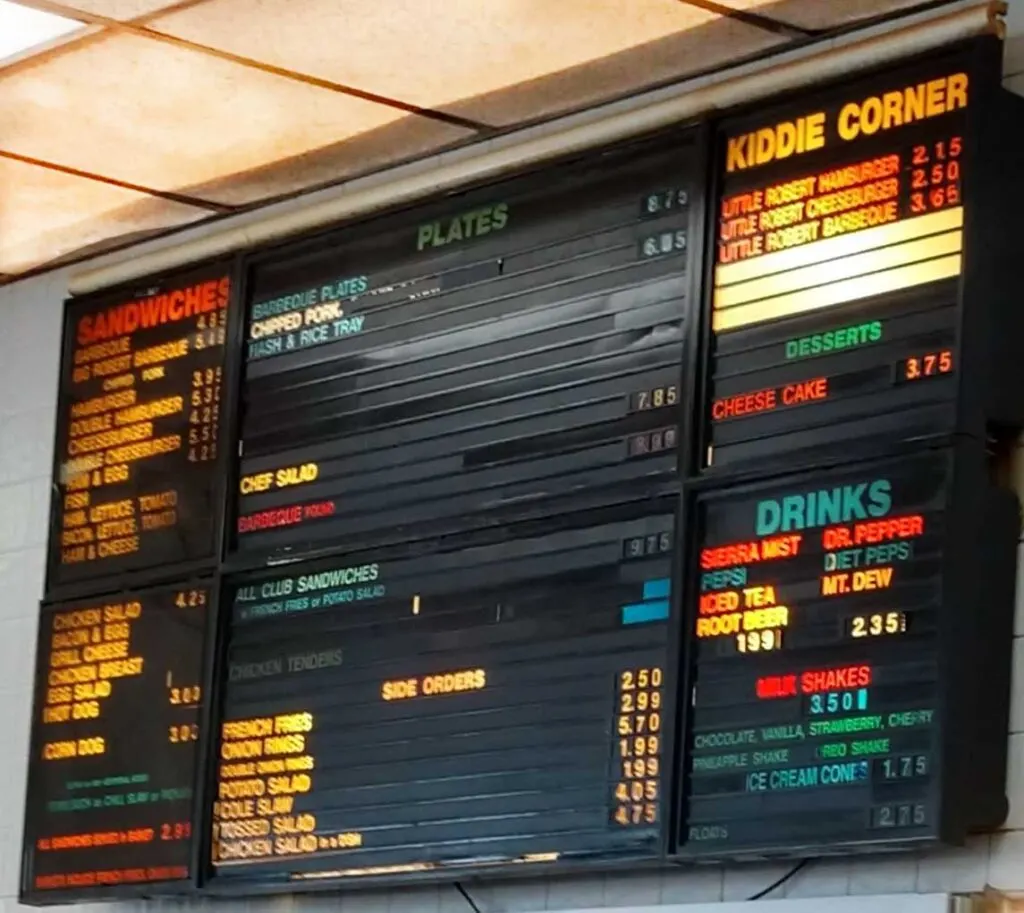 Location, Hours, Contact Info, and More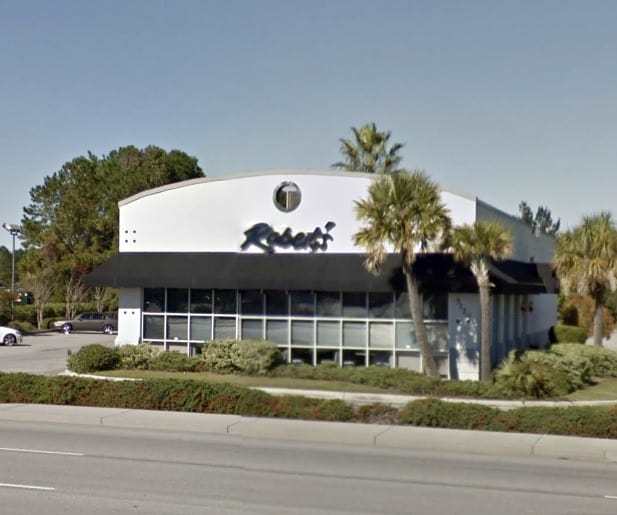 Map
Directions
Contact Robert's Bar-B-Que
5120 Ashley Phosphate Rd.
North Charleston,
SC
29418
Hours of Operation
| | |
| --- | --- |
| Monday | |
| Tuesday | |
| Wednesday | |
| Thursday | |
| Friday | |
| Saturday | |
| Sunday | Closed |
Social Media
Review Sites
Features
Cards and Cash, Hash, Mustard Sauce