This post may contain links from which I earn a commission. Please read my disclosure policy. As an Amazon affiliate, I earn from qualifying purchases.
Robert's Bar B Que has been a staple in North Charleston for many years. Robert's is born of the Bessinger clan of BBQ restaurants that dominate the SC BBQ scene.
Robert is one of five of Joseph Bessinger's sons (the others are Maurice, Thomas, Melvin, and Joe David) who learned to cook BBQ the way his father cooked it. These boys eventually spread out and formed a loosely connected chain of restaurants spreading from Columbia to Charleston. Each is his own and separate from the others.
Robert eventually settled in North Charleston and opened two restaurants. The Ashley Phosphate location is the only one remaining. This location is only a few miles off of I-26.
I have eaten at Robert's several times over the years, mainly because it is right beside Fort Dorchester High School, where I teach English and journalism. Usually, I just grab a sandwich from the drive-thru.
This particular day, the school year was winding down, the students had recently completed their final day, and we teachers were cleaning up and getting our checklists completed. Lunchtime rolled around…and passed. I worked straight through it, saving my lunch hour for the end of the day.
Decided to head over to Robert's, go inside, and have a meal. This is the only review I will likely do without Heather or Camden having been there.
Robert's sits among fast-food row near the corner of Ashley Phosphate and Dorchester Road, right beside Frankie's Fun Park. The building is typical of the other fast food places, but I would say nicer in appearance inside and out.
I parked in a space and entered for the first time. The kitchen and cash register are to the right. The dining area is to the left, toward the front of the building, and has dark carpet, ceiling fans, and comfortable-looking booths and tables. It is very clean and neat.
I stepped up and placed my order: Pulled pork platter with hash and rice and slaw. It came with a buttered dinner roll. There was some confusion during my order (my fault), and I also got a "Little Robert" sandwich. This took my bill to about $17. Camden later got the sandwich.
Typical of any Bessinger restaurant, the sauce is a mustard base, sweet and tangy. My pulled pork was not swimming in sauce, but there was a liberal glob of it applied to the top, and I would guess the pork awaits its purchasers in a warmer pre-sauced. (Check out Maurice's BBQ sauce recipe.)
Frankly, the BBQ itself isn't very good.
Heather and I refer to it as "crockpot BBQ." While Robert Bessinger may well have learned to cook whole hogs over wood embers from his father, his restaurant clearly isn't serving that style of BBQ.
I would tell you from the taste that it is cooked with gas or electric and, certainly, if there is wood involved, it is not used at the restaurant itself.
That said, I think it makes a fine fast food sandwich, and, as I said, I have enjoyed more than one from there over the years, but as for straight, on-the-plate BBQ, this one isn't likely to win you over.
The hash was a typical SC hash if there is such a thing: a nice, thick, reddish-orange stew of pork, and, I would guess, a touch of liver. I enjoyed the hash itself, however, the rice was another thing.
I think of it as "institutional rice." You've had it before. It is of the parboiled variety that looks exactly like rice and tastes exactly like nothing, just firm little pills in your mouth.
I understand why they use it — it is hard to do wrong and cooks quickly — but it was a detraction from an otherwise fine hash.
The slaw was mediocre, a typical KFC-style finely chopped cabbage and carrot with a Mayo-inspired dressing. It was fine, nothing more.
And the roll was a standard, soft dinner roll brushed heavily with melted "butter."
All in all, I cannot recommend the pulled pork platter at Robert's Bar B Que.
I have enjoyed the Big and Little Robert sandwiches in the past and will continue to do so for a fast-food lunch option, and you simply cannot beat a Bessinger-family style onion ring (which I sadly missed on the platter), but the pork on its own is lacking.
---
Business Hours and Location
Here is a map of Robert's N. Charleston location:
Hours of Operation:
Monday – Saturday 9:30 am – 9 pm
Phone:
843.552.1305
Payment:
Card or Cash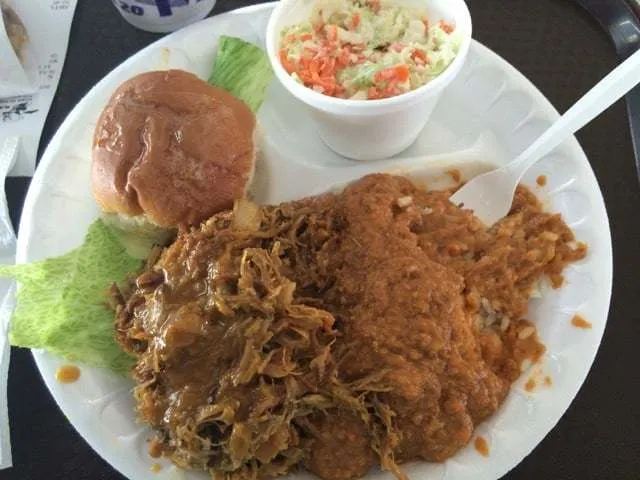 ---
We've published a number of great recipes on destination-bbq, and we've published even more sauce (and rub) recipes in the SCBBQ Recipes: Going Whole Hog Cookbook. If you love a true, SC BBQ Hash, you'll enjoy our collection of recipes. Read more about the cookbook here.
Hash
Andy Jumper's SCBBQ Hash Recipe
Carolina Outdoor Cooking's Easy Hash Recipe
Jason's Red Hash Recipe