Listen to this Destination: BBQ article.
Sweatman's BBQ Hash a Must-Do
This post may contain links from which I earn a commission. Please read my disclosure policy. As an Amazon affiliate, I earn from qualifying purchases.
Like most South Carolina barbecue hash recipes, Sweatman's BBQ hash recipe is a well-guarded secret. What's no secret at all is just how delicious their hash recipe is.
In fact, eating Sweatman's hash and rice made a Huffington Post list of top things to do in the US.
Specifically, they published an article telling folks of the "one thing" they must do in each of the 50 U.S. states. What was the one thing for a visitor to do in South Carolina?
"Taste the barbecue hash at Sweatman's BBQ!"
No surprise when you read comments like this on the review sites. Kerry B, a (somewhat nearby) local from Goose Creek, said this about Sweatman's BBQ hash recipe in her Yelp review:
"And oh, the hash! This stuff is liquid gold. Silky smooth, not a chunk of gristle to be found, unlike other hashes.
"Perfectly seasoned, a ratio of 3 parts hash to 1 part rice is about right. I always get a gallon to go, and when I open my last pint from the freezer, I know a trip to Sweatman's is called for."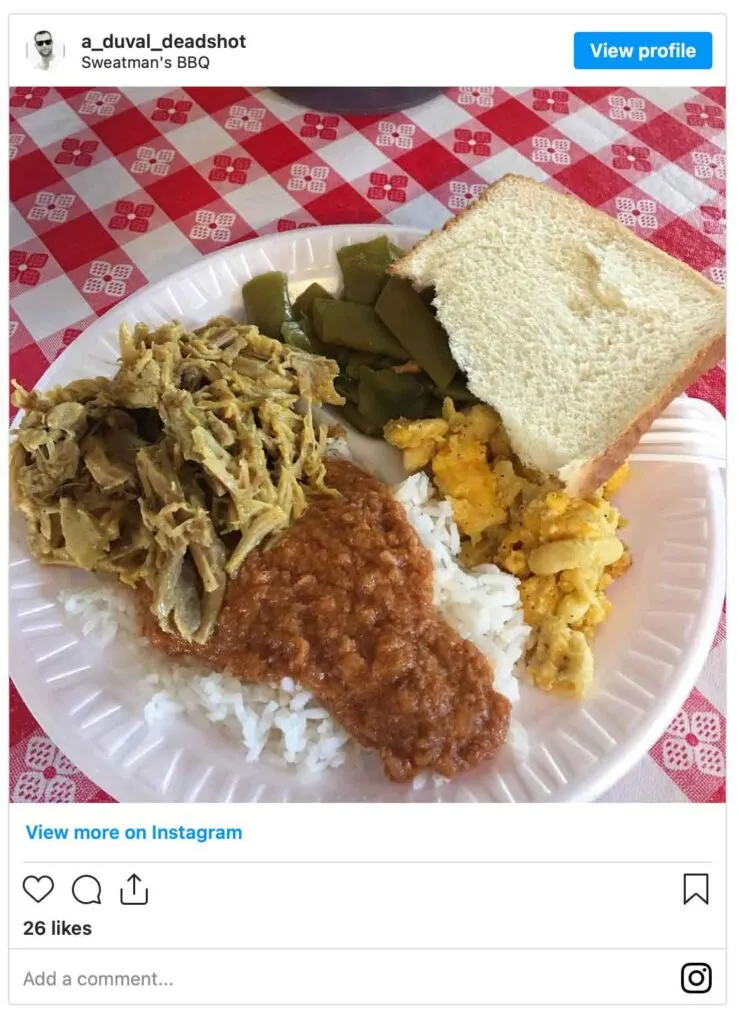 So, it would take someone with a lot of experience to reproduce the flavors and textures the old-school Sweatman's BBQ hash recipe that customers enjoyed for years. Fortunately, we know just the person.
"I grew up in Holly Hill," writes W. David Griggs, "and I think I ate at Sweatman's BBQ every weekend…except when they would close for a month during the summer so the family could go on vacation.
"Took me a dozen attempts and first-hand experience with a friend from Eutawville to come up with what I believe replicates Sweatman's Hash."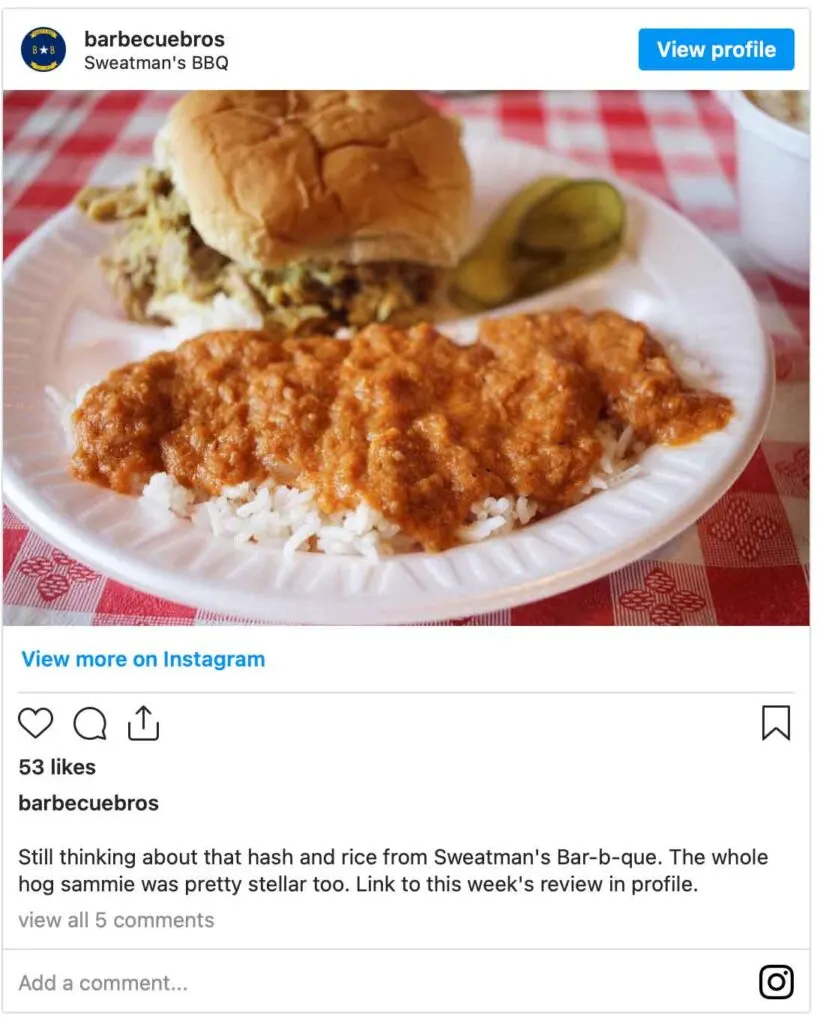 Thanks to Boots Varner
As he noted, Griggs did not begin this journey on his own. In fact, he had a bit of help along the way.
He tutored some under a local legend. Then he set out on his own to figure out how to make some of his childhood favorites.
An authentic SC BBQ hash recipe like Sweatman's was a must. Fortunately, he would have some help.
"30 years ago, I was living in Eutawville, SC, when Boots Varner enlisted me to make the hash at his outdoor BBQ party. (Truly under his watchful eye. But now I find out his brother Roy taught him.)
"I continued to experiment on the hash recipe on my own (and with mustard sauce and slaw), trying to replicate the taste of Sweatman's BBQ on which I grew up.
"I think I succeeded, and by chance, Foster's Outdoor in California asked to publish my Sweatman's BBQ Hash recipe along with the Sweatman's style mustard sauce and slaw recipes I developed. That was over 20 years ago."
Since then, Griggs has continued to refine his replica of Sweatman's BBQ Hash Recipe, and it tastes as close to the real thing as you can get at home.
Enjoy and let us know what you think in the comments below: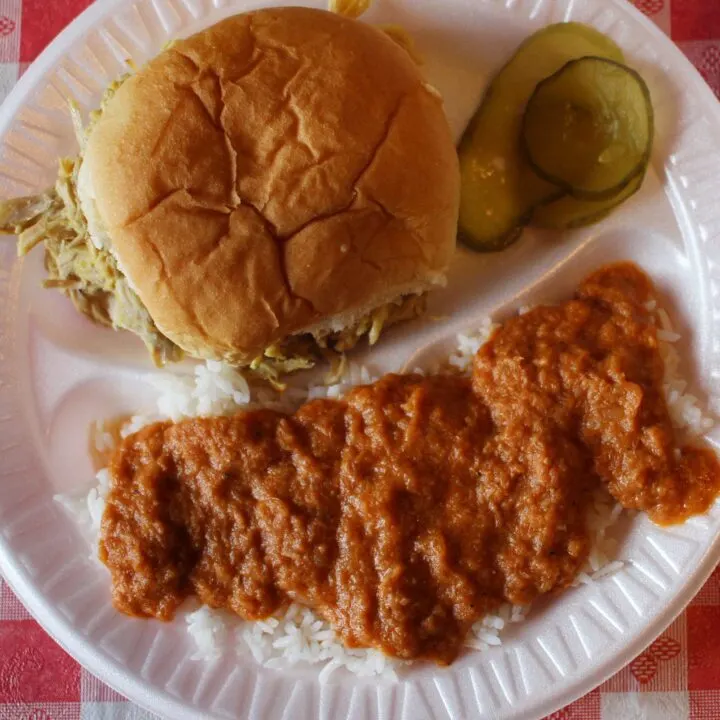 Sweatman's Style BBQ Hash
Total Time:
2 hours
10 minutes
Created by W. David Griggs, this recipe is a copycat of the original Sweatman's hash.
Ingredients
3-4 lbs Boston butt, fully cooked
1 lb chicken livers
5 potatoes, medium
3 onions, medium
24 oz bottle ketchup
1/4 cup prepared mustard
1/8 cup cider vinegar
1/4 cup brown sugar
8 cups water
salt & pepper, to taste
Instructions
Cook the Boston butt using your preferred method.
Add the cooked butt along with the liver, potato, and onion to a pot.
Just cover it all with water and simmer for 30 minutes.
Drain and cool.
Run all through a meat grinder.
Add remaining ingredients and simmer 1 hr or until thickened and cooked through, stirring often.
Thin with water, as needed.
Should be the consistency of thick spaghetti sauce - one good spoonful should cover your serving of rice completely without dripping onto the plate - mmmm".
(In a pinch, you can boil the butt cubed in salted water for an hour or two, continue with the recipe where you add the liver)
Notes
If you don't have a good meat grinder, you can use either an immersion blender or a standard blender.
Dedicated to Boots Varner (Eutawville, SC)
Recommended Products
As an Amazon Associate and member of other affiliate programs, I earn from qualifying purchases.
Nutrition Information:
Serving Size:

1 cup
Amount Per Serving:
Calories:

3487
Total Fat:

104g
Saturated Fat:

35g
Unsaturated Fat:

0g
Cholesterol:

2381mg
Sodium:

8209mg
Carbohydrates:

270g
Fiber:

10g
Sugar:

216g
Protein:

347g
---
Like to Volunteer as One of our Recipe Testers?
We have a bookful of recipes to test and publish. Join the team and choose from our collection of unpublished recipes.
All we ask is that you photograph the process and share your thoughts on each recipe and the finished product. And we'll feature you when we publish that recipe.
Interested? Just send me an email.
---
We've published an in-depth look at SC BBQ hash. In this piece, we examine the origins and history of yet another SC BBQ original. Also, you will find a current listing of every SCBBQ restaurant that serves hash.
In addition, we have published a Google Web Story on South Carolina Barbecue Hash.
In addition, check out these other authentic SCBBQ recipes we've published on destination-bbq:
Eastern SC Vinegar-Based Sauce Recipe
Home Team BBQ's Alabama White Sauce Recipe
And we've published the following sauce recipes in the SCBBQ Recipes: Going Whole Hog cookbook (read more about that here):
Sauces and Rubs:
Vinegar-Pepper Sauces
Mustard Sauces
Tomato-Based Sauces
Other Sauces