This post may contain affiliate links to Amazon or other vendors I trust. Please read my disclosure policy. As an Amazon affiliate, I earn from qualifying purchases.
The smoked chicken wing recipe at Home Team BBQ in Charleston is legendary.
Many people claim their wings are the best item on a menu packed with great dishes. For example, Anthony M.'s review on Yelp makes it clear:
"I agree with Michael B. Though, these are the best wings overall I've ever had in my life. From Philly and have had wings all over the country, normally my go-to. These wings are INSANE! Best wings EVER!"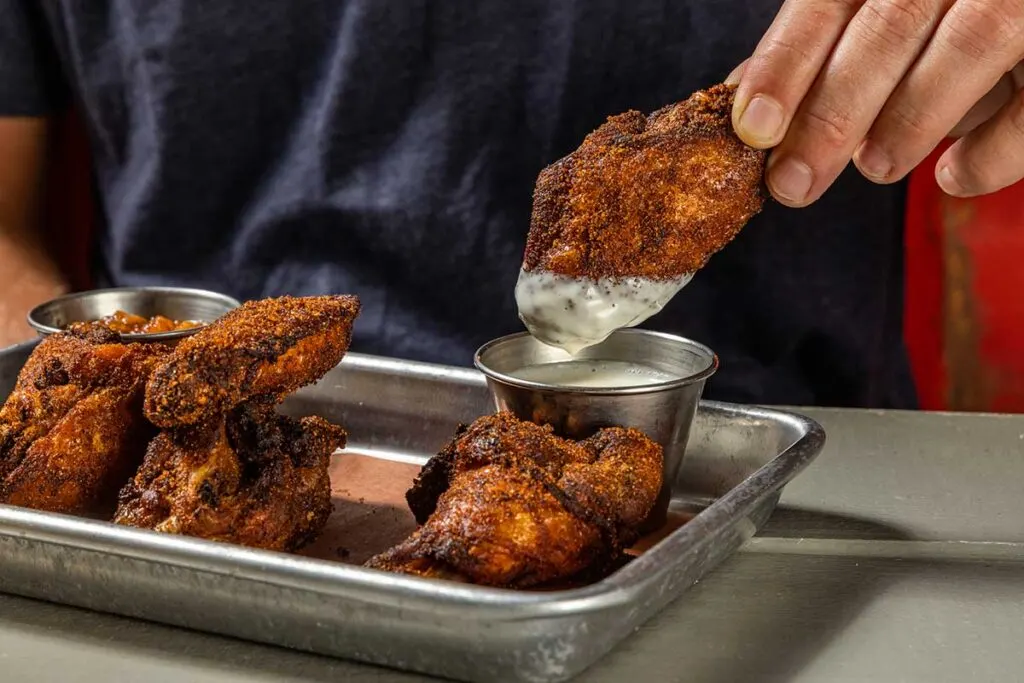 On TripAdvisor, Rob T, who visited the Sullivan's Island location, wrote the following:
"Home team is a great hang out with a coastal vibe which is great. The food is good as well but the wings are wonderful.
"If you go you have to try the wings, if you're not a wing person you still have to at least try them. Definitely, don't want to miss out on the deliciousness.
"I'm telling you, 5 stars!!!!!!! On wings alone."
The combination of those wings and that Alabama white sauce are hard to beat.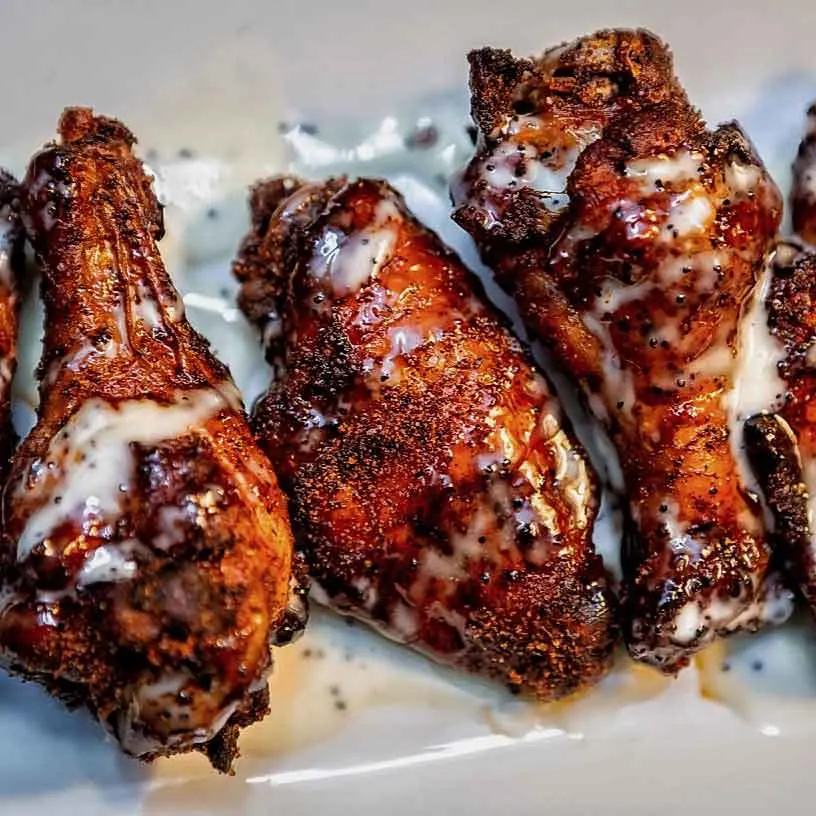 In fact, Charleston's news station WCSC featured Home Team in their "Lowcountry Weekend" segment and had the following to say about the wings and Alabama white sauce.
"One of the most popular dishes at Home Team is Fiery Ron's Smoked Chicken Wings with Alabama White Sauce.
"The wings are smoked and then quickly flash-fried to give them a crispy, caramelized coating. They're then paired with Home Team's delicious and creamy Alabama White Sauce.
"You can even get a little saucier if you know how to ask. If you want to kick things up a notch, you can ask for a side of Death Relish, a spicy pepper relish that really lives up to its name.
"The two sauces are a perfect balance for each other and take your wing-eating experience to a whole new level."
Home Team BBQ currently has three locations in Charleston — Sullivan's Island, Downtown, and West Ashley — with other locations in Greenville and Columbia.
There is also a Home Team in Aspen, CO.
Aaron Siegel, chef and co-founder of the popular local chain who we interviewed in this 2017 Conversations Around the Burn Barrel feature, originally shared his popular recipe with starchefs.com.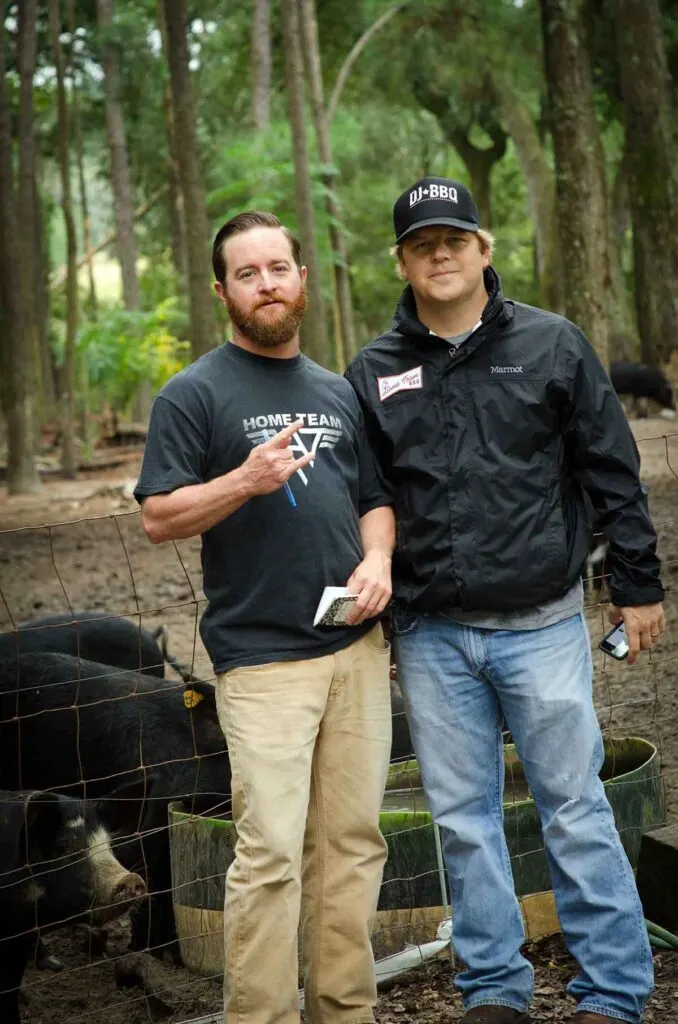 In our Q&A, Siegel revealed the secret of Home Team's success:
"I think it's really important for people to know how much care we put into our food.
"We are really critical of ourselves every day. We are constantly reviewing our processes.
"It is not a dictatorship; in fact, we communicate constantly on different methods. Almost nothing is the same as it was 10 years ago.
"We are a little culinary community which is fun to be a part of in that regard."
That level of dedication and care really shows in Home Team BBQ's smoked chicken wing recipe, as it does in many of their dishes.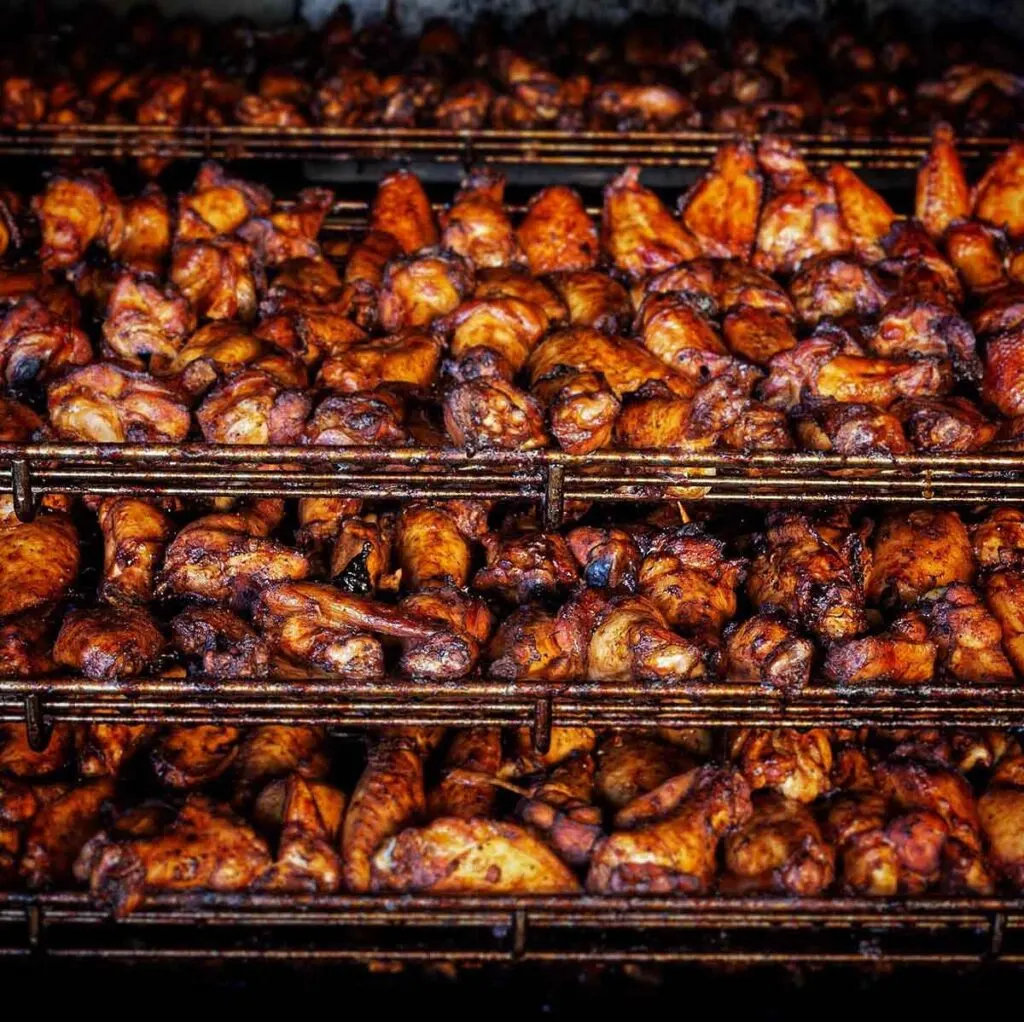 "They're unique because they are smoked first, then dry-rubbed and fried—so they aren't saucy," Chef Bob Cook said. 'It makes the perfect wing."
If you'd like to take your turn at making the perfect wing, here's your recipe. And don't forget to make Home Team BBQ's Alabama White Sauce to go with these amazing wings.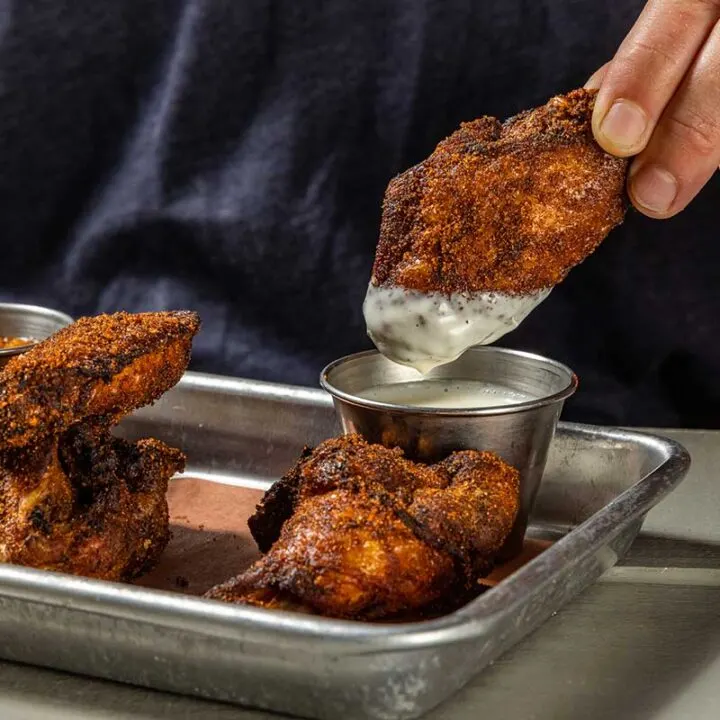 Home Team BBQ's Smoked Chicken Wing Recipe
Total Time:
6 hours
30 minutes
Chef Aaron Siegel's most loved menu item is very likely Home Team's smoked chicken wings. Brine, smoke, flash fry, and enjoy!
Ingredients
Brined Chicken Wings
1 gallon water
1 cup brown sugar
1 cup Kosher salt
1 bunch thyme
3 tablespoons red pepper, crushed
24 chicken wings, large
Dry Rub
½ cup chile powder, ground
2 tablespoons ginger, ground
2 tablespoons dry mustard
3 tablespoons light brown sugar
2 tablespoons garlic powder
2 teaspoons cayenne pepper
2 tablespoons black pepper, coarsely ground
2 tablespoons Kosher salt
Red oak, for smoker
Peanut Oil, to deep fry
Instructions
For the Brined Chicken Wings:
In a large pot, bring water to a simmer and turn off the heat.
Add all ingredients and whisk until dissolved.
Refrigerate until fully chilled.
In the refrigerator, submerge chicken wings in

brine

for 4 hours.
For the Dry Rub:
In a mixing bowl, combine all ingredients.
Stir till combined.
Smoked Chicken Wings:
Prepare a smoker with red oak and heat to 225°F.
Remove Brined Chicken Wings from liquid and pat dry.
Add chicken wings to a large mixing bowl and evenly distribute all but 4 tablespoons of Dry Rub.
Smoke chicken for 2 hours and 30 minutes in a hotel pan over red oak.
During the smoke, all the fat renders from the wings, confiting the meat in a bubbling pan of sweet-spicy-smoky schmaltz and rendering the wings "fall-off-the-bone tender."
To Finish:
In a deep fryer, heat peanut oil to 350°F.
Fry the smoked chicken wings for 4 to 6 minutes, until crispy and just caramelized.
Remove from fryer, shake off excess oil, and rest 30 seconds.
In a mixing bowl, toss together wings and reserved Dry Rub.
Recommended Products
As an Amazon Associate and member of other affiliate programs, I earn from qualifying purchases.
Nutrition Information:
Yield:

4
Serving Size:

6 wings
Amount Per Serving:
Calories:

913
Total Fat:

48g
Saturated Fat:

15g
Trans Fat:

0g
Unsaturated Fat:

29g
Cholesterol:

132mg
Sodium:

32218mg
Carbohydrates:

92g
Fiber:

4g
Sugar:

55g
Protein:

31g
---
Like to Volunteer as One of our Recipe Testers?
We have a bookful of recipes to test and publish. Join the team and choose from our collection of unpublished recipes.
All we ask is that you photograph the process and share your thoughts on each recipe and the finished product. And we'll feature you when we publish that recipe.
Interested? Just send me an email.
---
Check out these other authentic SCBBQ recipes we've published on destination-bbq:
Pawleys Island Pulled Pork by Ryan Everhart
And we've published the following meat recipes in the SCBBQ Recipes: Going Whole Hog cookbook (read more about that here):
Meats
Whole Hog
Building a Cinder Block Pit
Cooking a Whole Hog
Pork Cuts
Pawleys Island Pulled Pork Recipe
Swig & Swine's Smoked Ham Recipe
Jimmy Hagood's Sweet & Spicy Smoked Pork Recipe
Hagood's Barbecue Pork Shoulder
Jimmy Hagood's Slow-Cooked Dry Ribs
Aaron Siegel's Firefly Sweet Tea Bourbon-Glazed Pork Ribs Recipe
Chicken
Home Team BBQ's Smoked Chicken Wing Recipe
Tiger O'Rourke's Bacon Maple Bourbon Chicken Wings Recipe
Billy Quinn's Fruity Beer Can Chicken Recipe