This post may contain links from which I earn a commission. Please read my disclosure policy. As an Amazon affiliate, I earn from qualifying purchases.
Joe Bessinger's BBQ has been serving the Charleston area for 60 years. They offer good, Southern barbeque, hand-dipped onion rings, delicious burgers, and more.
Joe Bessinger's is yet another restaurant in the line of the Bessinger-family lineage. Big Joe Bessinger, very likely the inventor of mustard-based barbecue sauce, developed his secret sauce in the 1930s.
Father of many children, several of Bessinger's children eventually left home to start their own, separate restaurants, and, in doing so, spread the gospel of their father's mustard sauce. Along with Joe Bessinger's BBQ, Bessinger's, Melvin's, Maurice's, Robert's Bar-B-Que, and others trace their history back to Big Joe.
On the Menu
Like those other Bessinger brands, Joe Bessinger's BBQ offers mustard-based BBQ and their version of SC barbecue hash. Joe Bessinger's version has no liver like many.
Here is what the Post and Courier said about Joe Bessinger's hash:
There is no such thing as vegetarian hash, but the hash at Joe D. Bessinger's late-in-life restaurant gives eaters an inkling of how a meatless hash might taste: Thickened by potatoes and sweetened by onions, this hash's pedigree is expressed in mustard sauce.
In addition to the barbecue and hash, Joe Bessinger's BBQ offers a deep menu, providing almost everyone in your party something to enjoy.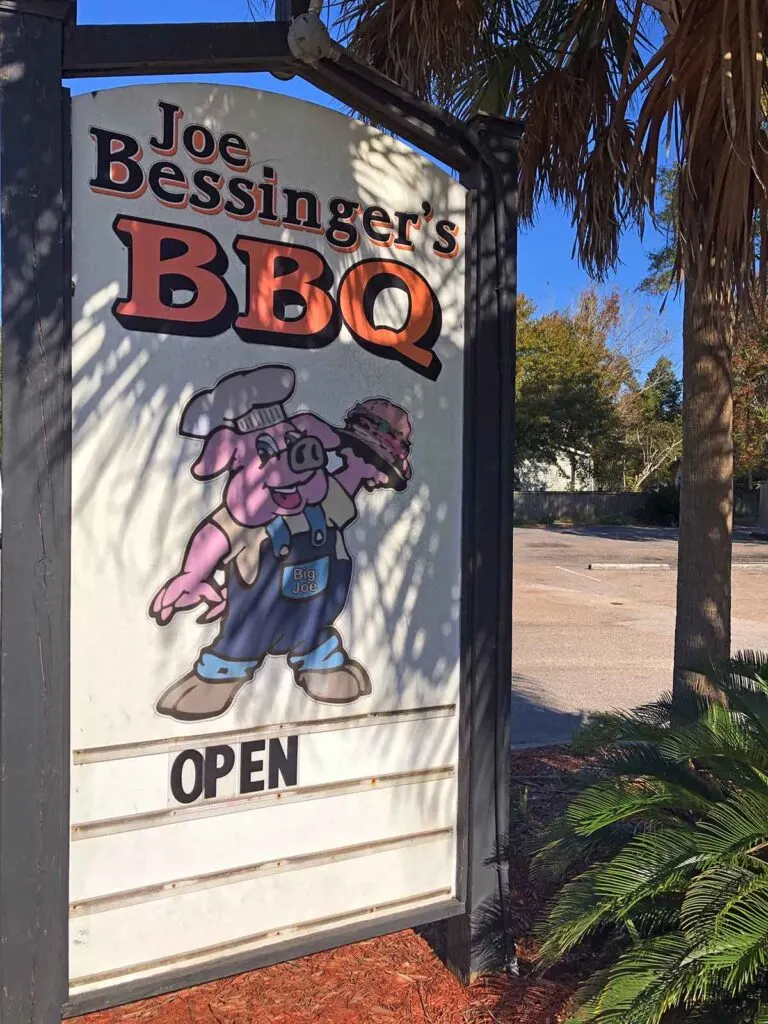 GO INSIDE (take a virtual reality tour of the restaurant)
---
What Folks are Saying about Joe Bessinger's BBQ
Google Review
Among the many Google Reviews, Local Guide Matt Wormington has a suggestion for you:
Joe Bessinger's Barbeque is a very family-friendly experience when compared to many other franchises. The food is delicious and fairly well-priced for what you're given.
I suggest trying the rice and hash tray, especially if you're very hungry because it's a lot of really delicious food and it will fill you right up before you know it.
Yelp Review
Over on Yelp, Derek B knows where to go on any day of the week:
Every restaurant in Summerville seems to be closed on Sundays….except Joe's and that led to the discovery of one of my new favorite bbq places. This is the real deal right here.
So here's my big 5 for BBQ: Sauce, Ribs, Pulled Pork, Brunswick Stew and Sweet Tea, ranked on a 1-10 scale for Joe Bessinger's:
Sauce: 9.5 – I love mustard-based sauces and this is one of the best. Could use just a touch more heat to get that other half a point.
(Note: if you'd like to make a sauce like this at home, try Maurice's Southern Gold BBQ sauce recipe.)
Ribs: 6 – Not the star here, but not awful. I wouldn't order them specifically, but the ones that come on the Big Joe Plate are definitely worth eating.
Pulled Pork: 10 – Seriously some of the best I've ever had. You just can't do it better than that. Amazing.
Brunswick Stew (Not really a staple in these parts, so I'm substituting this with their hash, which is actually very similar minus the rice): 9 – Really, really good stuff. But I don't need the rice, just put it in a bowl and it's Brunswick stew. Don't pass this up if you come here!
Sweet Tea: 6 – It was good, however, you had to go to the counter to ask for refills of the relatively small cup. Giving how packed this place was at lunchtime, that made for lots of empty sweet tea 🙁
Other items of note: Onion rings!!! These things are great. Super breaded to the point where it's more like a hush puppy in the shape of an onion ring. Delicious. Get it. (Or make Bessinger's onion rings at home.)
Can't wait to go back.
Menu for Joe Bessinger's BBQ
Note: Menu prices and options are subject to change over time. Contact the restaurant for the most up-to-date information.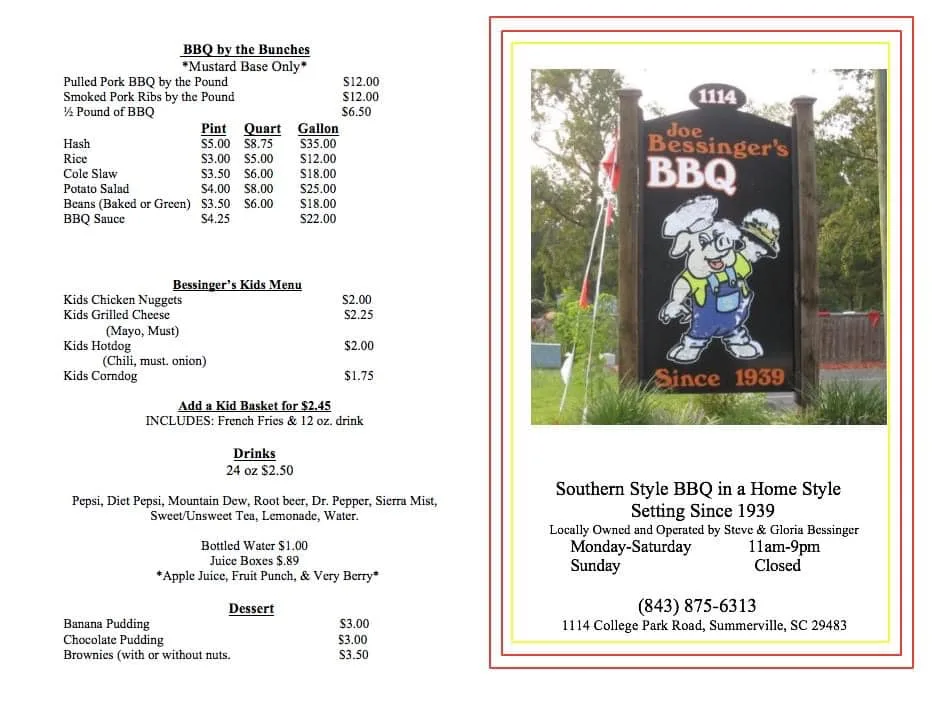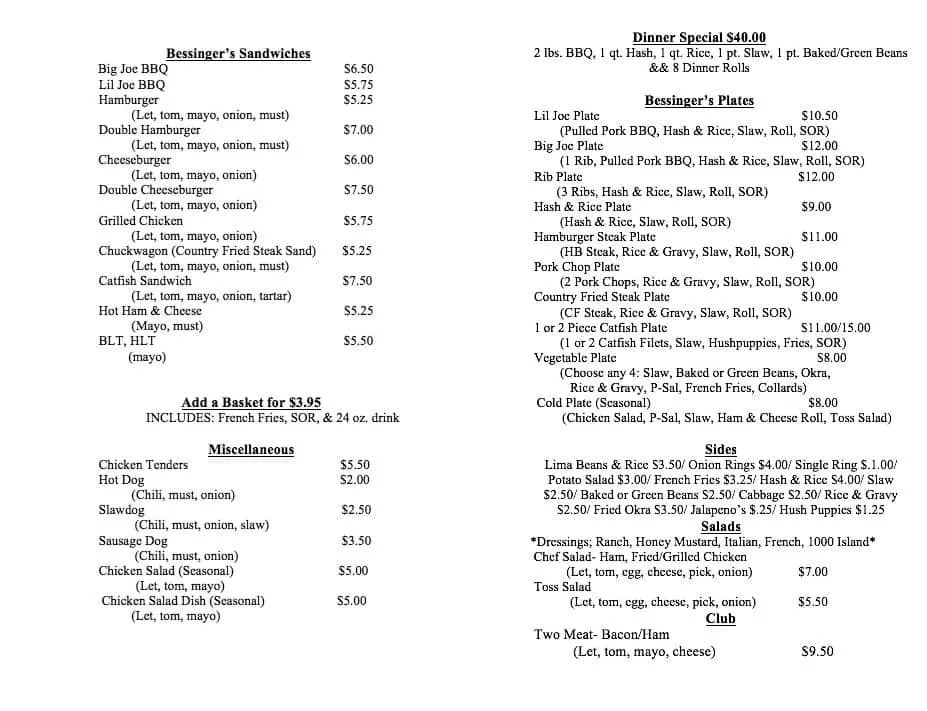 Location, Hours, Contact Info, and More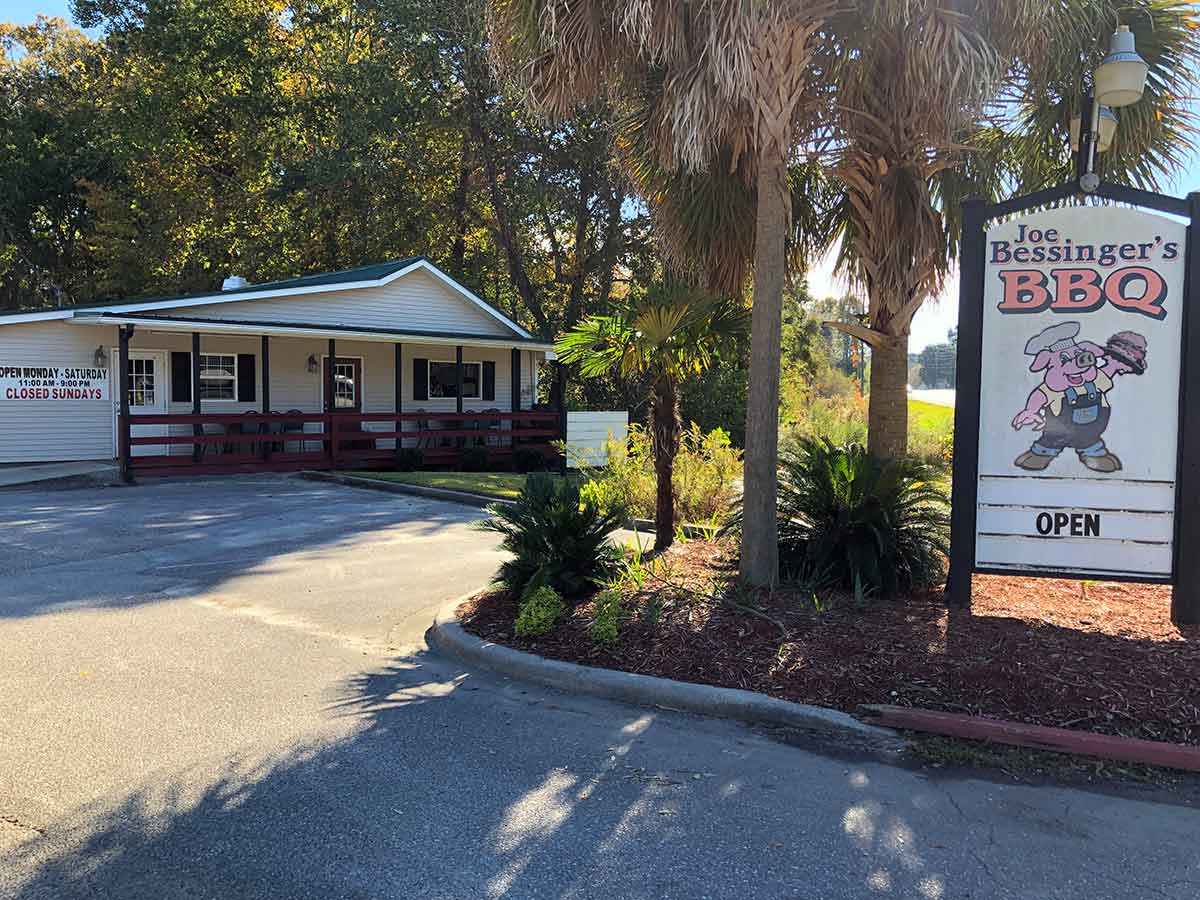 Map
Directions
Contact Joe Bessinger's BBQ
1114 College Park Road
Summerville,
SC
29483
Hours of Operation
| | |
| --- | --- |
| Monday | |
| Tuesday | |
| Wednesday | |
| Thursday | |
| Friday | |
| Saturday | |
| Sunday | Closed |
Social Media
Review Sites
Features
Cards and Cash, Hash, Mustard Sauce