Moe's Original Bar B Que on Pawleys Island
Moe's Original Bar B Que on Pawleys Island features award-winning Bama-style pulled pork, ribs, wings, turkey and chicken. Moe's smokes and serves these meats with two unique sauces.
In addition, Moe's offers other options including catfish and a shrimp "Moe-Boy" sandwich.
Finally, using recipes passed down for generations, Moe's dishes up traditional Southern sides and tasty desserts which are made fresh daily.
Moe's Original Bar B Que rose to become a staple southern eatery with locations across Alabama, Colorado and North Carolina.
With the Pawleys Island restaurant located right on Highway 17, the first Moe's Original Bar B Que to the Lowcountry area is known for its leisurely, laid-back lifestyle.
The Pawleys Island Restaurant
The Moe's brand is known for its leisurely, laid-back atmosphere. It is a perfect fit for Pawleys Island's way of life.
With an open kitchen and a full bar, Moe's serves Alabama-style BBQ and Southern sides in style whether seated inside, on the patio, or on the covered, screened porches. You can find this barbecue joint at 12827 Ocean Highway between Gilman Road and Ford Road, featuring an open kitchen layout.
This barrier island restaurant offers a carefree feel that is great for locals, families, and visitors to come eat a great meal while watching a game or enjoying music. They want to be your first stop, not your last.
Moe's was founded in Colorado by three men from Alabama, who had a mutual interest in "BBQ, blues, college football, and whiskey," according to the restaurant's website.
Moe's stands out as a family-friendly, fun place to enjoy barbecue, a beverage, hang out with your kids, watch football and hear music.
What Folks are Saying about Moe's Original Bar B Que on Pawleys Island
Google Review
Rick Caruth, a veteran Moe's diner from his NC hometown, raved about the Pawleys location in his Google Review:
My wife and I just ate at Moe's. We have dined at the Moe's in Hendersonville NC many times and wondered if this one would compare. It was identical in quality, food, flavor, and friendly atmosphere.
We LOVE the ribs.
Have to be the best I've had. They are not covered in a sugary sauce, just big slabs of meat cooked till they are ready to fall off the bone.. then.. you're free to add their vinegar-flavored sauce if needed.
On top of the ribs, they have wonderful home-cooked vegetables that are full of flavor.
Can't say enough good things about Moe's.
Yelp Review
Over on Yelp, Andrew B offers a great review of many of Moe's best menu options:
This place was excellent!
Sauce – they have a white sauce that is creamy and smokey. Very unique. They also have a warm red tomato-tasting sauce. Very sweet and delish.
Ribs – some of the softest, most fall-off-the-bone ribs I've ever had.
Wings – Smokey yet crispy. Light buffalo sauce and the slightest touch of spice. Very good.
Pulled pork sandwich – juicy, delicious, and in the words of my wife "pretty close to perfect".
Mac and cheese – very light on the cheese but soft and buttery. Not cheese sauce kind of Mac, but still tasty.
Jambalaya – super soft rice with very flavorful sausage, pork, and Creole seasoning. Excellent, but maybe ever so slightly overdone.
Marinated slaw – unique but probably a pass for me in the future. It was a bit heavy on the vinegar and the texture was too soft. There was no crisp to it.
Cornbread – soft and crumbly. Would have been better warm and with some butter, but the flavor was on point.
Banana pudding and Mississippi mud- both super light and flavorful. Delicious.
The SC BBQ Association
But that is just the opinion of two people from different review sites. What do the folks who actually train SC BBQ competition judges have to say about Moe's Original Bar B Que on Pawleys Island?
The SC BBQ Association ranked Moe's BBQ to be just shy of its most elite ranking as "100-Mile BBQ," barbecue worth driving 100 miles for. Moe's may have just missed the 100-mile ranking, but if you're within say 90 miles, it is worth the drive!
One of our Master Judges send me an email after eating at Moe's in Pawley's Island and said, "I have a new 100 Mile barbeque for you!"
I was dubious because I had heard of Moe's and I knew it was a chain. So far no chain operation had made the 100 Mile ranks except Maurice's, of course, but that is actually a multi-restaurant family-owned operation.
There is a reason that chains don't usually measure up but Moe's comes close to overcoming that obstacle….The only thing that puts Moe's in the Worth the Trip category rather than the 100 Mile category is that they only cook their barbeque for about 4 hours over wood than finish it off over electricity.
The truth is, cooked that way almost no one could tell it from true 100-Mile Barbeque. The taste is excellent.
Read their full review of Moe's Original Bar B Que here.
---
Moe's Original BBQ on The Simpsons
Get to Know the Founder's of Moe's Original BBQ
Menu for Moe's BBQ on Pawleys Island
Note: Menu prices and options are subject to change over time. Contact the restaurant for the most up-to-date information.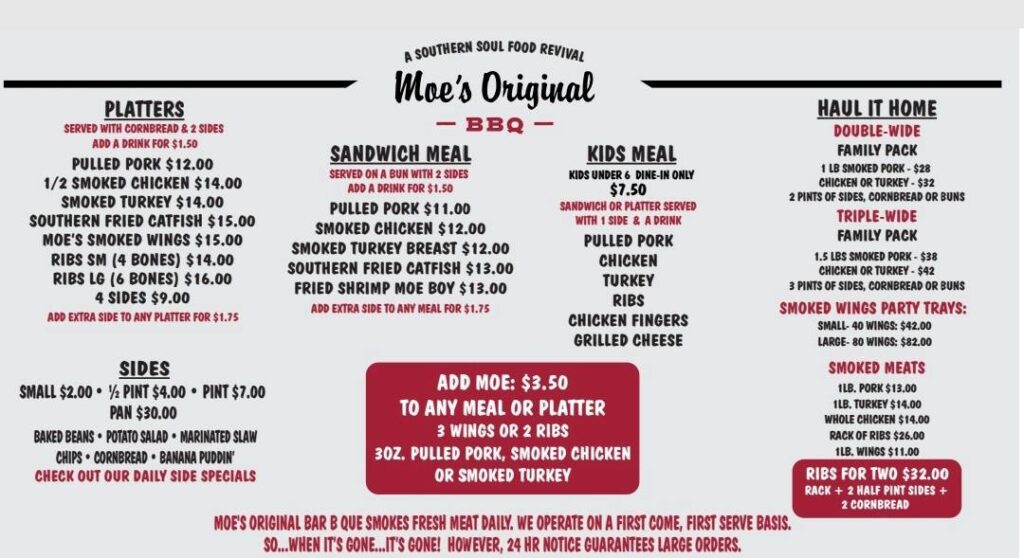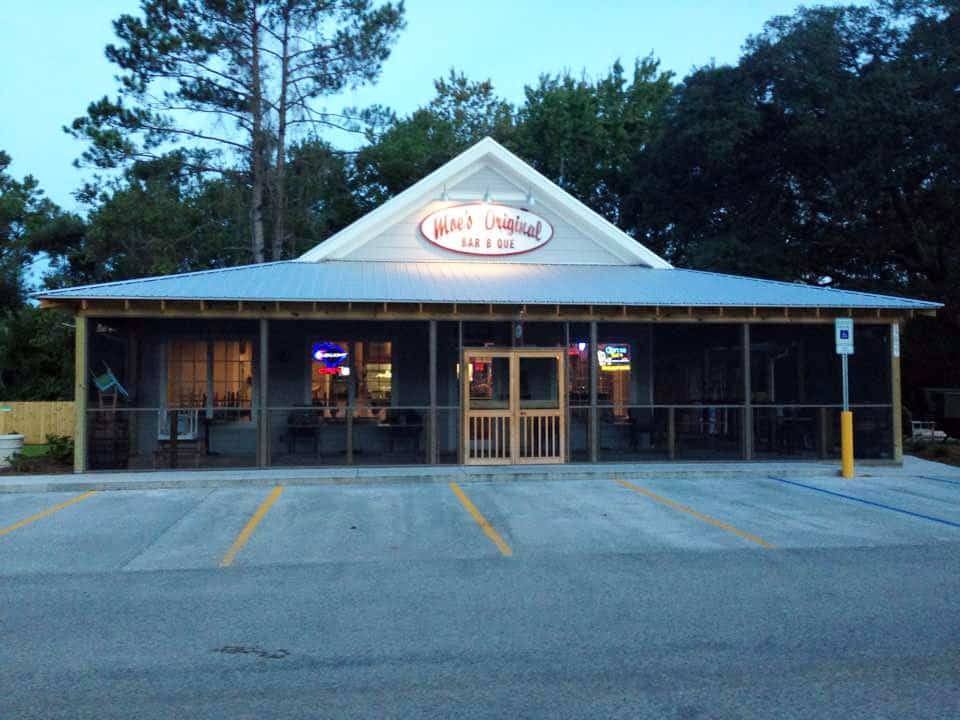 Moe's Original Bar B Que on Pawleys Island
12827 Ocean Hwy
Pawleys Island,
SC
29585
| | |
| --- | --- |
| Monday | |
| Tuesday | |
| Wednesday | |
| Thursday | |
| Friday | |
| Saturday | |
| Sunday | |
Review Sites
Features
True 'Cue Certified, Cards and Cash, Heavy Tomato Sauce, White Sauce