This post may contain affiliate links to Amazon or other vendors I trust. Please read my disclosure policy. As an Amazon affiliate, I earn from qualifying purchases.
A master of Central Texas barbecue, Pitmaster John Lewis brought a new style of BBQ — and lots of adoring fans — to Charleston at Lewis Barbecue.
Making Texas-style barbecue, Lewis serves a variety of meats, sandwiches, sides, ice cream, and extras such as pickled jalapenos, hunks of cheddar, and whole dill pickles.
In addition, Lewis Barbecue offers a full bar and indoor and outdoor seating in its Southwestern-themed restaurant. It was important to Lewis to get both the feel and the food right.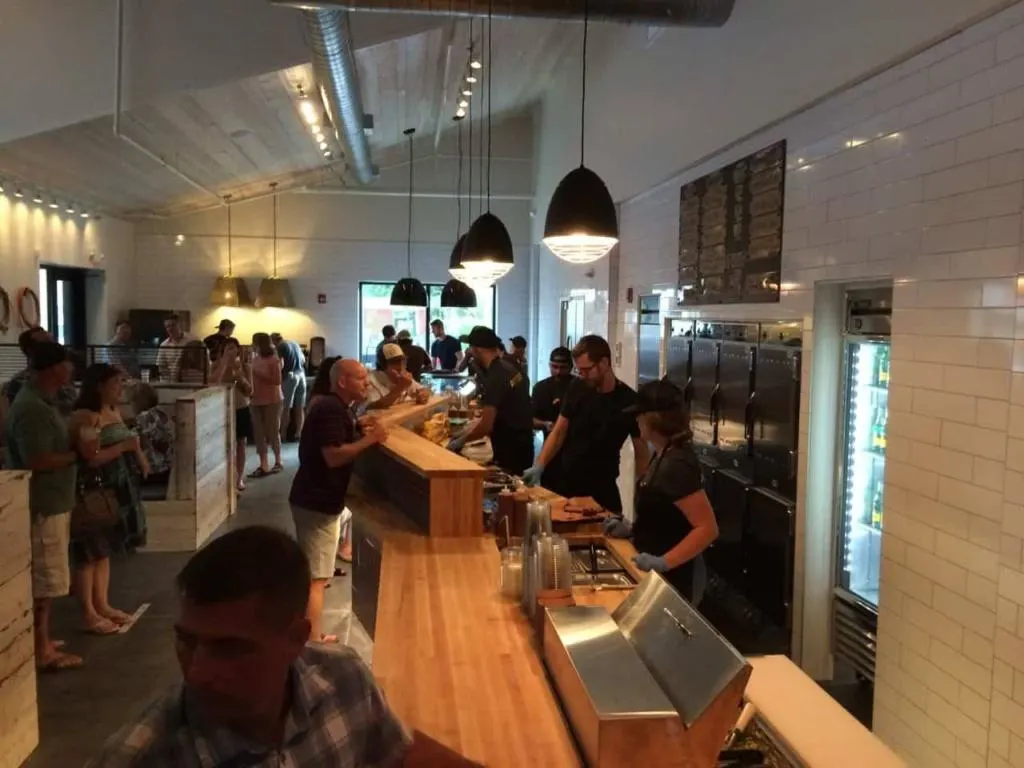 For example, Lewis and his father welded the pits for the restaurant themselves. They built four, 20-foot, wood-fired smokers in Austin, TX, and hauled them to Charleston.
You'll find the smokers set up in a separate building near a shaded patio and behind the outdoor seating area. You can see the smokehouse under the oak on the right side of the photo below: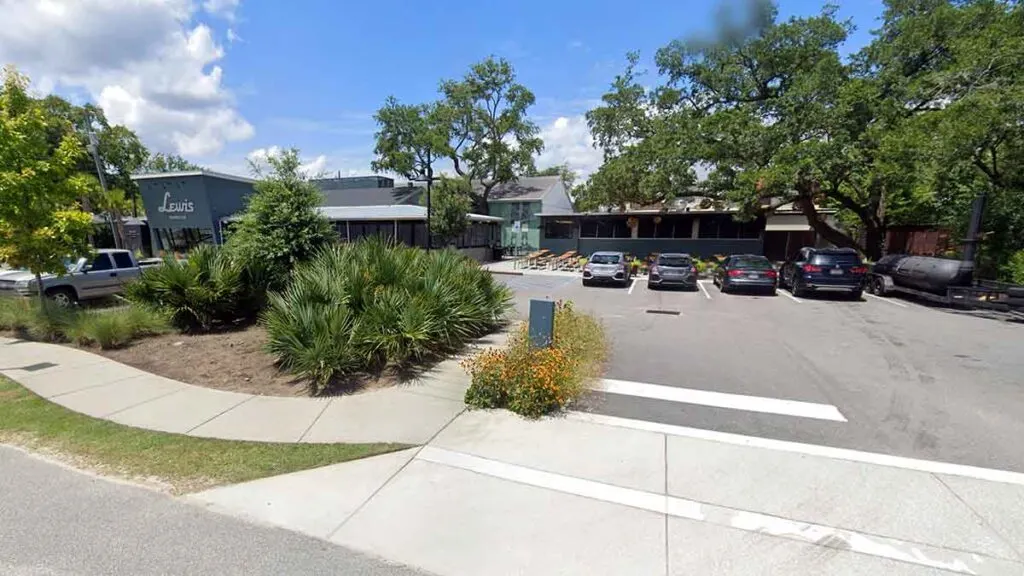 Lewis's vertical sausage smoker is set up near a closed-off corner of the restaurant. It is capable of cooking up to 1,600 sausages at a time.
Meat offerings include brisket, pulled pork, turkey, spare ribs, and Texas "hot guts," his homemade beef sausage.
(To make your own South Carolina-style sausage, check out this homemade onion sausage recipe.)
In addition to sandwiches, sides include cowboy pinto beans, creamy lemon slaw, green bean salad, green chili corn pudding, and buttermilk potato salad.
Customers will order at the counter and have the meat sliced in front of them. It will be served on trays on butcher paper.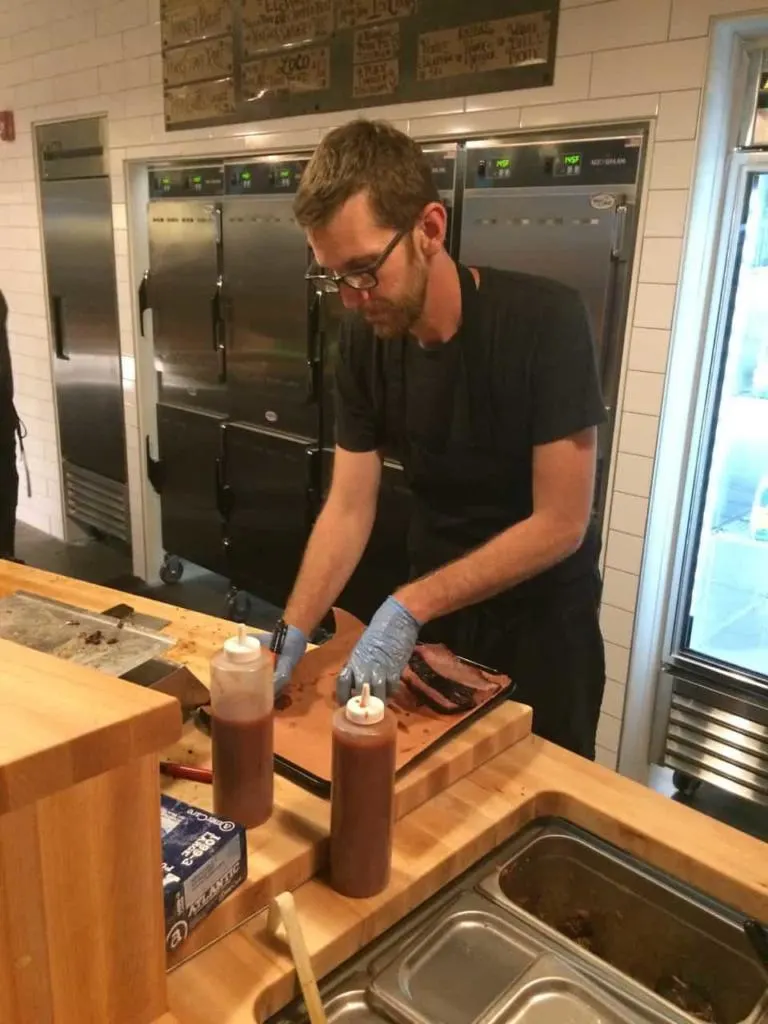 "I wanted to bring a new style of cuisine to Charleston," Lewis said. "I want this to be one of the most fun hangout places in Charleston."
While doing pop-up events prior to opening in Charleston, it became clear how popular this new style of barbecue would be in the Lowcountry.
"We had really good reception."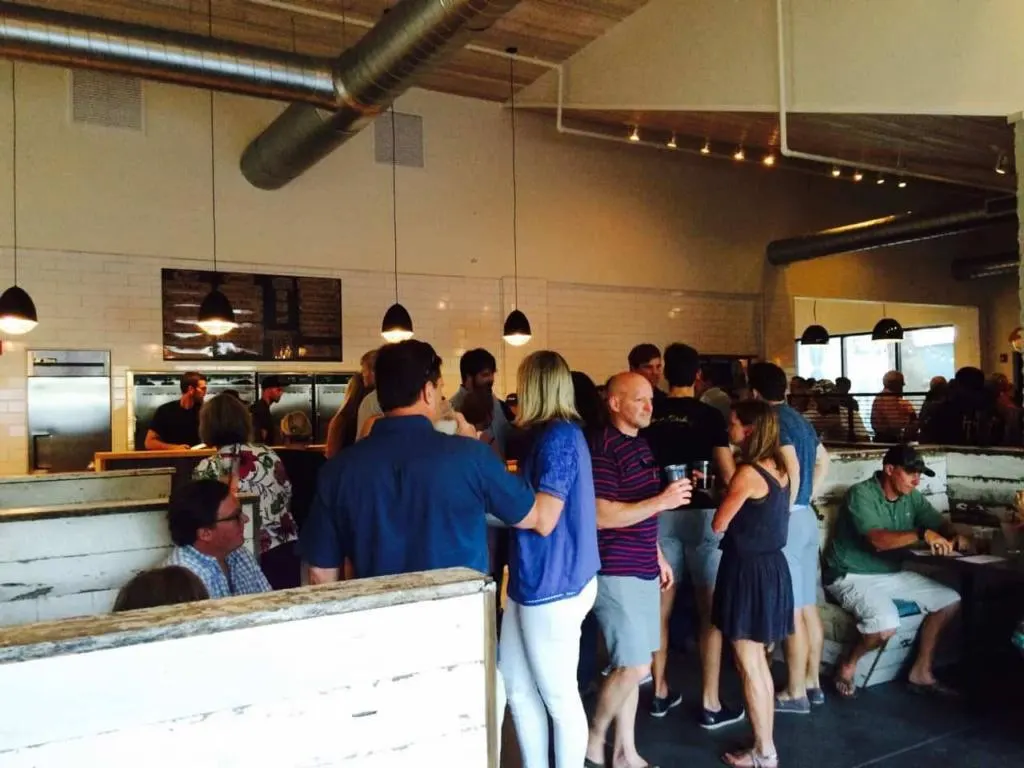 You don't say…. it's the reason why Lewis Barbecue earned a spot on our feature entitled "BBQ in Charleston, SC: The Definitive Guide."
John Lewis History
To begin, Lewis grew up in El Paso, TX.
He moved to Austin at 18 to start his culinary work in pastry, believe it or not. Sometime later, Lewis' parents gave him a smoker, and he began trying his hand in Austin's longstanding tradition of the backyard BBQ.
During this time, a passion was born and Lewis became creative with both his smokers and his meats.
He began taking liberties with the design and construction to find the best process and the best results.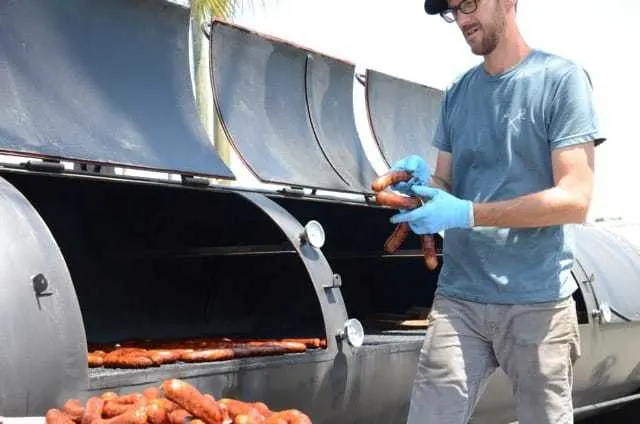 Moving to Denver, Lewis continued to sharpen his skills by joining the competition BBQ circuit.
In 2010, Lewis returned to Austin to work with his friend Aaron Franklin who was working to open the now-famous Franklin Barbecue.
During his collaboration with Franklin, Lewis developed the flavor profile that helped put Austin BBQ on the map.
In 2012, Lewis and LeAnn Mueller opened the much-beloved La Barbecue in Austin. Lewis quickly became a rising star of Austin's BBQ scene.
Before long, La Barbecue worked its way onto Texas Monthly's "Top 50 List" and earned the distinction as the "Best BBQ in Austin" by the Austin American Statesman.
By March 2015, Lewis packed up his smokers and moved to Charleston to introduce the Holy City to the great world of Texas BBQ. He and his "barbecrew" opened Lewis Barbecue in June 2016.
Meet Pitmaster John Lewis on CBS's The Dish:
John Lewis appeared on a CBS This Morning segment called The Dish, where the hosts interview important chefs and an occasional pitmaster. Lewis shared some information about his background as well as a few recipes.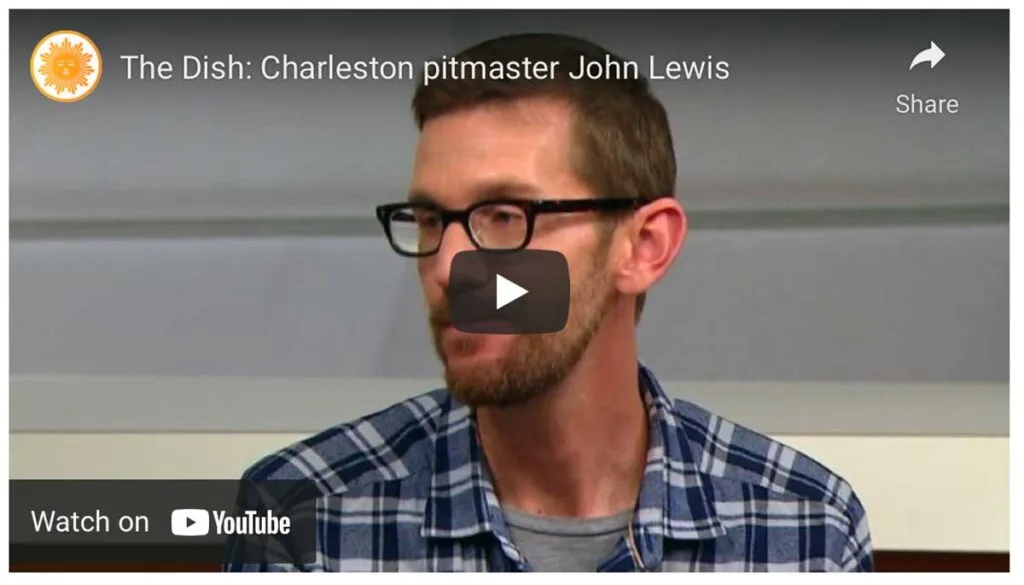 What Folks are Saying about Lewis Barbecue
Google Review
Among the over 4,000 Google Reviews, Local Guide Francisco Escobedo, a native Texan himself, recognizes that Lewis Barbecue is one of the best around:
Lewis is one of the best BBQ places in town. If you're looking for extremely high-quality Texas-style BBQ without a long wait – this is the spot!
We normally do a half lb of brisket, pulled pork, and a sausage or two for 3 ppl. The mac and cheese and the green chili cornbread are out of this world.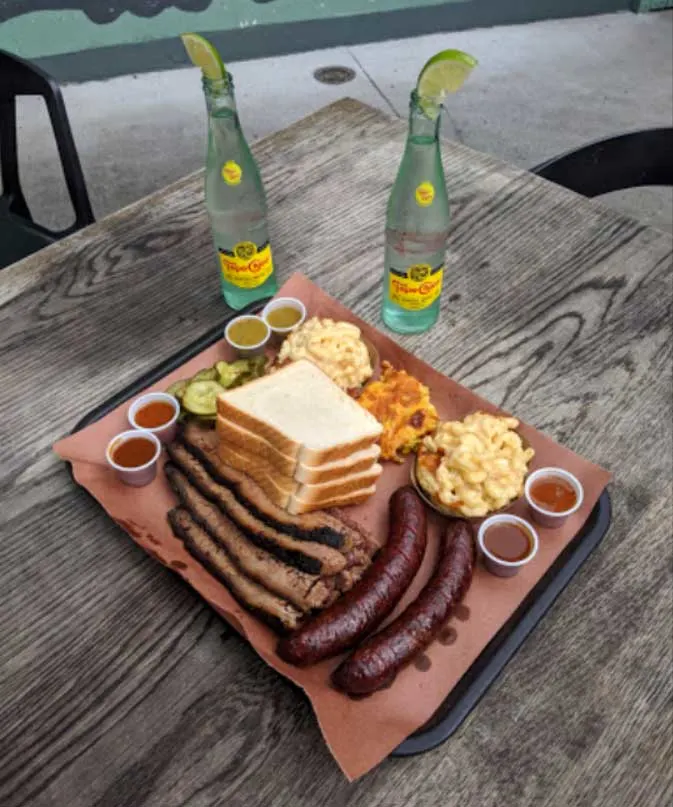 Margaritas are also much better than margaritas I've gotten at other places in town (totally acknowledge that margaritas aren't a Charleston thing..)
I'm originally from Texas and this stuff is as good if not better than a lot of the stuff you'll find anywhere Dallas down to San Antonio!
Yelp Review
Over on Yelp, Charleston local Taylor L was shocked by John Lewis and his food:
John Lewis can't be stopped.
Lewis is easily my favorite stop for brisket and corn pudding. Also, I was shocked to see a video with John Lewis and that he is able to stay so skinny while on all these culinary adventures with Lewis, Juan Luis, and the cheeseburger joint to open up in the food truck when Juan takes over Workshop this fall.
The food is great. Amazing to do family-style and be able to try more.
One of my favorite orders is the brisket nachos. They do the nachos well with a chip layer then queso and brisket and then another layer of chips followed by more queso and brisket.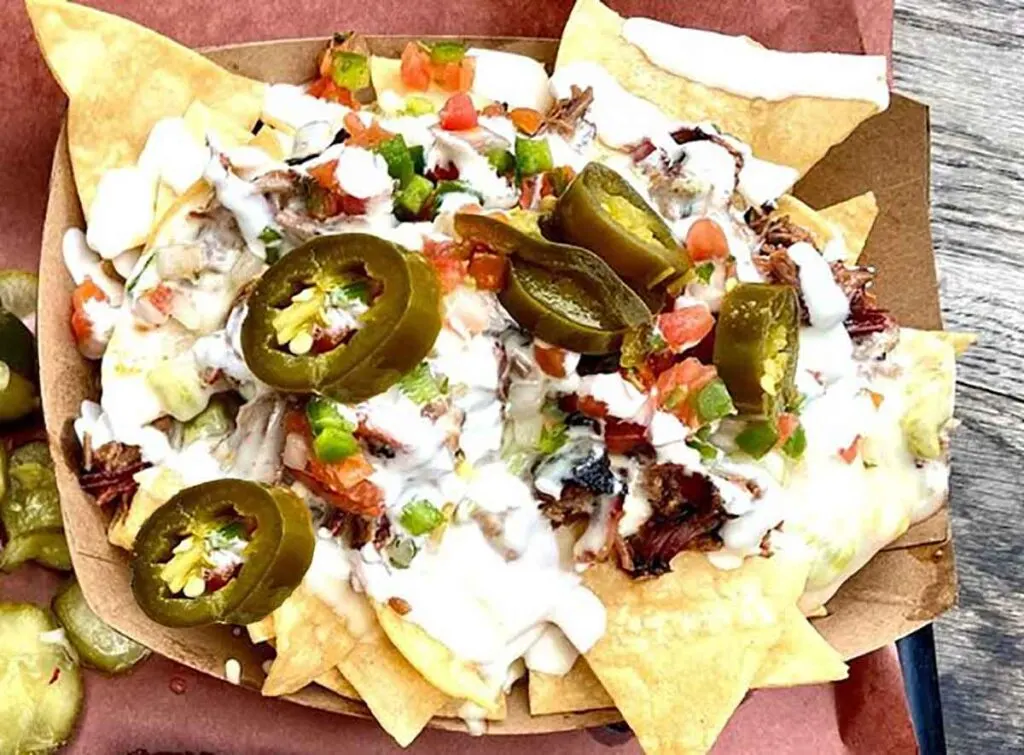 Everybody loves some evenly distributed nachos.
Def check out their daily specials! From Fried Chicken Tuesdays to Beef Rib Saturday, they got it all. Still trying to make a Beef Cheddar Sammy Friday cuz they usually sell out during lunch.
Orders also come with free side fixings of pickles, pickled onions, and onions and they have 3 sauces to choose from.
They have a good draft selection and cocktails as well. Typical Charleston prices for drinks.
Atmosphere is great as well with lots of outdoor seating, a bar, and cool BBQ flair.
I think I need some more Lewis now.
Menu for Lewis Barbecue
Note: Menu prices and options are subject to change over time. Contact the restaurant for the most up-to-date information.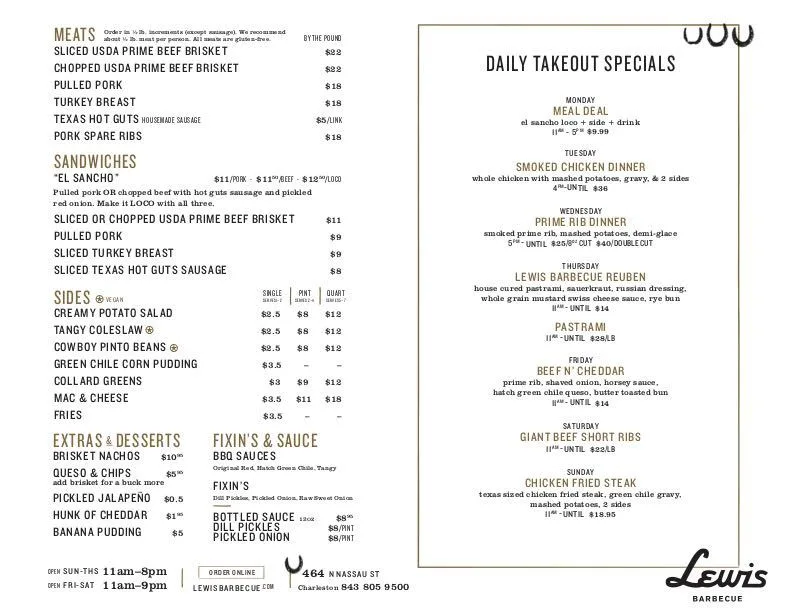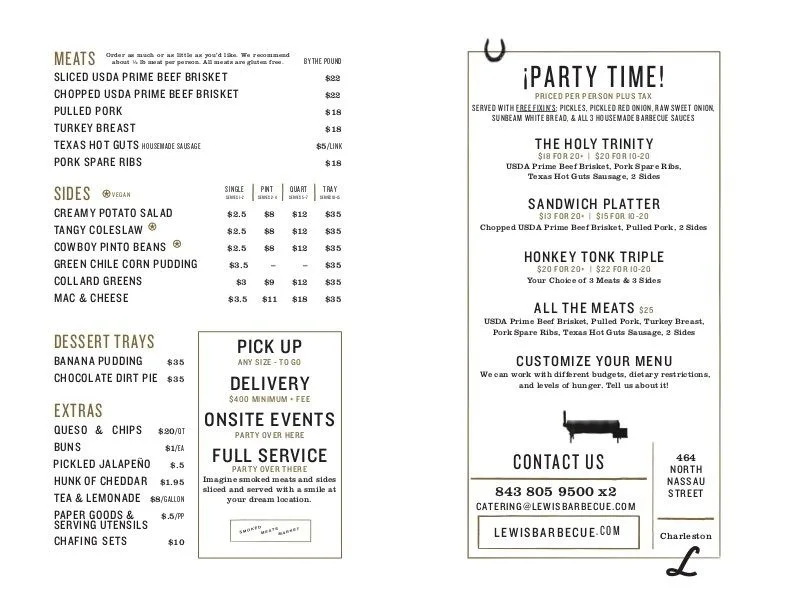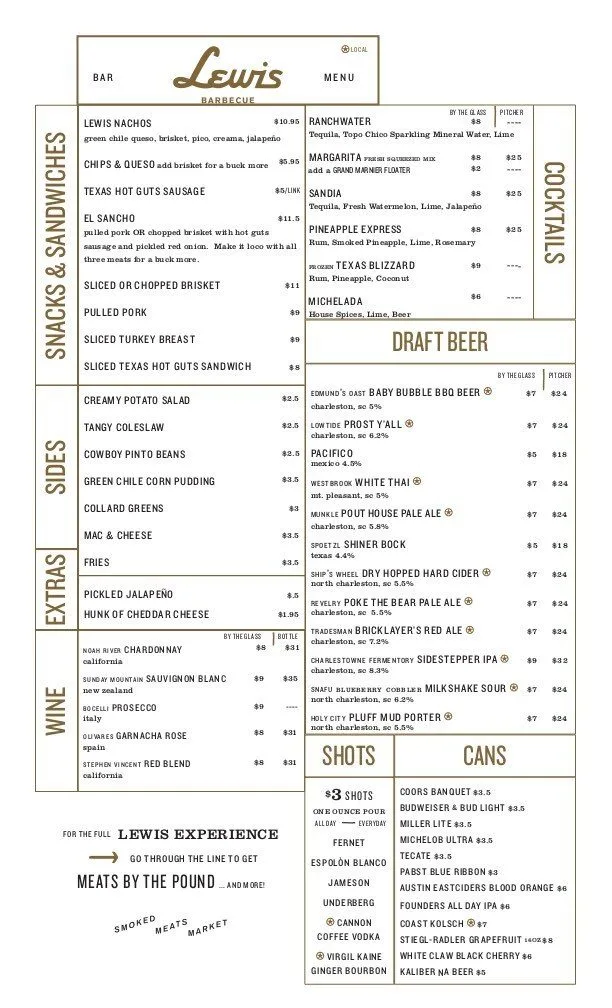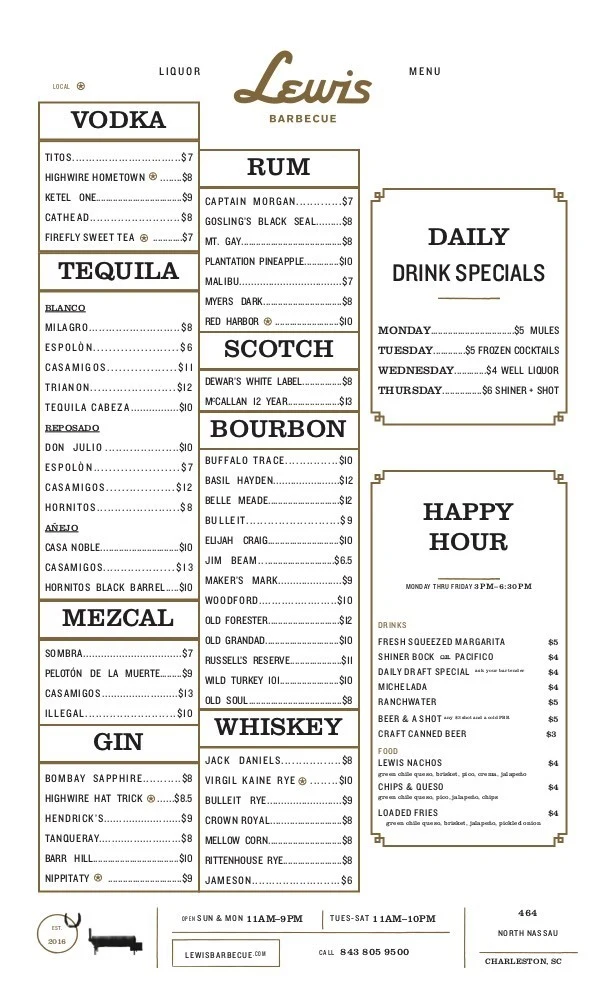 ---
Read our Lewis Barbecue posts:
Read Our Review of Lewis Barbecue
Our First Interview with John Lewis
See Lewis Barbecue while Under Construction
Read about the Lewis Barbecue Experience
---
Want to cook like John Lewis?
Several of John Lewis' recipes can be found in our latest cookbook: SCBBQ Recipes: Going Whole Hog cookbook Read more about the cookbook and find out which recipes here.
---
Lewis Barbecue FAQ
Does Lewis Barbecue in Charleston offer catering?
Yes, Lewis Barbecue offers catering. "Imagine our smoked meats and sides served up with a smile at your next event," they write. To learn more, simply reach out to them here: [email protected]
What's on the menu at Lewis Barbecue?
Lewis regularly offers plates or sandwiches with meats like brisket, pulled pork, turkey, Texas "Hot Guts" sausage, and pork spare ribs. Sides include potato salad, coleslaw, Cowboy pinto beans, corn pudding, collards, mac & cheese, and fries. Desserts, sauces, and "fixin's" are also on the menu. Drinks of all sorts are offered. Find the Lewis Barbecue menu here.
Can I buy food or merchandise from Lewis Barbecue online and have it shipped to my house?
Yes, indeed. You can buy the following items from their online store:
1) Smoked meats, including brisket, turkey breast, pork ribs, beef ribs, pulled pork, and sausage. Lewis also offers meat combo packs.
2) Sauces, including their Tangy, Original Red, and Hatch Green Chile sauces. You can even buy all three in a combo pack.
3) Clothing, "cool stuff," including various T-shirts, hats, mugs, koozies, and pins.
4) Gift cards are also available.
Where can I find recipes from John Lewis or Lewis Barbecue?
John Lewis has shared his recipes with several publications, many of which can be found with a simple search. Several of those were gathered and included in our SC BBQ cookbook.
Is there outside seating at Lewis BBQ and are dogs or cats welcome?
At Lewis Barbecue, you'll find plenty of outside seating. As for animals, Lewis is certainly pet-friendly. You will regularly see dogs with those in the outdoor seating area. Similar to dogs, other animals are likely welcome as long as they are well-behaved and don't interfere with the enjoyment of other guests.
Location, Hours, Contact Info, and More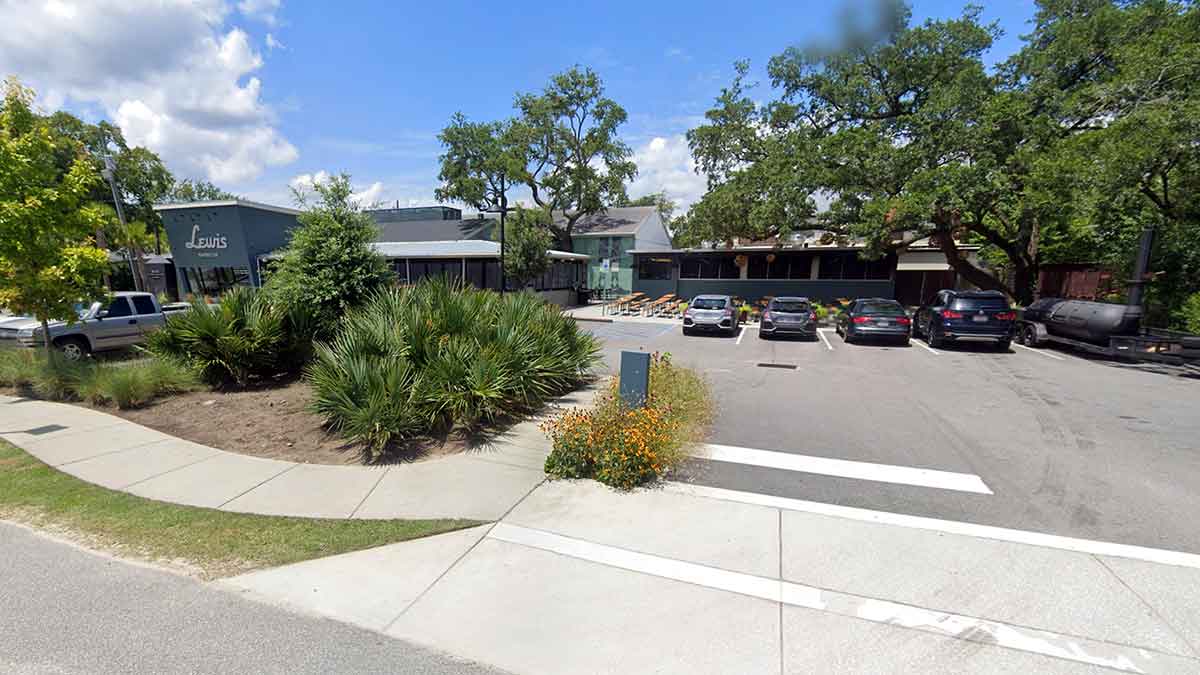 Map
Directions
Contact Lewis Barbecue
464 N Nassau St.
Charleston,
SC
29403
Hours of Operation
| | |
| --- | --- |
| Monday | |
| Tuesday | |
| Wednesday | |
| Thursday | |
| Friday | |
| Saturday | |
| Sunday | |
Review Sites
Features
Cards and Cash, Light Tomato Sauce, True 'Cue Certified