Palmira Barbecue***Temporarily Closed***
This post may contain links from which I earn a commission. Please read my disclosure policy. As an Amazon affiliate, I earn from qualifying purchases.
***Palmira is opening its first true brick-and-mortar restaurant, leaving its original home in Charleston's Port of Call food court. They will be closed while working to open their new location in the West Ashley region of Charleston.***
Smoking local heritage pigs using all wood
Recently ranked the 19th in Southern Living's Top 50 BBQ joints in the South, Palmira Barbecue may be a newcomer to the Charleston barbecue scene, but it has already surpassed most of the elite barbecue restaurants in a city that knows great food.
"An impressive newcomer arrived on the Charleston scene when pitmaster Hector Garate opened Palmira BBQ inside the Port of Call Brew and Food Hall," writes Southern Living BBQ Editor Robert Moss.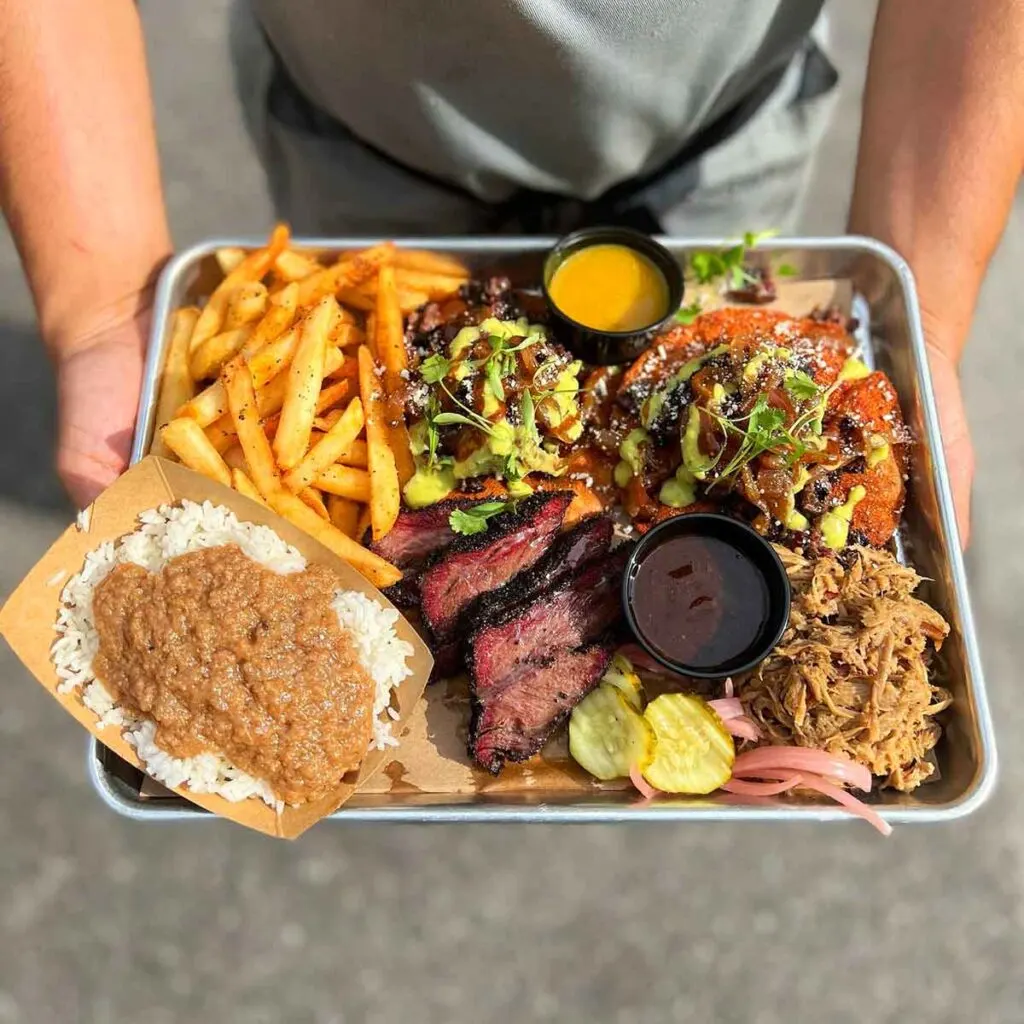 "The offering blends the culinary traditions of Garate's native Puerto Rico with those of the Carolinas and Texas, with whole hog barbecue as the headliner."
The name, Palmira, is in honor of Hector's grandmother, who grew up on a sustainable cattle ranch.
With that in mind, Garate's barbecue began with the desire to serve wood-fired barbecue created using only locally-raised meats. He'd serve that BBQ with carefully crafted sides to create a unique barbecue experience.
As noted, Garate is an up-and-coming Pitmaster in the craft barbecue scene. He is creating sustainable farm-to-table barbecue with old-school wood fire techniques.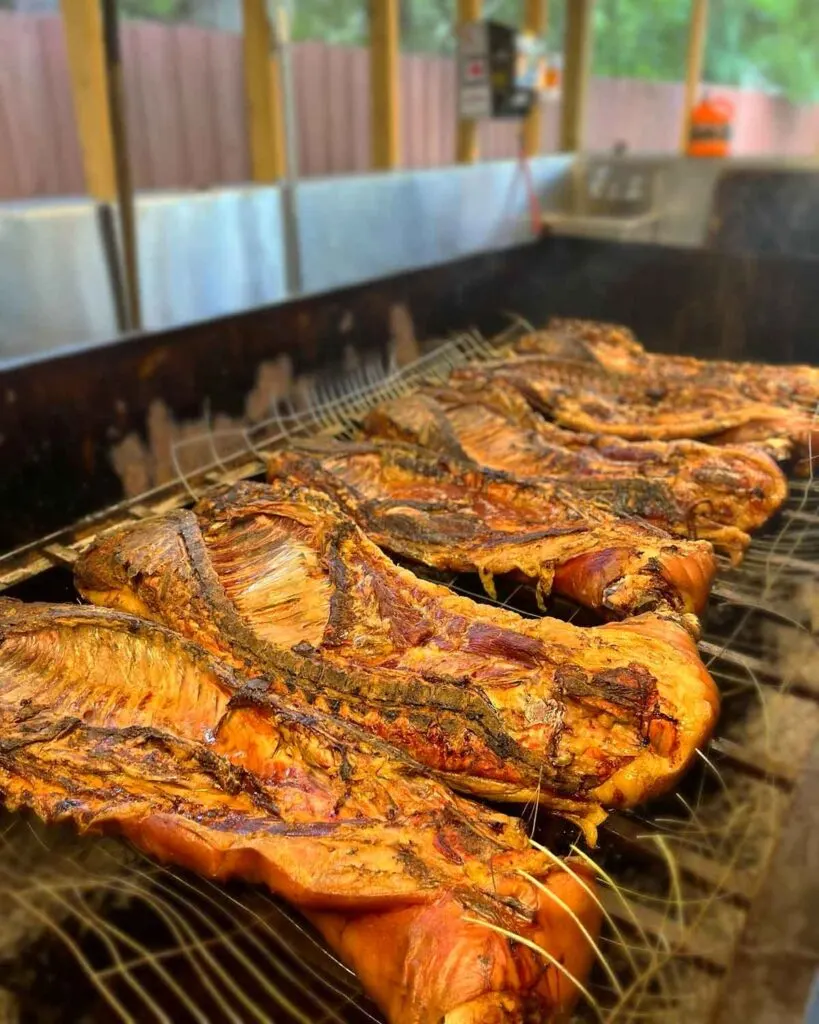 Hailing from Puerto Rico, he got to experience whole-animal cookery early on. Even though Garate's passion for BBQ started at an early age, he hasn't stopped perfecting his craft since.
What's Cookin'?
Today, at Palmira Barbecue, Garate specializes in smoking beef cheeks, brisket, whole hog, and house-made sausages. In the pursuit of creating the best product, he devotes free time to building his custom cooking appliances, in particular an offset smoker.
In his desire to serve local, Palmira has partnered with Brasstown Beef, Creekstone Farms, and Peculiar Pig Farms to source the most sustainable farm-to-table smoked meats for Charleston, SC.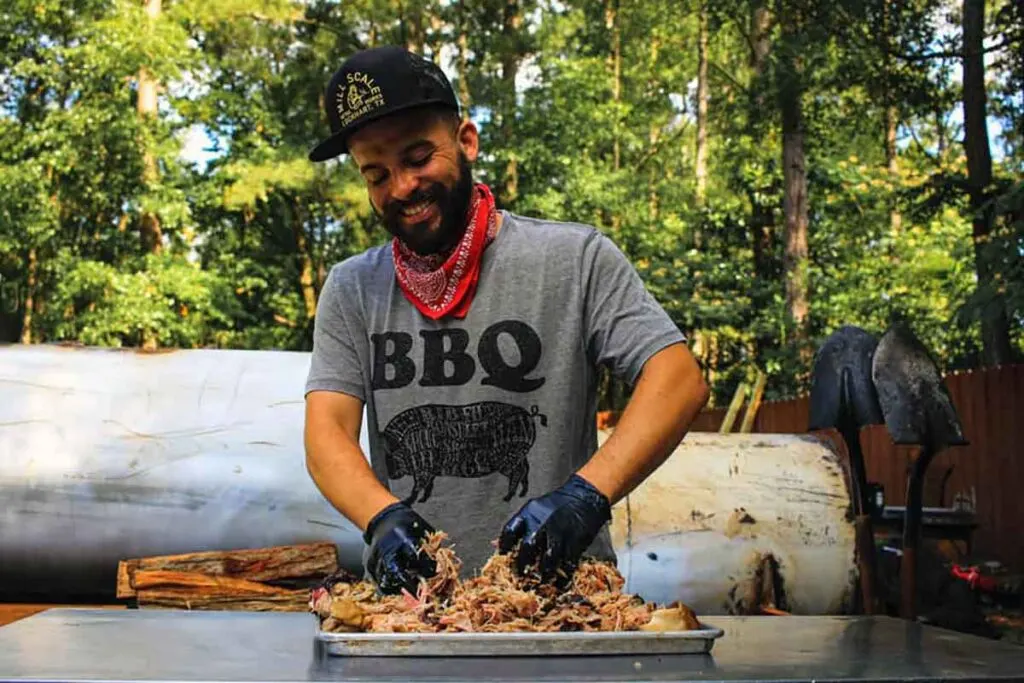 As Moss writes in his review for The Post and Courier, Garate knows how to cook barbecue.
"First, let's talk about that whole-hog barbecue. It's only mildly smoky, which is how it should be. The short-chopped strands are flecked with red pepper flakes, and they have that inimitable juicy texture that you only get from whole hog cooked directly over hardwood coals. It's the real deal."
The real deal, indeed.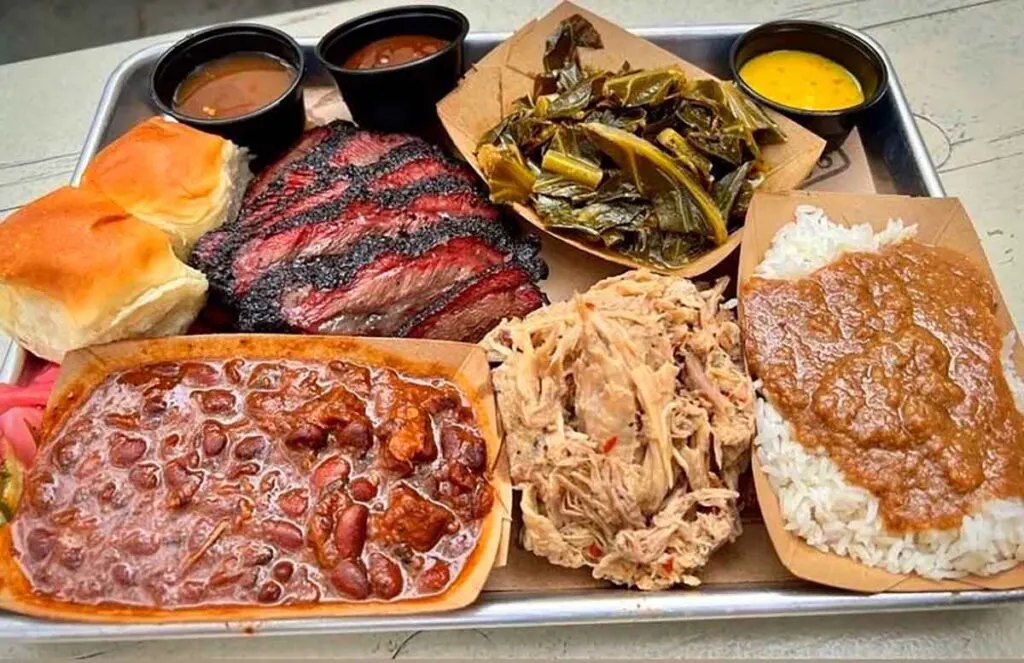 On the Side
To complement his smoked meats, Garate provides a variety of sauces, a Pee Dee-style vinegar-and-pepper, a Midlands-style yellow mustard, and a sweet Texas-style red.
Each of his sides is noteworthy and delicious, but with a nod of appreciation to the Palmetto State's culinary history, Palmira Barbecue offers South Carolina BBQ hash, sort of a meaty gravy generally served over rice in this part of the state.
"Tan in color, fairly smooth in texture, it has a flavor quite unlike the typical Lowcountry variety," Moss notes, "since Garate makes it not from mild pork cuts like shoulder, but as South Carolina cooks did a century or more ago from the heads of the hogs he barbecues.
"In his own twist, instead of boiling the heads in a pot, he slowly smokes them on the pits until the meat is fall-off-the-bone tender and ready for blending with spices into a thick, aromatic gravy."
Truly unique, yet surprisingly authentic at once.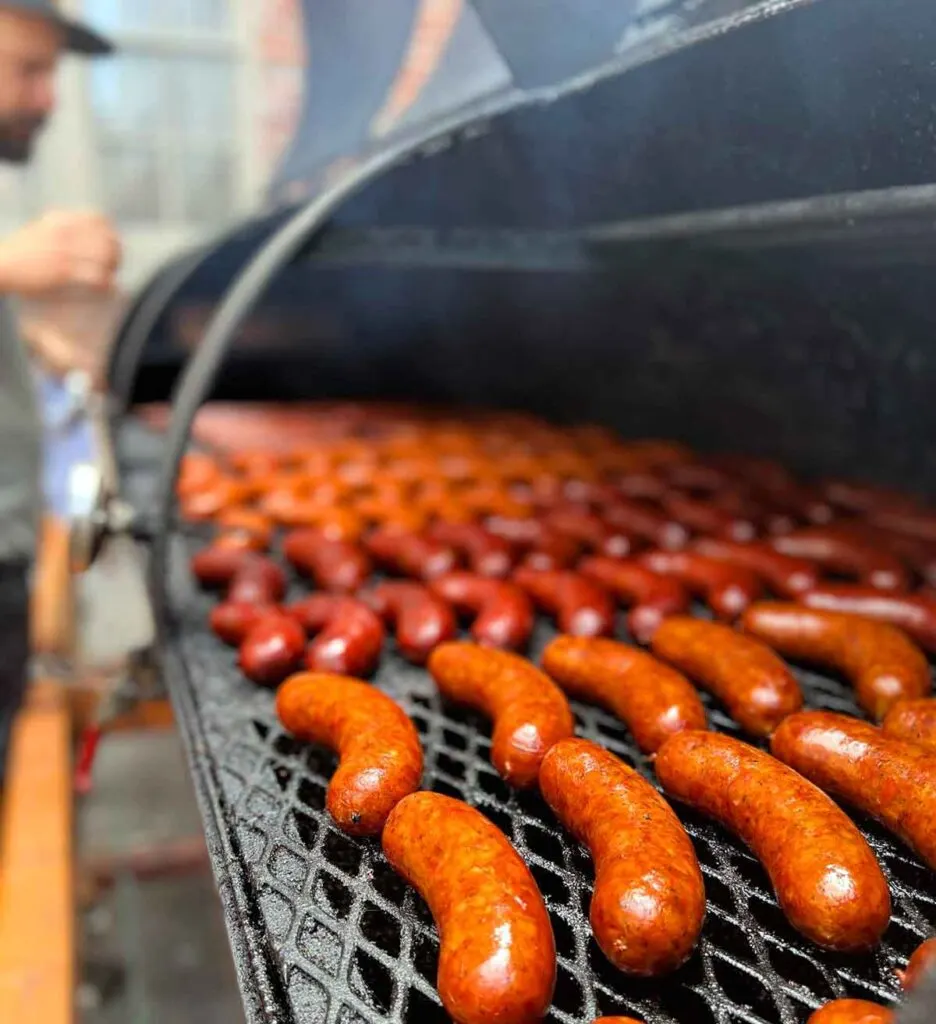 What Folks are Saying
Google Review
Among the Google Reviews, Local Guide Andy Petrone found Palmira Barbecue does it the right way:
Great BBQ. The whole hog is done right – the Carolina way!
Juicy, succulent, porky, not covered up with sauce. The beef cheeks were smoked just right with a nice bark, not an item you see around these parts too often, a great treat.
And in southern fashion, the sides are not to be missed. They hit the SC Hash right on the head! Perfect blend of spices and cooked-down meat with a touch of vinegar.
The collards were just as amazing, not overcooked, nice bite with a great spicy note.
Thanks for the opportunity to enjoy your 'que, I look forward to coming back and sharing with friends.
Yelp Review
Over on Yelp, Jon M noted that the quality of Palmira BBQ's product exceeded its humble location:
The barbecue itself is very good and the brisket I would consider top 3 in Charleston. The pulled pork is also tasty and the sauce gives it a nice spicy kick.
I believe the reason this place is not more well known is that it's located in the Port of Call food hall and the atmosphere is mismatched for a barbecue joint.
Menu for Palmira Barbecue
Note: Menu prices and options are subject to change over time. Contact the restaurant for the most up-to-date information.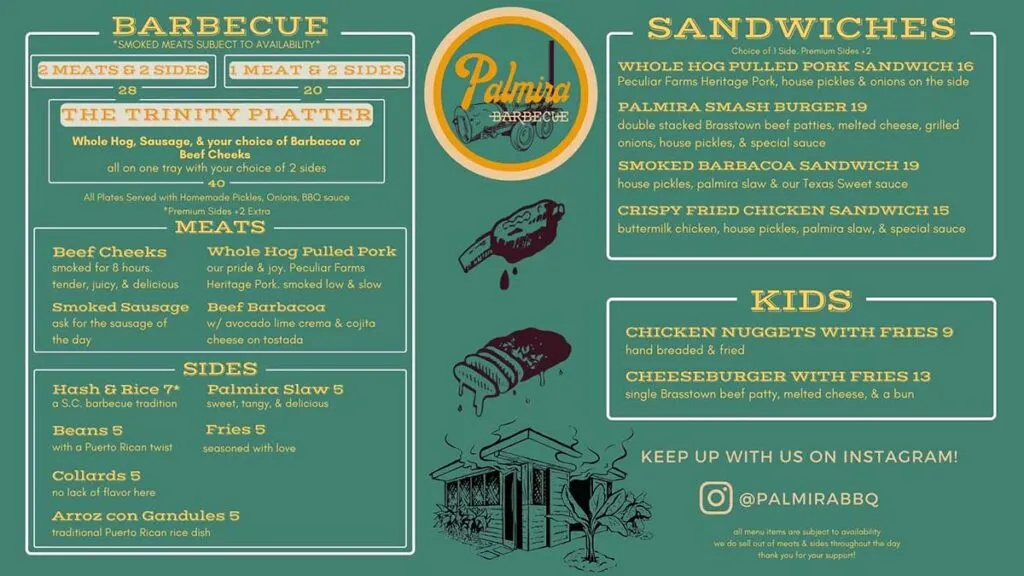 Location, Hours, Contact Info, and More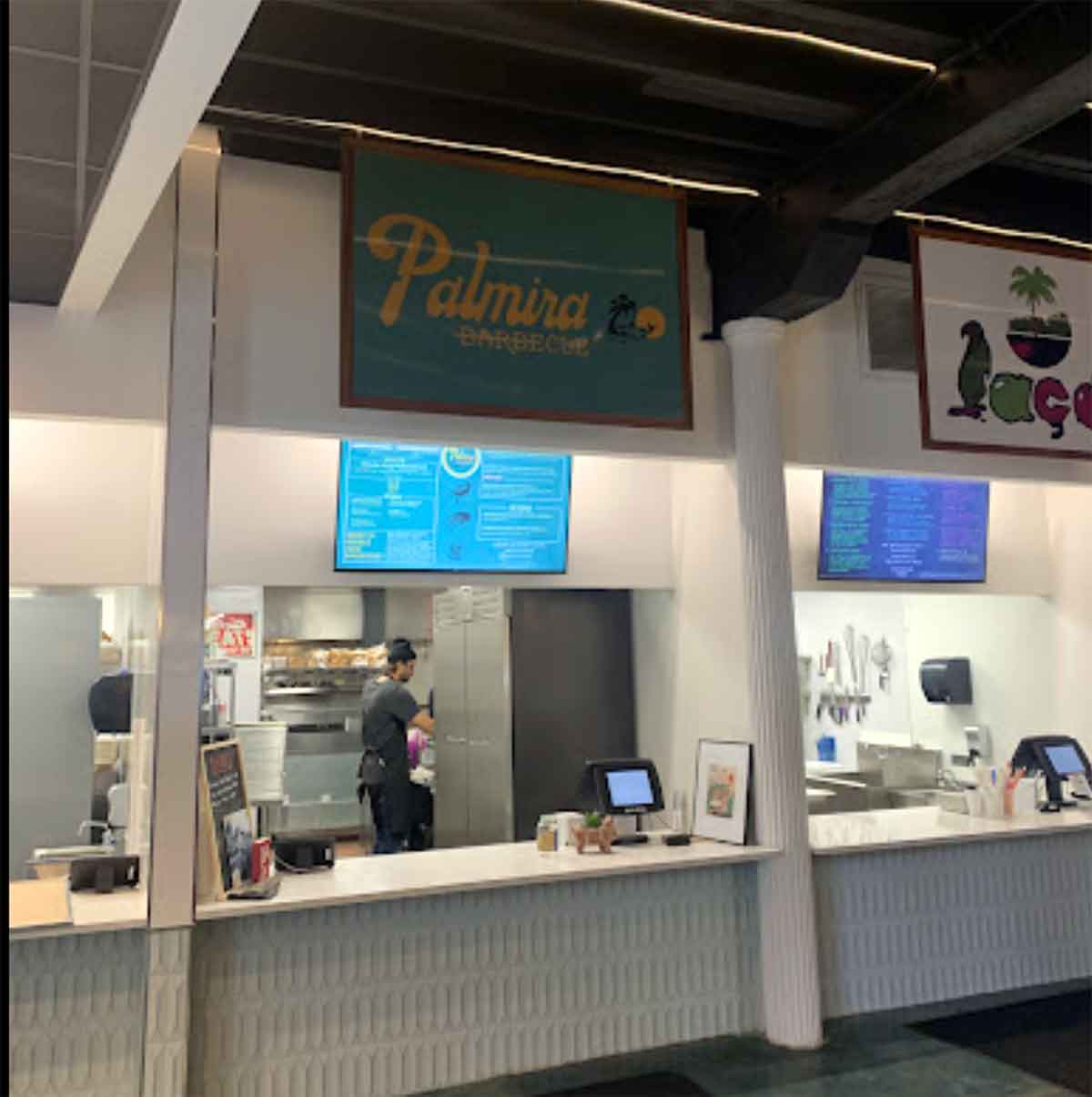 Map
Directions
Contact Palmira Barbecue***Temporarily Closed***
99 S Market St.
Suite 5
Charleston,
SC
29401
Hours of Operation
| | |
| --- | --- |
| Monday | |
| Tuesday | |
| Wednesday | |
| Thursday | |
| Friday | |
| Saturday | |
| Sunday | |
Review Sites
Features
Cards and Cash, Hash, Heavy Tomato Sauce, Mustard Sauce, Vinegar Pepper Sauce, Whole Hog