This post may contain affiliate links to Amazon or other vendors I trust. Please read my disclosure policy. As an Amazon affiliate, I earn from qualifying purchases.
Trip Back in Time
A step into Cooper's Country Store is a step back in history.
You simply must stop in if you are traveling nearby. If not for the BBQ — which is authentic South Carolina barbecue — stop in for the ambiance and to experience a way of life that has long faded into the past.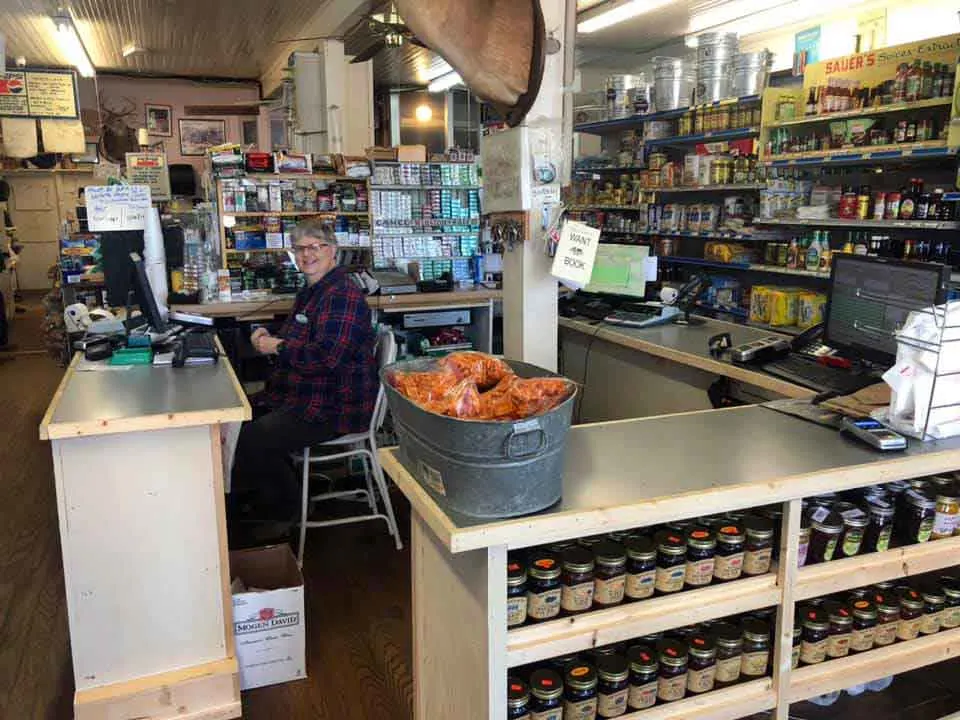 Back in 1937 when Highway 521 first connected Manning to Georgetown, Theron Burrows opened an Esso gas station. (Esso is now Exxon for you younger folks.)
He named that station Burrows's Service Station, on that new road near Salters. His son-in-law George Cooper purchased the store in 1974, and today it is run by Cooper's nephew, Russell Cooper.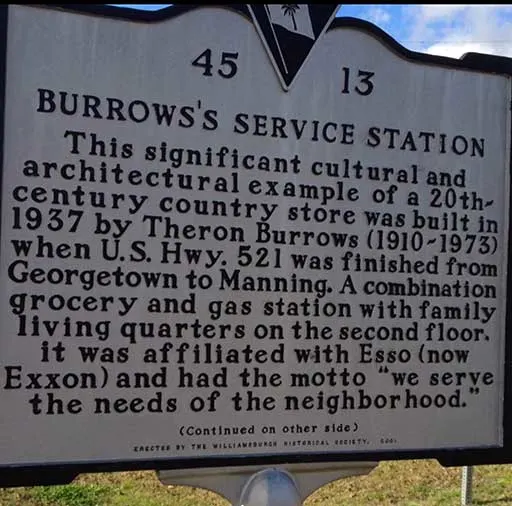 On the Menu
Cooper's is an actual country store…not a restaurant.
Yet, they serve an amazing vinegar-based barbecue, hash, and other items from a small meat counter at the back of the store.
First and foremost, the barbecue is old-school and authentic. Very typical of this region, at Cooper's Country Store, they cook whole hogs over wood embers until the meat is tender enough to pull with tongs. This is a process steeped in the history of barbecue itself.
When the hog is finally flipped, longtime Pitmaster Laverne Darby mops the hog with their vinegar-based barbecue sauce to finish it before bringing the hog in to be pulled.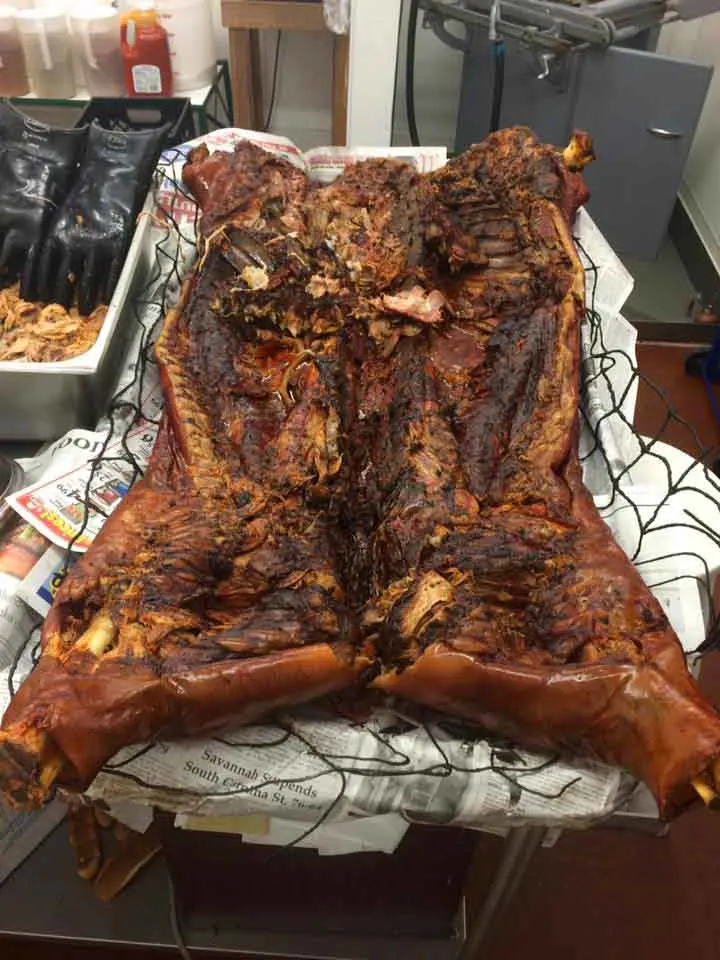 Only from a whole hog, can you mingle meat from all the various parts of the pig to get a natural flavor that's just not possible from individual cuts of pork. Marry that with their sauce and you have perfection.
Also on the menu is South Carolina barbecue hash. Hash is unique to South Carolina and the hash served at Cooper's is one you have to try.
Most often served over white rice, hash is sort of a meat gravy where the meat is often ground to provide a consistency similar to hot dog chili. A Cooper's however, the hash is not ground but served as a "stringy" hash.
While it is never much to look at, it is always delicious: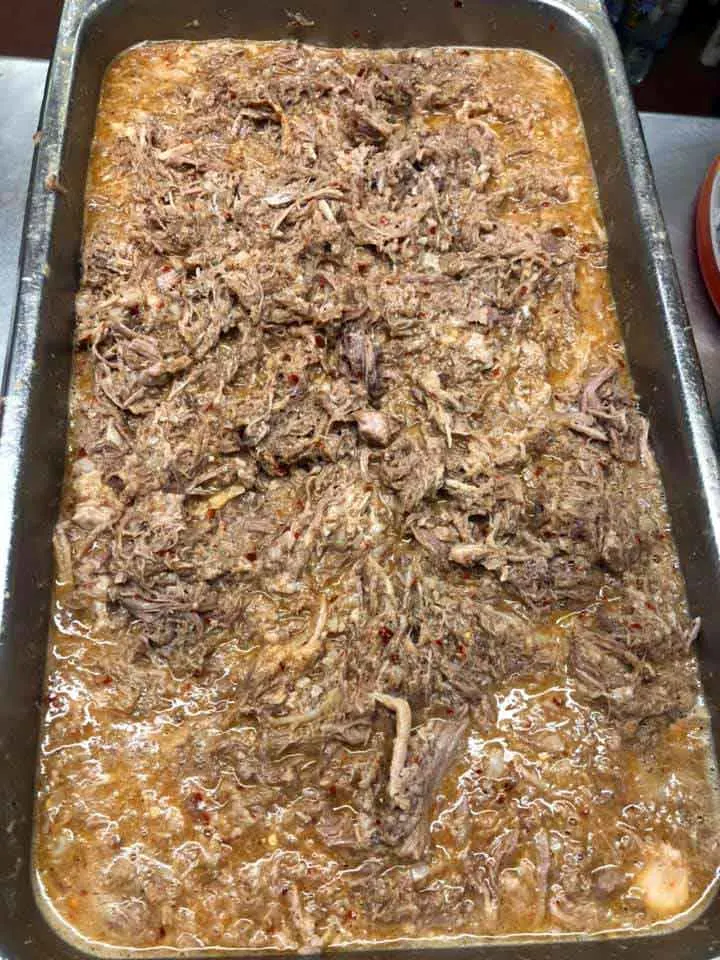 In addition to your barbecue needs, you can also pick out your own country ham hanging in a special "screen closet' nearby.
Country Hams at Cooper's
These Southampton-style country hams have been made by the same family for Cooper's Store for almost sixty years. Cooper's sells these hams by the slice or whole, and they are shipped nationwide, not unlike their barbecue.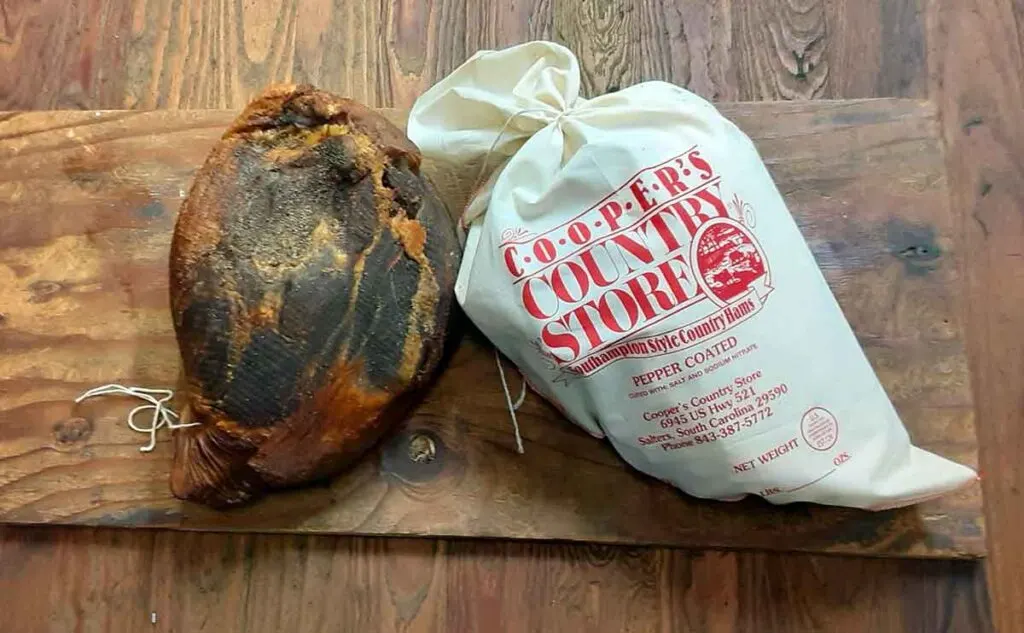 Finally, if you need a wrench or some groceries on your way to wherever you are headed, just know that Cooper's has it all.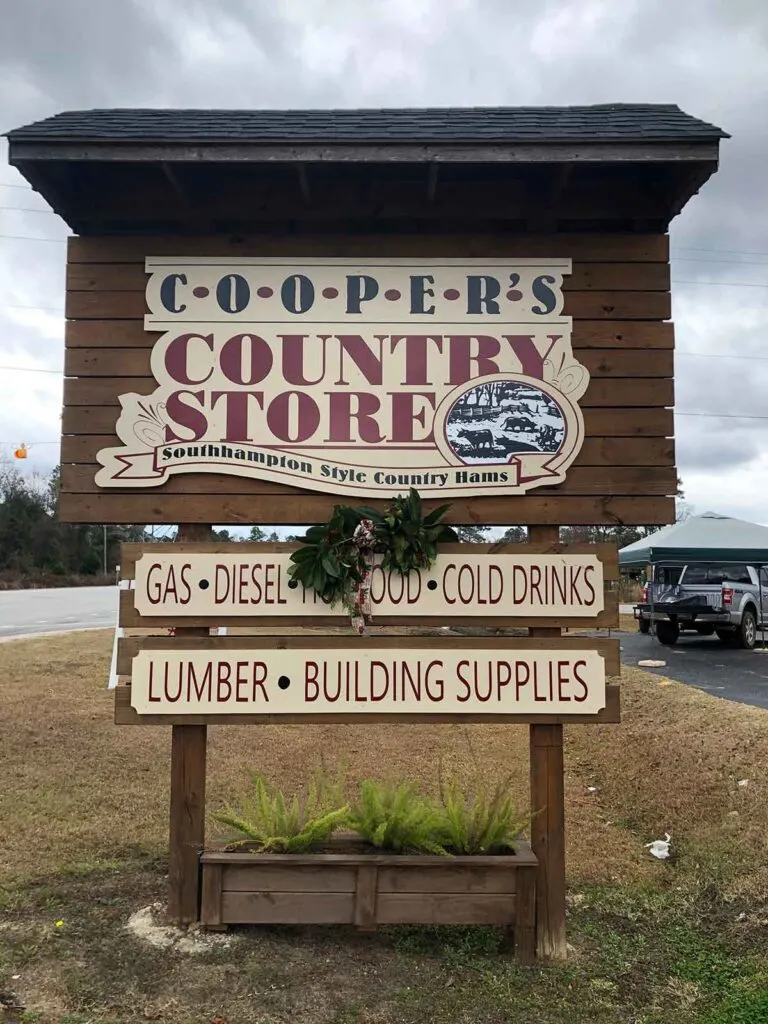 What Folks are Saying about Cooper's Country Store
Google Review
Among the many Google Reviews, Miles Buddy is confident you won't find better anywhere in South Carolina:
Our family stops at Cooper's every time on the way from Asheville to Georgetown. We all swear it is the best country store in the state.
Their BBQ is delicious and if you have never had their ham you need to go and eat it right now because it is the best country ham you will ever put in your mouth.
Everyone there was super friendly. When you need a place to stop on a long road trip, Cooper's is everything you could possibly want and more. This is one of the most convenient places I've ever been in.
Next time you're anywhere near Salters, be sure to check out Cooper's Country Store!
Yelp Review
Over on Yelp, you'll find a review by Robert Shahon who looks to start a new business venture selling Cooper's BBQ in his home state of Washington:
Flew into Kingstree from Washington State for a long weekend to visit my daughter who now lives there. We were looking for a BBQ place to try and her boss suggested Cooper's.
My daughter had been to the other BBQ places in the area, Brown's and Monkey Bottom Boys. In short, she thought this was the best.
The flavor from the vinegar-based sauce is amazing!!! They really got a winner here.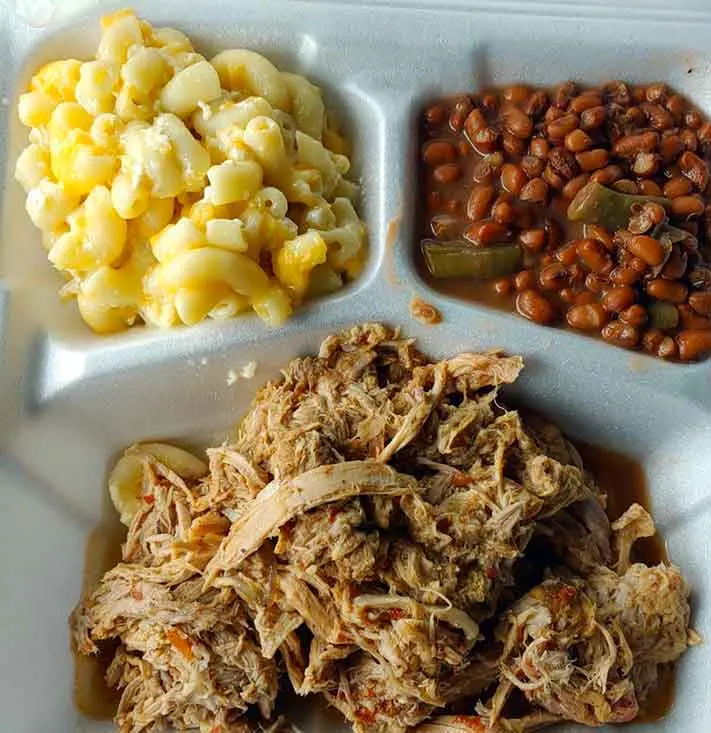 May not be for everyone. If you are looking for a full-service restaurant, this is not the place, but if you want just a BBQ sandwich, some ribs, chicken, etc. to eat on the go, take home, or eat outside in the shade, I would be surprised if you are disappointed.
I could sell the heck out of this stuff in Washington, never had or seen anything like it on this side of the country. (Mr. Cooper we should talk!)
Check out the following to learn more about Cooper's Country Store:
Take a step inside and get to know some of the special folks behind Cooper's Country Store:
Next, enjoy this video interview of Russel Cooper, owner of Cooper's Country Store:
Finally, enjoy this interview of Levern Darby, Cooper's pitmaster of 35+ years:
Menu for Cooper's Country Store in Salters
Note: Menu prices and options are subject to change over time. Contact the restaurant for the most up-to-date information.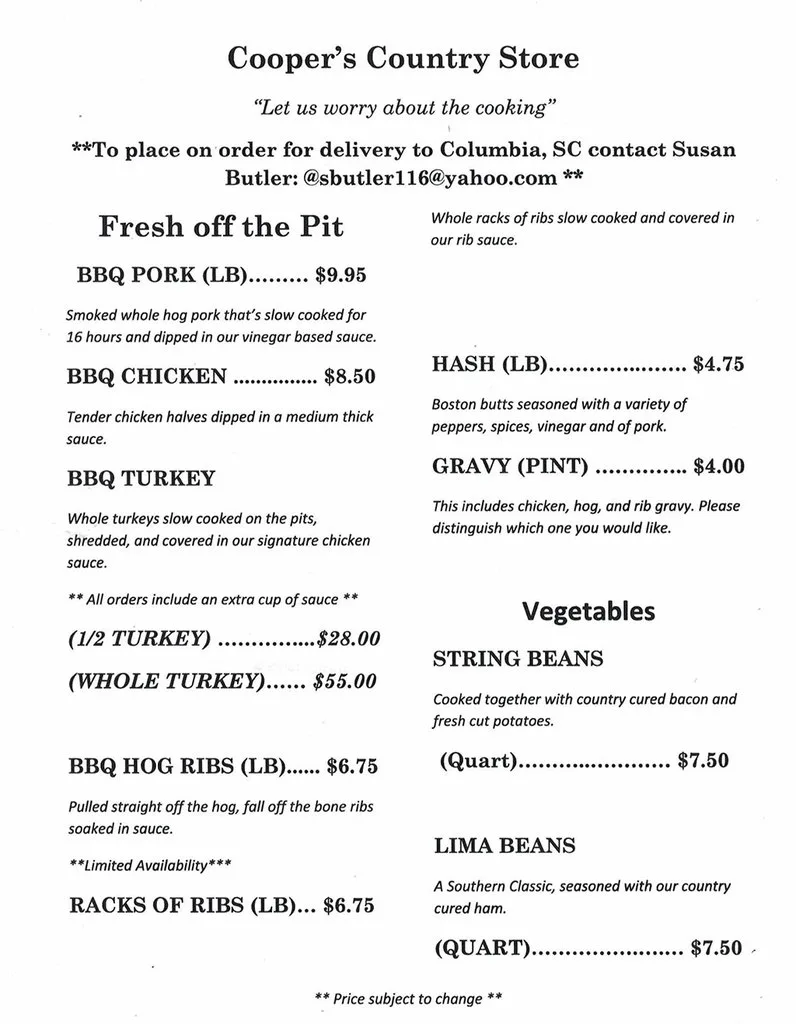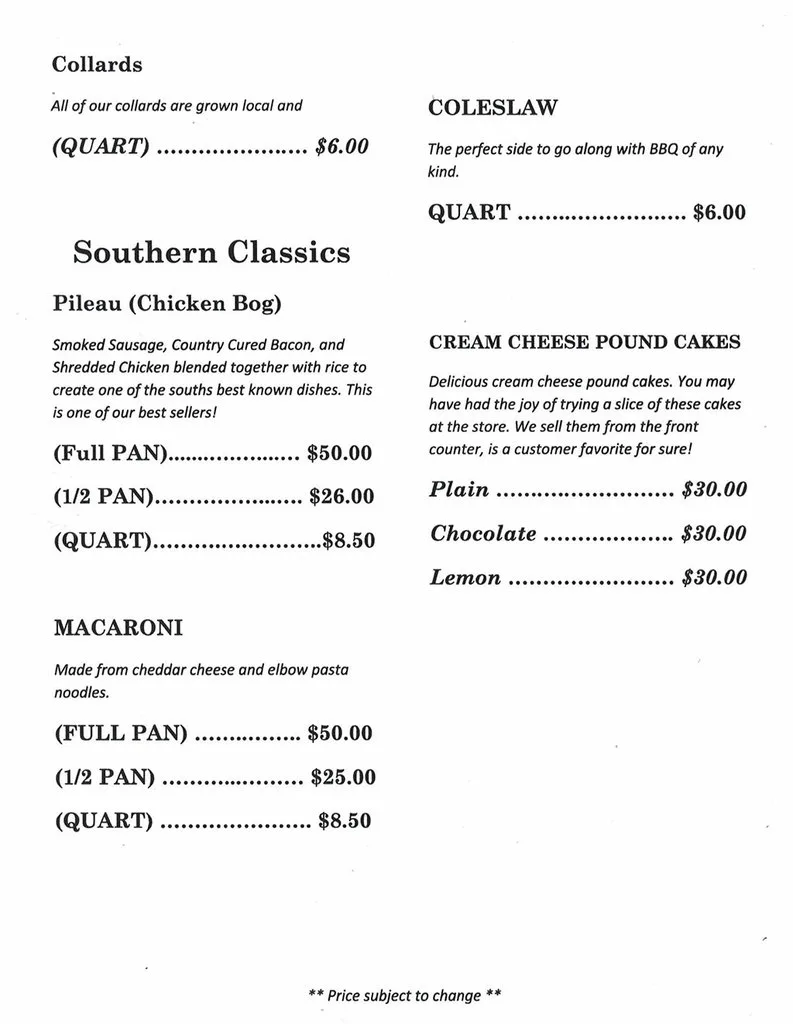 Location, Hours, Contact Info, and More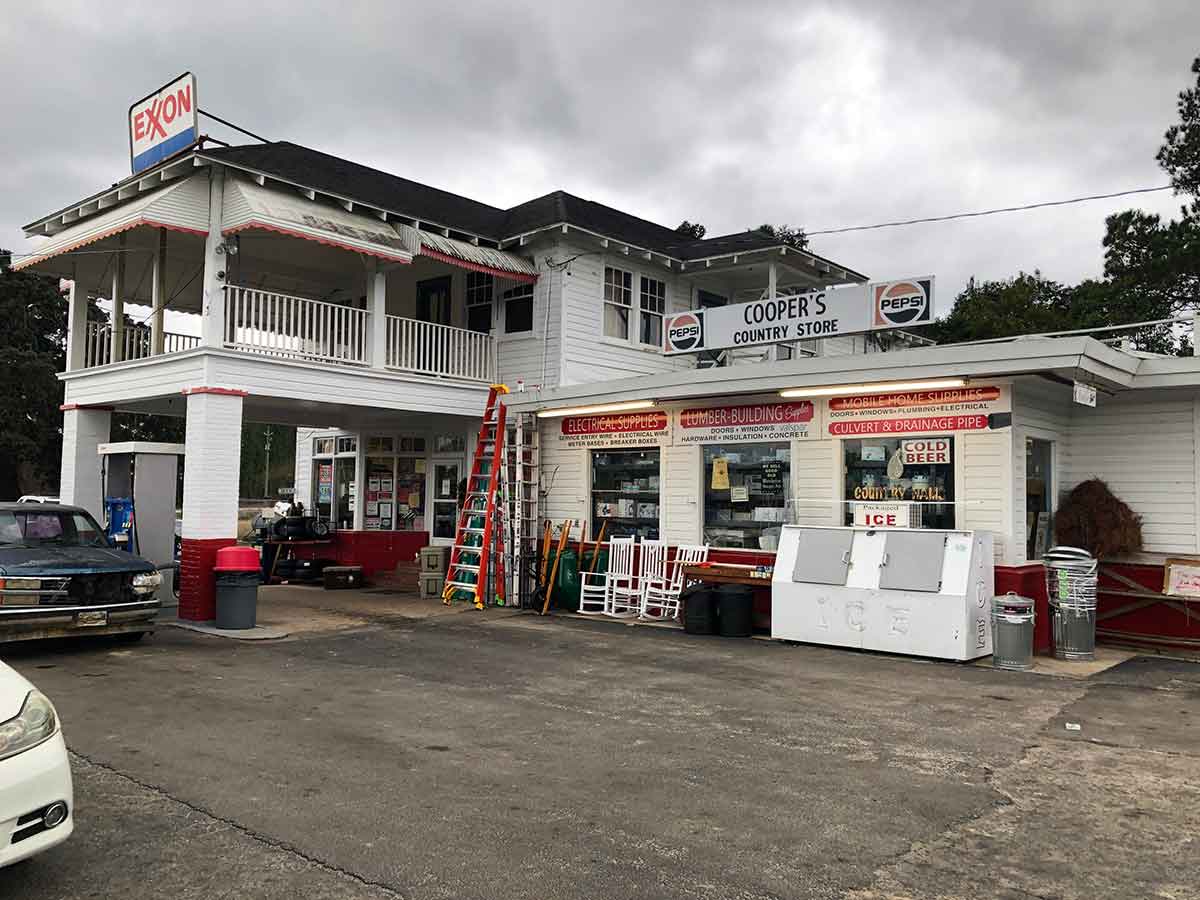 Map
Directions
Contact Cooper's Country Store
6945 SC Hwy 521
Salters,
SC
29590
Hours of Operation
| | |
| --- | --- |
| Monday | |
| Tuesday | |
| Wednesday | |
| Thursday | |
| Friday | |
| Saturday | |
| Sunday | Closed |
Social Media
Review Sites
Features
Cards and Cash, Hash, Vinegar Pepper Sauce, Whole Hog