This post may contain links from which I earn a commission. Please read my disclosure policy. As an Amazon affiliate, I earn from qualifying purchases.
There are few barbecue restaurants in South Carolina that compare to the experience of eating at Sweatman's Bar-B-Que in Holly Hill.
This legendary restaurant, an old farmhouse turned barbecue joint in rural Orangeburg County, is like a trip back in time to the rural roots in which the original SC BBQ was born.
A Little History
In 1959, Bub and Margie Harold Sweatman first opened a small BBQ restaurant in nearby Holly Hill. Unfortunately, the place didn't last and after closing, they only made their barbecue during special gatherings of friends and family.
However, the dream would not die there.
The Sweatman's dream to open a new place became reality when they purchased an old farmhouse in Eutawville, a rural community close to Holly Hill.
Sweatman's Bar-B-Que opened their doors in 1977 and they haven't closed since, even with the passing of Margie in 2003 and Bub in 2005.
Their children ran the restaurant until 2011 when close family friends Lynn and Mark Behr purchased the restaurant. The Behrs have maintained tradition and quality.
On the Menu
As they say on their website, their whole-hog bar-b-que continues to be cooked fresh every week. They cut oak, hickory, and pecan trees and split them for the wood they burn to embers for the cooking process.
They then cook whole hogs over those hot coals for 12-14 hours. While cooking, they continuously baste the hogs with a secret mustard-based sauce.
Once done, they prepare the hogs for serving!
In fact, Sweatman's divides their BBQ into white and dark meat, offering both options. In addition, they pull the ribs from the whole hogs and ribs on the menu.
Amazing sides and desserts accompany the pork option. On the menu, Sweatman's offers all the staples: coleslaw, baked beans, mac & cheese, and banana pudding. All of these recipes are excellent.
In addition, you will find pork skins that have been crisped on the pit from the whole hogs used to make the BBQ.
Another staple is their hash. SC BBQ hash is a dish that is both original to and widely available within South Carolina but very rarely seen on menus outside of the state.
The hash at Sweatman's is exemplary, and if you've never tried South Carolina hash, this is the place to take your first bite.
Accolades
As James Boo wrote in Serious Eats, "Throw in the smokehouse's meaty, tender pork ribs and its stellar barbecue hash, and I'd say this is also a solid case for "one hundred mile" barbecue—food so good that I'd easily make a hundred-mile pilgrimage (maybe even a 500 hundred mile pilgrimage?) to fall down at Bub Sweatman's door."
Similarly, you will find the Sweatman's legend spreading among other publications. Sweatman's Bar-B-Que has been featured in several magazines and books over the years, including Southern Living Magazine, Garden & Gun Magazine, USA Today, and The Huffington Post.
In addition, they have been featured on the Travel Channel's "No Reservations," "Food Paradise," and "Bar-B-Que Crawl."
You can also find them on The Cooking Channel's "Man, Fire, Food."
Take a Look Inside Sweatman's Bar-B-Que
What Folks are Saying
Expert Opinions on Sweatman's Bar-B-Que
Sure, a couple of folks writing amazing things on review sites like Yelp and Google is one thing, but what about more expert opinions?
Anthony Bourdain
Southern Living
Robert F. Moss, a food historian and Southern Living's BBQ Editor, lists Sweatman's Bar-B-Que among SC's Top Ten. In his book, Barbecue Lovers: The Carolinas, Moss had this to say about Sweatman's Bar-B-Que:
The real whole hog barbecue and the excellent ribs are the core of Sweatman's offering, but the real appeal is the unique setting of the century-old farmhouse at the curve in the road out in the farmland north of Holly Hill.
When you walk up the creaky wooden steps of the front porch and step into the dining room, it's like stepping back decades to an earlier era of classic Carolina barbecue, and one can hope it continues just like that for many years to come.
SC Barbeque Association
In SC, the primary BBQ organization that runs competitions around the state and trains judges using the most exhaustive training process of all gave Sweatman's Bar-B-Que its highest distinction.
Very few restaurants are awarded their "100-mile BBQ" honor, but Sweatman's Bar-B-Que tops even that list.
Here's what the SC BBQ Association had to say:
When we first asked our judges to name their 'top three' barbeque houses, Sweatman's got more first-place votes than any other barbeque restaurant in the state. It is, as many of our judges say, the original 100-mile barbeque.
The Barbecue Bros
The Barbecue Bros cover NC BBQ primarily but also review places they might visit during their travels. Monk, one of the main "Bros.," started his review with this:
Holy crap, you guys. I mean, holy crap. Sweatman's Bar-B-Que has been on my list for a few years now, considering how I tend to get to Charleston a couple of times a year and Holly Hill is not super out of the way if you are willing to take the scenic route off I-26.
Based on my visit, it's a detour well worth taking.
It only got better from there.
Destination: BBQ
And what about the authors of this website? What did we think?
In short, Sweatman's Bar-B-Que is one of — if not THE — best BBQ restaurants in the state.
It has it all: whole-hog, wood-cooked BBQ, great sauces, great sides, great people, and the perfect setting for a true SC BBQ experience.
Read our Full Review of Sweatman's Bar-B-Que.
Google Review
Google's Local Guide Kerry Bateman, the author of over 75 Google Reviews, considers himself a veteran of Southern BBQ and calls Sweatman's Bar-B-Que the real deal:
This place DEFINES BBQ. The pulled pork is so tender and juicy it requires no sauce. Its flavor is natural, enhanced by smoke, and the meat takes on a nice crust on the edges. Grab some of the crispier-looking pieces to really taste what I mean.
The ribs are always perfectly cooked and coated in a light Carolina mustard sauce that does 'em right, but the pulled pork is why you are here.
Show up early to make sure you get the most spectacular crispy pork skin you'll ever enjoy. Slather some hash on top and let it soak in while you savor your pork, then eat it like a nacho. You're welcome!
Oh, the Hash!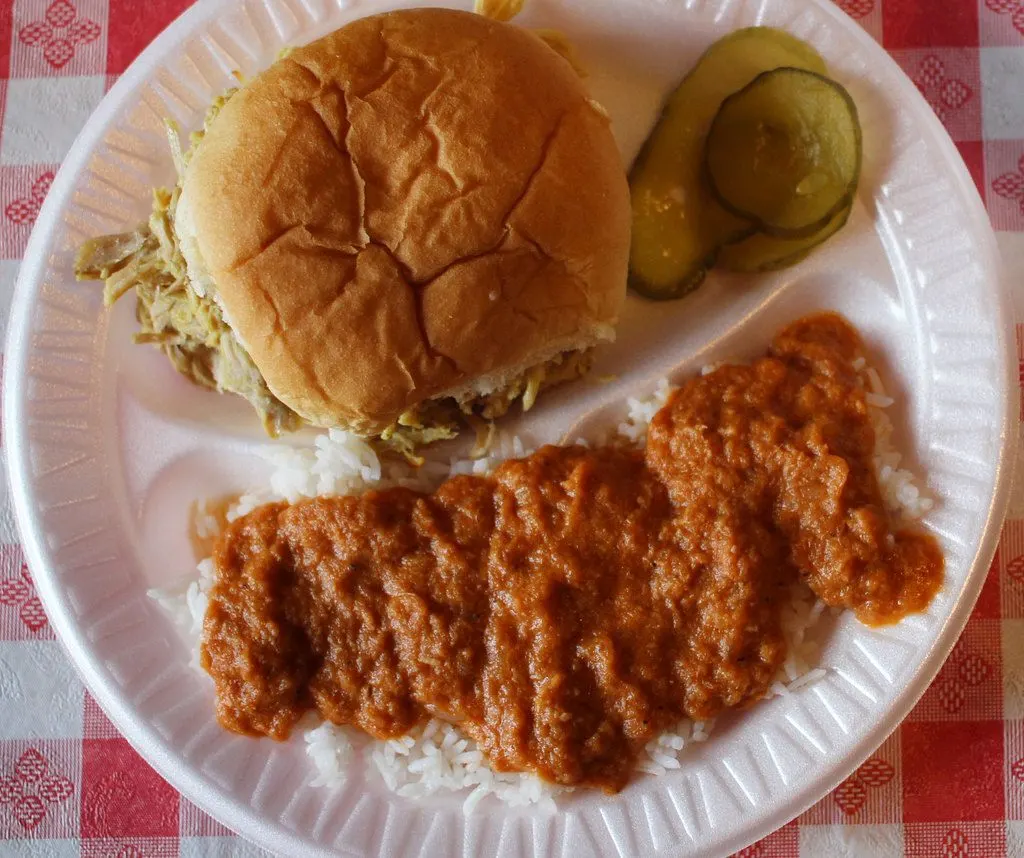 And oh, the hash! This stuff is liquid gold. Silky smooth, not a chunk of gristle to be found, unlike other hashes. Perfectly seasoned, a ratio of 3 parts hash to 1 part rice is about right.
Always get a gallon to go, and when I open my last pint from the freezer, I know a trip to Sweatman's is called for.
I have eaten BBQ all over SC, NC, and GA, and Sweatman's is the real deal. Have yet to find meat as naturally sweet and flavorful, without being drowned in some kind of sauce or rub.
And the hash, I must mention it again. I could drink it. I could swim in it. It is my lifeblood!
Then, just when you think you've eaten all you can eat, there is the perfect cup of banana pudding, not dense or heavy, with Nilla wafers like when you were a kid, to wrap the whole experience up like a hug from Gramma and really make you feel like you are home.
The service is great, the people friendly and genuine, the sweet tea fresh as can be, and you can take your choice of all-you-can-eat or one plate piled high. Trust me, one plate is probably all you can eat anyway. It is definitely all you SHOULD eat!
Finally, don't forget to place your to-go order; you'll want more tomorrow.
Yelp Review
Over on Yelp, Chris A and his girlfriend stopped in while taking Road Trip on Interstate 95, traveling about 15 miles from the exit to try out Sweatman's Bar-B-Que. Here's his rather comprehensive take on the visit:
So my girlfriend and I were on a road trip and decided to find a nice BBQ restaurant somewhere in the Carolinas, and we stumbled upon Sweatman's Bar-B-Que.
It's a place like 15 miles off of I-95 and it's only open Friday and Saturday. I love places like that.
Sweatman's [used to offer] a buffet (now closed) set up with a one-time-through price of $11 and an AYCE price of $14. The choice is obvious here.
The catch is you are only privileged to two ribs per buffet purchase. They were pretty good ribs, though. Not the star of the show, though. Let's talk about the rest of what's on the menu.
On the Menu
There are two main sides, barbecue beans, and mac & cheese. The beans were yummy. Nice and beany.
The mac & cheese was pure mush, though. No discernible noodles throughout. I'm not saying it's bad. I just didn't have seconds.
There are two types of barbecue pork available. I forgot the difference, and I'm sorry for that.
I think one was cooked with the skin still on the hog, and the other wasn't. Either way, I gobbled them up. Tender and juicy.
The perfect component for a sandwich you can make with the slices of bread that you can ask for.
Add some of their cut coleslaw to that sandwich, and it's choice.
Something Special
There was something unusual at Sweatman's that I have never seen before. I don't know what it was called, but it was basically barbecue pork chili, but with only meat and sauce. Sloppy Joe-ish.
They have white rice for you to serve it on. I DID go back for seconds on this. This was the star of the show for me.
(Editor's note: Chris is referring to SC BBQ Hash. Hash stands out as an SC BBQ original that is rarely found outside of the state but is widely served in BBQ joints across SC. Learn more about hash.)
A few odds 'n' ends.
There are pork skins that are big giant hunks of super crispy chips of pork skin. It wasn't for me. Too crunchy. Too much work to eat.
And the sauce. As you may or may not know, Carolina sauces are very vinegary and can be mustardy. They offer three unlabeled sauces on the table with different combinations of these styles.
It's fun to play around with.
Overall, Sweatman's Bar-B-Que was a lot of fun. In addition, the employees are the nicest kind of nice you can find in the South.
The sweet tea was A-mazing. The price was right. I was full.
Quality place. In short, come here if you love BBQ.
---
Menu for Sweatman's Bar-B-Que in Holly Hill
Note: Menu prices and options are subject to change over time. Contact the restaurant for the most up-to-date information.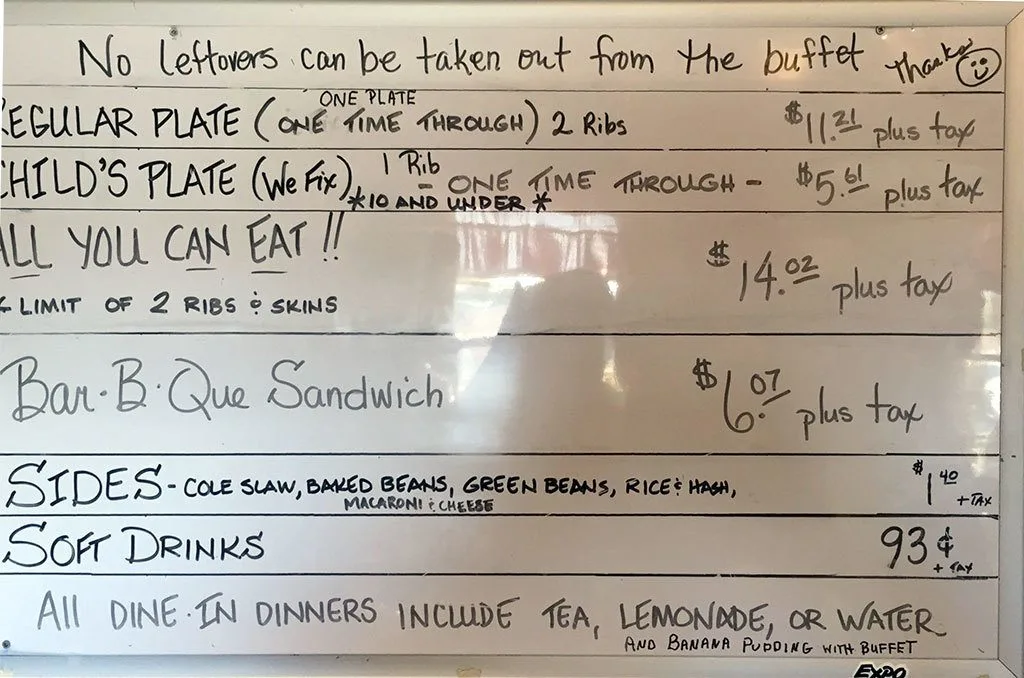 Sweatman's BBQ FAQ
Does Sweatman's ship their food overnight or even do delivery?
The short answer is no. Sweatman's does not offer delivery nor do they ship their food or merchandise. If you want the real thing, you've got to come to the restaurant. A trip that you'll find worthwhile!
What's in Sweatman's hash? What's their recipe?
Owner Mark Behr explained Sweatman's hash recipe: Sweatman's hash "is all meat — Boston butts and fresh ham cut up. We dump it into a 70-gallon pot with onions and seasonings. After it finishes cooking, we remove the meat from the pot and debone it. Then we grind it up like hamburger," he said. Next, they add a secret recipe of seasonings and sauces to the prepared meat and mix them together. "And that's our hash," he said.
What types of sauce does Sweatman's offer?
Sweatman's cooks whole hogs over wood embers mopped with a mustard-based BBQ sauce. However, on the table, you will find three sauces to complement your BBQ: mustard, vinegar, and a "red" sauce.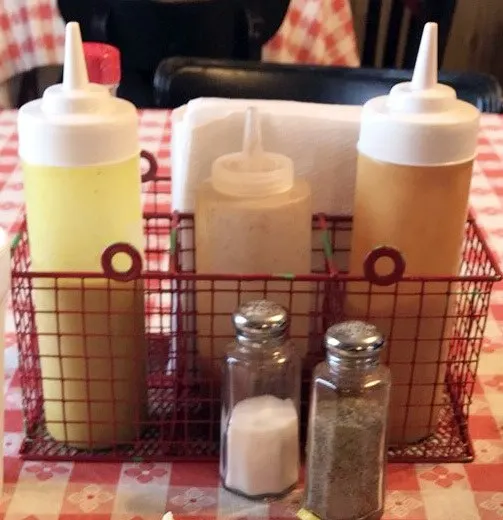 Location, Hours, Contact Info, and More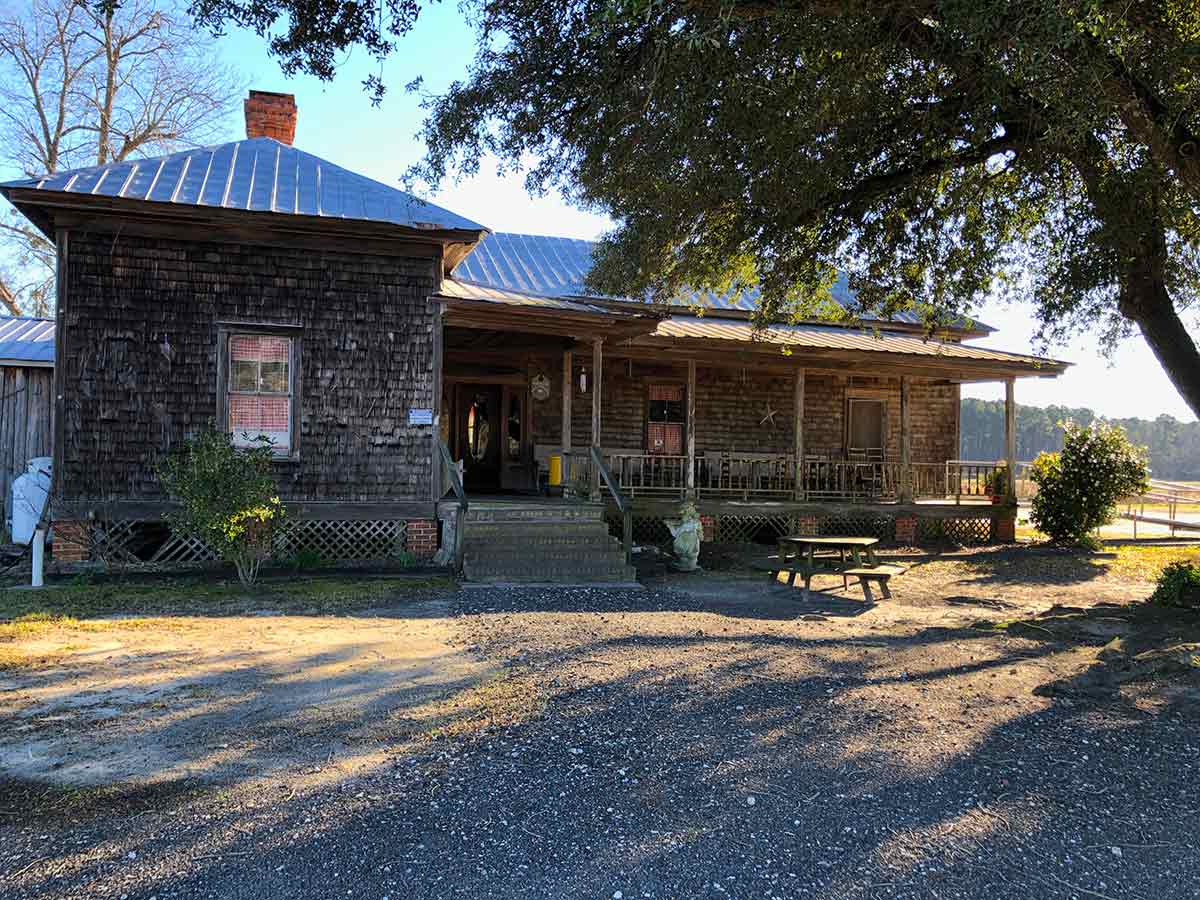 Map
Directions
Contact Sweatman's Bar-B-Que
1427 Eutaw Road
Holly Hill,
SC
29059
Hours of Operation
| | |
| --- | --- |
| Monday | Closed |
| Tuesday | Closed |
| Wednesday | Closed |
| Thursday | Closed |
| Friday | |
| Saturday | |
| Sunday | Closed |
Review Sites
Features
Cards and Cash, Hash, Mustard Sauce, True 'Cue Certified, Vinegar Pepper Sauce