521 BBQ & Grill in Tega Cay
This post may contain affiliate links to Amazon or other vendors I trust. Please read my disclosure policy. As an Amazon affiliate, I earn from qualifying purchases.
At 521 BBQ and Grill in Tega Cay, barbecue is our passion!
Boston butts are hand-rubbed with our signature 521 rub and then smoked for 14 hours on our premises. The BBQ you order in the restaurant today was rubbed and cooked last night!
Former owner and original pitmaster Mike Dial's personal story was one that's become common in the barbecue business. Barbecue houses established during the depression or just after WWII were handed down through families.
Today, with the advent of national barbecue contests or because of the urgings of friends and family, some amateur grill masters have converted their passion into a business.
Such was the case for Dial.
After retiring from the US Navy, he worked for a company that entertained during the Winston Cup Races. Dial was in charge of the barbecue for these events.
"Folks started telling me how good my barbecue was and said I should start my own place," Dial says.
So he did, partnering with brother Robert Dial and Mike Melton (no relation to the famous N.C. Melton barbecue family).
In March 2021, Dial sold the last of the 521 BBQ locations and relocated to Nashville. Today, 521 BBQ & Grill is owned by Buckskin Properties LLC.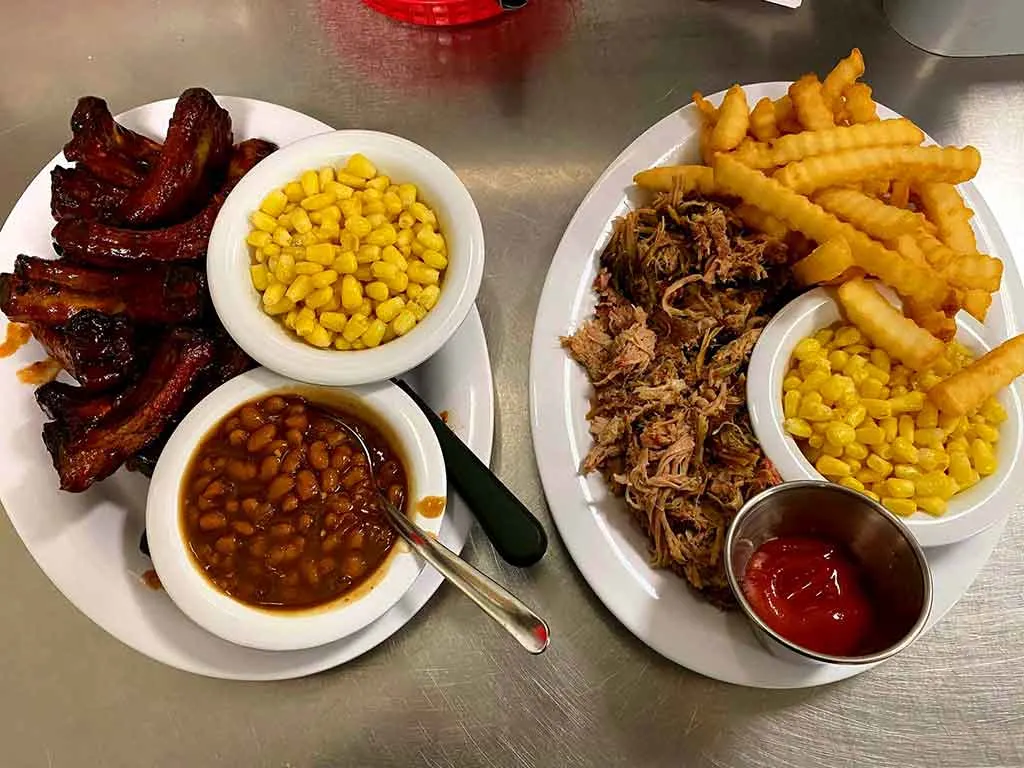 What Folks are Saying about 521 BBQ & Grill in Tega Cay
Google Review
Among the many Google Reviews, Local Guide Marie Rainey found that everything was just right:
I haven't eaten in here in 3 years. It was delish 3 years ago and delish today!
I don't eat out much, prefer to cook at home. However if you are going to eat out, the brisket is great, and I have eaten brisket I know my brisket.
The fries and hushpuppies were cooked to perfection, not greasy, don't know how they did that!
The brisket was tender, I have TMJ so, it had to be tender.
The collard Greens were pleasant and didn't have a bunch of gross oil floating in them.
The sweet Tea was perfect not too sweet and not too bitter. Just like Goldilocks and the Three Bears!
Everything was Just right!
Yelp Review
Over on Yelp, Rock Hill local Brian R had to brag on one of his favorite restaurants in the area:
521 BBQ and Grill has been one of my go to spots since it opened. Great food, Great service, and Great Friends.
Under new ownership, George D. and his family have carried forward what was great about this spot and have continued to raise the bar by adding their own influences through that menu. Still feels like home and a great place for a meal!
Strong recommendations for the Pulled Chicken, Ribs, Pulled Pork, and BBQ Burger. Oh, and one of my favorites is the wings with Hot and Mustard sauces mixed together and tossed with the wings.
Check out 521, buy some sauce and a t-shirt! Let's make sure we keep this place going strong through Covid-19 and many years beyond!
---
Menu for 521 BBQ in Tega Cay
Note: Menu prices and options are subject to change over time. Contact the restaurant for the most up-to-date information.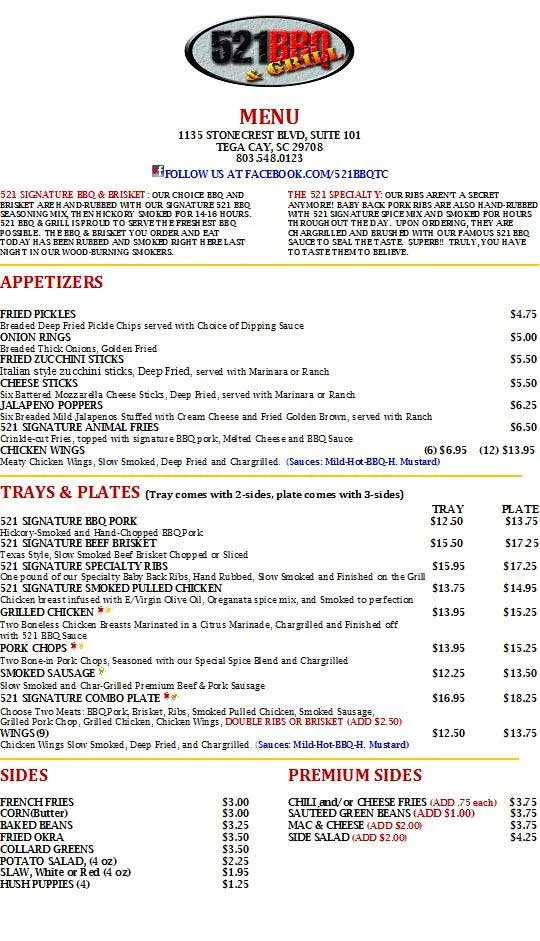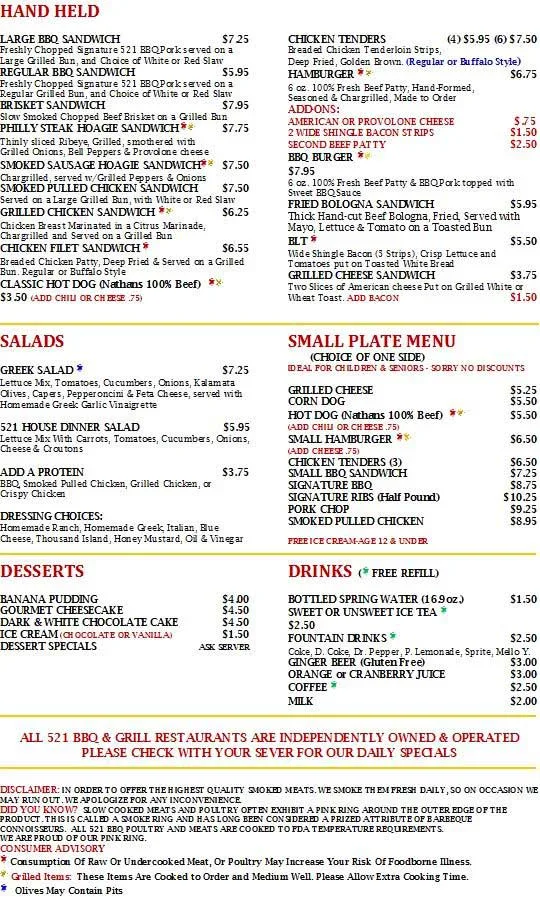 521 sister restaurants can be found here:
521 BBQ & Grill in Indian Land
Location, Hours, Contact Info, and More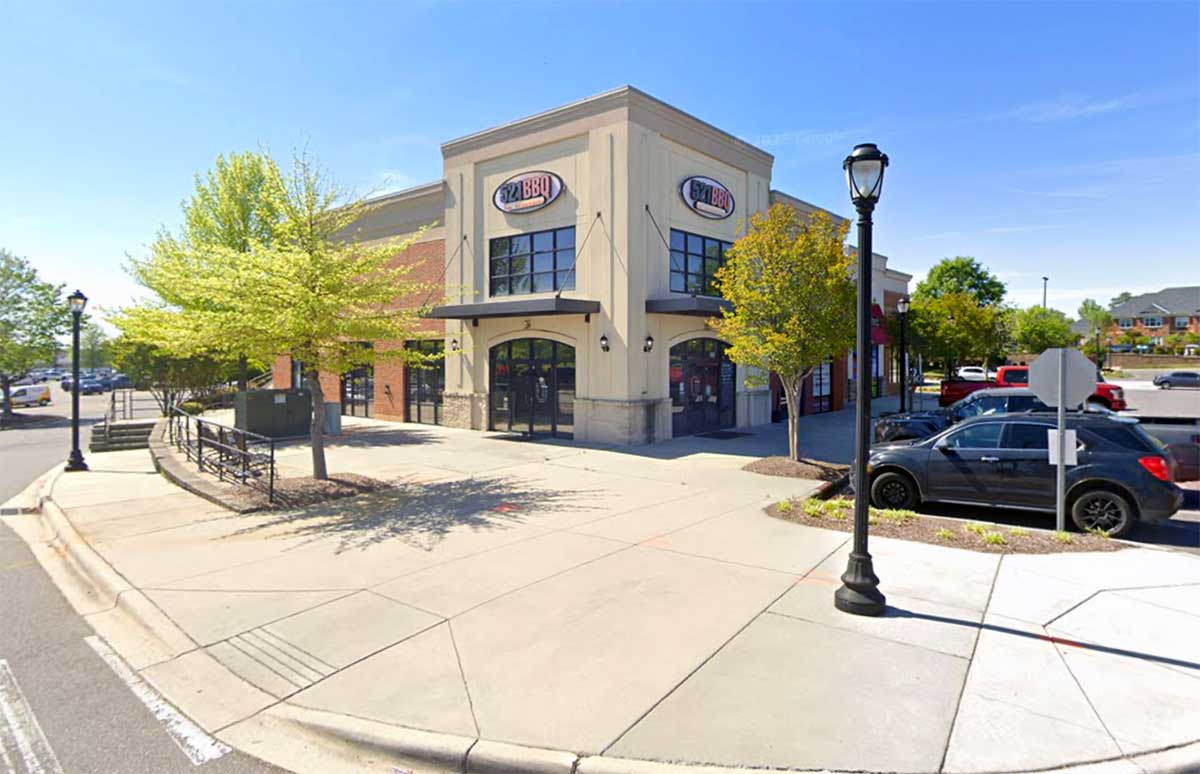 Map
Directions
Contact 521 BBQ & Grill in Tega Cay
1135 Stonecrest Boulevard
Suite 101
Tega Cay,
SC
29708
Hours of Operation
| | |
| --- | --- |
| Monday | Closed |
| Tuesday | |
| Wednesday | |
| Thursday | |
| Friday | |
| Saturday | |
| Sunday | |
Social Media
Review Sites
Features
Cards and Cash, Heavy Tomato Sauce, Light Tomato Sauce, Mustard Sauce