521 BBQ & Grill in Lancaster
At 521 BBQ & Grill, barbecue is our passion!
Boston butts are hand-rubbed with our signature 521 Rub and then smoked for 14 hours on our premises. The BBQ you order in the restaurant today was rubbed and cooked last night!
Original owner and pitmaster Mike Dial's personal story is one that's common in the barbecue business. Barbecue houses established during the depression or just after WWII were handed down through families.
Today, with the advent of national barbecue contests or the urgings of friends and family, some amateur grill masters have converted their passion into a business such as 521 BBQ & Grill.
That was the case for Dial. After retiring from the US Navy, he worked for a company that entertained during the Winston Cup Races. Dial was in charge of the barbecue for these events.
"Folks started telling me how good my barbecue was and said I should start my own place," Dial said.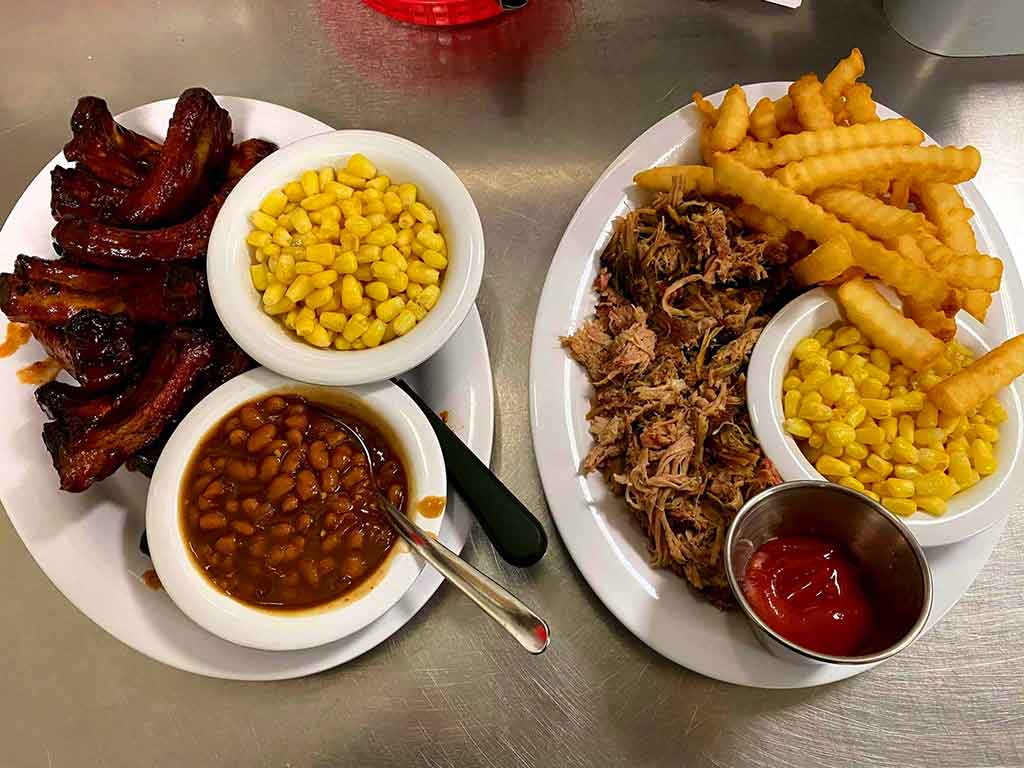 So he did, partnering with brother Robert Dial and Mike Melton to create 521 BBQ & Grill. The rest is SC BBQ history!
In March 2021, Dial sold the last of the 521 BBQ locations and relocated to Nashville. Today, 521 BBQ & Grill is owned by Buckskin Properties LLC.
521 BBQ & Grill on Video
Check out their famous, hickory-smoked, award-winning baby back ribs being finished with our original, signature bbq sauce and caramelized over an open flame before hitting your plate. Have you tried them yet?
What Folks are Saying about 521 BBQ in Lancaster
Google Review
Among the many Google Reviews, reviewer Ashley Byard found 521 while passing through and well…OMG:
This is a hidden gem and so worth the stop!
We're from out of town and thought we'd try it out since we were passing through. We ordered online for curbside pickup, but when we got there we found they were open on the inside as well as had picnic tables outside in addition to their patio seating.
The employees had to problem with us borrowing their picnic tables and were kind enough to keep checking on us to see if we needed anything.
And the food. Oh my God. The food was amazing.
I'm from Michigan and while I LOVE South Carolina BBQ, my mom is not a fan. They had some traditional BBQ sauce as well as some amazing vinegar ones too so everyone was happy. And all the sides were great.
Overall 10/10 and will be visiting again next time we blow through town.
Yelp Review
Over on Yelp, Scott J found a BBQ joint worth going back to:
"Outstanding BBQ!!! Absolutely delicious!!! These guys hook it up right!!!
"The BBQ is always on point, not too dry not too moist. They seem to really care about cooking everything just right. I've honestly not had a bad plate or sandwich at 521 BBQ Main Street, yet.
"I have had these guys cater several family gatherings, and every time these guys have not disappointed. The catering is outstanding, always more than ample food for your dollar. But if you get the chance, go sit down and enjoy a meal.
"For a BBQ joint, they have put together an outstanding draft beer lineup!!! A very comfortable restaurant, that has now added a covered patio, and a few picnic tables.
"The most recent sandwich I tried was the ribeye steak sandwich. Once again, outstanding!!! They are now randomly doing steak and shrimp specials.
I'll most definitely be going back to test that one out as well. But once again, I highly recommend you belly up to the bar, and enjoy a few of Mike's great selection of draft beers. I think you'll enjoy them.
"Oh yeah, have Chef Jeff hook you up a ribeye steak sandwich, too. It goes great with a few IPA's!!!"
---
Menu for 521 BBQ & Grill in Lancaster
Note: Menu prices and options are subject to change over time. Contact the restaurant for the most up-to-date information.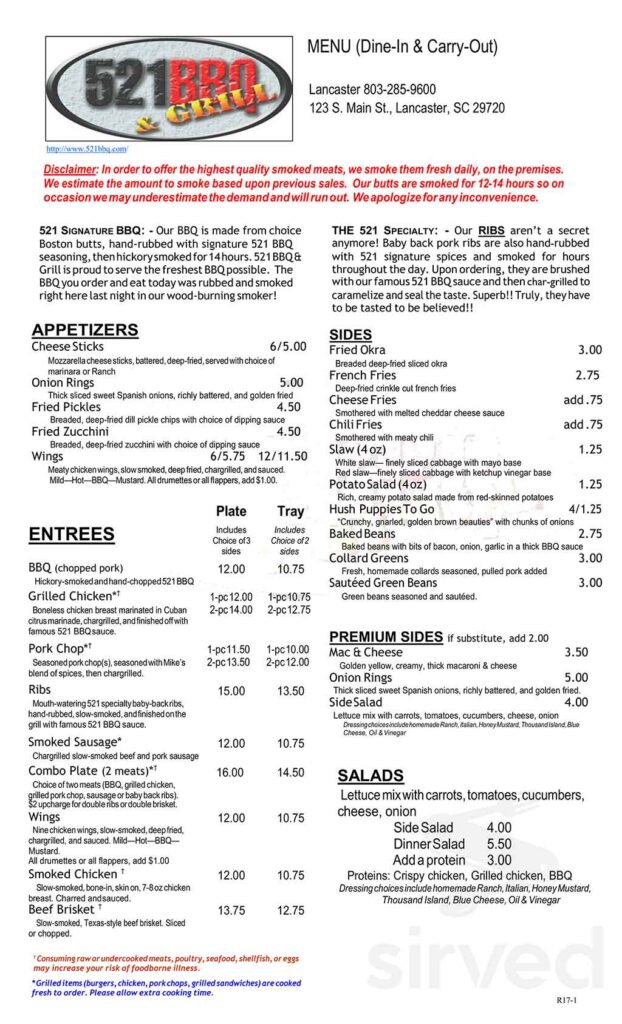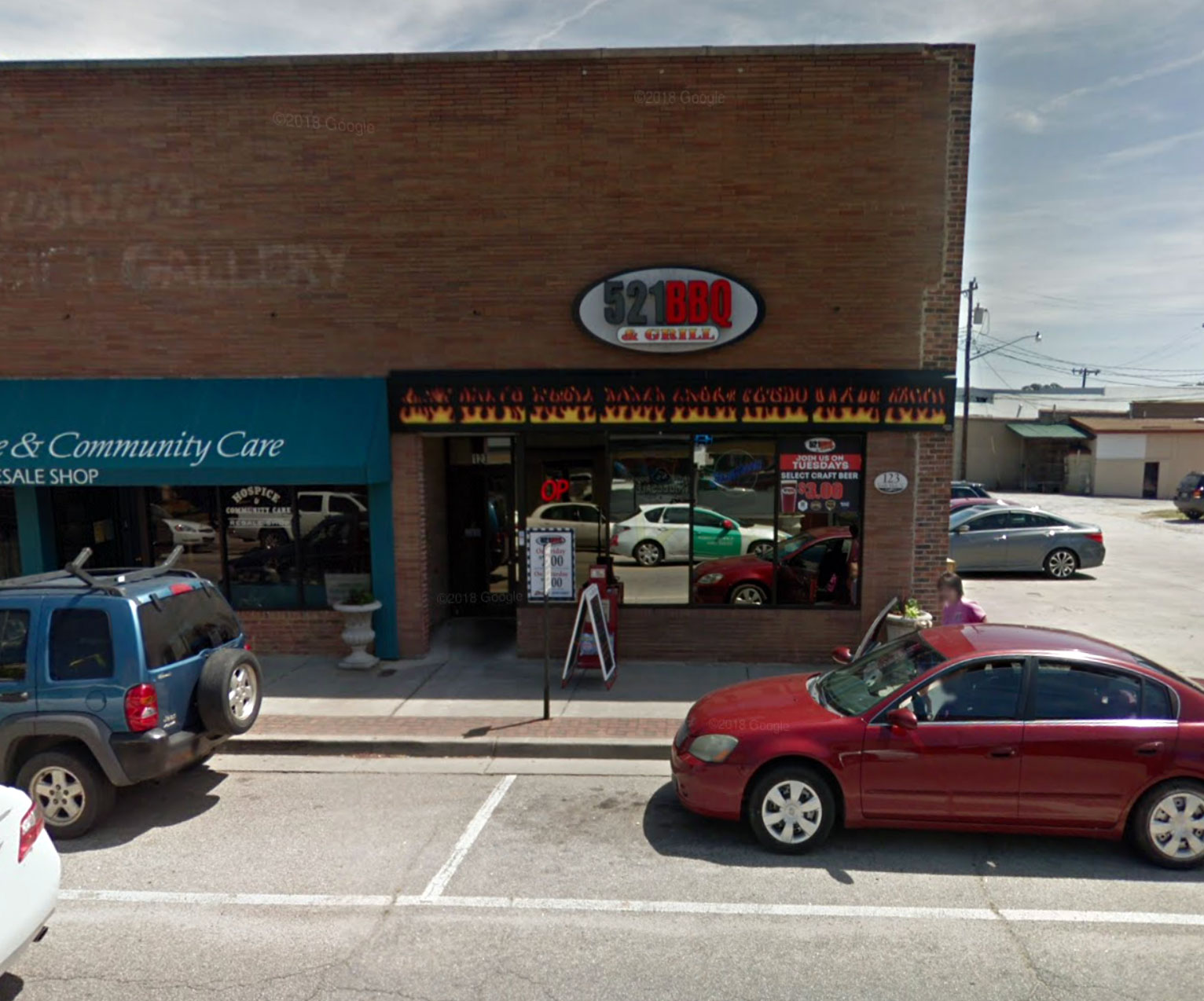 521 BBQ & Grill in Lancaster
123 S. Main St.
Lancaster,
SC
29720
| | |
| --- | --- |
| Monday | Closed |
| Tuesday | Closed |
| Wednesday | |
| Thursday | |
| Friday | |
| Saturday | |
| Sunday | Closed |
Review Sites
Features
Cards and Cash, Mustard Sauce, Light Tomato Sauce, Heavy Tomato Sauce