521 BBQ & Grill in Indian Land
BBQ is our passion at 521 BBQ & Grill!
Boston butts are hand-rubbed with our signature 521 rub and then smoked for 14 hours on our premises. The BBQ you order in the restaurant today was rubbed and cooked last night!
Former owner and pitmaster Mike Dial's personal story was one that's now common in the barbecue business. Barbecue joints established during the depression or just after WWII were handed down through families.
Today, with the advent of national barbecue contests and with the urgings of friends and family, some amateur grill masters have converted their passion into a business.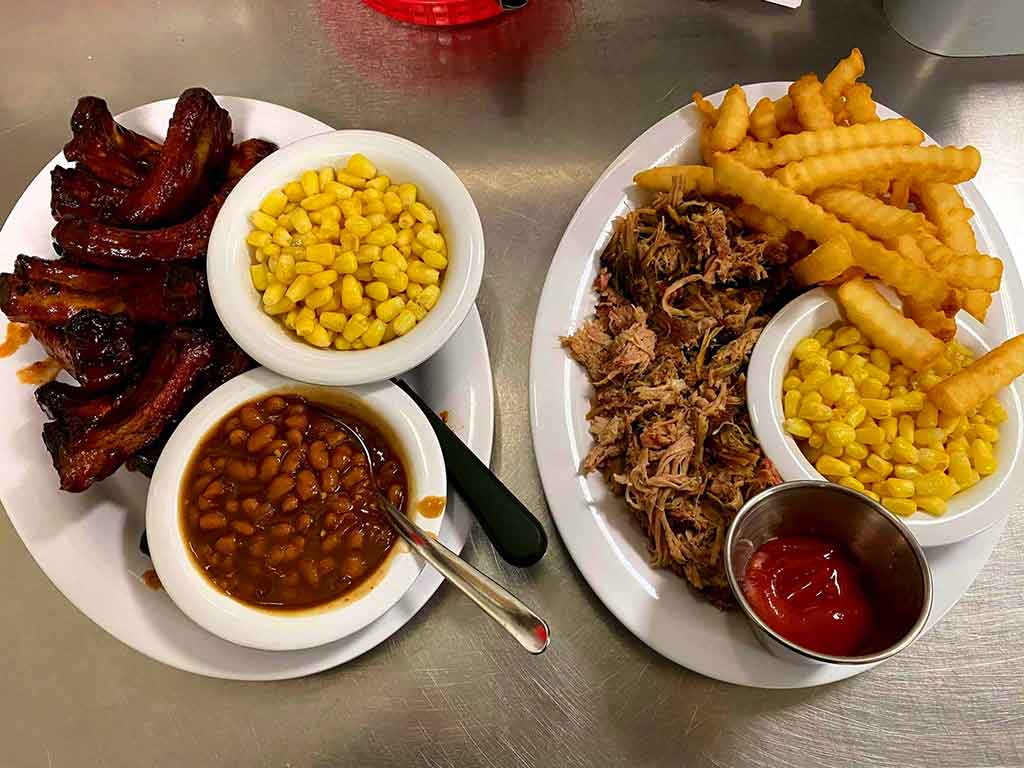 Such was the case for Dial.
After retiring from the US Navy, he worked for a company that entertained during the Winston Cup Races. Dial was in charge of the barbecue for these events.
"Folks started telling me how good my barbecue was and said I should start my own place," Dial says. So he did.
Partnering with brother Robert Dial and Mike Melton (no relation to the famous N.C. Melton barbecue family), 521 BBQ & Grill went on to open 3 locations. Two are in the Rock Hill area and one in Lancaster.
In March 2021, Dial sold the last of the 521 BBQ locations and relocated to Nashville. Today, 521 BBQ & Grill is owned by Buckskin Properties LLC.
What Folks are Saying about 521 BBQ & Grill in Indian Land
Google Review
Among the many Google Reviews, Local Guide Jonathan Gibson knows where to find Rock Hill's best BBQ:
Absolutely delicious food. I'm a BBQ fan, and I've found many places that I enjoy in the area.
Honestly, THIS is the BEST BBQ in the area. The meat was so tender, and so well seasoned that I didn't even use sauce!
Service was excellent, the environment is clean, food options and prices are great.
I'll be back, and it'll definitely be my go-to BBQ for hanging out with friends
Yelp Review
Over on Yelp, Guy S lets us in on a little secret:
PSST! Hey, wanna know where the best barbeque in the Queen City is? Come closer, let me whisper it in your ear.
It ain't in Charlotte.
Nope. It's in Indian Land.
At the appropriately named 521 BBQ and Grill, because it's on – wait for it – Rte. 521 (or Old Charlotte Hwy, once you cross into South Carolina), you're going to be treated to some of the finest barbeque and ribs you've ever sampled.
Now, listen up, because this means something: I am not a big fan of barbeque, and, yes, I've sampled some of the more well-known barbeque establishments in town.
I like 'em, but, honestly, I can't say any of them make me want to fall in love with barbeque the way every Southerner is required by Southern law to love barbeque.
I'm a Yankee, so I've got that going against me.
But 521's barbeque and ribs are different. I can't explain it. Again, I'm a Yankee. My point of reference is Tony Roma's.
Yeah. I don't know what kind of secret sauce they put on their barbeque and ribs, but whatever it is, it makes me crave the living hell out of their food almost weekly.
I will likely die of a heart attack because of 521 BBQ and Grill.
Damn you. Why did you have to taste so good?
Menu for 521 BBQ in Indian Land
Note: Menu prices and options are subject to change over time. Contact the restaurant for the most up-to-date information.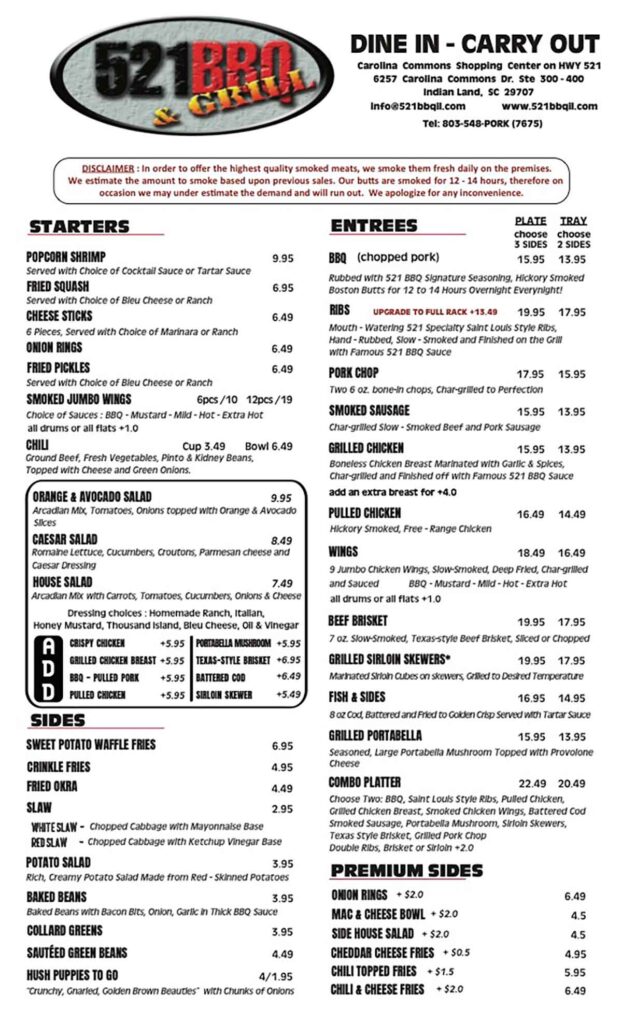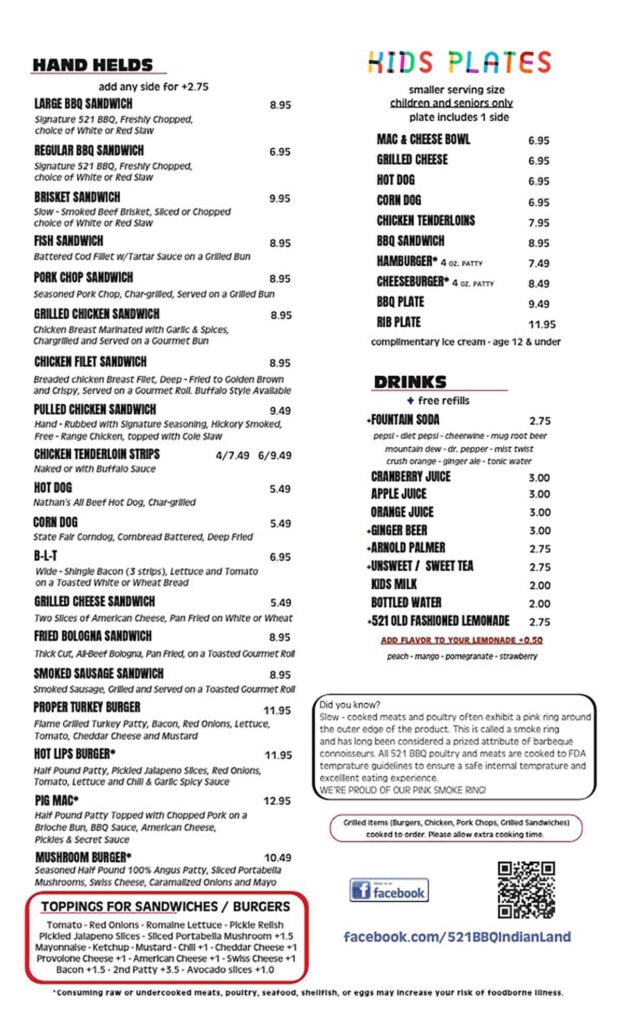 ---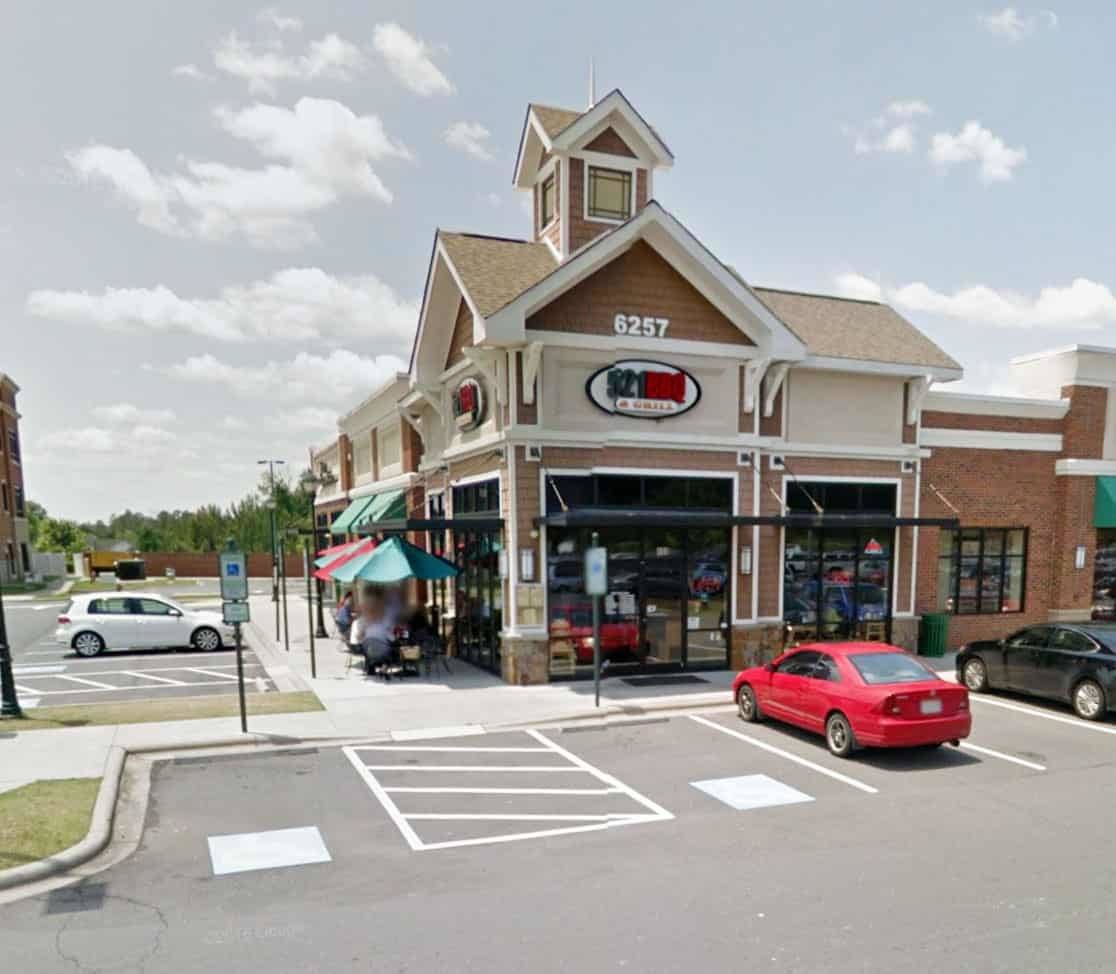 521 BBQ & Grill in Indian Land
6257 Carolina Commons Dr.
Indian Land,
SC
29707
| | |
| --- | --- |
| Monday | |
| Tuesday | |
| Wednesday | |
| Thursday | |
| Friday | |
| Saturday | |
| Sunday | Closed |
Review Sites
Features
Cards and Cash, Mustard Sauce, Light Tomato Sauce, Heavy Tomato Sauce