This post may contain links from which I earn a commission. Please read my disclosure policy. As an Amazon affiliate, I earn from qualifying purchases.
At Big Bull's Bang'n BBQ and Southern Comfort Food, Donta "The Bull" Booker leans on faith, family, and tradition, but faith is what gave him the strength to leave a secure job to open a restaurant.
He started making BBQ sandwiches several years ago. Booker would go to a few small events and make sandwiches for his co-workers. He eventually started making his own sauce and creating a variety of sandwiches.
One day, he decided to step it up a notch, go into "The Lab" and try his hand at creating his own variety of sauces! Once he started with his first sauce, Buss'n, a name he got from a young man after he tasted the sauce, there was no stopping him!
"This whole thing started with a mason jar of sauce," Booker said. "This thing wasn't supposed to exist. But God planted it and watered it. I woke up in a cold sweat one night and said 'Do you know we are opening a restaurant? I gave these people two weeks' notice on a job that I held for 14 years making $30 an hour?' Can't believe this. It's scary. But God said 'You are the one.'"
Early Influences
During his early years, his uncle, Arthur "Dewey" Samuels stood out as one of the people he admired most.
Dewey operated a popular local store called Samuel's Grocery Store. "Everyone in the neighborhood would go there and get cheeseburgers, hot dogs," Booker recalled. Little did he know that influence that would later hold in his life.
"I can't say that I always wanted to do it, but somehow I knew that I would end up doing what he did," Booker said. "He was a great guy in the community. He wasn't the richest guy in the world, but everyone in the community loved him and what he did."
Big Bull's Bang'n BBQ offered Booker that opportunity, but only a leap of faith would allow him to leave his employer.
Leap of Faith
"I worked for Westinghouse for 14 years," Booker remembered. "They would never elevate me to manager because I didn't think like them. If you don't think like a 'good old boy,' they are not going to elevate you in their system."
However, Booker always enjoyed smoking meat. In addition, he made his own BBQ sauce. Over time, he started bringing extra sandwiches to work. In short order, the sandwiches quickly sold out.
"I would take 20 sandwiches to work," Booker said. "By 9 a.m., they would all be sold out. So I knew that I had something going on."
Before long, his wife, Rufaro Booker, prompted him to open his own restaurant.
"I said 'You must be crazy. I am not going to open a restaurant!'" Booker said.
Instead, Booker and his wife started selling meals in front of a local Dollar General store. It wasn't long before they realized they had something
"We were working so hard on the weekends, I had to go back to work on Monday just to get some rest," Booker laughed.
Buoyed by such support, Booker turned his attention to a building that was available close to the Dollar General. He told his wife he was going to drop in and discuss it with the owner.
"He came home and said 'I signed a lease,'" Rufaro said. "I said 'wow.' I guess we have a restaurant."
After a lot of learning the ropes and fortified by prayer, the Bookers opened Big Bulls Bang'N BBQ and Southern Comfort Food on April 17, 2015.
"That was nothing but God," said Booker.
On the Menu
First of all. Big Bulls serves SC BBQ favorites like ribs, brisket, and pulled pork. However, you will also find Southern comfort foods like oxtails, chicken & waffles, pork chops, turkey wings. Side items include favorites such as mac & cheese, potato salad, and collard greens. And Uncle Dewey would be pleased to know that serve hot dogs and burgers.
One of the most popular dishes is their Bang Bang Chicken.
"Bang Bang Chicken is fried, and I add two of my signature sauces on top of it," said Booker. "We serve it with fries. It's quick, fast and very good. That is a very popular dish."
"Our brisket is very popular as well, especially for people from Texas," said Rufaro. "We have people from Texas say that it is the best brisket they ever had."
The menu mirrors the things the Bookers cook at home.
"Our menu is basically things that we like to eat at home," said Booker. "I like to feed people what I like to eat."
In the end, Booker finds comfort in the fact that he Westinghouse never saw fit to promote him.
"One of the best things that ever happened to me was Westinghouse not elevating me to a management position because I would have stayed," said Booker. "But now I can look at this and say 'Wow. This is mine.' We might not have everything we want, but we have a viable business and customers who say they are coming back. That is the American Dream."
If you're on a Road Trip traveling the interstates through Columbia or just happen to be in the area, drop in and give Big Bull's Bang'n BBQ and Southern Comfort Food at try.
What Folks are Saying
Google Review
Google Local Guide KC Hailey knows BBQ. He and his family had a "Fantastic" experience at Big Bull's Bang'n BBQ as he describes in this Google Review:
The best BBQ I've ever had & I come from a BBQ Family. Try the Chicken & Collared Green egg rolls with sweet & sour sauce (WOW)! I don't normally even eat collard greens. I had the baby back ribs, beans & yams with cornbread & my family each had different entrees & different sides and we all sampled all items; very good. The banana & strawberry cake was FANTASTIC TOO!
Yelp Review
Over on Yelp, Tim S was so impressed he wrote a novel about his experience at Big Bull's Bang'n BBQ:
Really, really good and that's coming from someone born in the South who considers themself pretty particular about BBQ.
Recently, we were looking for somewhere to have dinner and had BBQ on the mind. After pulling up Yelp, we found Big Bulls had a really good rating, stellar reviews, and a very reasonably priced menu. All wins in my book.
Upon entering, we were confused as there was no one there to take our order. Instead, there are three tablets you place your order on, which is then brought to you as you wait in the front. We opted for the two meat combo with baby back ribs, pulled pork over rice, baked beans and mac and cheese with vinegar sauce for the BBQ sauce (I wish I had a picture but this entire meal was inhaled).
The cook brought out our meal in 10-15 minutes, opened the box and showed us all the contents and bagged it. We were on our way.
THE RIBS: Absolutely delicious and fall right off the bone. Very small, but incredibly cooked. Highly recommend.
PULLED PORK OVER RICE: The greatest thing we ordered and a must-have. On the spicy side, but the rice provides a cooling effect that perfectly balances. Pork melts in your mouth and is incredible. Vinegar sauce complements perfectly.
MAC AND CHEESE: Baked, creamy and delicious. Everything Mac and Cheese needs to be.
BAKED BEANS: Spicy, incredibly flavorful and not drowning in syrupy sauce like many BBQ joint beans are. The best side we had and a must-order.
This was a spur of the moment decision but one I would make every time I'm back in Columbia. Highly recommended.
---
Menu for Big Bull's Bang'n BBQ
Note: Menu prices and options are subject to change over time. Contact the restaurant for the most up-to-date information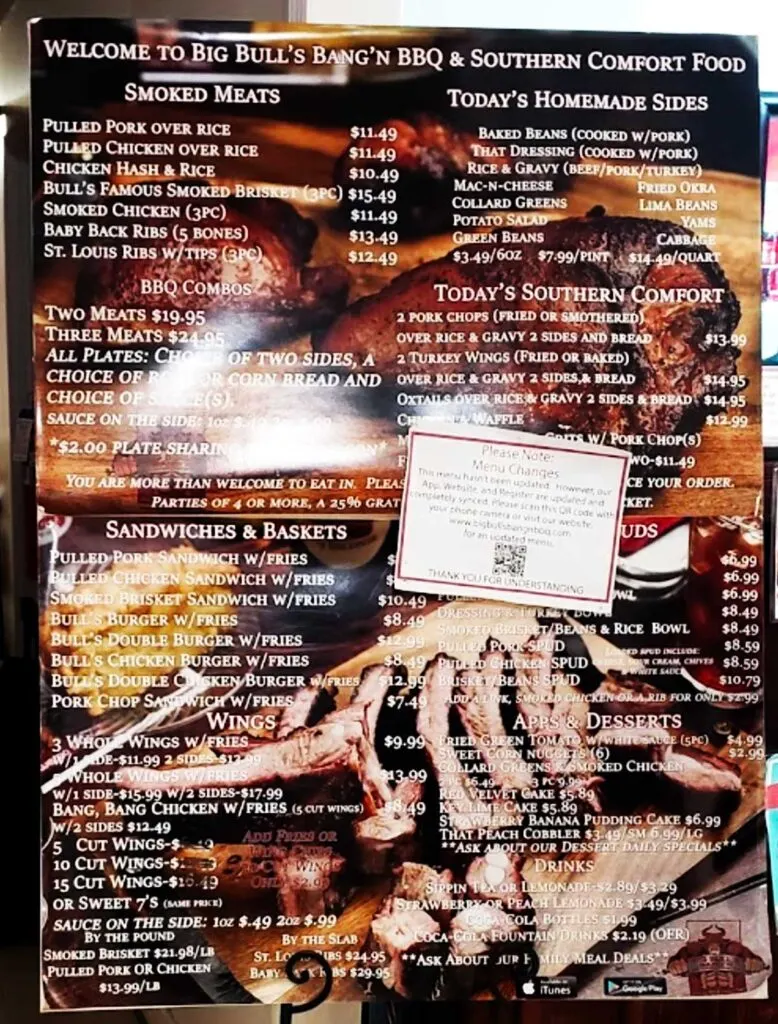 Location, Hours, Contact Info, and More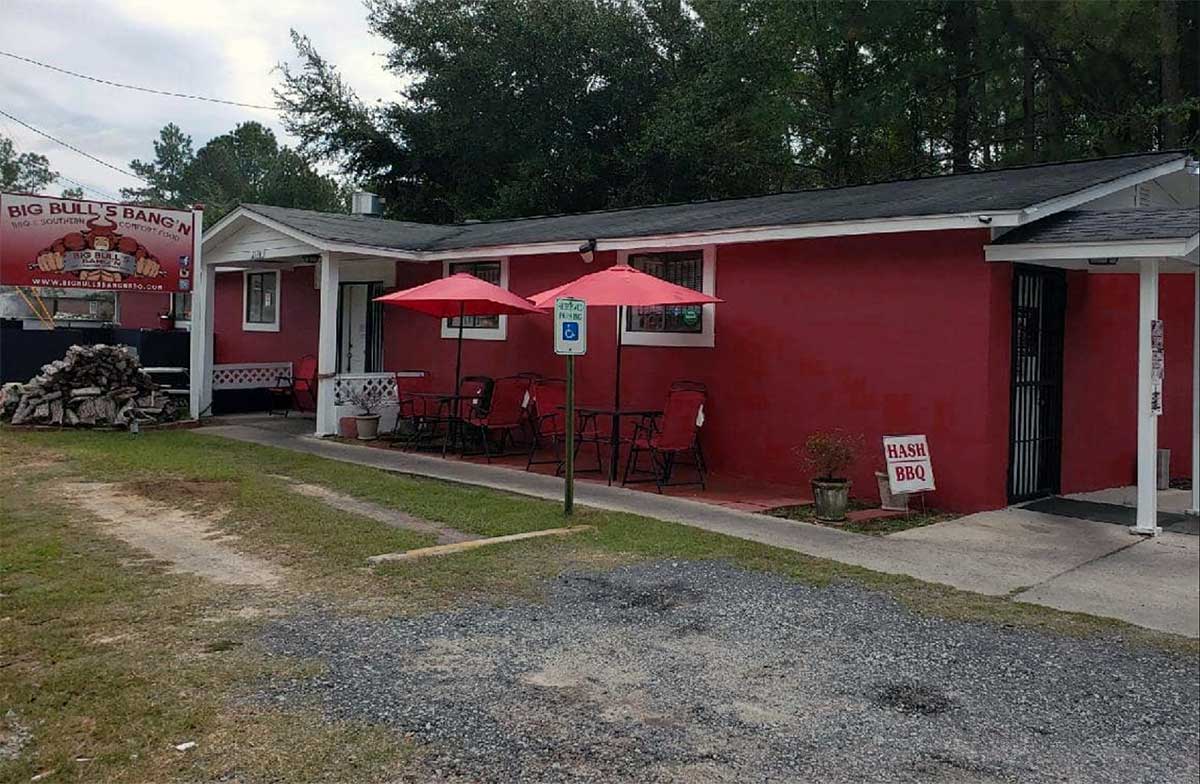 Map
Directions
Contact Big Bull's Bang'n BBQ
2614 Hard Scrabble Road
Columbia,
SC
29223
Hours of Operation
| | |
| --- | --- |
| Monday | Closed |
| Tuesday | Closed |
| Wednesday | Closed |
| Thursday | Closed |
| Friday | |
| Saturday | |
| Sunday | |
Review Sites
Features
Cards and Cash, Hash, Heavy Tomato Sauce, Mustard Sauce, True 'Cue Certified, Vinegar Pepper Sauce, White Sauce