Big T's Bar-B-Que on Garners Ferry
This post may contain links from which I earn a commission. Please read my disclosure policy. As an Amazon affiliate, I earn from qualifying purchases.
If you're looking for true SC BBQ at its finest, look no further than Big T's Bar-B-Que. Larry or "Teddy" "Big T" Brown has served barbecue to the Columbia area for over 30 years.
What makes Big T's authentic SC BBQ?
First, Big T's cooks BBQ the right way. They cook pork shoulders using wood embers burned down from hardwoods in a burn barrel.
"Travis [Big T's son] slow-smokes hog shoulders over hot coals in low metal pits. He burns down piles of wood to coals in a large, warped burn box behind the smokehouse and then shoveled into the pits.
"Once the pork is done, they pull and mix it with a sweet, tangy mustard-based sauce characteristic of the area. Departing from typical old-school barbecue menus, there is also fried fish, fried chicken, burgers, and pork chops.
But, as is the case across SC, there is also barbecue hash," writes Robert Donovan in Eater.
Second, as you have read, Big T's BBQ is served with a great mustard sauce, a true SC original recipe.
Third, Big T's BBQ offers hash, yet another SC original.
For those not from here, people sometimes described SC BBQ hash as "pork gravy." It is a thick, meaty stew that often sits atop a bed of rice. Big T's offers a classic SC hash recipe made of pork and offal. (Find out all you ever wanted to know about SC BBQ hash.)
If you want an authentic SC BBQ experience, Big T's Bar-B-Que has it all: wood-cooked pork, mustard sauce, and SC BBQ hash.
Big T's Bar-B-Que Video Feature
Get to know more about Big T's and see them in action in this video feature by SCETV hosted by Dr. Dick Pillsbury. Wait until you see how they cook their pork shoulders. True SC BBQ.
What are Folks Saying about Big T's Bar-B-Que?
Google Review
To begin with, on Google, Local Guide Nathan Mendenhall wrote about his magical experience at Big T's in his Google review:
Quintessential Southern Bar-b-que.
This unassuming little joint is making outstanding Carolina comfort food and is absolutely worth a visit. We came hungry and tried everything we could.
Everything is delicious, and their mustard sauce is magical. Definitely get the greens.
The hash and rice were a new experience for us, and now we don't understand how it isn't served at every BBQ joint. The fried chicken is the best we've had since momma made it over the stove in her cast iron.
Ribs? Oh yeah. Pulled pork. You better believe it.
Yelp Review
Next, on Yelp, Jordan F loved Big T's Bar-B-Que so much, he wrote a novel. Read a condensed version below:
To preface and to hopefully not sound pretentious; when it comes to restaurants, I very, very infrequently give 5-star reviews.
I believe that the vast majority of dining establishments in existence are in the 2-4 star range, so I never give a 1-or-5 star review unless that establishment has truly earned it in my eyes. I am of the opinion that Big T's BBQ of Garners Ferry Road is worthy of a five-star review in every way, shape, and form.
For starters, I live about a mile away from this place and have now eaten there more than twenty times.
I do not exaggerate when I say that every single time that I have been to this restaurant, every single solitary food item that I consume there simply tastes better than average at the absolute least, and is amongst the best food that I have had the immense pleasure of enjoying frequently at the best.
Simply can't say enough about the food.
People there are great – I once lost my wallet there after ordering some pick-up, called ahead, and the owner was super polite and offered to review the security tapes. I dropped it in the yard, so I called back and thanked them. Super nice.
Also, the second you walk into Big T's, you will see lengthy endorsements from prominent figures in every walk of life, from US senators to USC presidents to superstar athletes of every sport. I absolutely love this.
To end, Big T's is everything that one could ask of a southern, buffet-served style bbq place. Thanks for existing basically right next to my house.
SCBA Review
Finally, the great feedback doesn't end with those on review platforms, of course. What about those who train the BBQ judges for the SCBA?
The SC BBQ Association named Big T's one of the Top 100 BBQ houses in the state. Here is an excerpt from the review:
What he is doing right is barbeque and ribs.
He cooks them slow over coals and wood at his Gadsden operation and then delivers the meat to his other two restaurants. And fine, tender barbeque it is with the ribs being especially tender and juicy.
And there is something strangely compelling about Big T's barbeque. Each fork full makes you want to taste another. You won't be leaving any on your plate.
---
Menu for Big T's Bar-B-Que on Garners Ferry
Note: Menu prices and options are subject to change over time. Contact the restaurant for the most up-to-date information.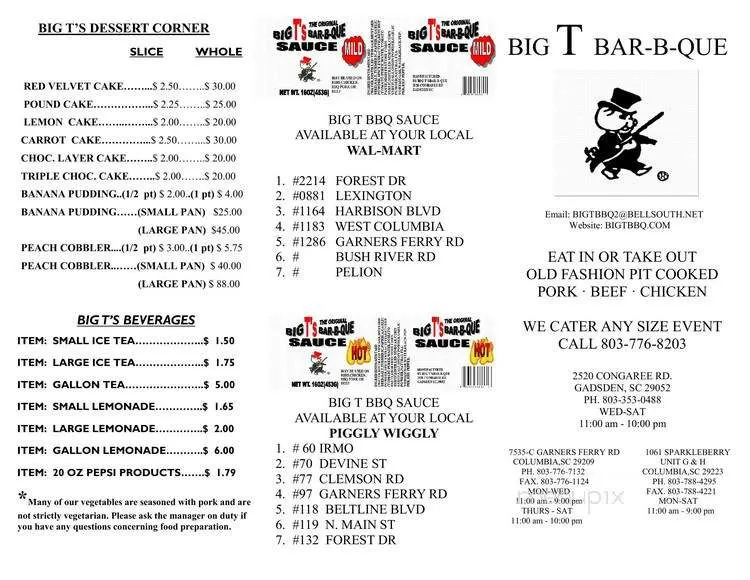 Location, Hours, Contact Info, and More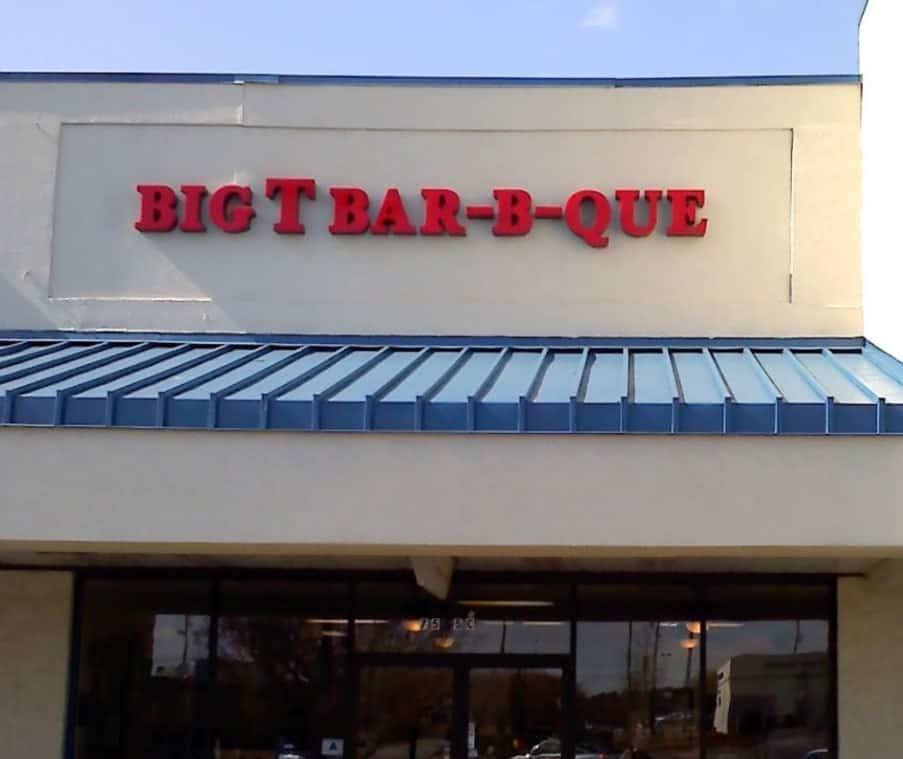 Map
Directions
Contact Big T's Bar-B-Que on Garners Ferry
7535 Garners Ferry Rd., #C
Columbia,
SC
29209
Hours of Operation
| | |
| --- | --- |
| Monday | |
| Tuesday | |
| Wednesday | |
| Thursday | |
| Friday | |
| Saturday | |
| Sunday | Closed |
Review Sites
Features
Cards and Cash, Hash, Heavy Tomato Sauce, Light Tomato Sauce, Mustard Sauce, Vinegar Pepper Sauce