This post may contain affiliate links to Amazon or other vendors I trust. Please read my disclosure policy. As an Amazon affiliate, I earn from qualifying purchases.
SERIOUSLY GOOD BBQ. Come stop by and grab a hefty plate of our tasty, world-famous South Carolina BBQ!
The Palmetto Pig is home to Columbia, South Carolina's best BBQ! Conveniently located downtown on Devine Street – just moments from William's Brice Stadium, The Colonial Center, Carolina Stadium, the Kroger Center, and the University of South Carolina's historic "Horseshoe" campus – we offer all the southern classics you grew up loving, buffet style, with our own unique twist.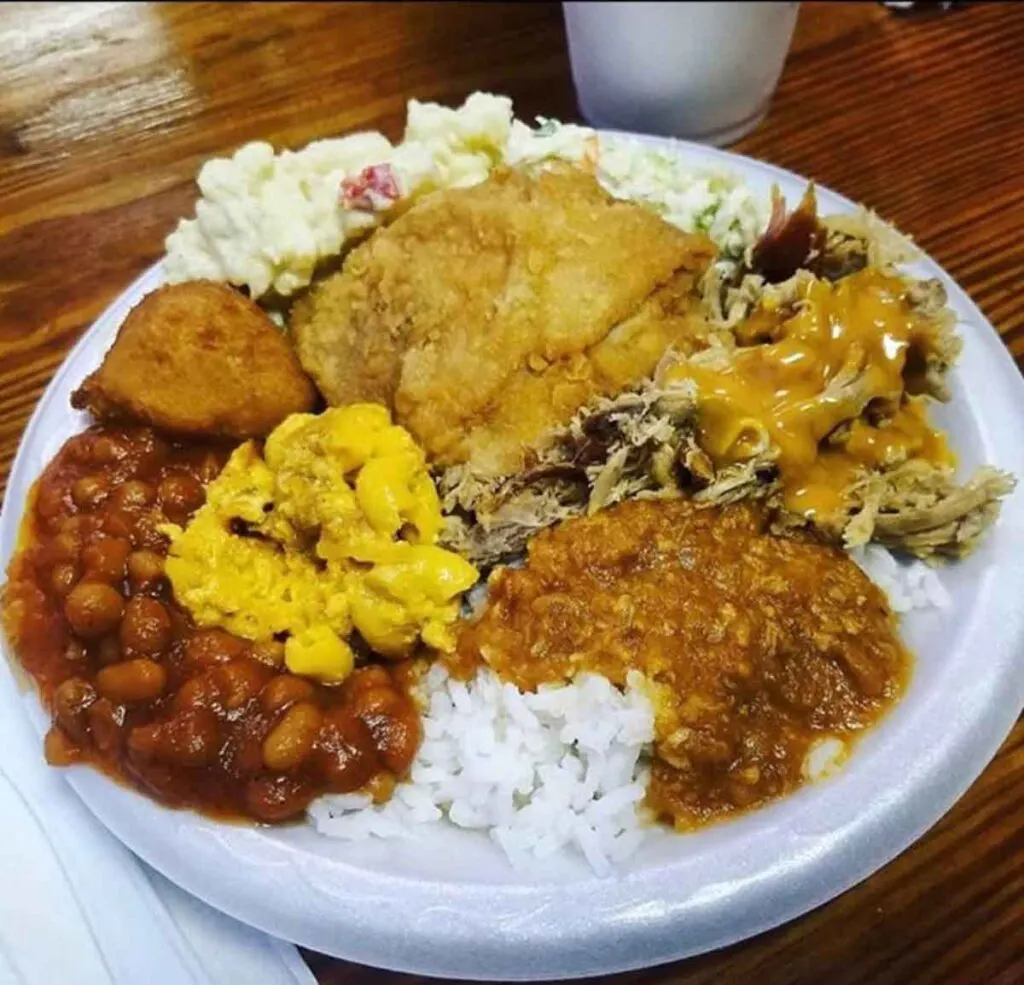 According to co-owner Gene Antley, Palmetto Pig is a restaurant that is well worth searching for on the "other" side of Devine Street.
The eatery is located on the west side of Assembly Street, though Antley states that many people call him in frustration, explaining that they have been driving up and down Devine Street in an attempt to locate the restaurant.
The sauces offered at Palmetto Pig are, in Antley's opinion, the best he has ever tasted. They come in three varieties: hot, ketchup-based, and mustard-based.
Antley explains that the mustard-based sauce was created by an elderly man who visited the restaurant and claimed to have an amazing recipe. Although the man would not sell the recipe, he did agree to let Antley taste it.
Impressed by the flavor, Antley asked the man how much he would charge for the recipe, but the man refused to sell it. Instead, he asked to be allowed to eat at the restaurant for free until he died.
Antley agreed to the arrangement, and the man continued to dine at Palmetto Pig until he passed away three years later, still wearing his hospital bracelet.
When the man passed away, Antley sent a large spray of roses to cover his casket as a tribute to the best sauce he has ever tasted.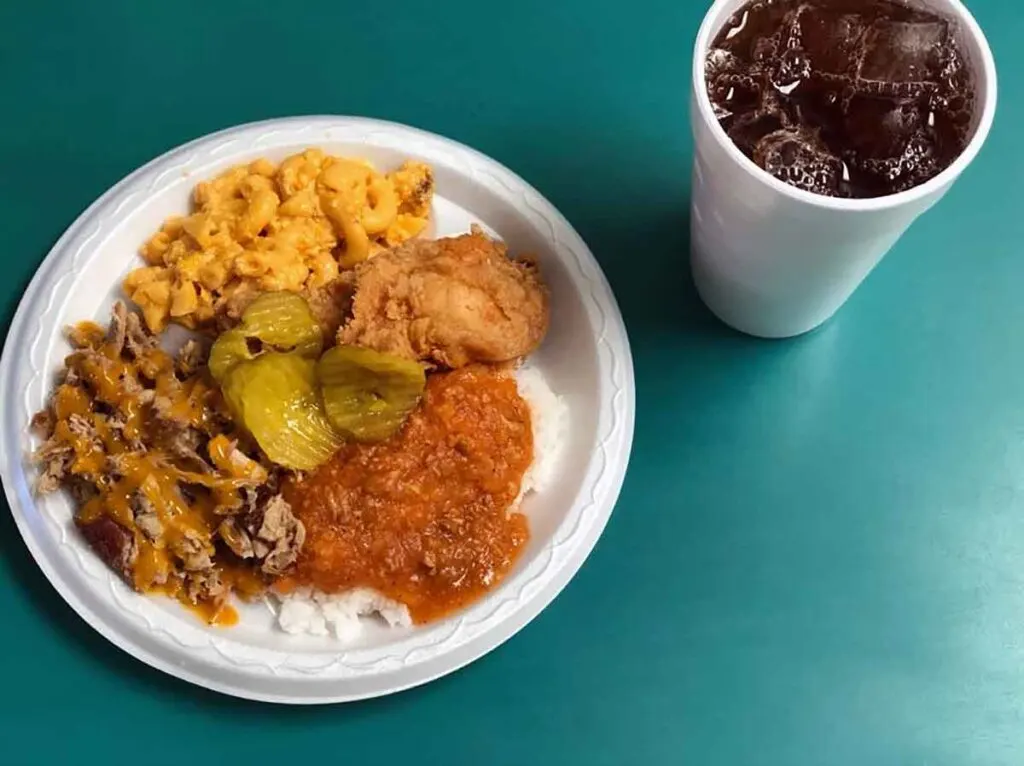 Enjoy their pulled pork with one of their tasty sauces or fried and barbecued chicken. Pair it up with our made-from-scratch sides and delicious banana pudding, and you have got a meal!
Palmetto Pig offers an all-you-can-eat buffet, take-out, and catering.
Whichever you choose, we are sure you will find your experience at Palmetto Pig "full-feeling."
What Folks are Saying
Google Review
Among the many Google Reviews, Local Guide Richard Best returned to an old favorite and found a lot to like at Palmetto Pig:
I finally got back, again, to my hometown Orangeburg-style BBQ!!! Dukes & Antleys in Orangeburg and Palmetto Pig in Columbia. Man is it good.
Fresh chopped BBQ where you add the sauce yourself. Hot plus original sauce mixed is my favorite!!
Neither can I pass the best hash over rice around. I also love their excellent, homemade from scratch, mac and cheese along with their mayo-based, slightly sweet cole slaw.
The final touch is some of the best crispy fried chicken around which I think they add bbq sauce to before they batter and fry it (only a guess).
Can't go wrong here!!!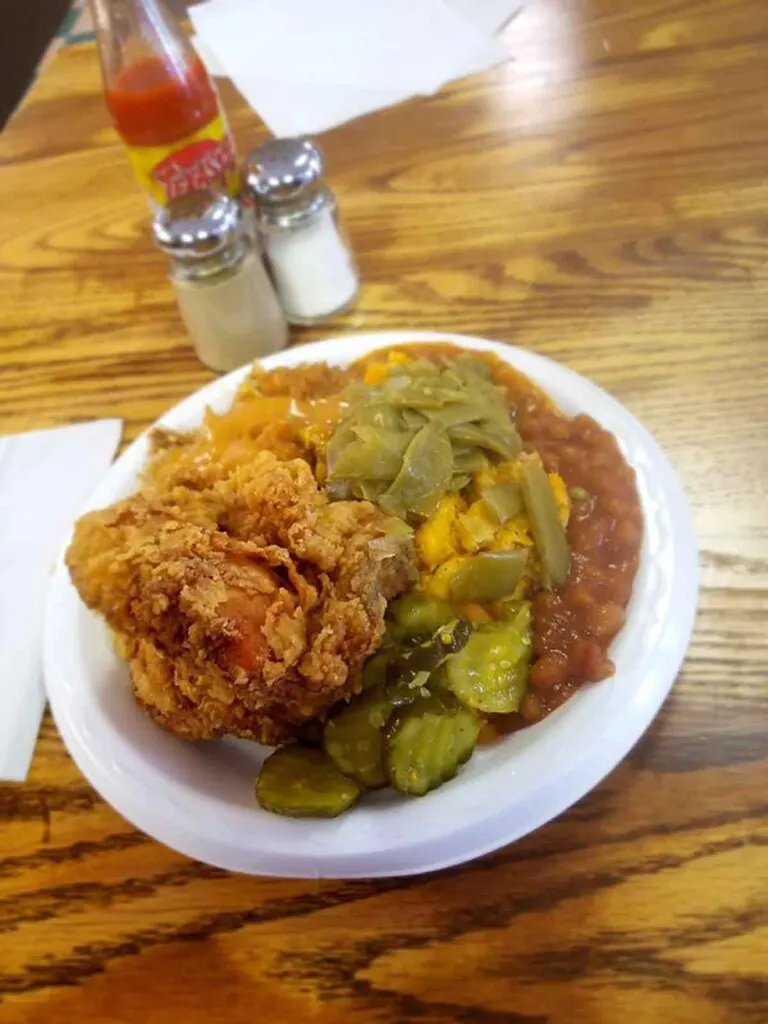 Yelp Review
Over on Yelp, a reviewer and Columbia-area native with the handle Ip M isn't one to write reviews but just had to write one for Palmetto Pig:
This spot is the BOMB!! This is true Southern BBQ.
It is a buffet, but stands very strong in my book !! The vibe is like going to Grandma's backyard cookout with Uncle on the smoker/grill.
Fried Chicken has a thin batter giving it a light crisp… fried to perfection very JUICY. Getting into the BBQ. Best I've had.
I mixed the Hot BBQ with the Original sauce perfect twine of vinegar and spice. Let me tell you no salt and pepper is needed here with those two sauces.
I don't write a lot of reviews, but if you are looking for true Southern BBQ from the backyard do STOP in!!!
SC BBQ Association
Sure, folks on review sites often have great things to say about a place, but what about the folks who really know SC BBQ better than anyone? What about the folks who actually train the judges for SC BBQ competitions?
What do they think of this place?
The SC BBQ Association has named Palmetto Pig one of the Top 100 BBQ houses in the state.
---
Menu for Palmetto Pig
Note: Menu prices and options are subject to change over time. Contact the restaurant for the most up-to-date information.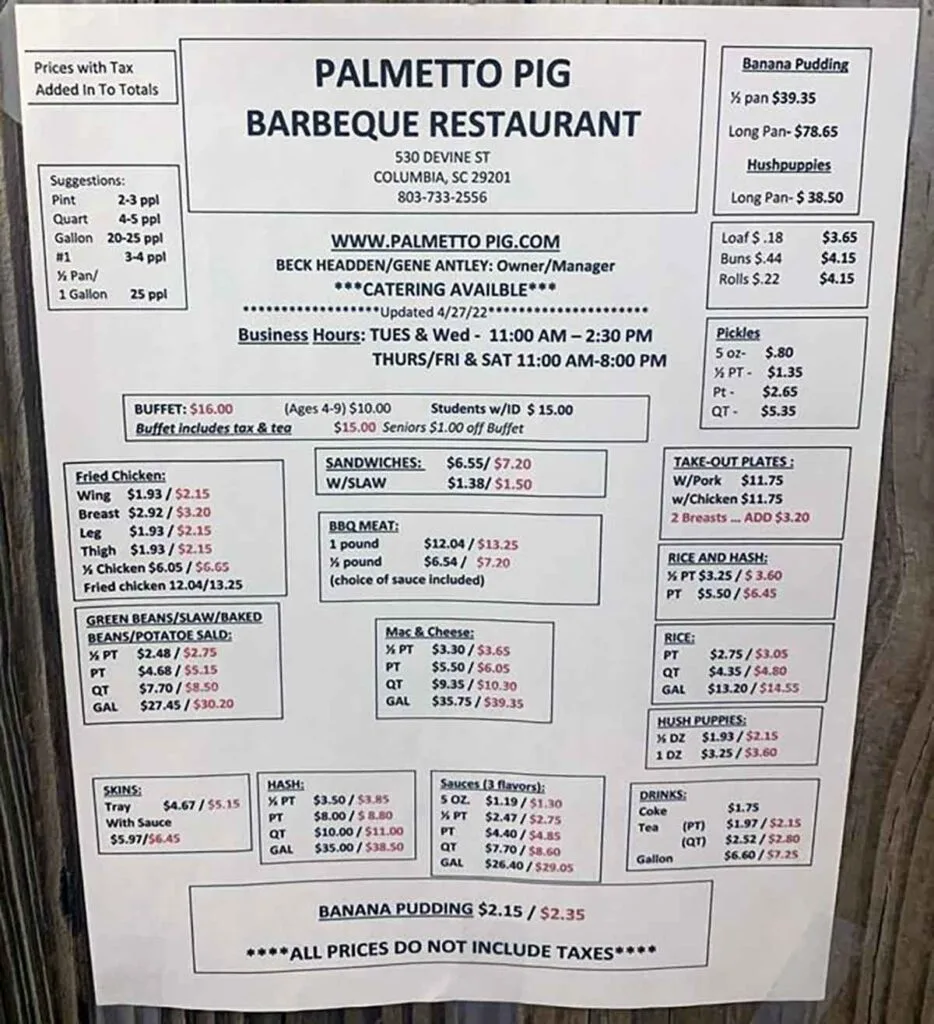 Location, Hours, Contact Info, and More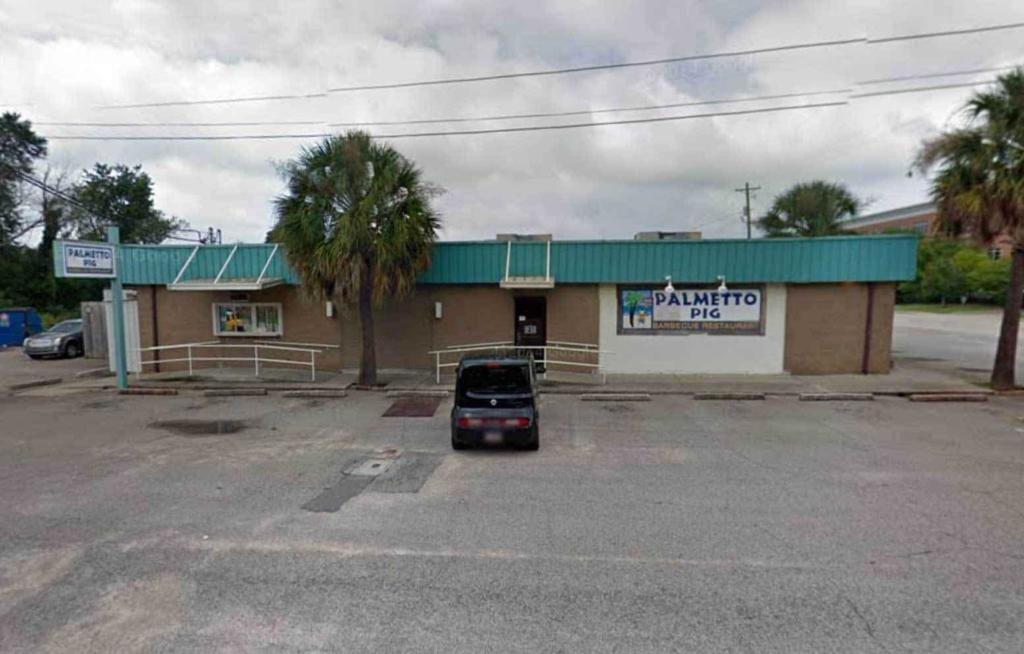 Map
Directions
Contact The Palmetto Pig
530 Devine Street
Columbia,
SC
29201
Hours of Operation
| | |
| --- | --- |
| Monday | Closed |
| Tuesday | |
| Wednesday | |
| Thursday | |
| Friday | |
| Saturday | |
| Sunday | Closed |
Review Sites
Features
Buffet, Cards and Cash, Hash, Heavy Tomato Sauce, Mustard Sauce, Vinegar Pepper Sauce