The Dixie Pig in Rock Hill
This post may contain affiliate links to Amazon or other vendors I trust. Please read my disclosure policy. As an Amazon affiliate, I earn from qualifying purchases.
The Dixie Pig in Rock Hill offers great southern barbecue served with true hospitality!
They serve smoked chicken, ribs, pulled pork, and catfish. They also offer specialty sandwiches with made-from-scratch sides and desserts!
With a culinary background in Italian fine dining, Chef Curtis Hines' skills in the kitchen stand out, but that doesn't mean he doesn't know barbecue.
"I grew up in North Carolina – THE place for barbecue," said Hines. "Eastern North Carolina barbecue is the best in the whole world."
However, The Dixie Pig is not your standard Carolina BBQ joint. "We fill the barbecue niche, but we're eclectic," Hines said.
His mother Virginia inspired his recipes. My mother was not trained, but I call her a chef. That's the way I grew up. My training is by osmosis."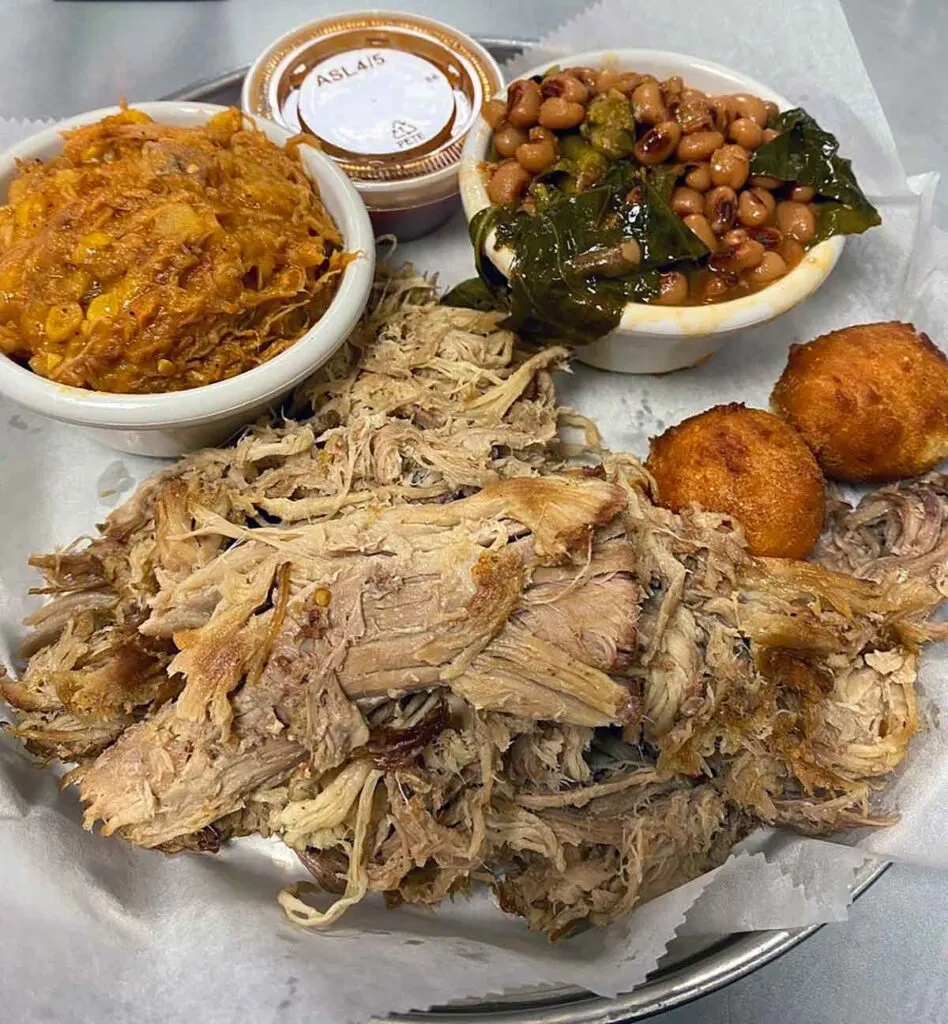 What's To Eat
The Dixie Pig menu includes typical barbecue items like pulled pork, hash, macaroni & cheese, coleslaw (red and white), and baked beans.
Also, they offer St. Louis-style ribs. On Wednesdays, be sure to ask for the brisket.
In addition to the tomato-based Memphis Magic, barbecue lovers can try three other house-made sauces: the vinegar-based House, the Dixie Gold mustard sauce, or the Alabama White Sauce, a mayo, buttermilk, and apple cider vinegar sauce.
Nearly everything is made from scratch using his own recipes.
For example, the dessert menu includes homemade banana pudding, pecan pie, and peanut butter pie.
However, the topper is a recipe Hines has been perfecting for 20 years: the decadent Black Betty – a warm Krispy Creme donut topped with homemade cheesecake, then drizzled with tart raspberry and lemon buttercream sauces.
Hines sprinkles Rice Krispies on top for added texture.
"It's my personal favorite," Hines said. "It's almost like a palette cleanser."
But, in the end, The Dixie Pig in Rock Hill is about the BBQ.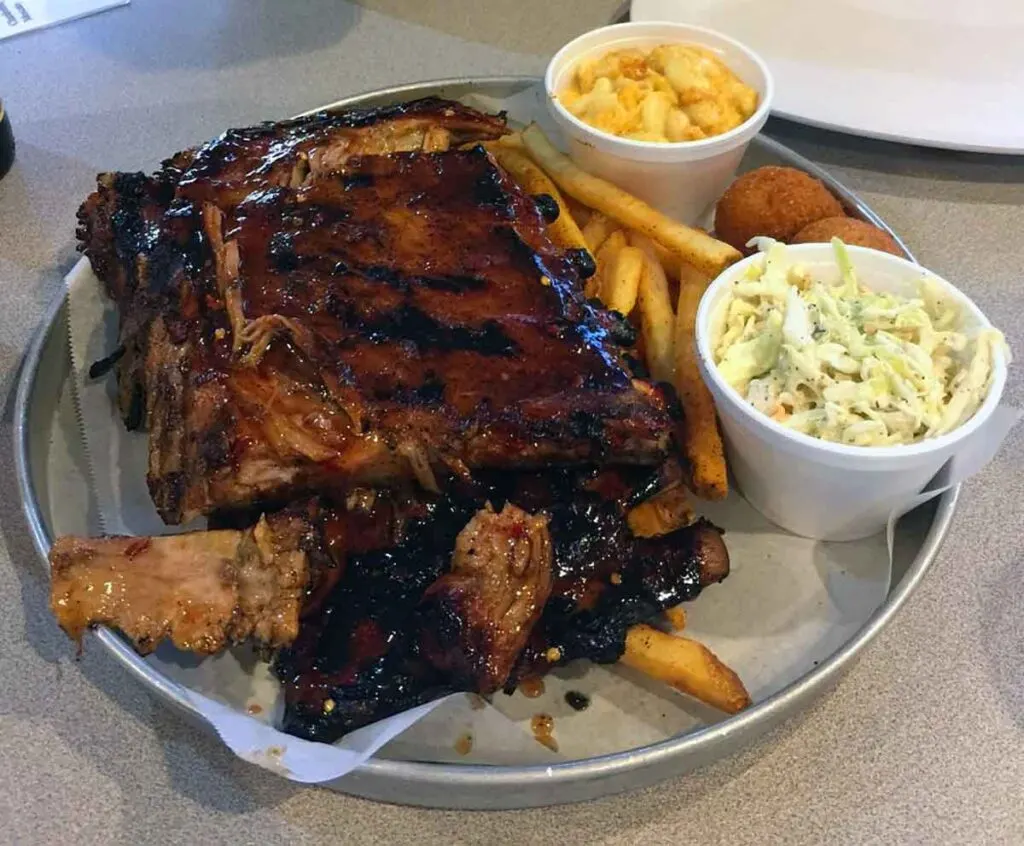 "You can't beat good Carolina barbecue," Sherwood said. "The food is so good, the sauces are fabulous and there's just so much customer loyalty."
Be aware, however, there is a limited menu and bar from 10 pm-midnight.
Get to know The Dixie Pig
What Folks are Saying
Google Review
Among the Google Reviews, experienced reviewer and Google Local Guide Jacqueline Telljohann had a lot to say about her visit to The Dixie Pig in Rock Hill.
This place really does justice to its number 10 spot on the Yelp Charlotte top 100 list. It's a little hole in the wall and we loved everything about it.
We started with the Grilled Pork Belly with Asian glaze and chopped peanuts.
This was the best pork belly I've ever had. It melted in your mouth and the glaze was delicious.
For an entree, we split the BBQ Pork plate with Dixie Gold sauce. This was also the best pulled pork I've ever had. Some of the edges of the pork were crispy and I loved that.
In addition, the gold sauce had a bit of vinegar flavor too and we really liked it.
Our sides were red slaw and mac and cheese. Continuing the trend, the red slaw was delicious and by far the best I've tried.
The mac and cheese was the one thing that fell a little short, not bad, but not great in my opinion. The plate came with a couple of hush puppies as well which were pretty good.
We went all out on dessert and got the Peach Dumplings and the Black Betty. On their own, the peach dumplings were very good.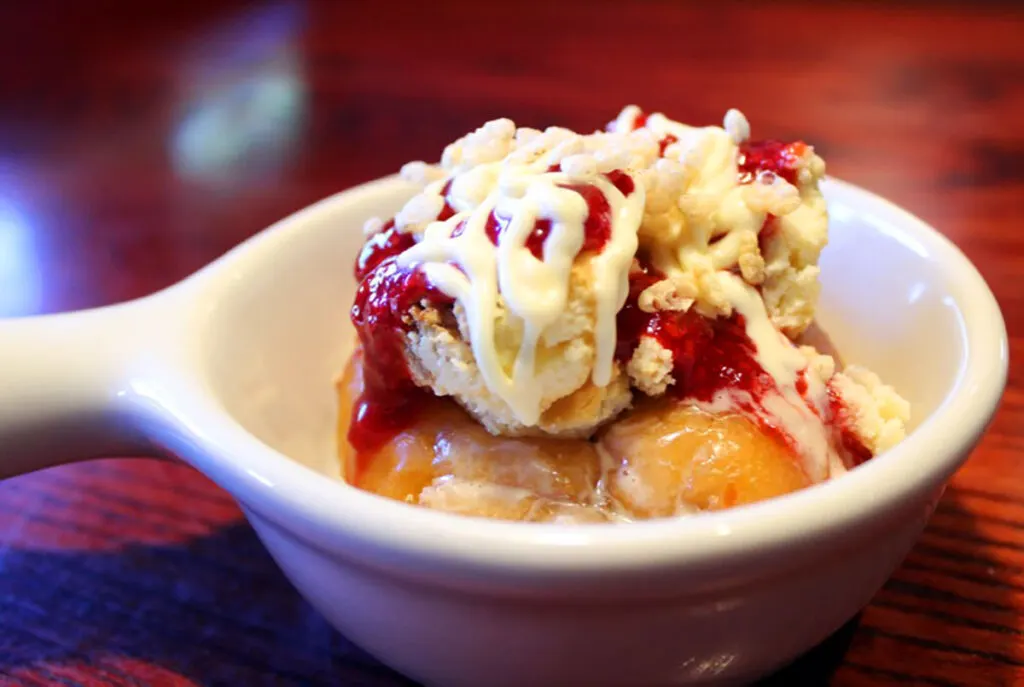 Nothing can compare to the Black Betty though. A warm donut filled with raspberry topped with cheesecake has to be one of the best dessert creations.
As an added bonus, the service is incredibly fast and friendly and the prices are cheap.
This is the best BBQ I've been to in the Charlotte area and The Dixie Pig is definitely a must-try!
Yelp Review
Over on Yelp, Brian V from nearby Weddington, NC, loves every visit to The Dixie Pig:
Never fails!! Phenomenal place with great food and great service. After going tubing down the river, this was the perfect patio dining for my buddy and our families.
Appetizer was onion dip with pita chips and they let us try a pig wing which is on the starter as a sample. We ate it too fast so I didn't get a picture but it was very tasty with the gold sauce.
I got the Paulie, which was as the owner of The Dixie Pig told me is a "gut load; pulled pork, bratwurst, pork belly two kinds of cheese and mustard on an onion roll. Hardy sandwich and very tasty.
In addition to the sandwich, my side was their barbecue hash which is one of my all-time favorite sides anywhere.
The owner came out on the patio and spoke to both me and my buddy and asked how our meal was and chatted up some UNC football with my buddy who is a big fan.
In short, I could not have asked for a better meal or experience than I got at The Dixie Pig!
---
Menu for The Dixie Pig in Rock Hill
Note: Menu prices and options are subject to change over time. Contact the restaurant for the most up-to-date information.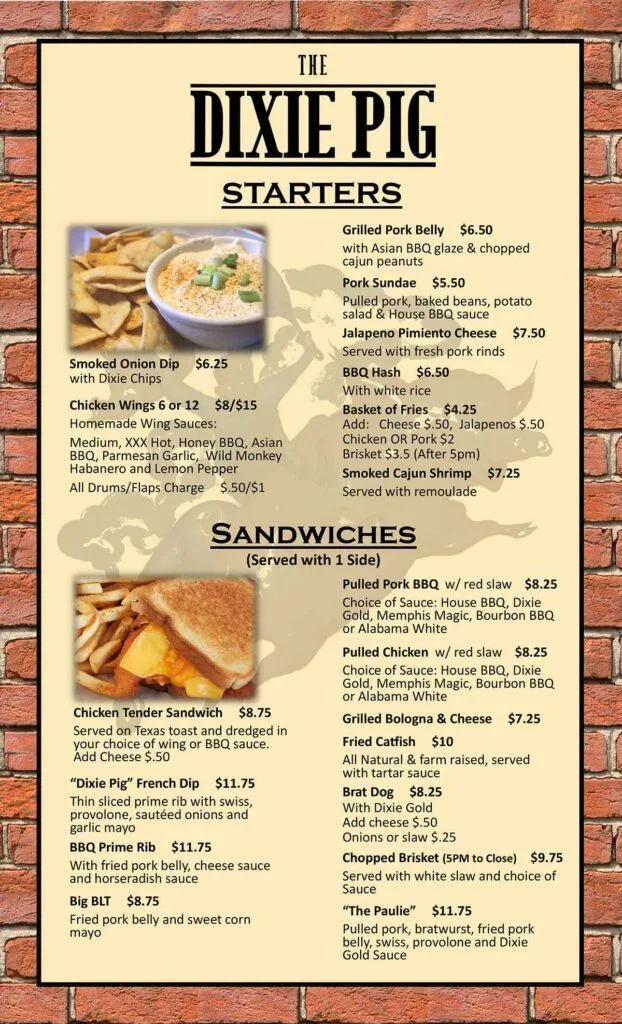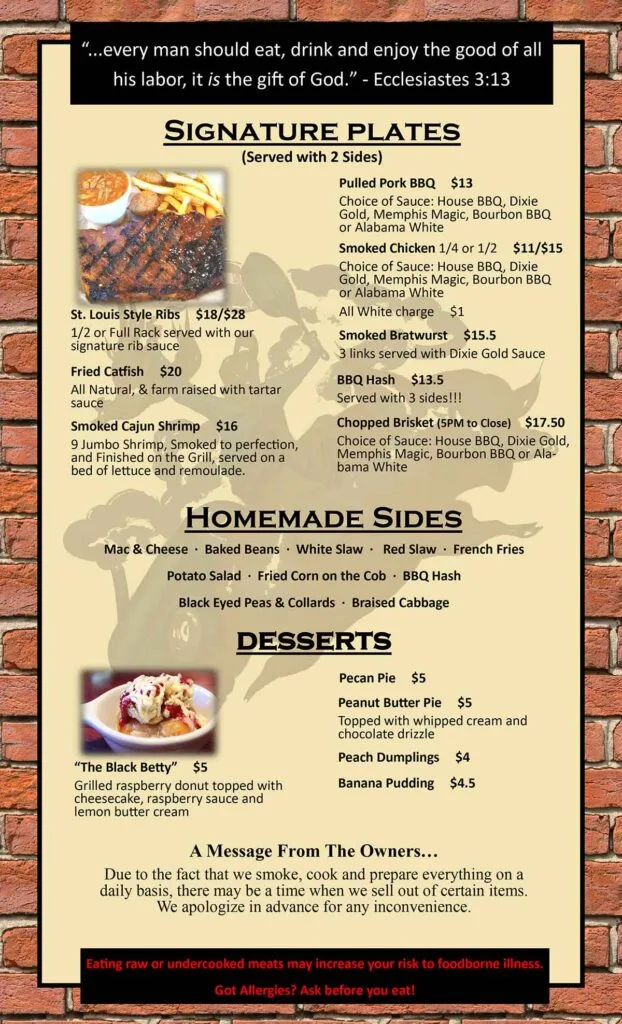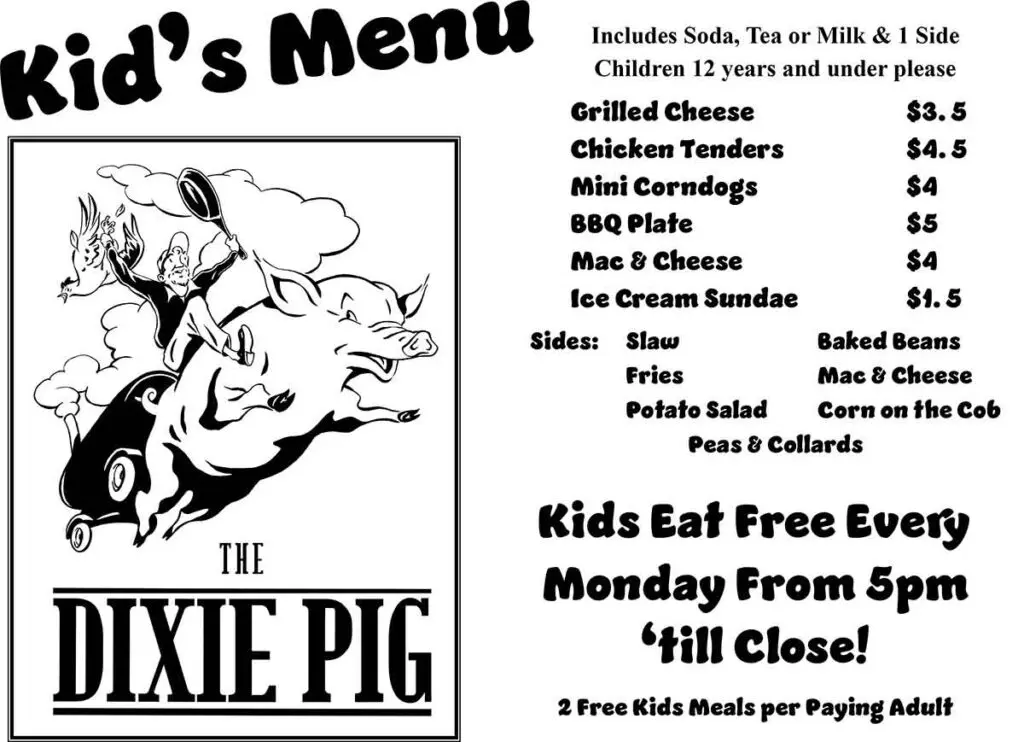 Location, Hours, Contact Info, and More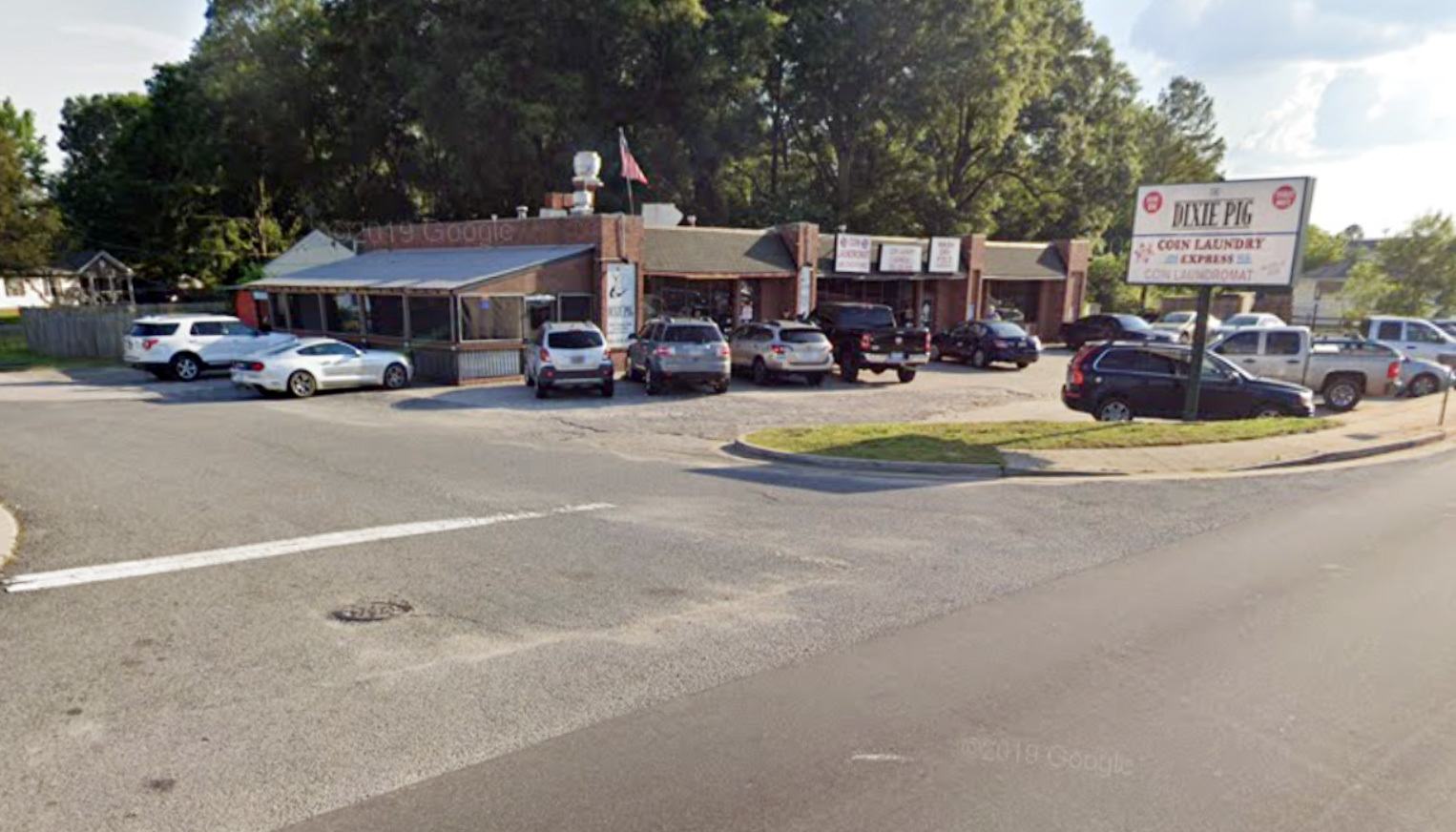 Map
Directions
Contact The Dixie Pig in Rock Hill
2007 Celanese Rd
Rock Hill,
SC
29732
Hours of Operation
| | |
| --- | --- |
| Monday | |
| Tuesday | |
| Wednesday | |
| Thursday | |
| Friday | |
| Saturday | |
| Sunday | |
Review Sites
Features
Cards and Cash, Hash, Heavy Tomato Sauce, Mustard Sauce, Vinegar Pepper Sauce, White Sauce