Piggyback's BBQ & Catfish
Piggyback's BBQ & Catfish: Famous for our Smoked BBQ Pork and Buffalo Catfish
In 2010, Piggyback's BBQ decided to take a chance at our hometown festival and sell some bbq sandwiches and home-cut fries.
Just the 2 of us worked that weekend, we sold out and we had a great time.
Since then we have grown from a table and a tent to a full-on operational outdoor kitchen/restaurant with upwards of 12 employees!
Selling hundreds of pounds of bbq, fries, catfish and other foods. We have ventured out to other local festivals and produce more volume every time!
At Piggyback's BBQ, we love our customers and love to see their faces light up when it's their turn to order.
Mitchell and I both love to feed people, he loves to cook up something special every year such as frog legs or turkey gizzards, just to entertain folks and see them try new foods.
This is his heart, his way to happiness. It's very hard work, but it's very rewarding when you see people happy and their bellies full.
From the first 2 pounds of catfish he cooked at that first festival to the 600 pounds we cook now, it has been an experience.
We appreciate every person who makes a special trip just to wait in a long line to eat with us.
What Else is on the Menu
At Piggyback's BBQ, we make our own sauce a sweet, ketchup and vinegar mix. We offer a vinegar sauce and mustard-based sauce as well.
We smoke pork butts, half chickens and St Louis style ribs with pecan wood. In addition, we do have beef brisket.
We also offer steak and shrimp hibachi (we have amazing cooks). Our signature seller would be our famous catfish nuggets. In addition, we serve up fresh seafood items: oysters, whole flounder, ahi tuna steaks, shrimp and crawfish boils.
Piggyback's BBQ does not serve hash. Also, we are a counter order restaurant, so we don't have a buffet.
Basically, Piggyback's is a BBQ restaurant with something for everyone: steak, burgers, brisket Philly, chicken Philly, loaded bbq fries, grilled seafood items, salad bar, BBQ, ribs, chicken, and weekly features.
We offer catering.
Thank you all for your support and we hope to keep your bellies full for many more years to come!
Menu for Piggyback's BBQ and Catfish
Note: Menu prices and options are subject to change over time. Contact the restaurant for the most up-to-date information.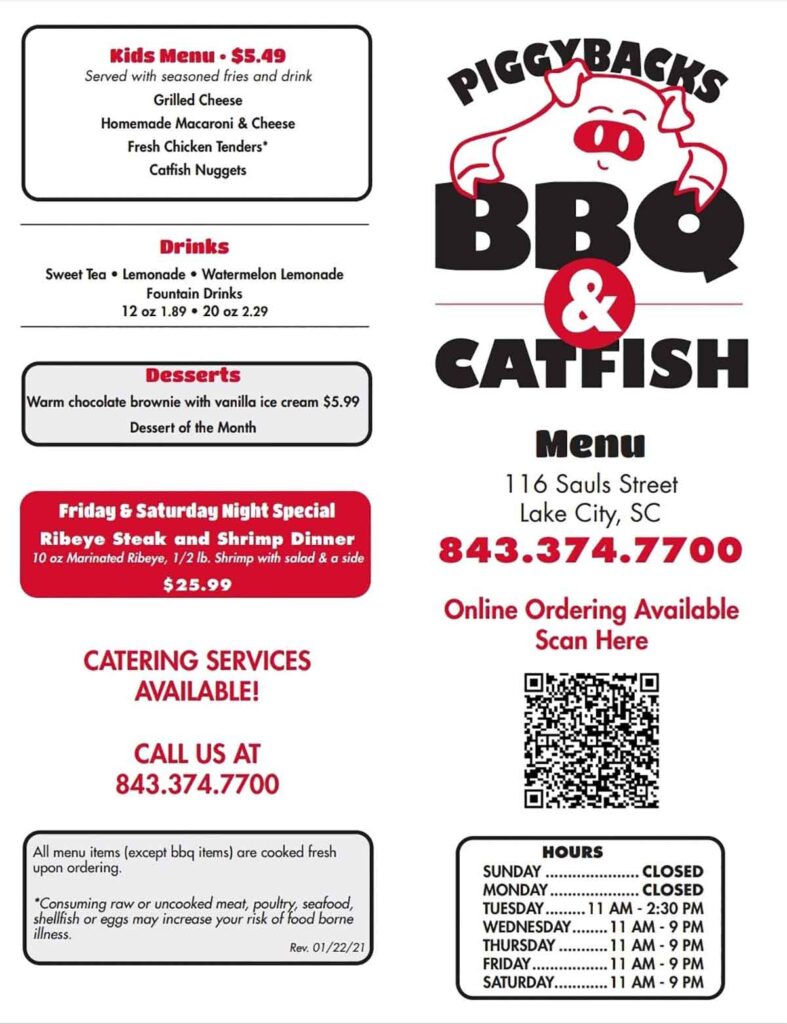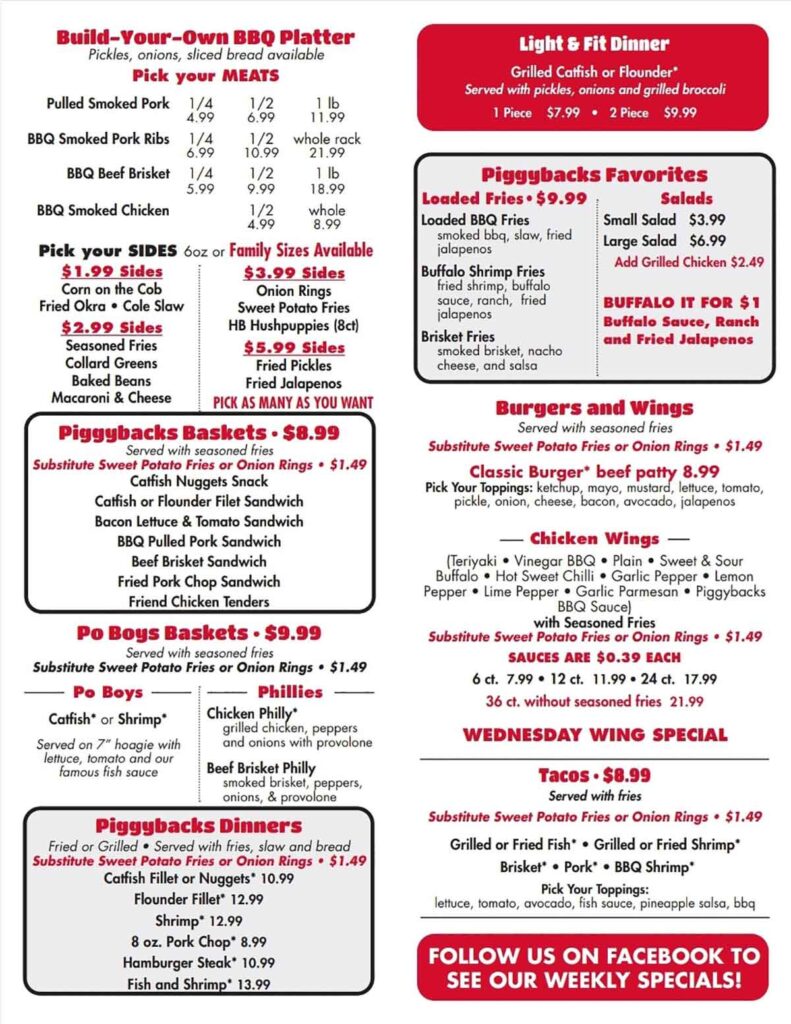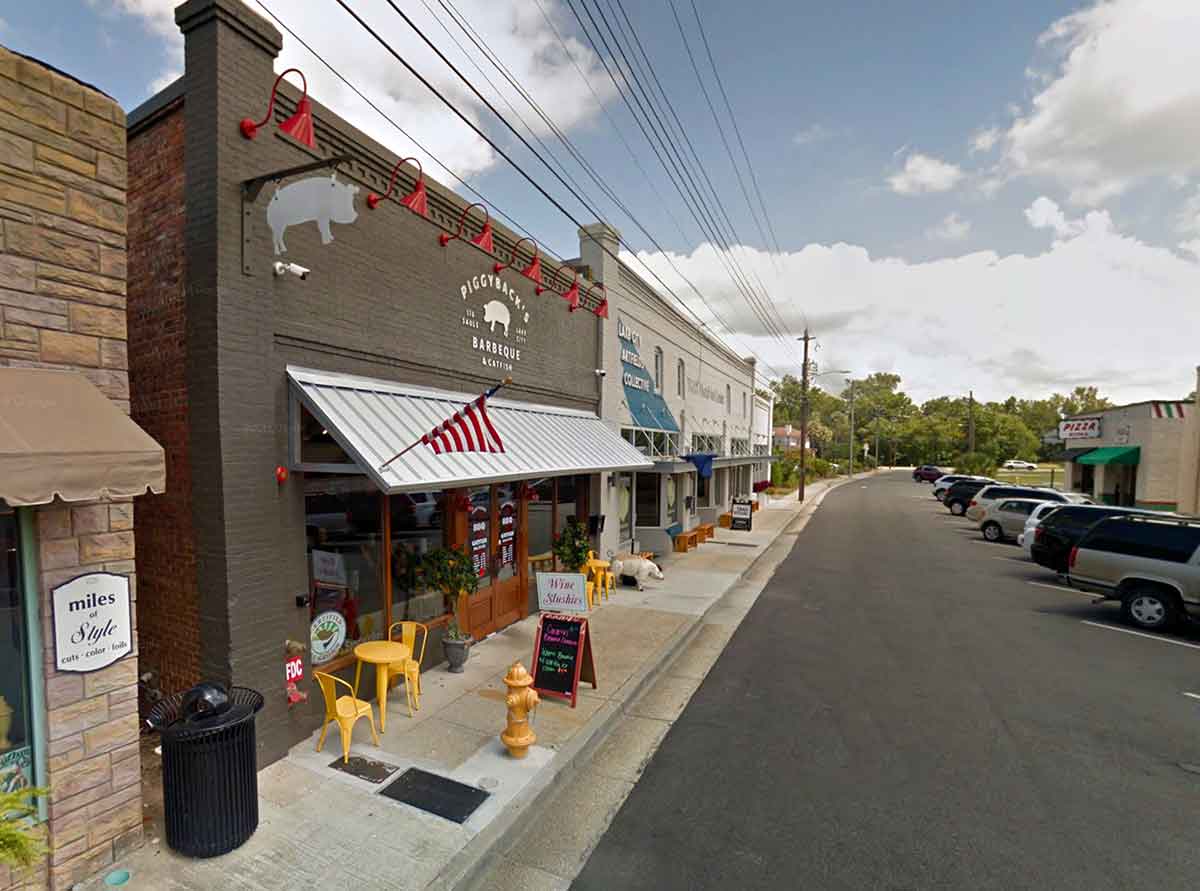 Piggyback's BBQ & Catfish
116 Sauls St
Lake City,
SC
29560
| | |
| --- | --- |
| Monday | |
| Tuesday | Closed |
| Wednesday | |
| Thursday | |
| Friday | |
| Saturday | |
| Sunday | |
Review Sites
Features
Cards and Cash, Mustard Sauce, Vinegar Pepper Sauce, Heavy Tomato Sauce