Piggyback's BBQ & Catfish
This post may contain affiliate links to Amazon or other vendors I trust. Please read my disclosure policy. As an Amazon affiliate, I earn from qualifying purchases.
Famous for our Smoked BBQ Pork and Buffalo Catfish
In 2010, Piggyback's BBQ decided to take a chance at our hometown festival and sell some bbq sandwiches and home-cut fries.
Just the 2 of us worked that weekend, we sold out and we had a great time.
Since then we have grown from a table and a tent to a full-on operational outdoor kitchen/restaurant with upwards of 12 employees!
Selling hundreds of pounds of bbq, fries, catfish, and other foods. We have ventured out to other local festivals and produce more volume every time!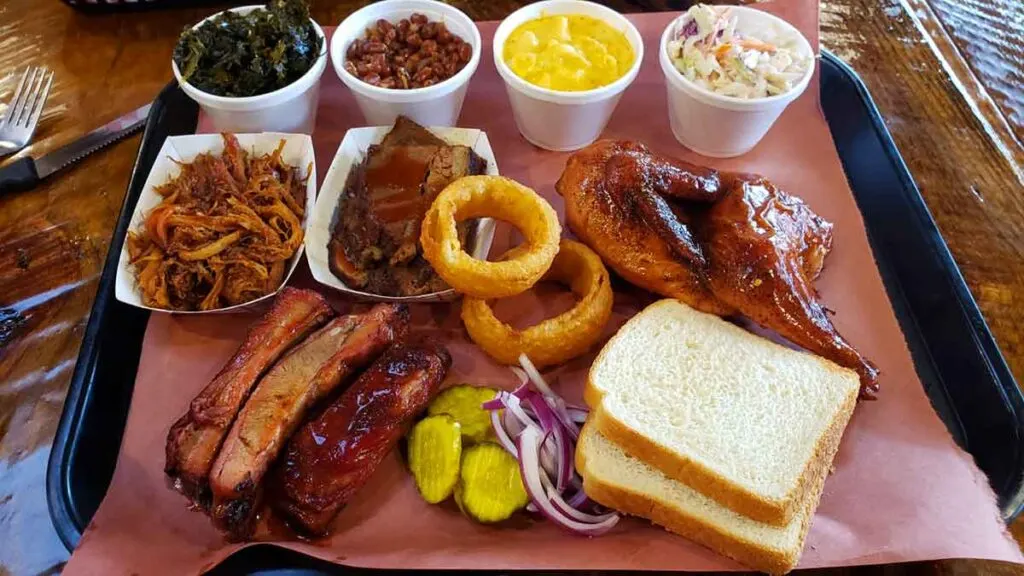 First on the Launchpad
In 2017, our town was taking applicants for a small business grant. Their goal was to get new businesses in the downtown area.
We applied and competed against some amazing business owners and people with great business ideas. We worked hard for months and we were awarded the very first Launchpad business grant!
We had worked local festivals for years, and this helped us bring our dreams to life. In 2019 our doors opened!
Since then, we have added a food truck and our catering business is on the rise. Our goal is to provide good BBQ and the world's greatest catfish!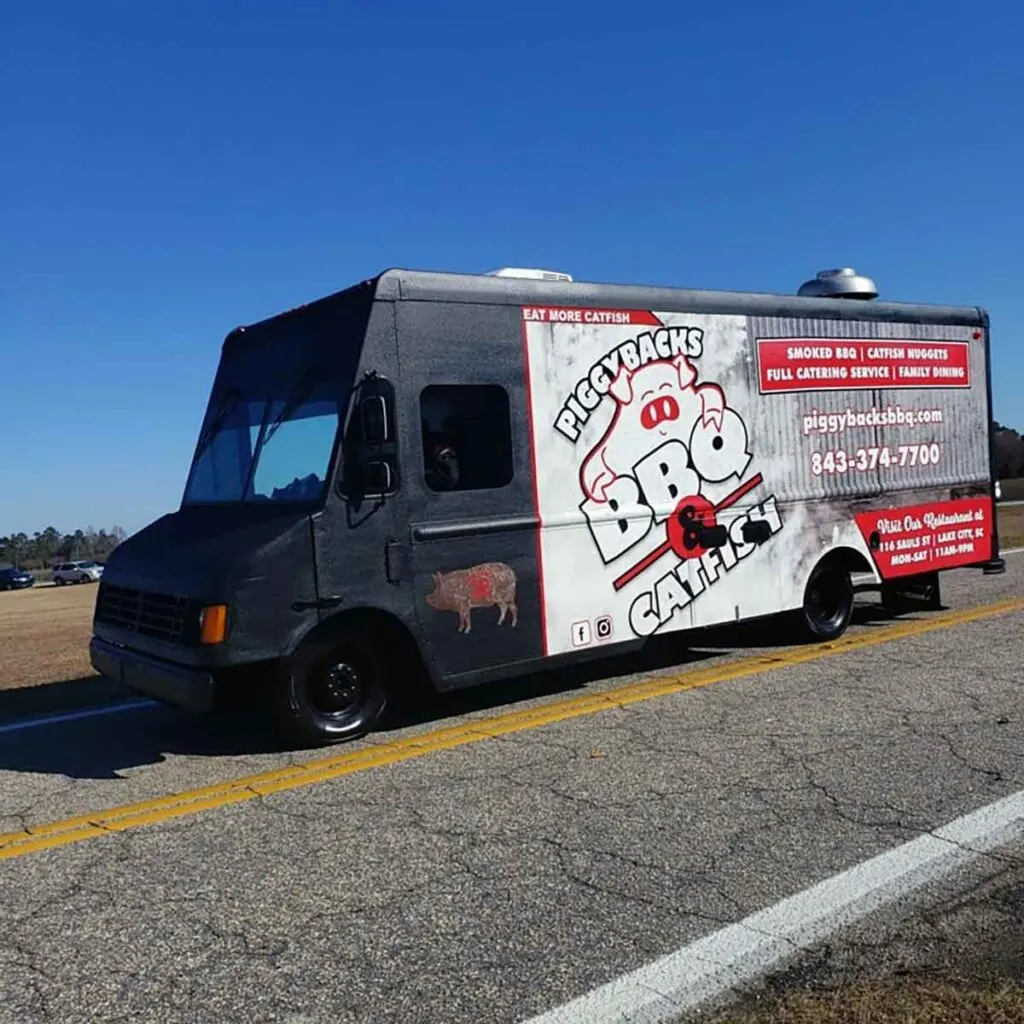 Catfish and BBQ
We describe ourselves as a catfish restaurant that happens to have some pretty decent smoked BBQ items. So, no matter what your tastes are today, we have something for everyone!
Catfsh, smoked items, sides, tacos, brisket and chicken Phillies, big juicy burgers, marinated ribeye steaks on the weekend, grilled shrimp, and more!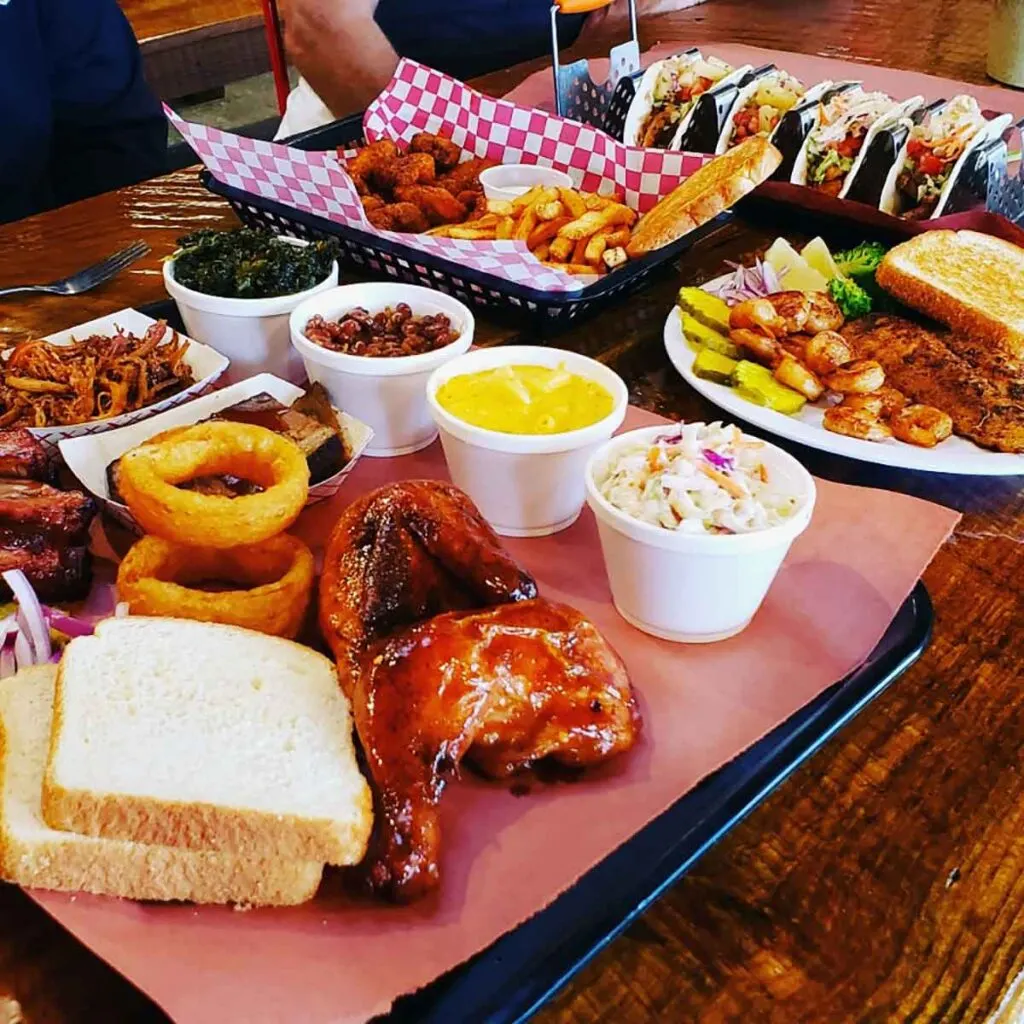 We have enjoyed many visitors from all over the world! If you are ever nearby, stop in and see us on Sauls Street in Lake City to build your own BBQ Platter, and don't forget to try an order of our Catfish Nuggets!
At Piggyback's BBQ, we love our customers and love to see their faces light up when it's their turn to order.
Mitchell and I both love to feed people, he loves to cook up something special every year such as frog legs or turkey gizzards, just to entertain folks and see them try new foods.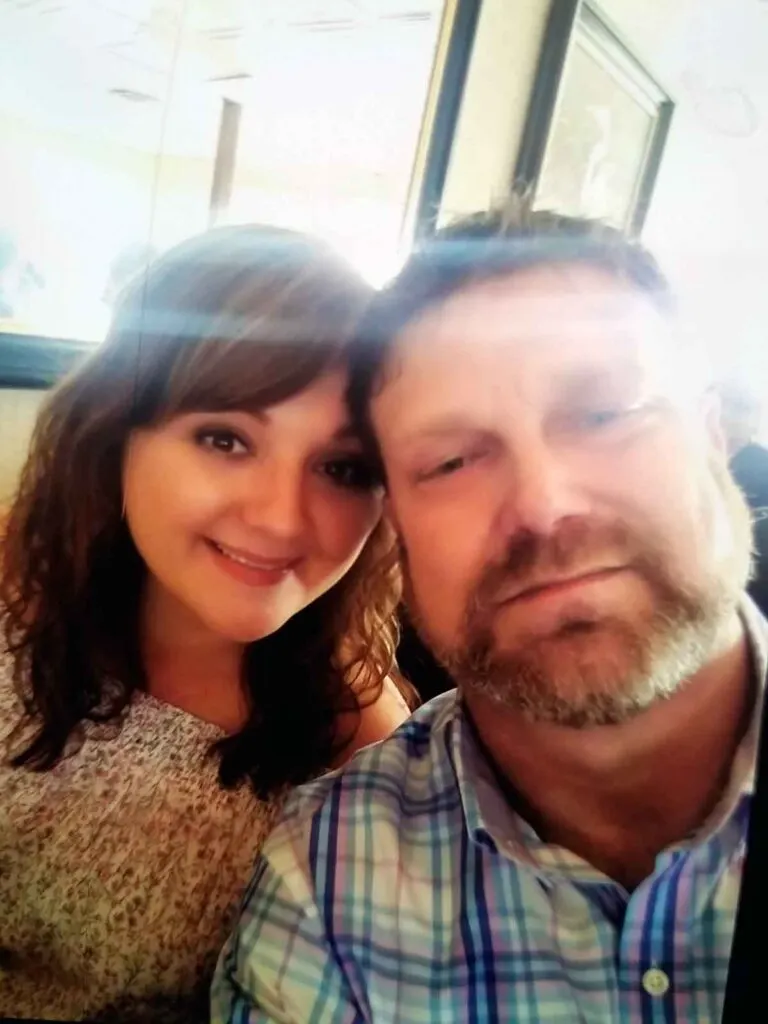 This is his heart, his way to happiness. It's very hard work, but it's very rewarding when you see people happy and their bellies full.
From the first 2 pounds of catfish he cooked at that first festival to the 600 pounds we cook now, it has been an experience.
We appreciate every person who makes a special trip to eat with us.
What Else is on the Menu
At Piggyback's BBQ, we make our own sauce, a sweet, ketchup and vinegar mix. We offer a vinegar sauce and mustard-based sauce as well.
We slow smoke our pork butts with SC pecan wood, then it is served pulled with our homemade sauce. We also smoke and barbecue chicken, brisket, and St Louis-style ribs daily. Are smoked meats are cooked fresh twice daily.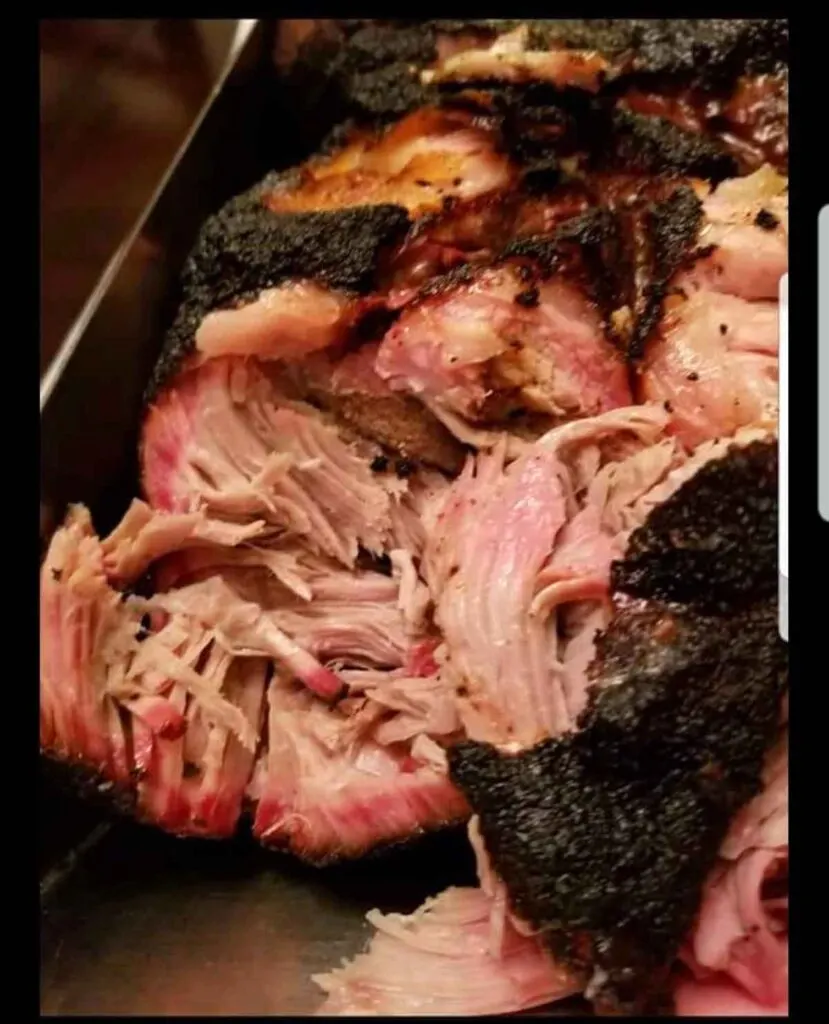 We also offer steak and shrimp hibachi (we have amazing cooks). Our signature seller would be our famous catfish nuggets. In addition, we serve up fresh seafood items: oysters, whole flounder, ahi tuna steaks, shrimp and crawfish boils.
Piggyback's BBQ does not serve hash. Also, we are a counter-order restaurant, so we don't have a buffet.
What you will find on our menu is our special Tomato Pie recipe with no mayonnaise.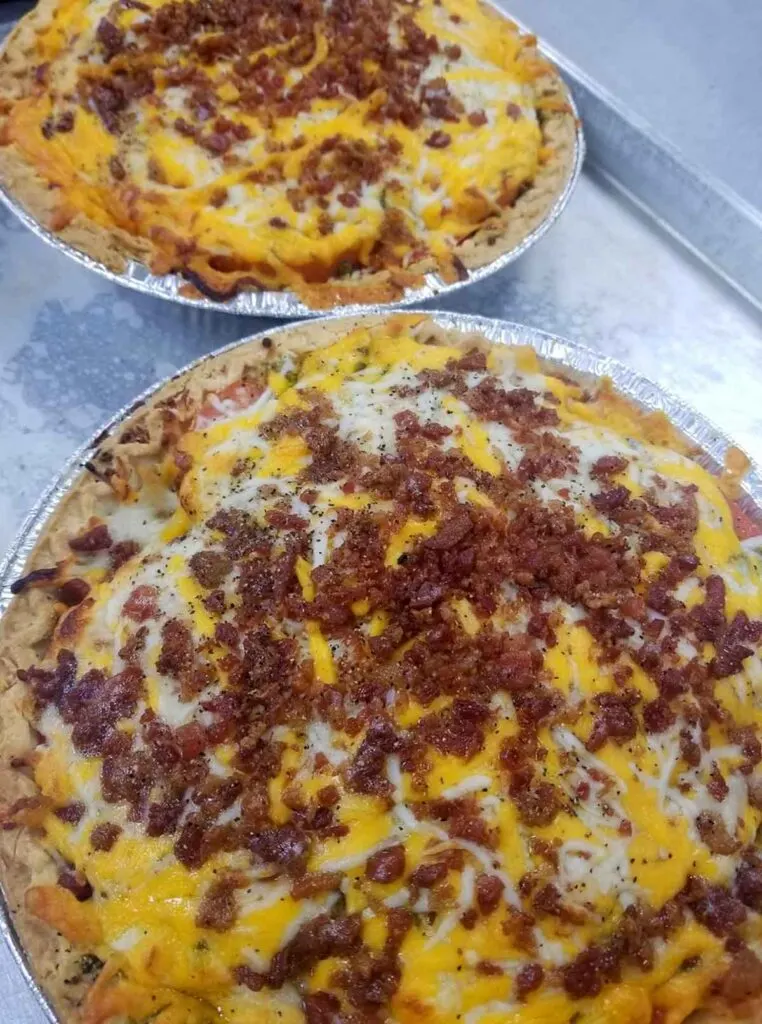 Basically, Piggyback's is a BBQ restaurant with something for everyone: steak, burgers, brisket Philly, chicken Philly, loaded bbq fries, grilled seafood items, salad bar, BBQ, ribs, chicken, and weekly features.
And, again, we offer catering.
Thank you all for your support and we hope to keep your bellies full for many more years to come!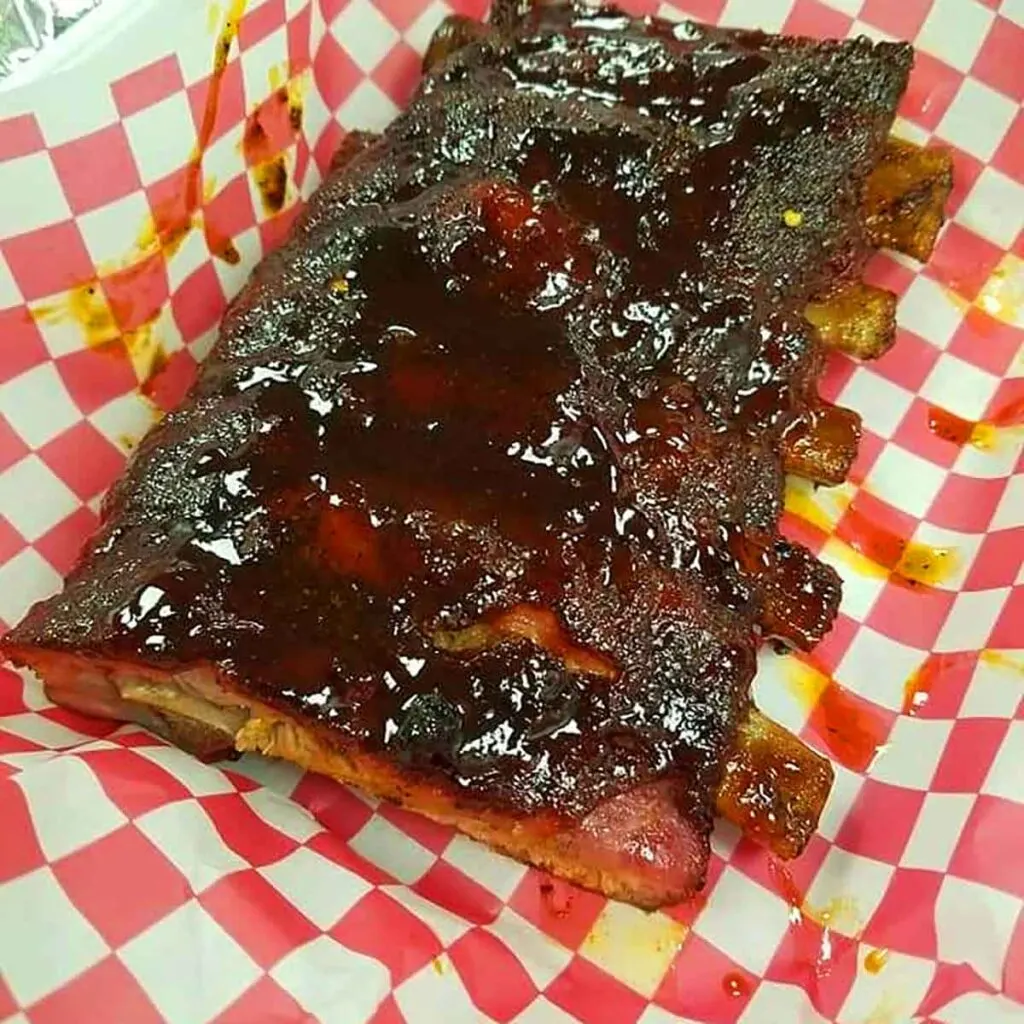 Menu for Piggyback's BBQ and Catfish
Note: Menu prices and options are subject to change over time. Contact the restaurant for the most up-to-date information.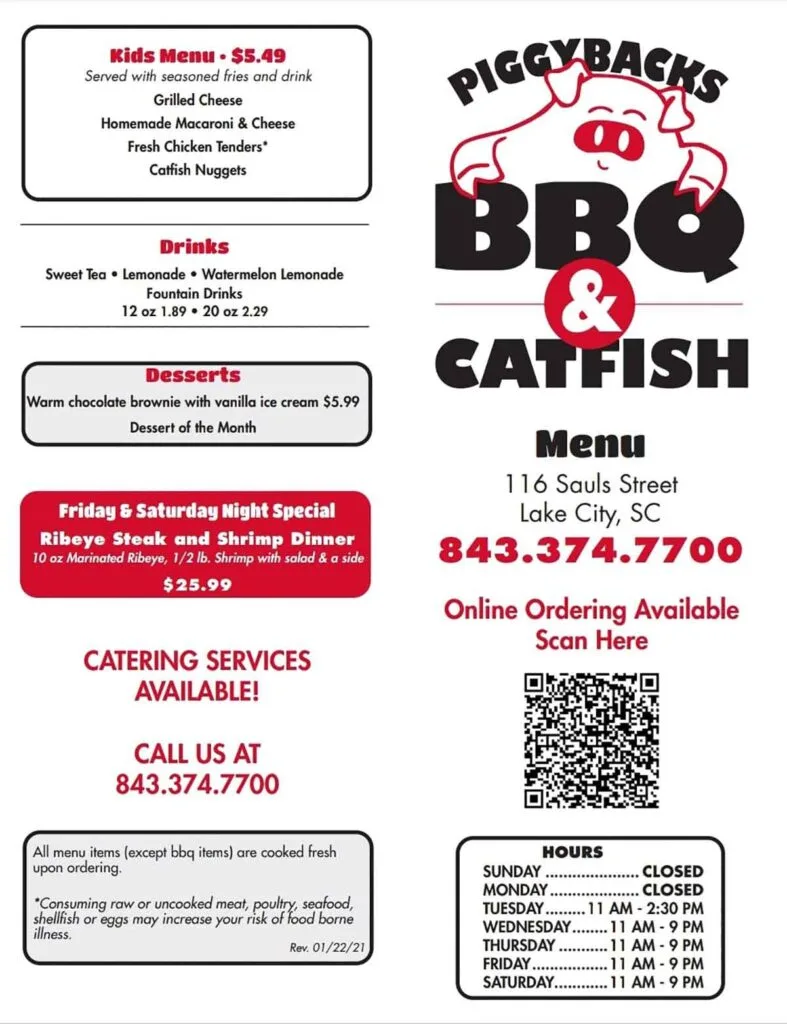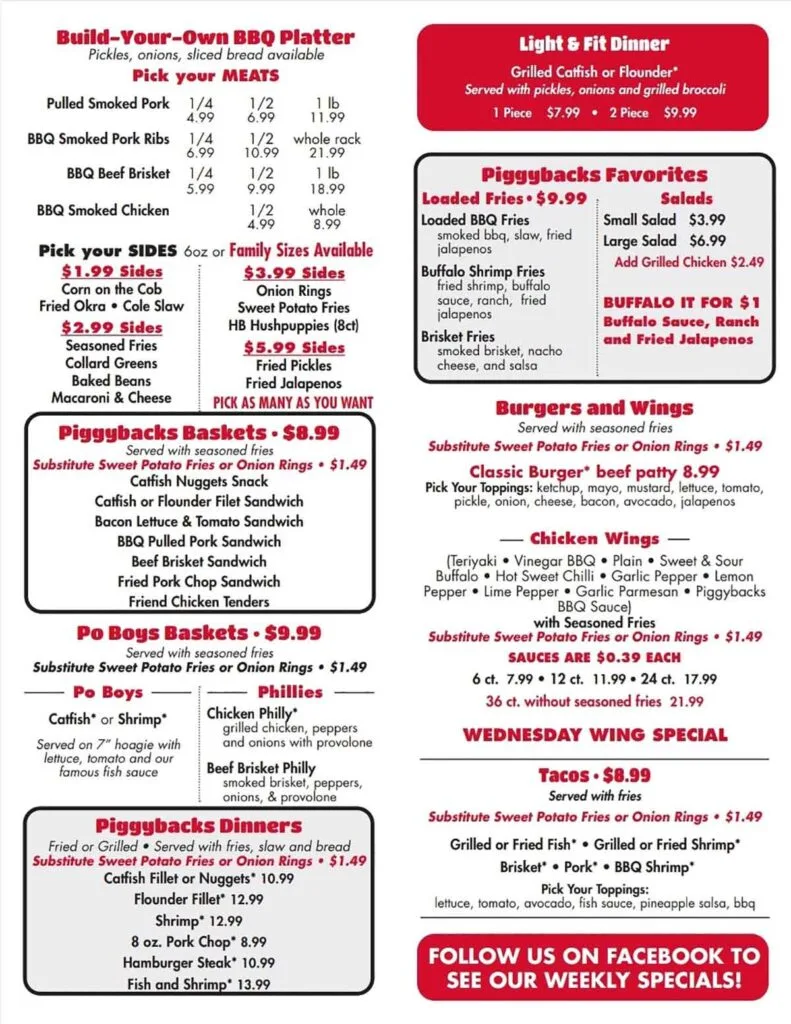 Location, Hours, Contact Info, and More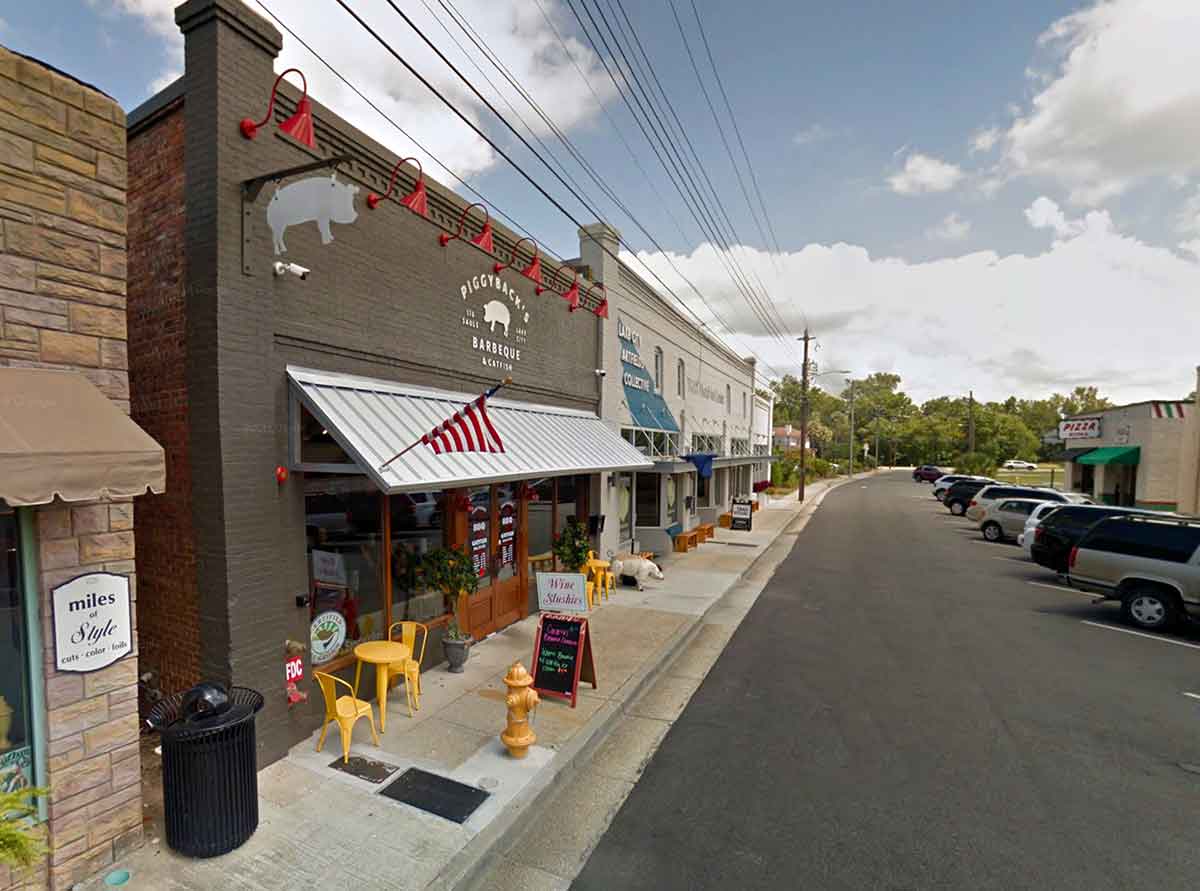 Map
Directions
Contact Piggyback's BBQ & Catfish
116 Sauls St
Lake City,
SC
29560
Hours of Operation
| | |
| --- | --- |
| Monday | Closed |
| Tuesday | |
| Wednesday | |
| Thursday | |
| Friday | |
| Saturday | |
| Sunday | Closed |
Review Sites
Features
Cards and Cash, Light Tomato Sauce, Mustard Sauce, Vinegar Pepper Sauce