Bacon Bros. Public House ***Permanently Closed***
This post may contain links from which I earn a commission. Please read my disclosure policy. As an Amazon affiliate, I earn from qualifying purchases.
At Bacon Bros. Public House, our seasonally driven menu offers a delicious selection of small plates and entrees, all locally sourced from within the South Carolina region. The decor is warm and rustic with a dining room that features reused wooden pallets, an element that compliments Chef Gray's passion for sustainability.
Diners can catch a glimpse of the curing chamber, where menu items like the Bastardo Salami, Coppa Ham and Bresaola are seasoned and aged to perfection.
Simply put, Bacon Bros. is a great place for a relaxed dining experience with friends and family, or to meet for small bites and a craft beer or whiskeys.
We source from the following local farms: Crescent Farms, Bio-Way Farms, Greenbrier Farms, Carolina Heritage, Bethel Trails Farms, and Tyger River Smart Farms.
With a menu centered on made-from-scratch dishes, locally sourced ingredients, and, yes, plenty of naturally wood-smoked bacon, Bacon Bros. Public House more than lives up to its appetizing name.
What's in a Name?
"The name really didn't have anything to do with the business," chef and partner Anthony Gray said. "When we all got together to talk about starting the business, Jason brought in a mason jar filled with bacon he had just fried for us to snack on," Gray said. "We started talking about how much we loved bacon, and the rest is history."
While bacon is the namesake, it is not necessarily the focus.
"We're not just about bacon or barbecue,' Gray said. "It's more about comfort foods, which can mean different things to different people. But what's the same is that it involves sitting around the dinner table and that familiar and comforting feeling of being home."
That home feeling is deeply rooted. In fact, Gray grew up fishing and hunting with his dad. In addition, outdoor cooking served as an early foundation in his approach to food. It instilled in him a connection to the food and the land it came from.
(Check out Chef Gray's wild boar bacon recipe and make your own from wild boar or standard pork belly.)
"Sauces, salts, rubs, ketchup, bacon jam—everything is made from scratch, which means getting the best possible ingredients," Gray said.
"We have great relationships with a network of local farms, and we couldn't do it without them. They've been great partners, and a few will even grow something special for us if we need it."
Getting to Know Bacon Bros. Chef Gray
To begin, Gray graduated from Johnson & Wales. After that, he went on to foster his culinary skills and reputation working at Maverick Southern Kitchen restaurants in Charleston and Greenville.
After that run in the Maverick kitchens, Gray stepped out to help open Southern Art in Atlanta as executive chef. One year later, Gray was named an Atlanta Rising Star Chef.
Finally, he relocated to Greenville opening his own restaurant, Bacon Bros. Gray partnered with Jason Callaway, Eric Bergelson, and Mike Porter to open the restaurant.
Once you walk inside Bacon Bros. Public House, it is quickly apparent that smoking and curing meat is the focus. In the dining room, a glass-enclosed cure room allows diners to get an inside look. At the back of the restaurant, a custom smoker — which includes three distinct walk-in chambers — sends the scent of BBQ into the air.
In his pits, Gray boasts a mix of wood embers that he uses to envelope his smoked meats. For example, the hardwood mix includes cherry, pecan, peach, and hickory. This is the secret behind the distinct flavors of his smoked meats.
"Fruit woods lend a nutty and sweet flavor, and hickory gives you that nice, big smoky flavor," he says.
On the Menu at Bacon Bros.
Beef and pork certainly dominate the menu, but Bacon Bros. serves seafood, chicken, rabbit, and lamb as well. In addition, you will find a delicious twist on a few time-honored favorites. In short, save room for jalapeno boiled peanuts or bacon-caramel popcorn.
Meanwhile, the menu changes seasonally. So, you might expect summertime dishes to include peaches, watermelons, okra, sweet corn or tomatoes. All sourced from local farms.
"I love being in the kitchen—it's my comfort zone," Gray said. "And I love experimenting with new recipes and ingredients that are close to home."
Finally, if you're in the area or just traveling down Interstate 85 looking for some SC BBQ, Bacon Bros. Public House sits just off of Exit 54. Come on in!
Get to Know Bacon Bros. Public House
MENU
---
Location, Hours, Contact Info, and More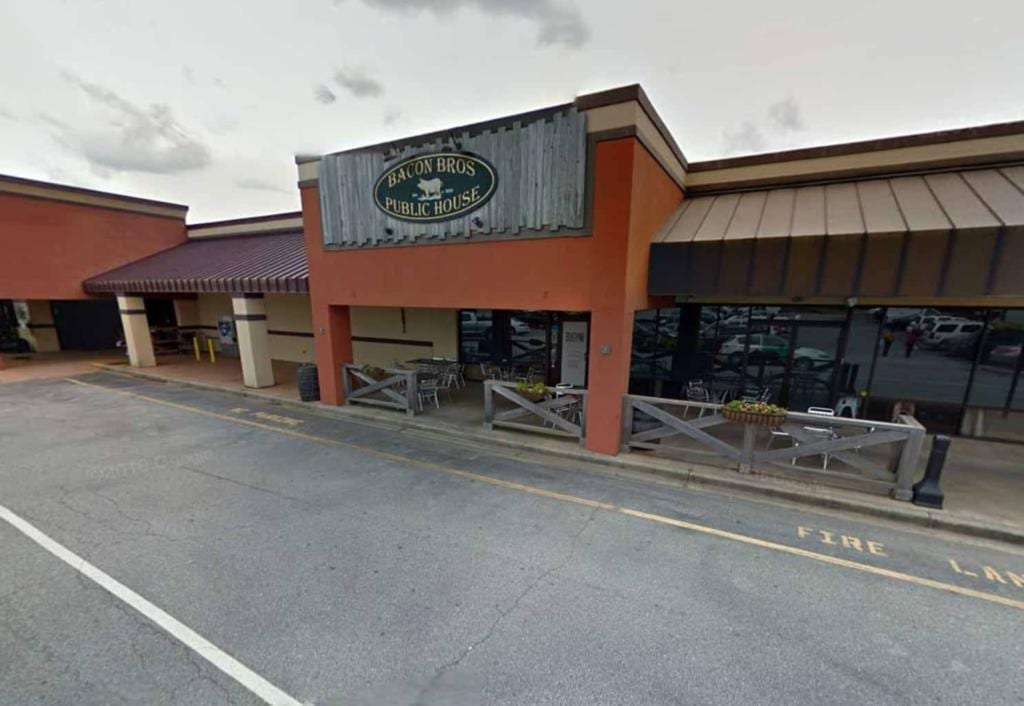 Map
Directions
Contact Bacon Bros. Public House ***Permanently Closed***
3620 Pelham Road
Greenville,
SC
29615
Hours of Operation
| | |
| --- | --- |
| Monday | |
| Tuesday | |
| Wednesday | |
| Thursday | |
| Friday | |
| Saturday | |
| Sunday | Closed |
Review Sites
Features
Cards and Cash, Heavy Tomato Sauce, Mustard Sauce