This post may contain affiliate links to Amazon or other vendors I trust. Please read my disclosure policy. As an Amazon affiliate, I earn from qualifying purchases.
"Best dang Barbeque in these here parts! Home Style – Delicious"
Farm Boy's Barbecue restaurant has been a Midlands tradition for 18 years. Our founder, Wells Gibson, used family recipes and award-winning techniques to provide home-style sides and delicious, slow cooked-to-perfection meats. Our current ownership took over in 2016 and didn't change a thing.
All our meats are carefully selected and slow-cooked to perfection. The mustard-based sauce recipe is a family secret that has been handed down for generations. A spicy vinegar & pepper "Low Country" sauce is also available. Either way, it is some of the best barbecue sauce anywhere around.
Pulled pork (propane, smoked butts & hams) and fried chicken is always available. Ribs, barbecued chicken and nightly specials are served starting at 4:30 daily. Call ahead or check our Facebook page for our Thursday special info.
Fridays at 5:00, we offer fried fish & shrimp. Saturdays, we offer four types of wings and raw fries also at 5:00.
We are open Thursday – Saturday: 11:00 am -8:00 pm and Sunday: 10:30 am – 2:00 pm. Dine-In buffet, drive-thru, and takeout. We also provide bulk orders and catering.
If you're taking a Road Trip on Interstate 26 or just happen to be in the area, drop into Farm Boy's Barbeque. Take Exit 91 and we're just a half-mile away.
We hope you enjoy our barbecue and that you will visit us often. In addition, we invite you to follow us on Facebook and visit our website.
What Folks are Saying about Farm Boy's Barbeque
Google Review
Google's Local Guide Keith Johnson, publisher of over 60 Google Reviews, raved about his visit to Farm Boy's Barbeque:
Rarely are we tempted to rave about BBQ places or a buffet place, seen one you've seen them all BUT we were wrong! Farm Boy's is fabulous and the food is excellent.
Some of the best BBQ and hash we have ever eaten, wonderfully seasoned veggies, fried chicken, homemade potato chips and the pork rind to top it all off. It is almost impossible to save room for their delicious selection of desserts. The facility is clean and the staff is attentive.
Wish we could give 10 stars! Can't wait to go on a Friday for their fish and shrimp!
Yelp Review
Over on Yelp, Laura K, a South Carolinian by marriage, found her new favorite SC BBQ joint in Chapin at Farm Boy's Barbeque:
First off…I am a Yankee, but married to a SC native and we go back to visit every now and then. I absolutely LOVE Carolina BBQ (mustard-based) and THIS is my new favorite place! We've been to just about all of them, but this one has the best!
We met a friend for lunch and had the buffet at Farm Boy's Barbeque. Normally I hate buffet food, but it was great to be able to sample everything AND this all was very fresh tasting. The place was PACKED (with locals) and the food didn't sit out long before a pan was replaced!
They serve mustard-based BBQ and also a vinegar/pepper BBQ that was FANTASTIC! The mac and cheese, lima beans and green beans were delicious and my hubby said the cabbage and fried chicken were fabulous too. Don't miss the "dump cake" on the dessert bar!
Don't expect anything fancy in terms of atmosphere. You walk in, pay and sit wherever there is room at the large tables in the dining room. There are rolls of paper towels on each table for napkins and the servers will keep your drink full! The staff was very sweet and accommodating when I asked to buy a bottle of sauce to take home…they gave it to me in a squeeze bottle like they have on their tables because they don't "bottle" their sauce commercially.
In short, don't miss Farm Boy's Barbeque if you're a Carolina BBQ fan!
SC Barbeque Association
So, yeah, ok…these are just a couple of comments from review sites, but what about the folks who know SC BBQ better than just about anyone? What about the folks who actually host most of the BBQ competitions in SC and put their judges through an extensive training process? What do they think of Farm Boy's Barbeque?
The SC BBQ Association has named Farm Boy's Barbeque one of the Top 100 BBQ houses in the state.
Their review begins with the following line:
Farm Boy's Barbeque managed to get the top vote from several of our couple of hundred Judges when we polled them and asked them to list their top three barbeque houses in South Carolina.
---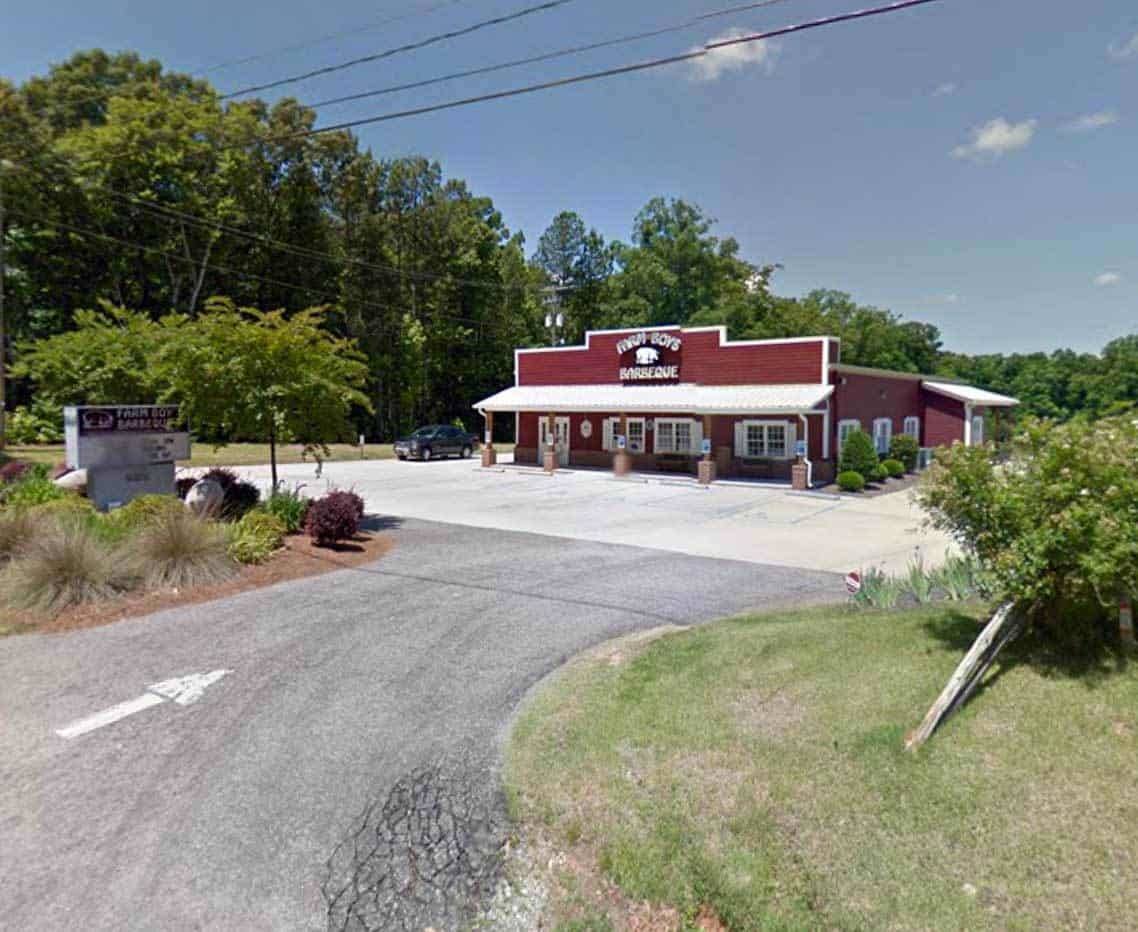 Farm Boy's Barbeque
525 Columbia Avenue
Chapin,
SC
29036
| | |
| --- | --- |
| Monday | Closed |
| Tuesday | Closed |
| Wednesday | Closed |
| Thursday | |
| Friday | |
| Saturday | |
| Sunday | Closed |
Review Sites
Features
Buffet, Cards and Cash, Hash, Mustard Sauce, Vinegar Pepper Sauce