This post may contain affiliate links to Amazon or other vendors I trust. Please read my disclosure policy. As an Amazon affiliate, I earn from qualifying purchases.
If you're looking for a classic, old-school, hole-in-the-wall South Carolina barbecue buffet, then Wise's BBQ House on Highway 76 between Newberry and Clinton is the place you're looking for.
Founded in the 1960s by G. Herman Wise, a former game warden and farmer, Wise's Bar-B-Que House has been quietly serving the Newberry area for decades.
The low-slung, white, cinderblock building with its unpaved parking area is easy to miss as you whiz down the highway. The humble sign by the road announces its presence, though not brashly.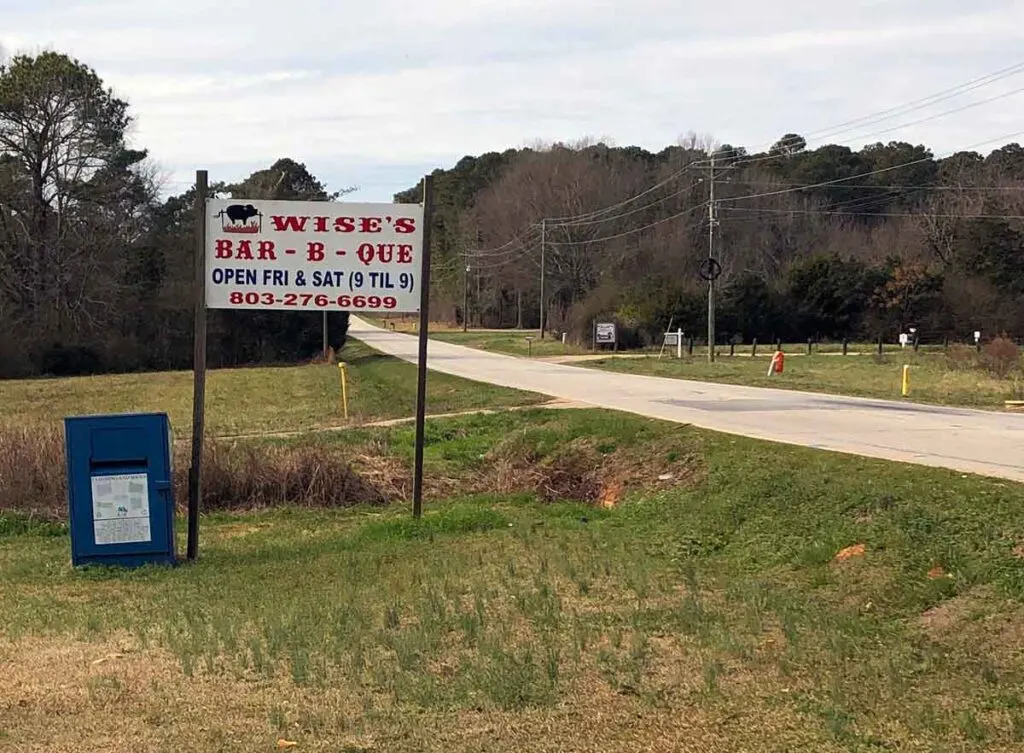 "This is minimalist perfection," wrote Travis Jenkins on his blog Pigskin & Pigskins. "A low-slung cinderblock building. A small buffet line.
"If memory serves, you can get pork, hash and rice, ribs, beans, slaw, and pork skins. You can also get ladle after ladle of their mustard sauce.
"It's served warm, right there on the buffet line, and is the best example of Carolina Gold I've ever had in a restaurant, mass-produced setting."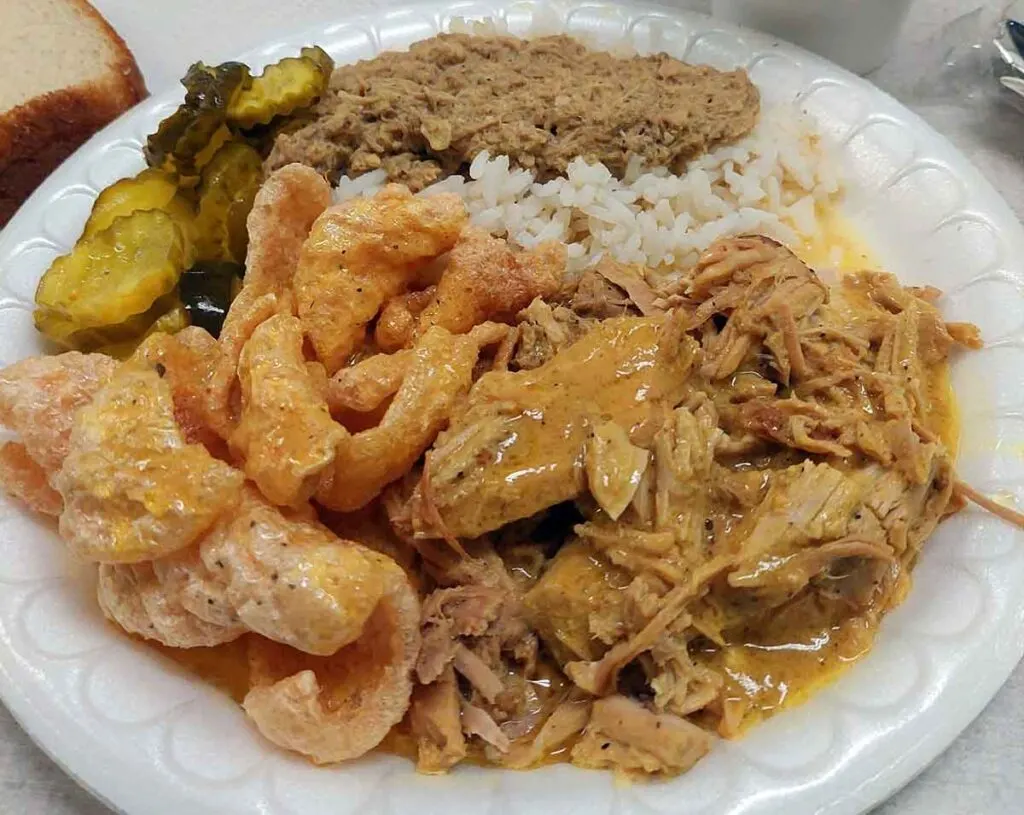 Wise's is about simplicity. They do what they do and that's it. No frills, the way classic barbecue was always prepared.
Plus, Wise's still serves a buffet. Because of rising prices, buffets are a dying tradition in BBQ joints around South Carolina.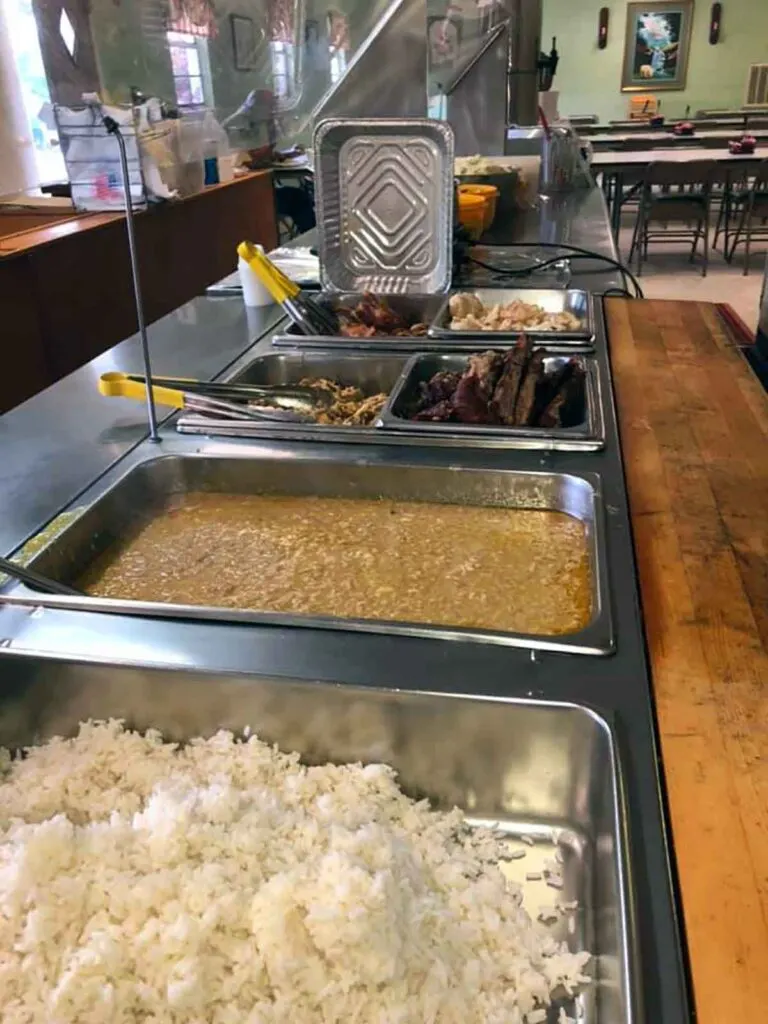 What's prominent on that buffet is another classic, South Carolina barbecue hash.
As Robert Moss wrote in his book Barbecue Lovers: The Carolinas, "The real draw for me is the soupy hash, which has shreds of pork swimming in a thin, mustard-laced sauce. Ladle it over a pile of white rice, and you've got a delicious example of a Midlands South Carolina barbecue delicacy."
What Folks are Saying
Google Review
Among the many Google Reviews, Local Guide E'Beth H talks about ambiance, people, and even a regret:
If you're looking for an old-school BBQ house, this is the place! Nothing fancy, just good food and some of the nicest people you'll ever meet.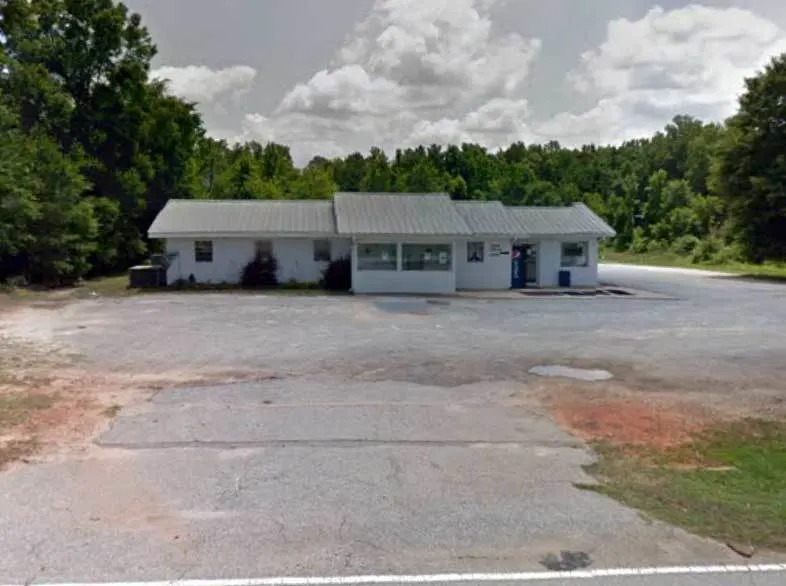 Their mustard sauce is the perfect condiment to go with their never-dry pulled pork, chicken, and their fall-off-the-bone tender ribs! But, you'd better get there early because they sell out fast.
My only regret is that I don't live closer.
Yelp Review
Over on Yelp, Drew W explained what makes SC BBQ unique and Wise's BBQ special:
What most people don't know about South Carolina BBQ is that we are a mustard-based BBQ, so that is what we consider a BBQ sauce. If you are driving by and are not from SC, we don't have a thick tomato-based BBQ. It is not how we cook our BBQ, and out of all the BBQ places I have been to, Wise's is the best!
If you like mustard SC BBQ, you will not find any finer.
Yes, this is buffet-style, and yes, you will sit at a picnic table with others. And you will have the choice of getting plain white sliced bread.
Because their BBQ is so good, you don't need a waiter or orange herb bread because the BBQ speaks for itself.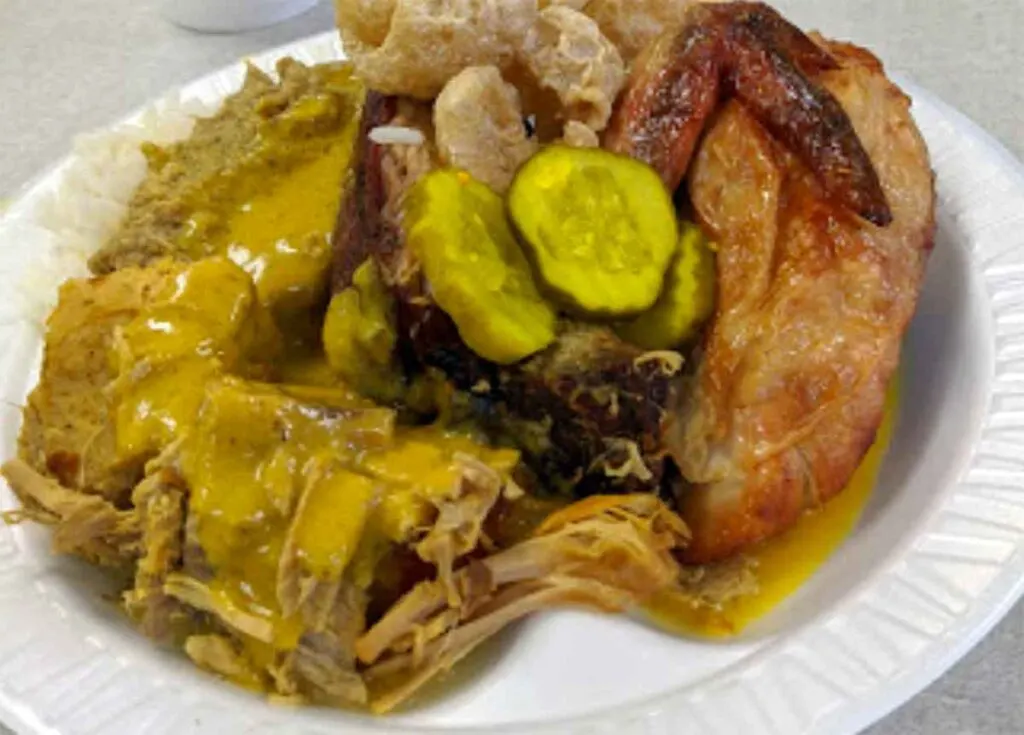 The hash and the pulled pork are the best that you will find in SC where we hold mustard BBQ as king, so if you are ever going through Newberry, SC, and want to try our style of BBQ, this is the place to stop.
SC BBQ Association
Sure, folks on review sites often have great things to say about a place, but what about the folks who really know SC BBQ better than anyone? What about the folks who actually train the judges for SC BBQ competitions?
What do they think of this place? Here's an excerpt from their review:
When WISTV, the largest TV station in South Carolina, ran a poll asking viewers to email the name of their favorite barbeque house a couple of years back, Wise B-B-Q House came in at the top of the list.
It was so strong that the people at WISTV did a program from there, and it was chosen as one of only eight barbeque restaurants in South Carolina that they so honored.
When you go into Wise you find the same down-home friendly attitude that you expect in a good Southern restaurant, along with a nice buffet. And you can expect a good-sized crowd of locals to be there, too.
Also, Wise is the traditional cinder block painted white that old-time barbeque enthusiasts like to see. What you might not expect is the way they fix their pork. But can so many locals over two generations be wrong?
It's certainly worth a try to see.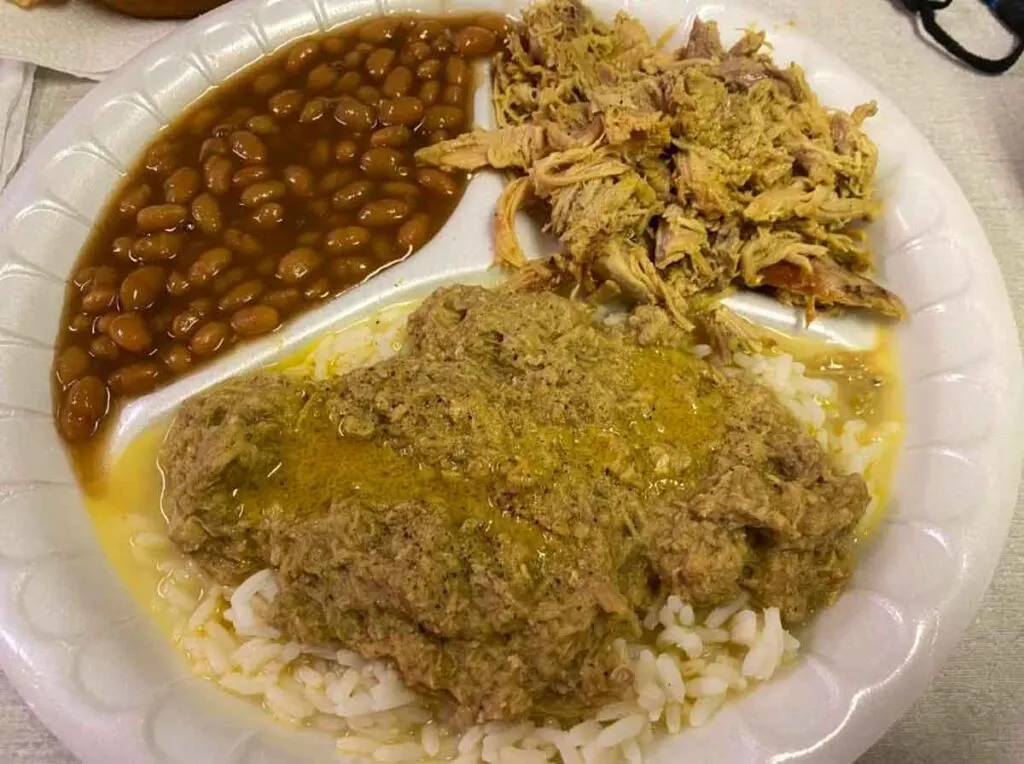 ---
Menu for Wise's BBQ
Note: Menu prices and options are subject to change over time. Contact the restaurant for the most up-to-date information.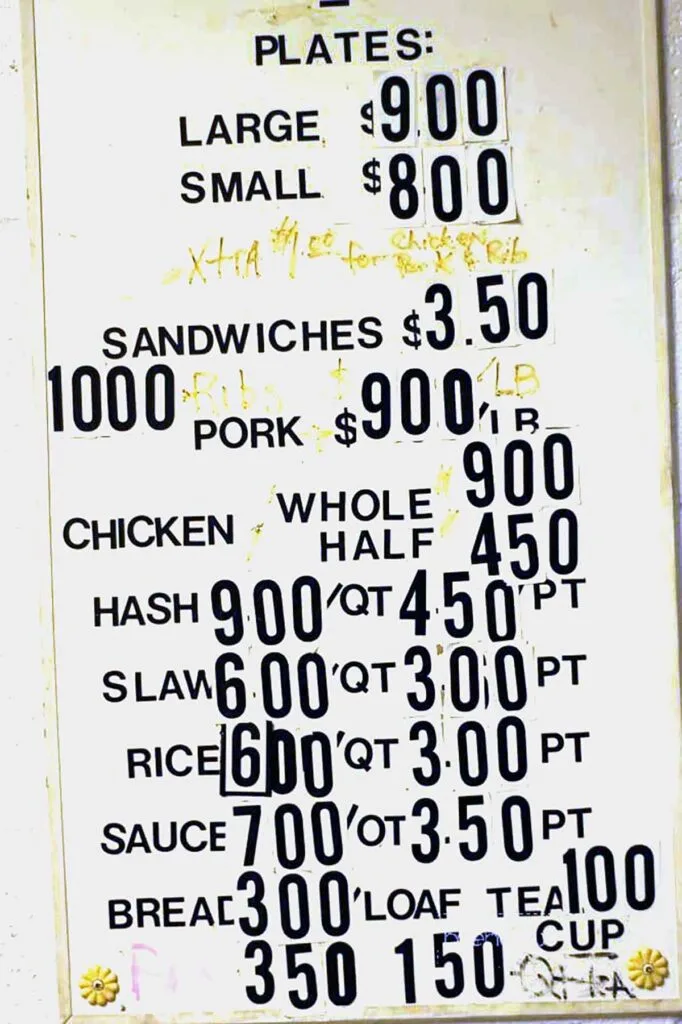 Location, Hours, Contact Info, and More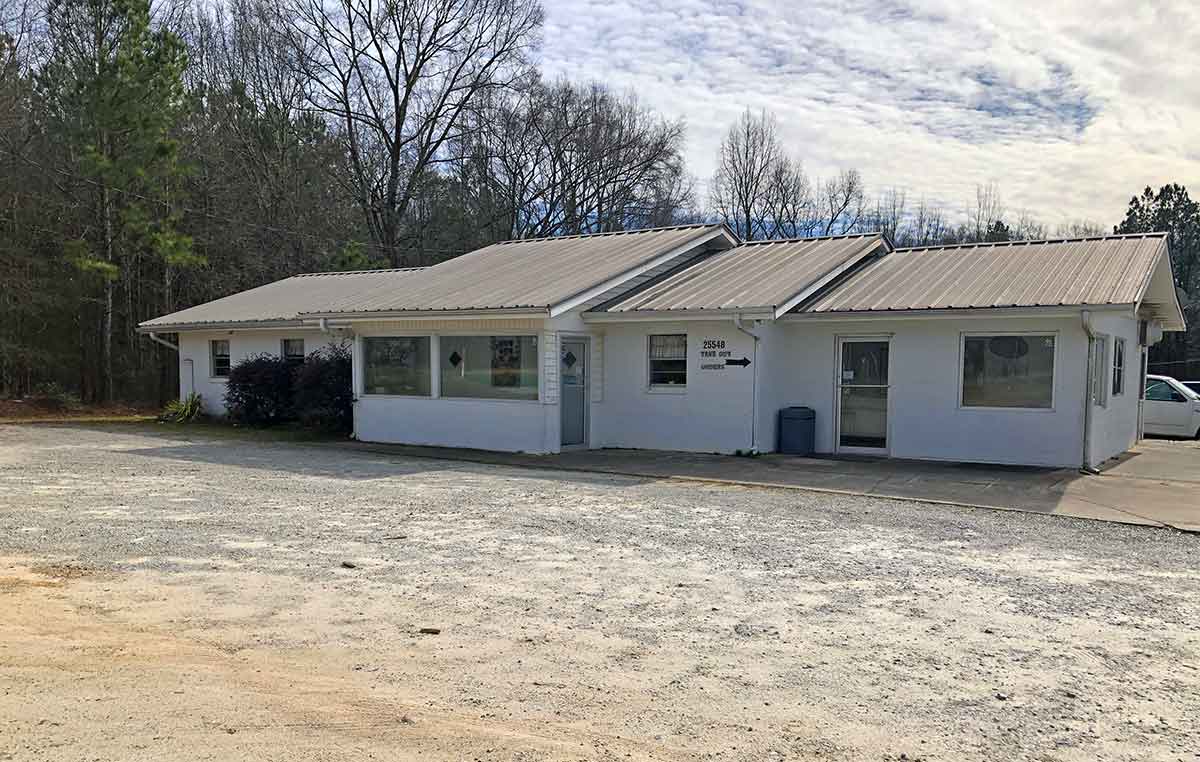 Map
Directions
Contact Wise's Bar-B-Q House
25548 US 76
Newberry,
SC
29108
Hours of Operation
| | |
| --- | --- |
| Monday | Closed |
| Tuesday | Closed |
| Wednesday | Closed |
| Thursday | Closed |
| Friday | |
| Saturday | |
| Sunday | Closed |
Review Sites
Features
Buffet, Cards and Cash, Hash, Mustard Sauce