This post may contain affiliate links to Amazon or other vendors I trust. Please read my disclosure policy. As an Amazon affiliate, I earn from qualifying purchases.
Country Side BBQ in Swansea is one of those authentic, old-school South Carolina barbecue joints that has stood the test of time.
Established long before the internet, Country Side BBQ has been a staple in the Columbia area for generations. The reason for that is a consistent dedication to quality.
Even under new ownership and management, that commitment to creating quality food carries on.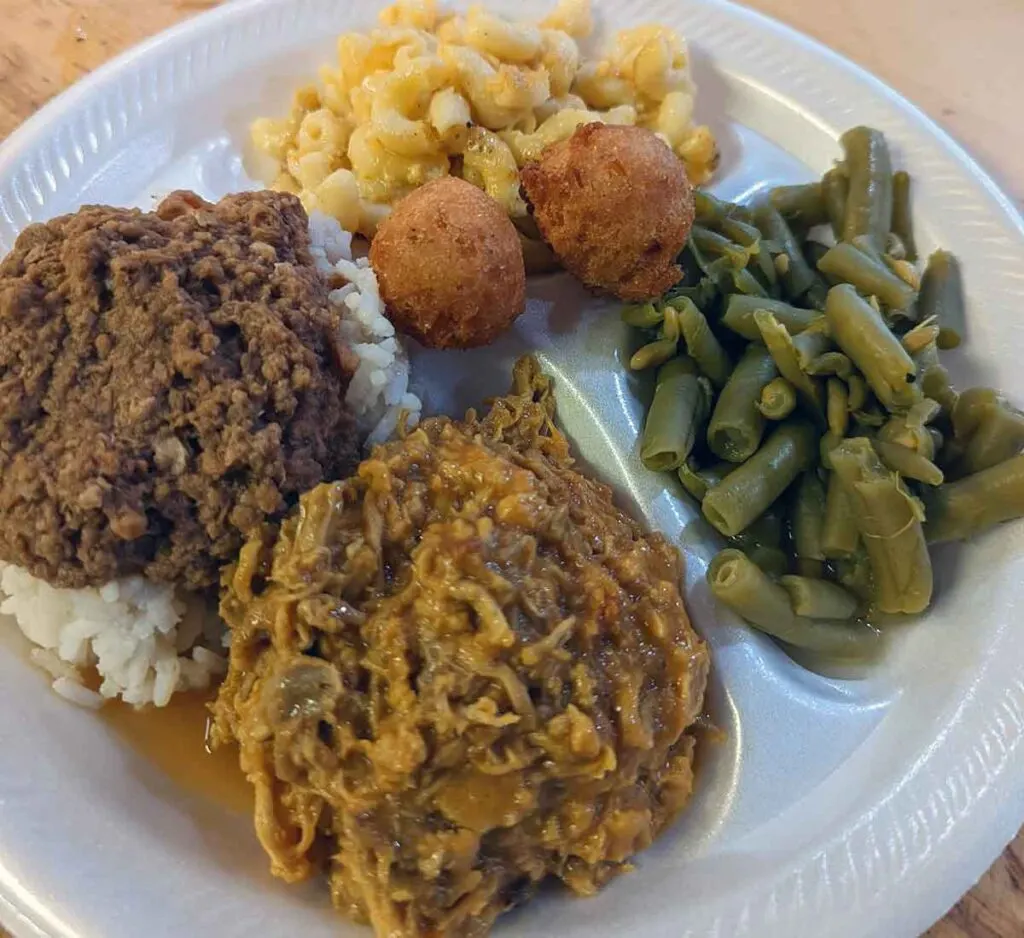 Slow pit-cooked BBQ, ribs, and South Carolina barbecue hash are the menu items that draw in young and old alike. Country Side offers a large selection of fresh, seasonal veggies. There's something on the menu for everyone.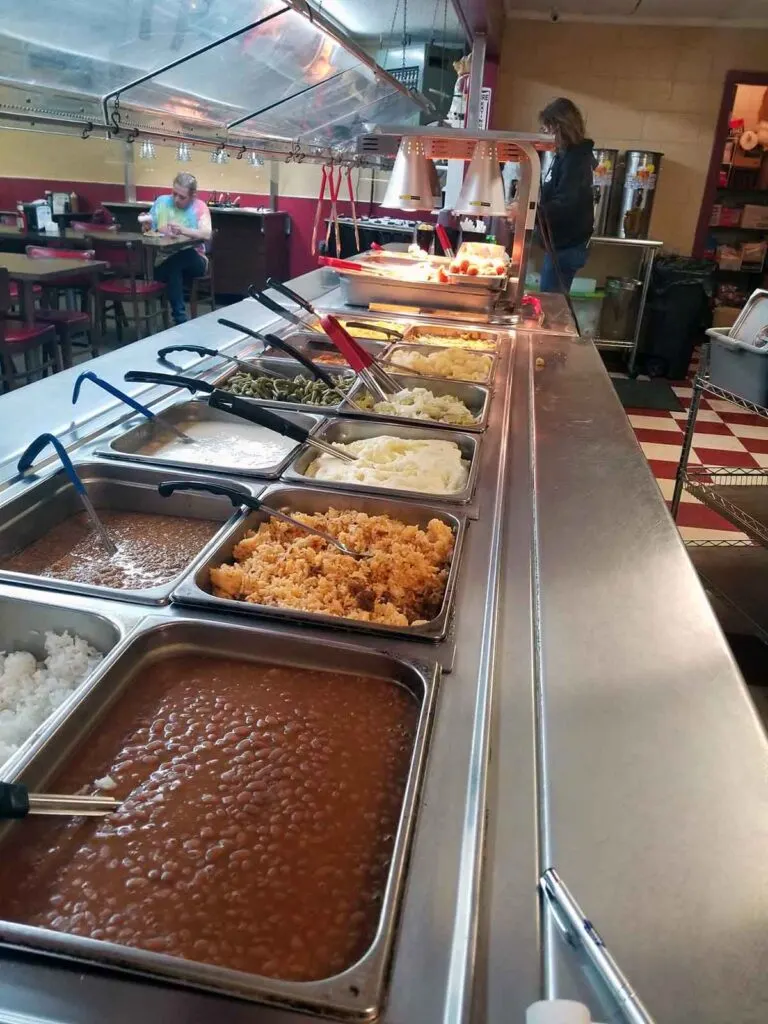 Under the new ownership, Country Side BBQ focuses on plated items like 1 meat 1 side and 2 meats 3 sides, with the option for customers to create their plate based on what's on the bar.
They do offer an all-you-can-eat option, but the buffet is no longer self-serve due to wanting to keep everyone as safe and limit the contact of utensils. The salad bar is no longer an option, however, and the dessert options are building up.
What Folks are Saying
Google Review
Among the many Google Reviews, Local Guide Kim Hudson saw the light on her visit to Country Side BBQ:
Don't let the outside of this no-frills joint fool you. Inside, the all-you-can-eat buffet of southern cuisine is absolutely delicious!
You pay when you enter, the line for the buffet forming on the right. The buffet includes hash & rice, mashed potatoes, assorted vegetables & casseroles seasoned to perfection, tender ribs, crispy fried chicken, pulled pork, etc.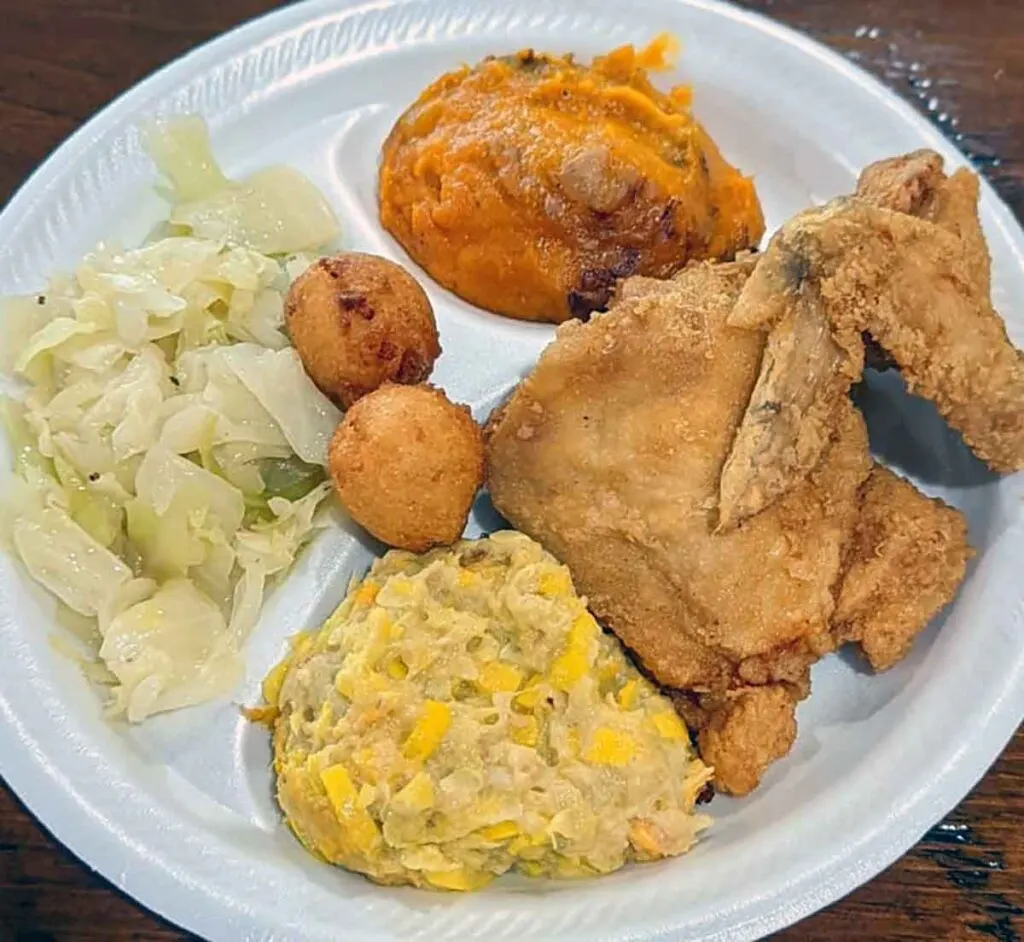 They have a salad bar that is top notch too. Try the ambrosia!
Staff is friendly and efficient, every bit of the place was spotless. I didn't ask but I believe they may even have some type of takeout, pickup system as a heard a bell ring occasionally while there.
This place was pure sunshine on a cloudy day. Glad to have found it!
Yelp Review
Over on Yelp, Dee M visited Country Side and knew the search was over:
One of the most successful Google searches ever!
Absolutely delicious and the people – employees and customers alike – could not have been more welcoming to the strangers in town.
The buffet had an incredible selection of scratch-made meats, sides, and desserts. I wanted to try it all and almost did. And they even fry up a fresh batch of fresh-cut okra if you want a basket for the table.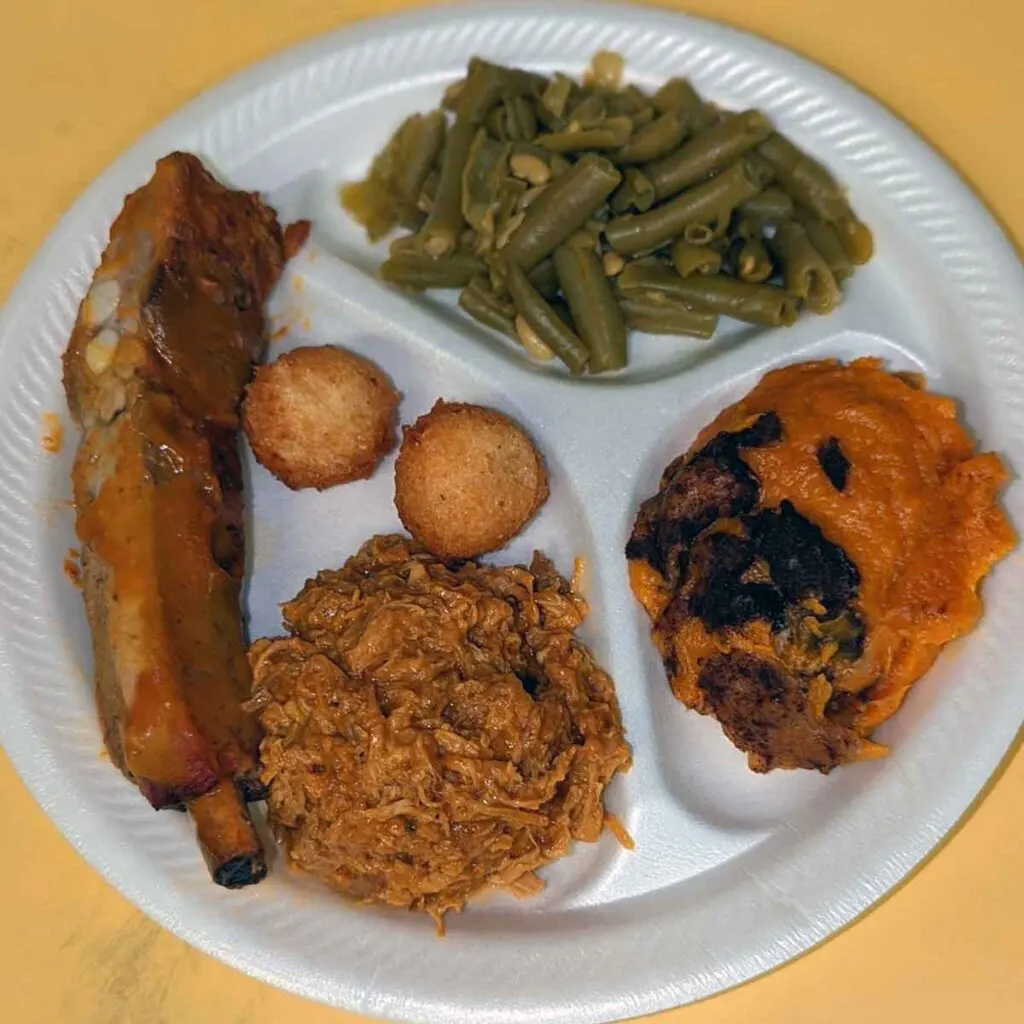 It was just delightful, and I had not had such a true South Carolina BBQ Sunday lunch that made me feel like I was home since I left SC 6 years ago.
It is worth the drive to Swansea. Take your friends and family and enjoy!
SC BBQ Association
Sure, folks on review sites often have great things to say about a place, but what about the folks who really know SC BBQ better than anyone? What about the folks who actually train the judges for SC BBQ competitions?
What do they think of this place?
The SC BBQ Association has named this place one of the Top 100 BBQ houses in the state. Here's an excerpt from their review:
Country Side may not be very well known outside of the local area but it should be. The locals have kept it busy for over three decades.
Even though Country Side is in the lower part of Lexington County the sauce style is more akin to an Orangeburg Sweet sauce.
That is, it's mustard, but it's sweeter than the standard mustard sauce that is found at Maurice's or Hite's or many of the others who serve in the German tradition. Since Swansea is on the road to Orangeburg (if one is going there from Columbia), it's a bit of a transitional style barbeque sauce in a transitional barbeque area.
When vegetables are in season the country buffet is always fresh cooked. That, plus real homemade bread pudding and great hushpuppies, make for a great outing.
Top flight barbeque, home-cooked fresh vegetables, and sides made with extra loving care. Country Side is worth the little trouble it takes to find it.
---
Menu for Country Side BBQ
Note: Menu prices and options are subject to change over time. Contact the restaurant for the most up-to-date information.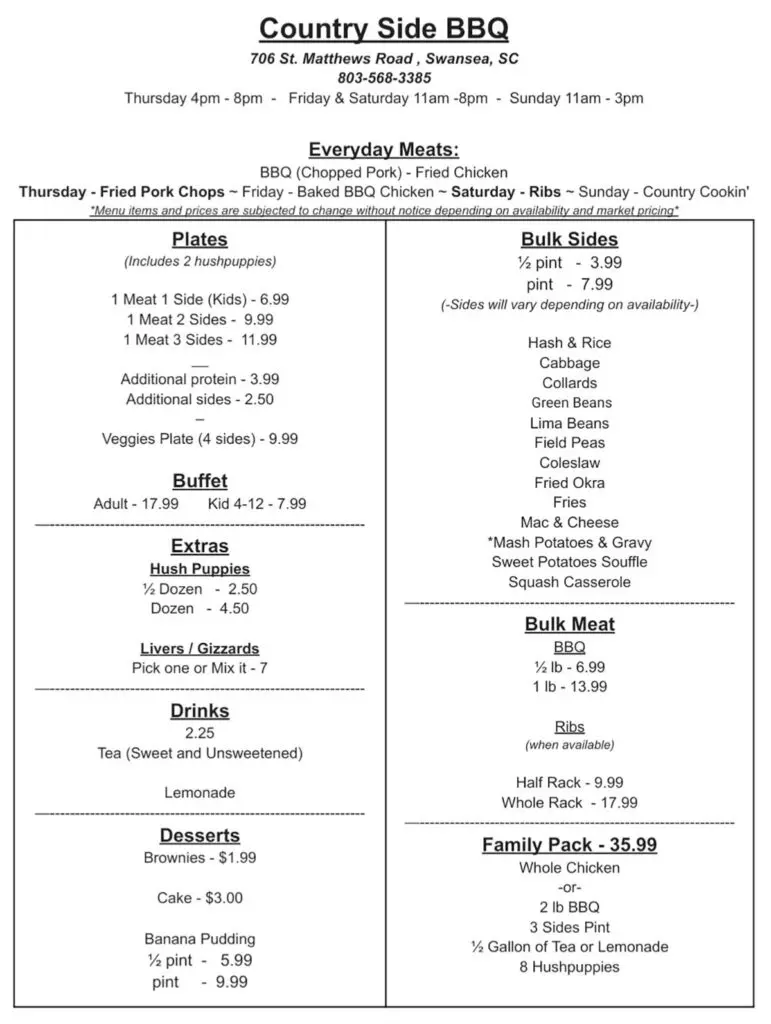 Location, Hours, Contact Info, and More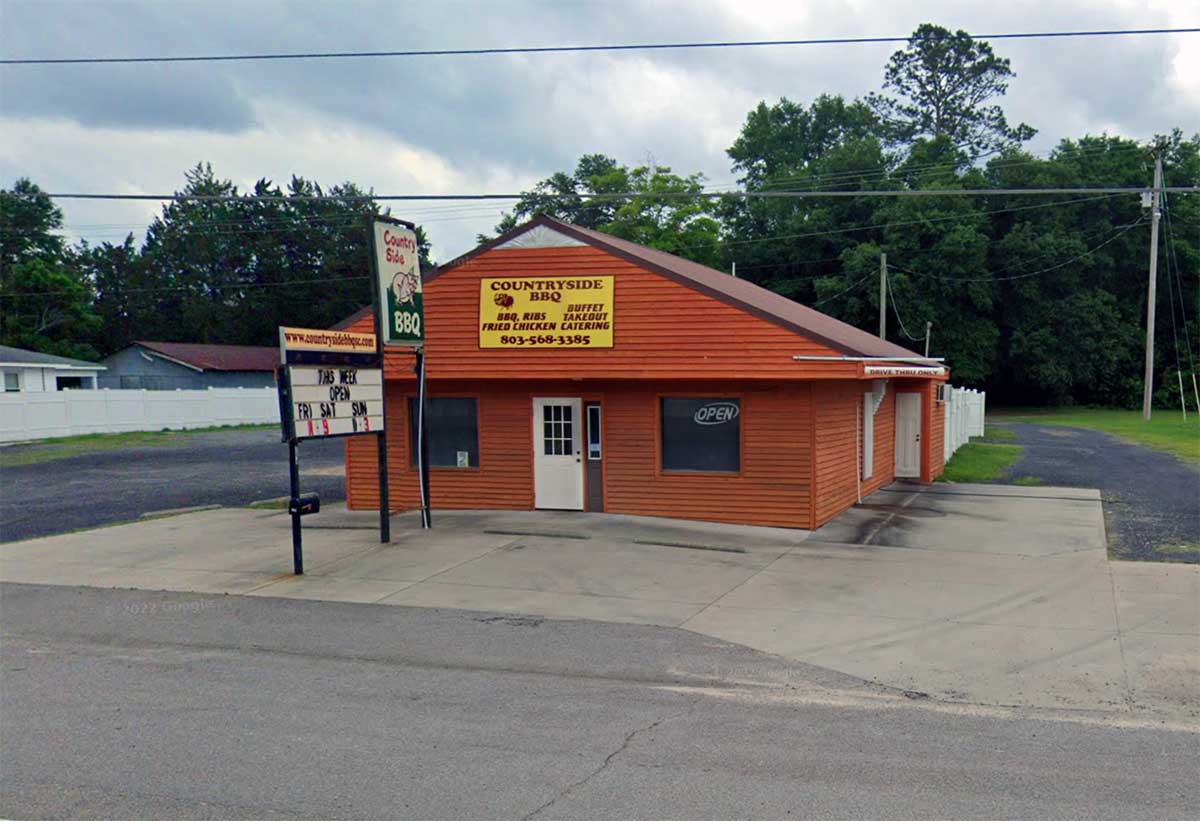 Map
Directions
Contact Country Side BBQ
706 St. Matthews Road
Swansea,
SC
29160
Hours of Operation
| | |
| --- | --- |
| Monday | Closed |
| Tuesday | Closed |
| Wednesday | Closed |
| Thursday | |
| Friday | |
| Saturday | |
| Sunday | |
Social Media
Review Sites
Features
Buffet, Cards and Cash, Hash, Mustard Sauce, True 'Cue Certified