Over 50 Years of Good Barbecue at Freeman's BBQ
This post may contain links from which I earn a commission. Please read my disclosure policy. As an Amazon affiliate, I earn from qualifying purchases.
Step right into the best barbecue restaurant in the CSRA. Freeman's Bar-B-Que was established over 50 years ago and has served several generations of customers.
"[My father] has seen a lot of customers grow up and customers have seen him grow up," said Christa Freeman, who handles PR for Freeman's BBQ.
Her grandfather, James Freeman II, first opened the restaurant not too far from where it sits now. The current owner of Freeman's Bar-B-Que, James Freeman III, simply grew up around barbeque and knows it like no other.
"We make our own charcoal here, and that is a secret my father perfected," Freeman II told David Gelin in his book BBQ Joints: Stories and Secret Recipes from the Barbeque Belt.
"It allows us to cook the hogs slow, slow, slow. It takes about twenty-four hours to cook a whole hog. We turn it once during that time.
"I can tell exactly when to turn it from the smell that the grease gives off when it hits the coals."
In fact, everything served at Freeman's Bar-B-Que starts with those original family recipes. Freeman's menu builds around that pit-cooked whole-hog pork.
Just as importantly, they always make all their menu items fresh every day.
One of the best sellers at this old-school SC BBQ joint is relatively new to the menu: a pulled chicken sandwich. That sandwich is melt-in-your-mouth delicious.
But don't forget about Freeman's perfectly smoked ribs.
And then there is the hash. Ah, the hash, yet another SC BBQ original. Freeman's hash is made with both beef and pork, which is not uncommon in that area, but as Franklin M said on TripAdvisor, "The only edible hash in the CSRA.
"Once you've eaten Freeman's hash, you wonder why everyone else doesn't know how to make hash."
Come Here for the History
"People should come here because of the long-standing history. Bad food doesn't survive for 50 years," Christa noted.
Being consistent over so many years of business is an accomplishment. Freeman's customers claim that the food always tastes the same.
In fact, they have 70-year-old folks who remain faithful to the restaurant and have been visiting since they were teenagers.
If you're in the area, you already know about Freeman's Bar-B-Que. If you're visiting for the Master's or just happen to be in the area, come for a taste of history.
What Folks are Saying
Google Review
Among the many Google Reviews, Local Guide Ben White knows BBQ and ranks Freeman's Bar-B-Que at the top:
Mr. James Freeman knows what he is doing here.
Don't be fooled by the lackluster appearance, what's inside this small building is solid gold, in the form of BBQ. I have trouble putting into words how this stuff tastes.
There is so much flavor erupting from the chopped pork. I have no idea how he manages to put it all in there.
The potato salad has more going on than Kim Kardashian's Twitter feed.
I am definitely a BBQ aficionado, and Freeman's is #1 on my list.
Yelp Review
Over on Yelp, Deryck H and his wife stumbled upon Freeman's during a cross-country trip and are looking forward to a chance to get back:
The food was wonderful. We happened upon this gem with the help of Yelp, cow trucking across the country.
My husband and I both had pulled pork sandwiches, they were delicious with generous portions of pork.
The sides were homemade. It was clean and smelled of homemade goodness. (And I'm very particular about clean)
Southern-style mop-n-slop BBQ sauce was delightfully paired with a fresh brewed sweet tea. Gotta love the South!
Friendly, fast service with truck parking, I hope we make it back soon.
---
Menu for Freeman's Bar-B-Que
Note: Menu prices and options are subject to change over time.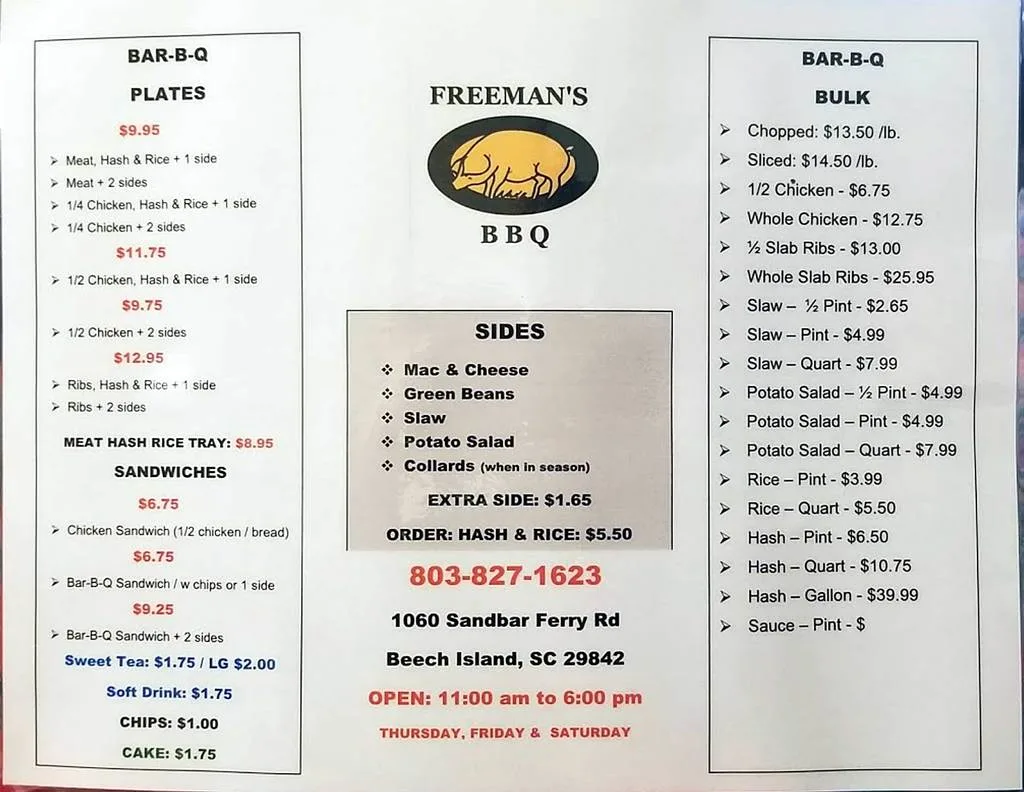 Location, Hours, Contact Info, and More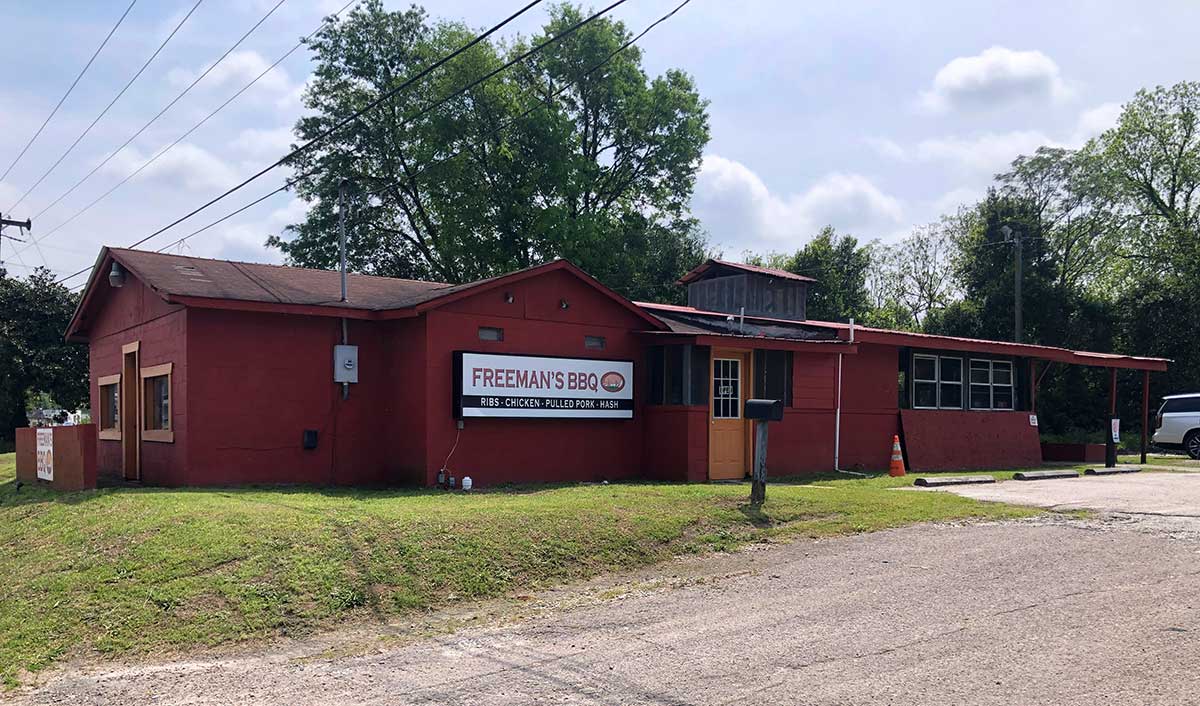 Map
Directions
Contact Freeman's Bar-B-Que
1060 Sand Bar Ferry Rd.
Beech Island,
SC
29842
Hours of Operation
| | |
| --- | --- |
| Monday | Closed |
| Tuesday | Closed |
| Wednesday | Closed |
| Thursday | |
| Friday | |
| Saturday | |
| Sunday | Closed |
Social Media
Review Sites
Features
Cash Only, Hash, Vinegar Pepper Sauce, Whole Hog