Tom's BBQ & Catering ***Permanently Closed***
This post may contain links from which I earn a commission. Please read my disclosure policy. As an Amazon affiliate, I earn from qualifying purchases.
For some good ole barbecue and home-style cooking, Tom's BBQ & Catering is the place to be.
We use a smoker to cook our meat in order to capture as much flavor as possible. We take pride in the quality of our food. Along with our stellar barbecue, our Mac and Cheese, and 9 different hot sauces will keep you coming back.
Our Cheerwine sauce is definitely a must-try and popular amongst the locals.
Not only are we available for dine-in but we are available to cater any event regardless of the size.
Sauces: Mild, Sweet Mild, Hot, Mustard, Hot Mustard, Jake's Sauce, North Carolina Sauce (vinegar-based), New NC Sauce (vinegar-based) & World Championship Cheerwine Sauce.
If you're traveling down Interstate 85, you'll find Tom's BBQ & Catering in Greer, right at the intersection of I-85 and 385. Take Exit 51 from I-85 or Exit 35 from 385 onto Woodruff Rd. and we are about a mile away.
Get to Know Tom's BBQ
What Folks are Saying about Tom's BBQ & Catering in Greenville:
Google's Local Guide Lindsey Krause has eaten at Tom's BBQ & Catering practically all her life:
I've been going here off and on since I was like 10 years old.
Their pulled pork potato is AWESOME and is enough food that you don't need to order a side. It comes with pulled pork, cheese, butter, chives, and sour cream (on the side.)
They always give you two hush puppies, which are really good and not too onion-y like a lot of other places that serve hushpuppies.
I always get extra of the sweet and mild sauce to put on the potato. The banana pudding, when they have it, is KILLER. So good.
They also have Cheerwine, which is totally a win for me.
Another Google Reviewer who goes by the handle Jetsin87 is a BBQ aficionado and has eaten BBQ all around the country and hasn't found better than Tom's BBQ:
Having traveled all over this country from St. Louis to San Antonio and working my way all the way back to Charleston and the Upstate of South Carolina, I have had the opportunity to try a number of BBQ joints.
I must say that I am a stickler for bbq that is just as good with or without sauce.
Tom's bbq may be one of the most flavorful pork bbq creators that I have been to in the country. Not to mention the amazing sauces they create in house and place ON THE SIDE for your choice.
In short, I would recommend this business for anyone that wants a GREAT sandwich and a delicious rack of ribs (the coleslaw is amazing as well). Cheers!
Yelp Review
Over on Yelp, Greenville local Will G was…well, wowed by Tom's BBQ & Catering:
Wow! Just wow!
The best BBQ and best sides in Greenville, SC is at Tom's BBQ.
I have eaten at all the other places numerous times and I am fairly hip on good BBQ. You won't get better BBQ in Greenville whether it's the pulled pork, chopped chicken or the ribs. That's not a lie.
Also very important to me are the sides. I think both selection and quality of sides are very important.
Some places want to get by with just slaw, baked beans, chips, and fries. I don't care for the limited choices.
I like when places have Mac n cheese, green beans, potato salad, and many more. You will get all of that at Tom's.
And not only is the selection great, but the quality is even better. You can tell these sides are homemade. They are soooo good.
And now back to the meats and sauces.
They have the best meat around that needs no sauce, but if sauce is your thing, they offer 8 different sauces and they are award-winning.
Literally, some of their sauces have won national awards. So please do yourself a favor and go to Tom's BBQ! You will thank me.
Oh, I forgot to mention the service was unbelievable.
The owner of the restaurant came by my table and every table around us to check and ensure everything was great. I think she and her husband own the place and from what it seemed like they genuinely cared about their customers.
In addition, I've heard their catering is top-notch as well!
My next corporate event will be catered by Tom's. I may eat the homemade banana pudding with a serving spoon!
---
Location, Hours, Contact Info, and More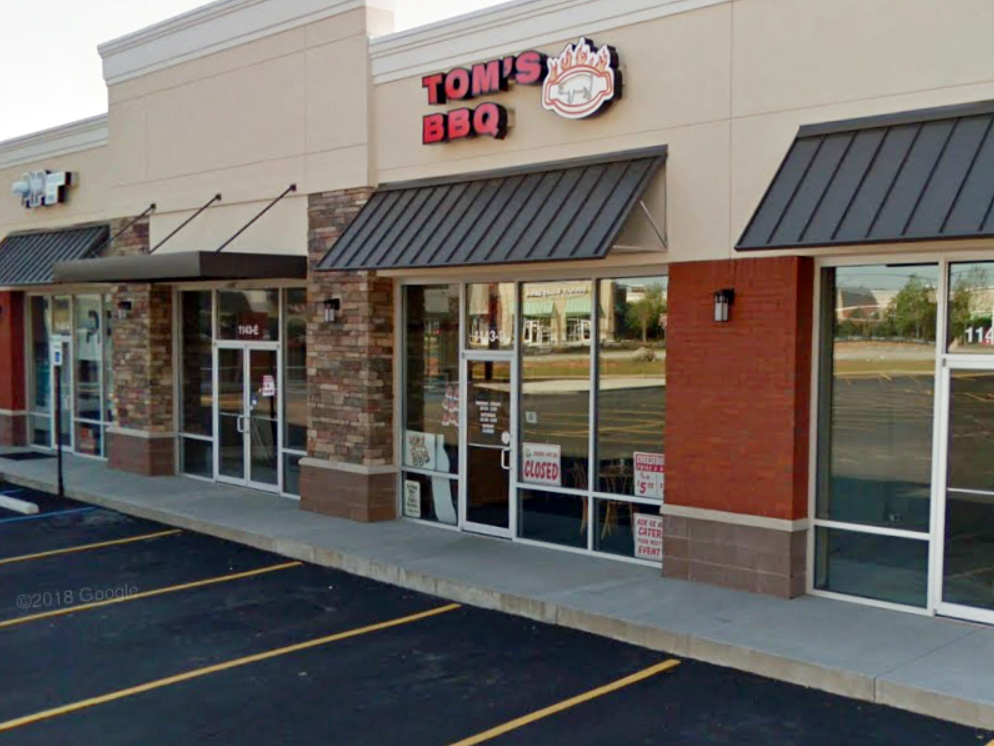 Map
Directions
Contact Tom's BBQ & Catering ***Permanently Closed***
1143 Woodruff Road
Greenville,
SC
29607
Hours of Operation
| | |
| --- | --- |
| Monday | |
| Tuesday | |
| Wednesday | |
| Thursday | |
| Friday | |
| Saturday | |
| Sunday | Closed |
Review Sites
Features
Cards and Cash, Heavy Tomato Sauce, Light Tomato Sauce, Mustard Sauce, Vinegar Pepper Sauce