March 22, 2024
–
March 23, 2024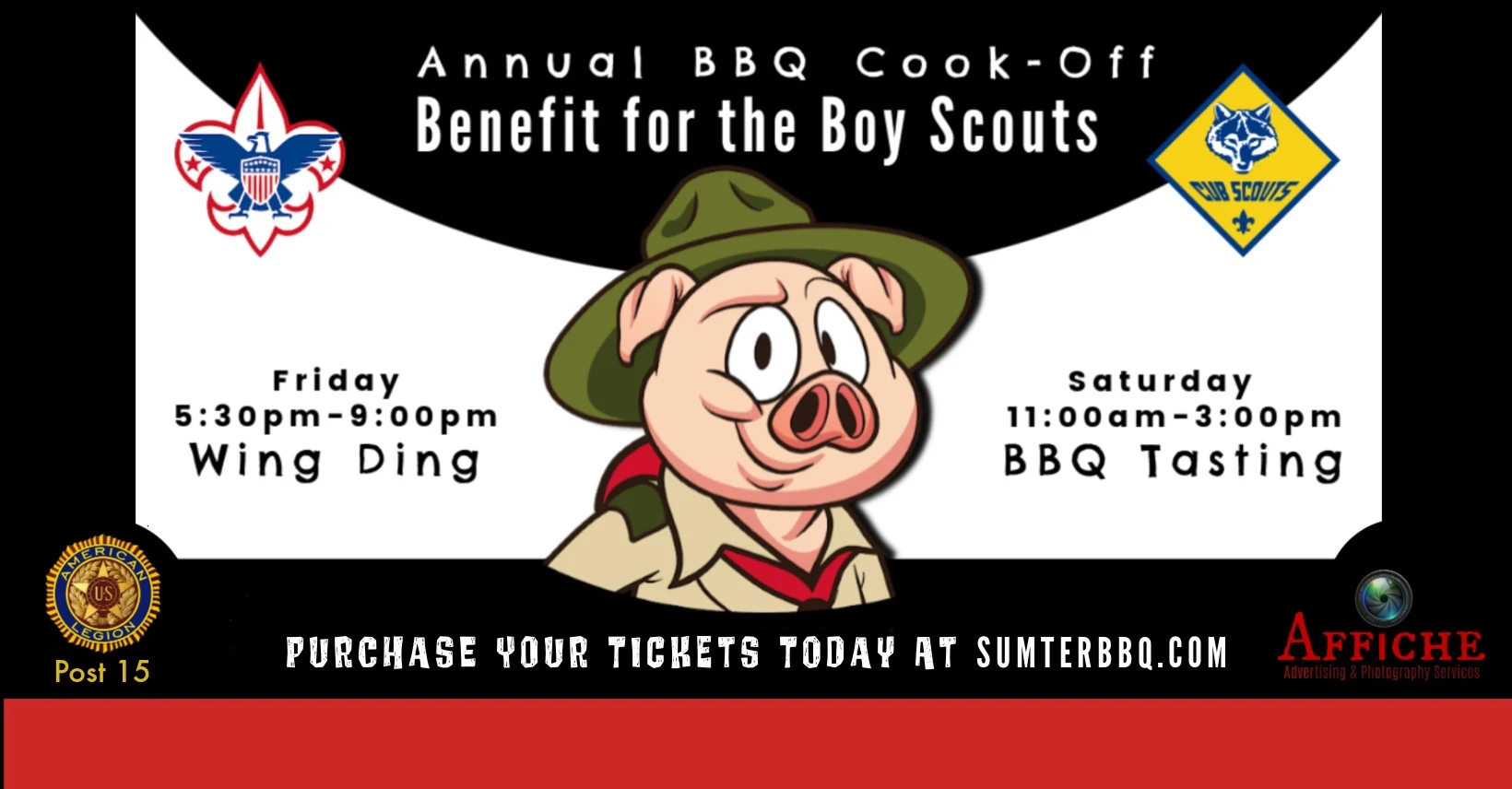 This post may contain links from which I earn a commission. Please read my disclosure policy. As an Amazon affiliate, I earn from qualifying purchases.
Are you a fan of barbecue and chicken wings? Then you don't want to miss the Benefit BBQ for Boy Scouts at the Sumter American Legion Fairgrounds hosted by the Pee Dee Area Council's Henry Shelor District.
The Henry Shelor District consists of Sumter, Lee, and Clarendon counties. The Council will hold the event at the Fairgrounds Agricultural Building located at 700 West Liberty Street.
The Event
During the two-day event, patrons who buy 10 tickets for $10 can redeem them for chicken wings (drums and flats), hot dogs, drinks, and more at "Wing Ding" on Friday night or at the BBQ competition on Saturday.
Additional tickets are $1 each. Cook teams will have the wings ready to serve when the gates open to the public at 5:30 p.m. Friday. The Friday Night Wing Ding will end at 9:00 p.m.
On Saturday, the gates open to the public at 11:00 a.m.
Patrons who purchase a wristband will be allowed to roam from station to station to sample BBQ. You will receive a 2-ounce serving of barbecue at each visit.
Each time, you will present your wristband to the Boy Scout assigned to the station you approach. If you wish, you may visit a station multiple times, but you must have your wristband on to receive BBQ.
Indeed, you may roam from station to station on Saturday until closing or when the BBQ runs out. However, patrons will not be permitted to enter the fairgrounds after 1:30 PM.
For patrons looking to save money, the Benefit BBQ for Boy Scouts organizers will sell a pass that admits the purchaser all weekend.
In short, all the money raised will go toward funding programs for Cub and Boy Scouts in the Pee Dee Area Council, which covers 11 counties in Eastern S.C. One of these programs is Camp Coker, a summer camp in the state.
"It's $15 for a weekend pass," Button said. "You can save $5 for the whole weekend."
The Competition
As for the competition, the contestants will present their boxed samples to the SCBA Judges in accordance with association rules.
The cookers will prepare the butts received from Henry Shelor District and must have their barbecue ready for public consumption no later than 11:00 a.m. Saturday. Patron samples come in two-ounce cups.
At 1 p.m., vendors will begin selling barbecue by the pound. The barbecue costs only $5 for a half-pound or $10 for a pound.
"It's $10 for all the barbecue you can sample," Glenn Button said. Button serves as the Henry Shelor District chairman and event chairman
In addition, the Benefit BBQ for Boy Scouts will sponsor an optional ribs competition. Contestants who wish to enter the optional ribs competition assume responsibility for providing their own ribs.
Each of the participating cook teams oversees the management of the rib competition. After judging, participants in the rib event decide what to do with the ribs as they choose.
In fact, contestants in the rib competition may choose to sell their ribs on-premises to patrons that wish to purchase them.
However, each individual competitor determines their own prices and presentation of ribs for sale. Patrons are welcome to purchase ribs.
As part of the competition, up to 20 of the best competition BBQ teams from around the state and beyond will participate. In addition, the event remains a South Carolina Barbeque Association-sanctioned event.
As a result, the SCBA provides judges for the competitions and will determine the winner of the Benefit BBQ for Boy Scouts. Prizes will be distributed at 2:30 PM Saturday
Prizes for the annual Benefit BBQ for Boy Scouts:
$1,000.00 – First Place
$750.00 – Second Place
$500.00 – Third Place
$250.00 – Friday Night Wing Ding Winner
Benefit BBQ for Boy Scouts Sponsors and Extras
The event also boasts many sponsors. Despite what many think, it is virtually impossible to hold such an event without them. Sponsors are essential to the event.
"I would like to thank all the sponsors," Button said. "It wouldn't be possible without them."
In addition, vendors will be on hand, selling water, sodas, peanuts, kettle corn, and funnel cakes. There will also be a Kona Ice truck selling snow cones.
"We'll also have a children's activities area, which we haven't done before," Button said. "There will be games, bounce houses, and face painting."
Above all, Button wants patrons to remember what BSA is all about. This is reflected in its mission and goal:
"The mission of the Boy Scouts of America is to prepare young people to make ethical and moral choices over their lifetimes by instilling in them the values of the Scout Oath and Scout Law.
The BSA's goal is to train youth in responsible citizenship, character development, and self-reliance through participation in a wide range of outdoor activities, educational programs, and at older age levels, career-oriented programs in partnership with community organizations."
Tickets are available at sumterbbq.com, at the gate, or through local Cub Scouts and Boy Scouts.
---
If you're interested in keeping up with SC BBQ events throughout the year, check out our SC BBQ Events Calendar.
Event Details