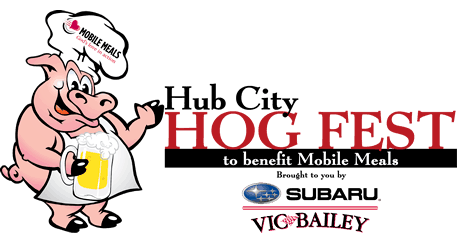 Downtown Spartanburg will transform into a virtual hog heaven when the upcoming Hub City Hog Fest takes over several roads around Morgan Square.
The Hub City Hog Fest hosts this festival and barbecue contest as a way of supporting Mobile Meals of Spartanburg. In fact, the City of Spartanburg blocks off those roads to provide space for the dozens of cook teams that compete in this annual BBQ competition.
The two-day-long event features an amazing collection of competition BBQ teams, music performers, and food vendors. The event runs from noon to 11 p.m. Friday and from noon to 9 p.m. Saturday.
On Friday, entrance into the event from noon to 5 p.m. is FREE. After 5 p.m., wristbands must be purchased for $5 each.
On Saturday, April 1, from noon to 9 p.m., $5 wristbands must be purchased. Children 10 and under are admitted free.
There will be chicken wing samples from the competition teams available from 6 p.m. to 8 p.m. on Friday evening. The samples of the competition teams' barbecue and ribs are ONLY AVAILABLE from noon to 2 p.m. on Saturday.
Vendors will be on site selling BBQ all weekend. Hog Bucks must be used to purchase food from vendors and to sample BBQ from competition teams (while supplies last).
Beginnings
Grey Wicker founded the event with his brother, Cal, in 2013. Wicker noted that they actually modeled Hub City Hog Fest after the Blue Ridge BBQ and Music Festival, which ran for twenty-plus years in nearby Tryon, N.C.
"We were actually cooking at that event when we decided to do one in Spartanburg," Grey said. "I think more barbecue events around the state raise the level of excitement about all of them."
Clearly, The Hub City Hog Fest has shown similar success, having become one of the things folks in Spartanburg look forward to as they put winter behind them.
"Hub City Hog Fest brings a vibrant energy to our downtown every spring," said Johnson Development CEO Geordy Johnson.
"Our team members love attending the festival for the camaraderie, the food, and the opportunity to make a difference for an important local nonprofit while enjoying both. We applaud the Hog Fest team for continuing to provide an exceptional downtown festival experience."
The Competition
However, at the center of all the food and fun, they've established a serious South Carolina Barbeque Association-sanctioned BBQ cook-off.
"I think (the SCBA) considers our event one of their flagship events," Wicker said.
"It's really big, and it showcases a thriving downtown area, which most events in the state do not. A lot of these barbecue competitions they hold out in fields, which is great because there's more room. But there's nothing quite like the experience we offer here in Spartanburg."
The competition part of The Hub City Hog Fest is organized and judged in accordance with the SCBA's rules and regulations.
The SCBA also supplies highly-trained judges who assess each of the entries in a blind competition.
"We're very excited to get cracking again," said Grey Wicker. "Each year it seems we fill up with teams faster than we ever have. We have had three or four (teams) that have been here all along, which shows loyalty."
Competition categories include a chicken wing competition on Friday night, and a barbecue cook-off on Saturday featuring butts, ribs, and brisket. Prizes are awarded to those placing the highest.
Hub City Hog Fest Competitions & Prizes
FRIDAY NIGHT WING COMPETITION
1st Place Winner: $500
2nd Place Winner: $300
3rd Place Winner: $200
BOSTON BUTTS AND RIBS COMPETITION
1st Place Overall: $2,000
2nd Place Overall: $1,500
3rd Place Overall: $1,000
Overall champions accumulate the best combined scores from both categories.
INDIVIDUAL CATEGORIES
1st Place: $500
2nd Place: $300
3rd Place: $200
In addition, there will be a side brisket competition.
While supplies last, Hub City Hog Fest patrons will be able to sample chicken wings cooked by competition teams from 6-8 p.m. on Friday and barbecue and ribs from noon-2 p.m. on Saturday.
More than Barbecue
Of course, festivalgoers don't have to enjoy barbecue to have a good time.
The event also includes more than a half dozen regional food trucks, which will be on-site throughout the weekend.
In addition, festival organizers have plenty of activities scheduled. Activities include an artisan's alley featuring wares from local vendors on Saturday and a full slate of music performers both days.
Admission to the Hub City Hog Fest costs $5 per day with free admission offered before 5 p.m. Friday and for children 10 and under at all times.
"When you come into the festival, you purchase a wristband. That allows you to buy 'Hog Bucks,'" Wicker said.
"Hog Bucks can be used at food trucks to buy plates of food as a meal. The prices vary from truck to truck. You can also trade one Hog Buck for a sample of a cook team's barbecue."
Moreover, the Hub City Hog Fest is a family affair. It seems that kids enjoy it as much as adults.
"I think kids just have a blast at this event because they've been kind of cooped up in the winter. Then all of a sudden here's all this energy downtown," Wicker said.
Hub City Hog Fest features a free children's entertainment area with carnival rides, bounce houses, and more. Children age 10 and under get in free all weekend. An entertainment area for kids with carnival rides and bounce houses will open during the event.
Support
But all of this fun wouldn't happen without both effort and support. The Wickers work hard to build and maintain relationships in order to keep the Hog Fest moving ahead. Such a big event requires the help of many.
"I think a lot of the success of the Hog Fest can be attributed to maintaining those relationships with the city, our sponsors and the teams as we try to showcase Spartanburg in a good light."
And this bright light also helps a great organization shine in ways it could not without Hub City Hog Fest.
As mentioned above, proceeds from the Hub City Hog Fest benefit Mobile Meals of Spartanburg. Its mission is to provide nutritious meals, services, and fellowship to frail and homebound citizens in Spartanburg County.
Mobile Meals of Spartanburg is a faith-based nonprofit that serves meals almost daily to about 2,000 frail and homebound citizens in Spartanburg County.
"In just the first six years, we donated a little bit over $317,000 to Mobile Meals," Wicker said.
"That's a small amount compared to what they need, but we're very proud to be able to contribute to them year after year. Mobile Meals has always been very important to us, and the work that they do in our community is staggering."
Hub City Hog Fest on the News
Scene on 7 interviews Grey Wicker prior to a recent event:
---
If you're interested in keeping up with SC BBQ events throughout the year, check out our SC BBQ Events Calendar.
Event Details
Event Location