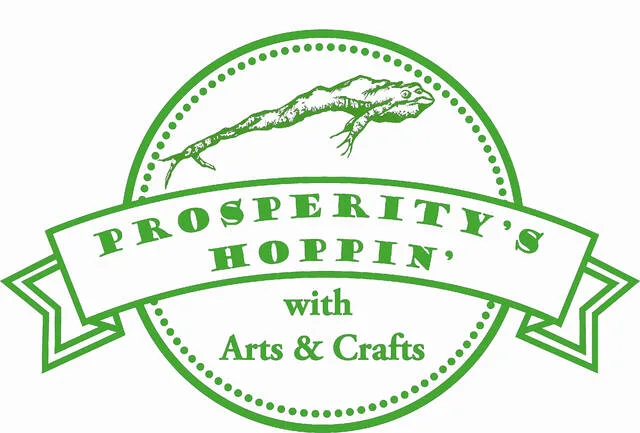 This post may contain links from which I earn a commission. Please read my disclosure policy. As an Amazon affiliate, I earn from qualifying purchases.
The Prosperity Business Association will host Prosperity's Hoppin' along with a BBQ competition as part of their Sesquicentennial Celebration.
Cooks will fire up the smokers and bring a festive feel to the downtown area. Beginning at 6 pm Live Blue Grass Music will be on the Main Stage, and the square will come alive with Blue, Brew, and BBQ.
The Prosperity's Hoppin' with its Arts and Crafts Festival continues on Saturday when judging the BBQ Contest takes place at 10 am on the Main Stage.
They will celebrate not only local arts and crafts and downtown stores, but there will also be 40+ vendors in our Prosperity Market set up in the square, which will be closed to traffic.
A kid zone will be set up with carnival rides and games for the young and young at heart.
​Prosperity's Hoppin' Festival is also about the town's history.
In 2023, Prosperity turns 150 years young, and we have plenty to do and see to celebrate the Sesquicentennial.
Come out on Friday, 6 pm to 10 pm, and Saturday, 10 am to 3 pm, and enjoy the vast market in addition to the wonderful shops and restaurants Prosperity has to offer.
Oh yeah, and you can take your picture in front of the depot with the largest sculpture of a frog in the Southeast by local metal artist James Sizemore.
Why? Because our town was once known as Frog Level.
Food? Don't worry about it.
With several local restaurants downtown and other local food vendors, you are taken care of.
Join us Friday in the Downtown Square for the Prosperity's Hoppin' with Arts and Crafts BBQ Cook-Off and come back Saturday at 10 am to see the winner crowned and enjoy the festival.
Organizer
Location
Lodging
Weather Forecast
PROSPERITY WEATHER
Related Events