Shealy's PDQ started with my parents, Lewis and Helen Shealy, who had a love for making great food and wanted a place for our community to come together.
We love all or regulars. That's what makes it a special place.
"I started this location five years ago when my parents retired after running their place in South Congaree for 20 years," Wesley Hubbard wrote.
I love hanging by the smoker making the best food I can. Always loved cooking with my grandma and try to use all of her original recipes.
Shealy's PDQ is just a great mom and pop place where we try to make your dining experience the best we can.
We use all fresh and local produce and all meat from the local meat market.
BBQ and Hash on Fridays and Saturdays
On the weekend, Shealy's PDQ serves great pulled pork. We have a smoker out back, and we let our butts smoke for about 12 hours with charcoal and a hint of cherry wood.
We also serve smoked ribs and half chickens on the weekends.
Like most things on the menu, our homemade mustard sauce is made in-house.
It is a family recipe passed down from my grandmother. Has a little more kick to it than your regular mustard base.
In addition, we make our own hash in-house. It's a no liver hash but still has all the great flavor.
Meet Owner Wesley Hubbard
What Folks are Saying about Shealy's PDQ
Google Review
Among the many Google Reviews, Local Guide Patrick Kitchens is a big fan of Shealy's PDQ:
I highly recommend this restaurant they have a wide variety of food on the menu. My personal favorite is the double cheeseburger basket and sweet tea as well as a hot dog all the way with a large sweet tea
Please do your taste buds a favor and stop in and try this great food. The dining room is very clean as well as the kitchen and restrooms.
The prices are easy on the pocket. The staff is always friendly and they never let you run out or drinks.
TripAdvisor Review
Over on TripAdvisor, TipSC enjoyed a nice sit-down meal at Shealy's PDQ:
Nice spot for a quick lunch in the Edmund area
We stopped in near lunchtime during the week. The restaurant was about 1/2 full. We picked out our own seats and we were served promptly.

They offer a meat + three but we ordered from the menu. She had the fried fish and I had a hamburger. The meal was very good.
Our drinks were constantly refilled, which says quite a bit for the service. She not only waited tables but delivered meals and answered the telephone, all the while running the register and greeting guests!

The prices were reasonable and it was nice to have a sit-down meal close to home.
What's on the Menu at Shealy's PDQ
Note: The menu at Shealy's PDQ changes frequently. Menu prices and options are also subject to change over time. Contact the restaurant for the most up-to-date information.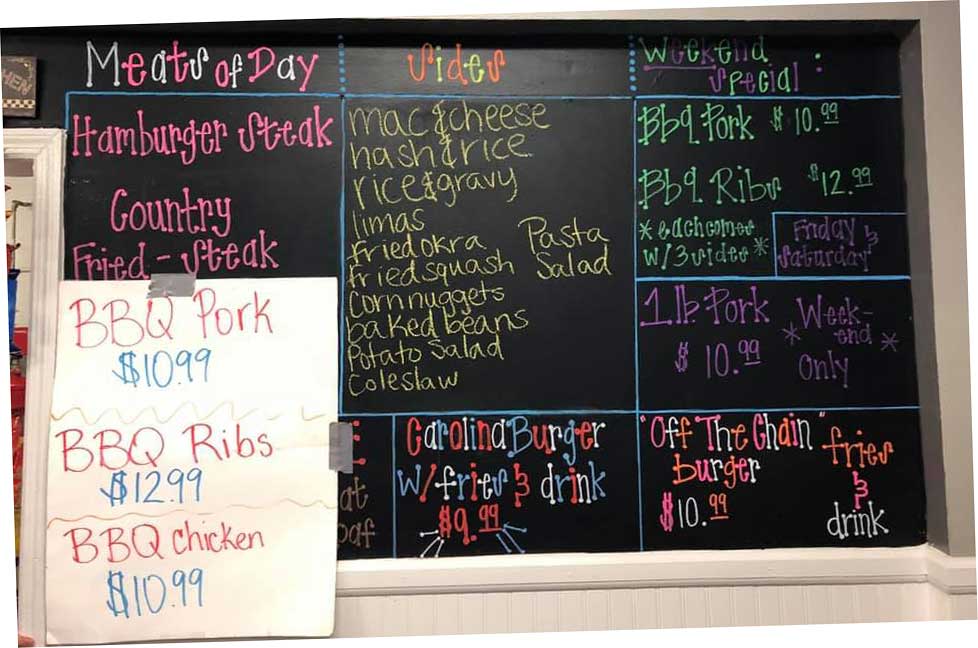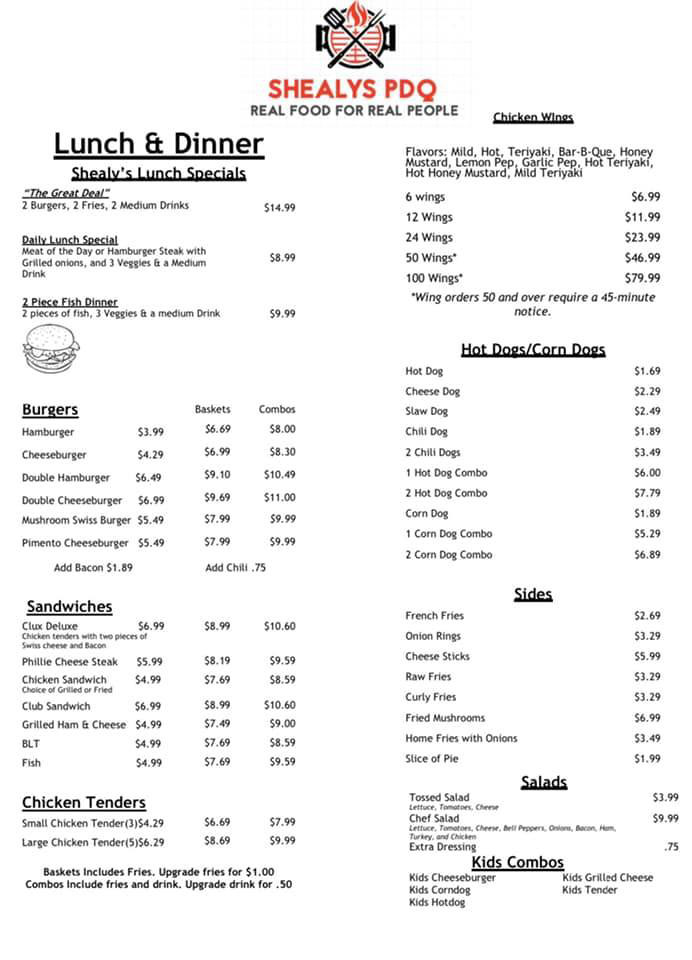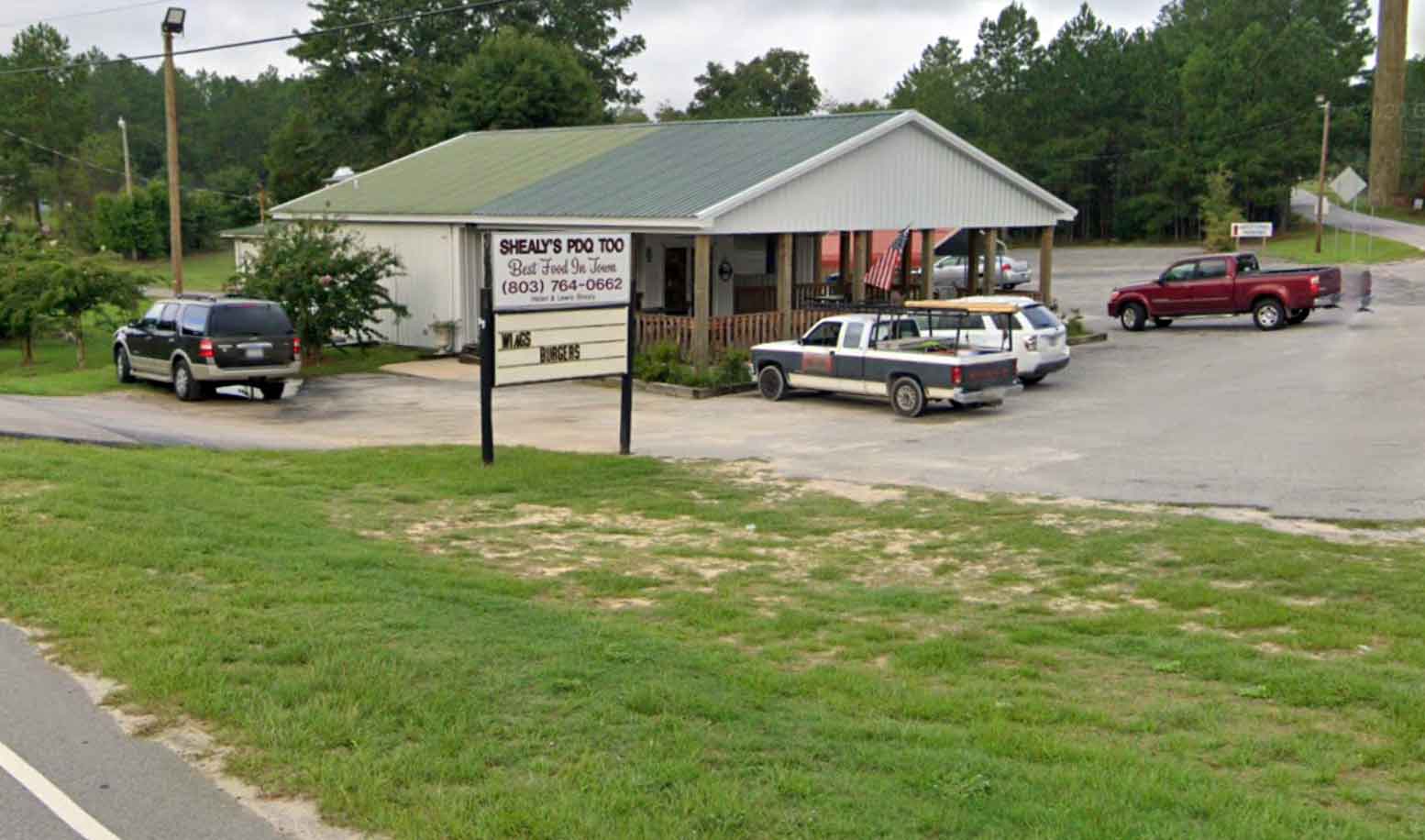 Shealy's PDQ
1 Crystal Springs Dr
Lexington,
SC
29073
| | |
| --- | --- |
| Monday | |
| Tuesday | |
| Wednesday | |
| Thursday | |
| Friday | |
| Saturday | |
| Sunday | Closed |
Social Media
Review Sites
Features
Cards and Cash, Hash, Mustard Sauce