This post may contain affiliate links to Amazon or other vendors I trust. Please read my disclosure policy. As an Amazon affiliate, I earn from qualifying purchases.
To many, Westwood BBQ is a hidden gem, but those from the area know it stands out as the epitome of true, old-school SC BBQ. Housed in a tan, cinderblock building bordering the railroad tracks heading out of town, you know the food has to be good.
At Westwood, the buffet is still under $10 and you have your choice of some of the Pee Dee's best cooking. They make everything fresh.
So What's on the Menu
Most importantly, there is the chopped pork barbecue. It is tender, hot, and comes in two styles unique to South Carolina. Westwood BBQ offers one option labeled "Mustard" and another labeled "Vinegar and Pepper." This, of course, refers to the sauces used on the pork.
SC BBQ's Four Sauces
South Carolina is home to four sauces that historically have been served at restaurants around the state. Vinegar-based sauces were the first BBQ sauces ever used. In the 1930s, we believe that the Bessinger family from Holly Hill may have been the first to create a mustard-based sauce.
Here is a look at the regions of SC where you would traditionally find a given sauce type: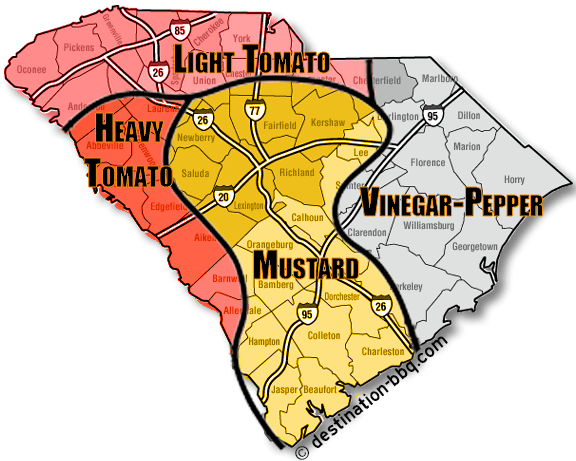 Westwood BBQ falls comfortably in the Vinegar-Pepper region, but like many places around the state, today, you can usually find restaurants serving more than the traditional sauce of that region.
SC BBQ Originals at Westwood
In addition to multiple sauce options, Westwood BBQ offers yet another SC BBQ original in more than one style. Hash originated in SC and is a SC BBQ delicacy. While it hasn't yet spilled far across our borders, SC BBQ hash is an expectation for most when going out for BBQ.
At Westwood, you can choose from two different types. They serve both a liver hash and a BBQ hash.
If you are unfamiliar with hash, check the link above, but trust us, you'll want to try it. That said, unless you are a liver fan (and I am), we'd recommend the other hash to start.
While the hash and BBQ are real treats, the ribs may be even better. Dry-rubbed and smoked to perfection, they don't "fall off the bone" (like so many people brag about).
That actually shows the pitmaster overcooked the ribs. On the other hand, the ribs at Westwood BBQ pass the "bite test" used by trained BBQ judges.
In short, ribs should be tender enough to bite into easily but leave a clear bite mark behind.
At Westwood, you'll find yet another dish unique to the region, chicken bog. While there are variations of the dish within the region, it is most easily described as "boggy" (moist) rice cooked in chicken broth with shredded chicken and, often, sausage. In other parts of the state, there is a very similar variation called "perlo".
Finally, the sides are many and vary somewhat by the season. Regulars include baked beans, hush puppies, mac & cheese, and sweet potato soufflé.
What Folks are Saying about Westwood BBQ
Google Review
Among the many Google Reviews, Becky Marsh had a lot to say about her experience at Westwood BBQ:
Clean, quiet, good Southern barbecue and chicken( fried and barbecued), with all the trimmings except for hush puppies, rolls, and cornbread. The tea was fresh and cold – very good.
The only bread was slices of loaf bread in a sort of cookie display container that one opens and uses tongs to retrieve a slice or 2. It is a buffet – self-serve.
The line can get pretty long but it moves along smoothly and fairly quickly. The waitresses are on the move constantly- refilling cups, and taking orders from the menu, and serving.
The chicken is delicious- some of the best. Hubby had the chopped barbecue. He said it was very good.
There are various sauces on the tables if you need to use some. There was one tv and it was on a sports channel. It was not distracting though?.
We sat at the only small table available and it was a little wobbly but tolerable. One of the servers could tell this was our first visit and she was very kind about letting us know where everything was and the normal procedure.
In addition, there were various desserts- I had some of the cherry cheesecake, and hubby had the banana pudding. Both were very good.
The waitress said I could take out my small piece of chicken I had leftover without any problem. The slaw was delicious too. There was no salad.
So come prepared to eat Southern country. Also, there were pickles that were so good. Corn on the cob, Lima beans, green beans cabbage- Mac and cheese, baked beans- yehaw….
Yelp Review
Over on Yelp, Stephanie C stumbled upon Westwood BBQ on a journey back from Myrtle Beach. OMG is all she could say….well, not really. Here is the rest:
WOW!! Talking about a hidden gem. If you blink you'll miss this place. Heading back from Myrtle the parking lot was packed so we thought we'd stop.
BBQ buffet and it was DELICIOUS! Open only from 11-2 on Sundays, but thankfully we made it. A little dark inside very casual and they serve on styrofoam plates.
If you want fancy this is not your place. Be ready to get your fingers dirty.
2 flavors of pulled pork, bbq chicken, fried chicken, baby back ribs. Veggies included green beans, corn on the cob, sweet potato casserole (to die for), collard greens, Lima beans, and more I can't even remember.
Hush puppies that were perfectly cooked. A little crisp on the outside and soft on the inside.
OMG! $9 for buffet & drinks included. You can't go wrong.
They even have a selection of desserts from dangerously rich chocolatey brownies to fruit cups.
I'm not typically a buffet fan but this will definitely get another visit next time we head down to Myrtle.
SC BBQ Association
Sure, folks on review sites often have great things to say about a place, but what about the folks who really know SC BBQ better than anyone?
What about the folks who actually train the judges for SC BBQ competitions? What do they think of this place?
The SC BBQ Association has named Westwood BBQ one of the Top 100 BBQ houses in the state. Here's some of what they had to say:
I didn't expect too much from Westwood BBQ since no one has ever mentioned this restaurant to me but as I pulled up around 3:15 I noticed that the parking lot was crowded with cars. That's always a good sign.
It was in an unassuming brown building that harkens back to the plain cinderblock building of the past, so that was a good sign too…
The price was right, the service was friendly and attentive and, as I said, what a pleasant surprise Westwood was.
That area of the Pee Dee is not known for its good barbeque so any reasonably good barbeque restaurant would be a real addition, but Westwood could hold its own anywhere and I recommend it to everyone in the area.
It's certainly worth the trip.
---
Menu for Westwood BBQ in Hartsville
Note: Menu prices and options are subject to change over time. Contact the restaurant for the most up-to-date information.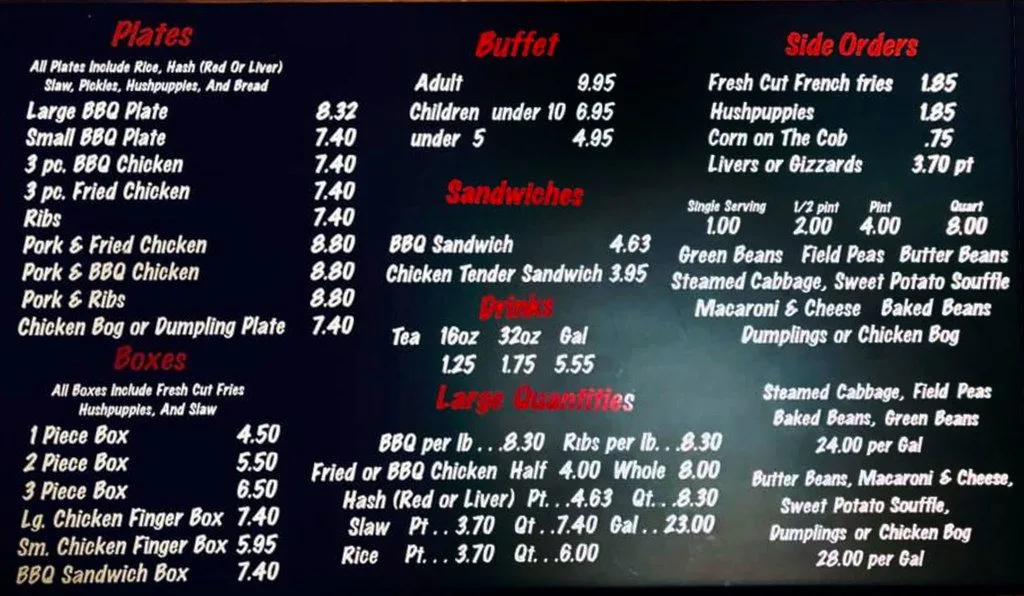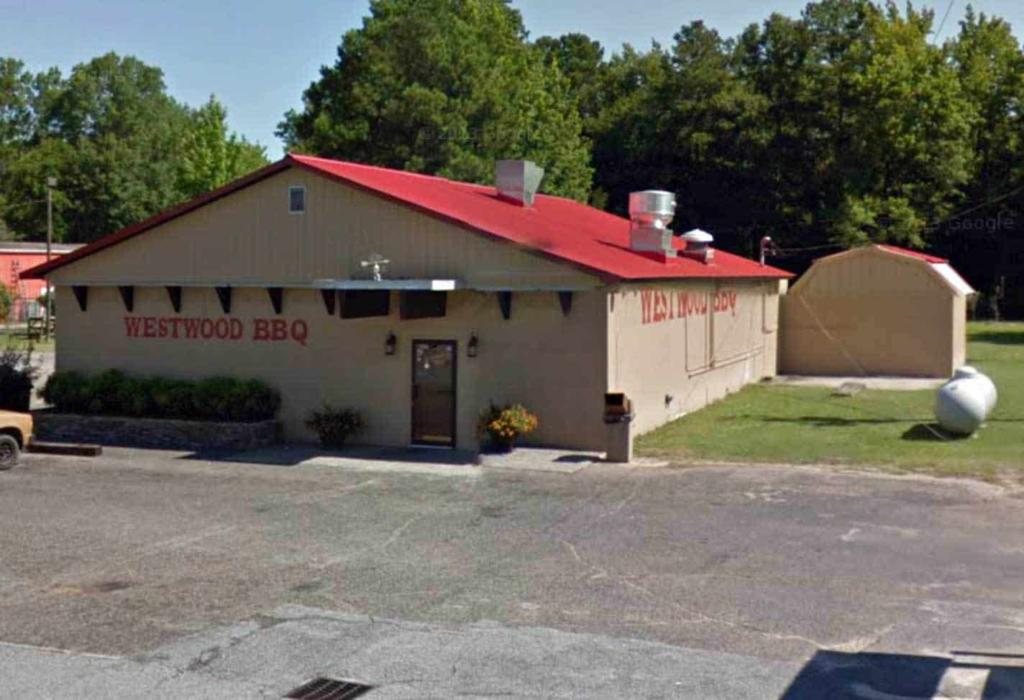 Westwood BBQ
604 Bobo Newsome Hwy.
Hartsville,
SC
29550
| | |
| --- | --- |
| Monday | Closed |
| Tuesday | Closed |
| Wednesday | Closed |
| Thursday | |
| Friday | |
| Saturday | |
| Sunday | |
Social Media
Review Sites
Features
Buffet, Cards and Cash, Hash, Mustard Sauce, True 'Cue Certified, Vinegar Pepper Sauce