Be Notified When Book Available Again
Join the waitlist to receive email updates
Click the "Follow Shop" button on our Etsy Page
WE expect to order a Limited Supply to Sell
Want a hardcover or digital version of our expanded and updated SC BBQ cookbook?
First edition. 300 pages. Premium color.
*see FAQs below
Recipes, traditions, & history
While it's true this authentic collection comes from some of SC's most renowned pitmasters, many are family recipes — some generations old — from SC's best backyard and competition cooks. Sauces and rubs, meats, hash, sides, and desserts: each enjoys a dedicated chapter. Beyond the recipes, you'll enjoy the histories and special features spotlighting the people who have made South Carolina barbecue what it is today.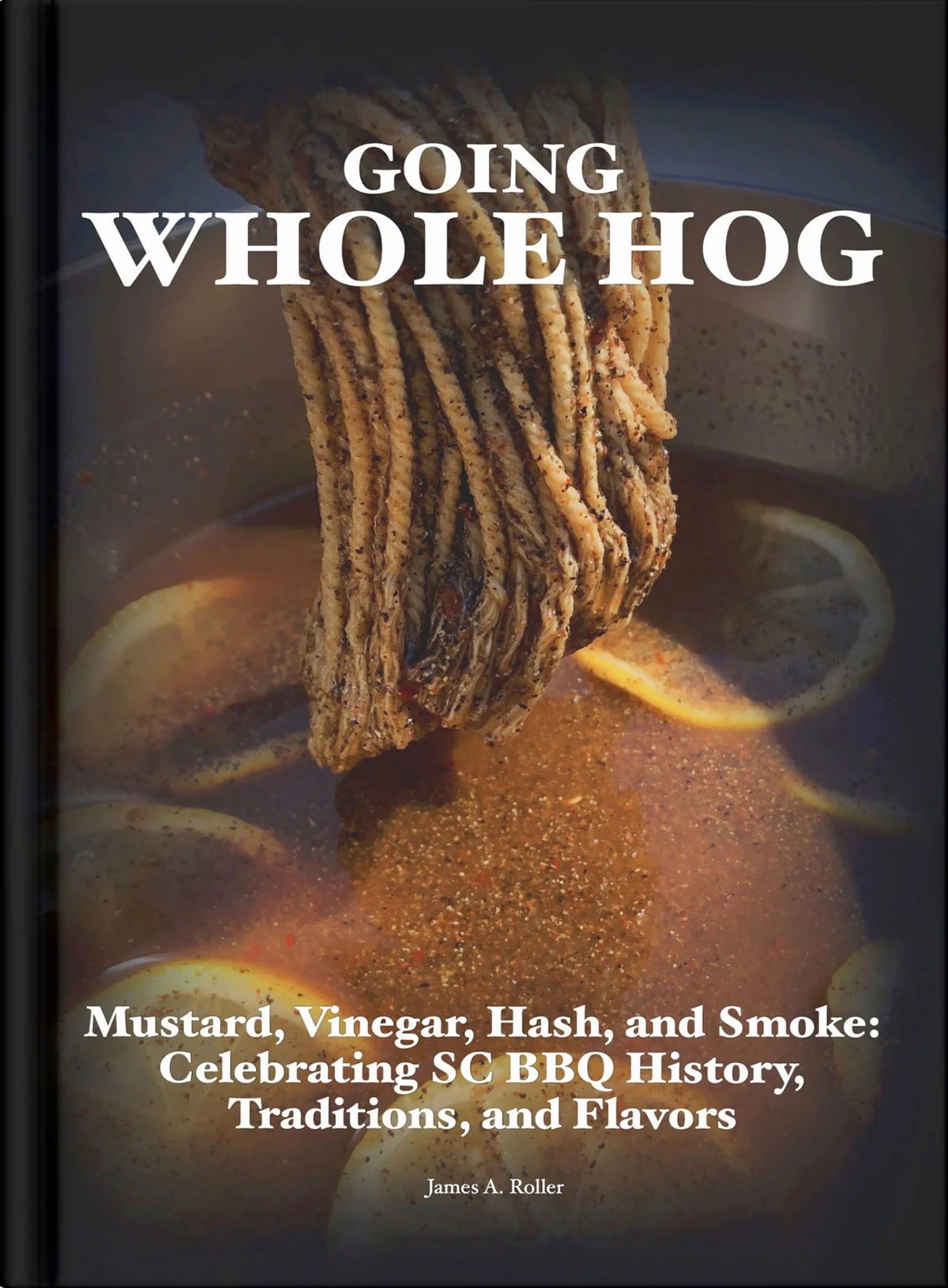 ---
Cookbook FAQs: What You Need to Know
I missed the pre-order window! Can I still get a copy of the cookbook?
Maybe, but I will take no more pre-orders at this time. I have decided to order a limited supply of extra books beyond those that were pre-ordered when the cart was opened. As I write this, I am not sure of the numbers. If you'd like to be alerted if/when we offer these extras for sale, you should do two things:
1) Join the waitlist using the form at the bottom of this page.
2) Visit our Etsy Shop and click the button to "FOLLOW SHOP"
Is there a waitlist or notification system I can join to know when the cookbook is available next?"
Yes, read #1 above or click on one of the Join Waitlist buttons scattered about this page. 😉
I pre-ordered a book. Will it be delivered in time for Christmas?
The short (and most truthful) answer is that there is no guarantee. I'm told it takes around 14-18 days for printing and around 7-9 weeks for sea shipping. We ordered in the right window of time to get the books printed and delivered to my home by early December. Because things will be so close, I don't feel comfortable saying they will be here on time for your gift to get to your loved one. If you purchased books as a Christmas gift, I have created a PDF file that you can print out and include in a card announcing the gift and letting your loved one know that it will arrive hot off the presses. You can download it here.
Will there be a digital version?
Yes, the PDF version is actually finished. I expect to begin all the behind-the-scenes work building sales pages, etc. soon and offer it for sale by early 2024 at the latest, but probably sooner. If interested, join the waitlist and select the "Digital Edition" option.

By the way, if you purchased the Permanent Edition version of the original ebook, your advanced digital copy of Going Whole Hog was sent to you on Fri, September 22. Note: if you ever unsubscribed from the email list, I am not legally able to send you those emails. Please contact me directly from the email address associated with your purchase.
Will the cookbook be available in bookstores or other retail outlets in the future?
It's possible, but no real plans are in place at this time. Since this book is completely self-published, I don't have a big company behind me to get them widely into local bookstores.

I have had a restaurant owner and two small shop owners ask if they could carry the books in their places, so that's a possibility I'm looking into as I write this. Also, I plan to offer an American-printed option on Amazon, by request. The prices are so absurd (about $70) because of Amazon's 60% royalty fee that I don't recommend buying there unless the American-made option is important to you, or if I run out of extras.
I live outside the United States. Will there be options for international ordering in the future?
Yes per the info above, but read on: As with the pre-orders, any future orders will take place on Etsy. Because I don't really understand how best to set up international shipping, we'll have to do a private sale. That means, you will go to our Etsy shop and message me on their platform. Inside the message, I can set up that private sale.
Will there be any events, book signings, or promotions where I might get a copy in the future?
Nope. Truth is, despite 28 years as a high school teacher and a somewhat public presence online, I'm quite the introvert, and that just sounds painful to me. However, as I am most comfortable communicating with written words, I am more than happy to sign a book for you before I mail it to you. 😀
Take a Look Inside
What Folks Have Said
Here's some of the feedback I received on the original edition. The new version is much expanded and much improved.
TRIED AND TRUE RECIPES
The Rollers have done a great job of covering the regions of SC when it comes to BBQ. They leave it up to us to decide which is our favorite. There are numerous sauce, hash, and meat recipes in the book. They have taken the time to put the information in one place making it very easy for you to try and experiment with something new, If you are new to BBQ and want to impress your family and friends, buy the book. It has tried and true recipes and methods that will make you look like a pro! Thank you for taking the time to put this together for us.
Willard Beard
BY LOCALS FOR LOCALS
What I liked most about the cookbook is the research and backstories. Even though I grew up on Lexington NC BBQ, you've got to get this cookbook as there is much more variety to BBQ in SC, If you can't decide, this is a labor of love, with a lot of volunteer time and input. It's by locals for locals and you should support it for that alone.
GEORGE REYNOLDS
INTERESTING READING
This cookbook was interesting reading on facts If you want to know more about regional BBQ, buy it. Worth the price. I prefer mustard sauces, make my own and always looking for ideas to make it better. However, I'm not sold on that BBQ was invented in SC.
Russell Harper
ALL THE HISTORY
All the history… or the how and why things came about is what I like most about the cookbook. Also, Jim is an active publisher. Plus, where else can you get a book with lifetime updates at a great price… especially a cookbook? Maybe he will come out with a book for some of the other big styles of BBQ??
Eric Lipsky
GREAT STUFF! NICE BLEND OF INFO
I enjoyed the compilation of recipes and a little history about each. BBQ Lovers and fanatics…….THIS IS THE BOOK YOU NEED! This is your chance to experiment with some of the "Big Boy" recipes! Great coverage of all things BBQ!
Robert Jackson
Join the Waitlist
We will email you with updates about the cookbook when you subscribe to our mailing list below. In addition, you might consider following our Etsy shop as they will notify you when new products are added to the shop. Just click "Follow Shop."