Game Day BBQ: The Beginning
This post may contain links from which I earn a commission. Please read my disclosure policy. As an Amazon affiliate, I earn from qualifying purchases.
Originally opened by Bruce and Joshua Clark of Chesnee who had been in the barbecue catering business when they decided to open Game Day BBQ in Duncan.
Before retiring, Bruce served as the athletic director and football coach at Boiling Springs High School. Joshua, his son, ran the day-to-day operations.
"We are proud to say that we do BBQ the old fashion way!" they wrote on their Facebook page.
So, how did the Clarks get into this old-school BBQ?
Folks rarely think of football coaches as men you might also find in the kitchen.
"When I coached, I really dreamed that after I was done I would own a restaurant," Bruce said. "We started catering barbecue at the ground level. After that, things really got bigger, so we decided to start a restaurant."
As a result of their sports-oriented background, the atmosphere the Clarks created made perfect sense for their new BBQ joint.
"As an athletic-themed restaurant, Game Day flies flags from Clemson, South Carolina, and Byrnes High School. We are really excited about what we are doing."
Being centered in Duncan, "We want the community to feel good about it and feel like they are being treated with respect and get good food. I think they are really going to love it."
That's exactly what the Clarks created, but there soon would be a difficult decision for Bruce's family to make.
Unexpected Loss
In December 2021, Bruce passed away unexpectedly, and while the family hoped to keep the restaurant going, the best choice soon became clear. They needed to sell it.
Enter Ryan Muller.
Ryan worked for years with Sysco, a food distribution service, and the very service that the Clarks used at Game Day BBQ. He heard about the restaurant through a friend and decided it was the right time for him to buy.
He heard from a friend that the restaurant was going to be sold and decided to take the opportunity to keep it running.
Restaurants were nothing new to Ryan. He has 2 decades of culinary experience. He launched a restaurant in Vermont and worked in restaurants in both Connecticut and California.
"We're keeping it Game Day BBQ, but we're putting our own spin on it with the same small town feel, just new, bold flavors," Muller was quoted in The Post and Courier.
"We do a five-course barbecue dinner where we use smoke more as an ingredient than as a cooking technique and really kind of showcase what our talents are," he said.
Game Day BBQ: On the Menu
So, what should you expect to find on the menu? Is the BBQ pit-cooked or roasted in an oven? Are the sides fresh or out of a can? What's for dessert?
"Meatwise, everything is cooked over wood. No gas. No electric.
In addition, the old-school cooking methods shed a light on the quality of all the cooking.
"Anything you eat is homemade: brisket, baby back ribs, smoked chicken, green beans, baked beans, coleslaw, potato salad, Brunswick stew, hash and rice, pinto beans, and cornbread.
"We do a cobbler every day and banana pudding every day.
In the end, "Game Day is a barbecue place. If you want good smoked meat and good homemade dishes and desserts, then this is your place."
What Folks are Saying
Google Review
Among the many Google Reviews, Local Guide Anthony Solesbee visited after Muller reopened Game Day BBQ and found it felt familiar but new all at the same time:
These guys are great. Feels like the old Gameday but a little different menu.
Don't let that fool you, you won't be disappointed, that's some good BBQ, it's not BBQ plate, hash plate like everywhere else. They have some awesome menu items.
I can't speak on all the items as I've not had them yet but the brisket grilled cheese and the burnt ends that I had. That's right " Burnt Ends "you wont see that many places. Were awesome!
My friend described it as gourmet BBQ. I'll second that notion.
Yelp Review
Over on Yelp, local Scott A from nearby Simpsonville has tried a lot of the BBQ in the area, and he has Game Day BBQ at the top:
I would choose this place over SBH, Henry's, Buckley's, Sticky Fingers or Charley's.
A lot for the money. The BBQ sandwich was heaping over the bun and excellent flavor. The Sweet Potato Crunch was very good but slightly soupy.
Will definitely return soon. They were super friendly and appreciative to have me as a customer! I liked the clean neat atmosphere and football on the two nice large screen TVs today.
Menu for Game Day BBQ
Note: Menu prices and options are subject to change over time. Contact the restaurant for the most up-to-date information.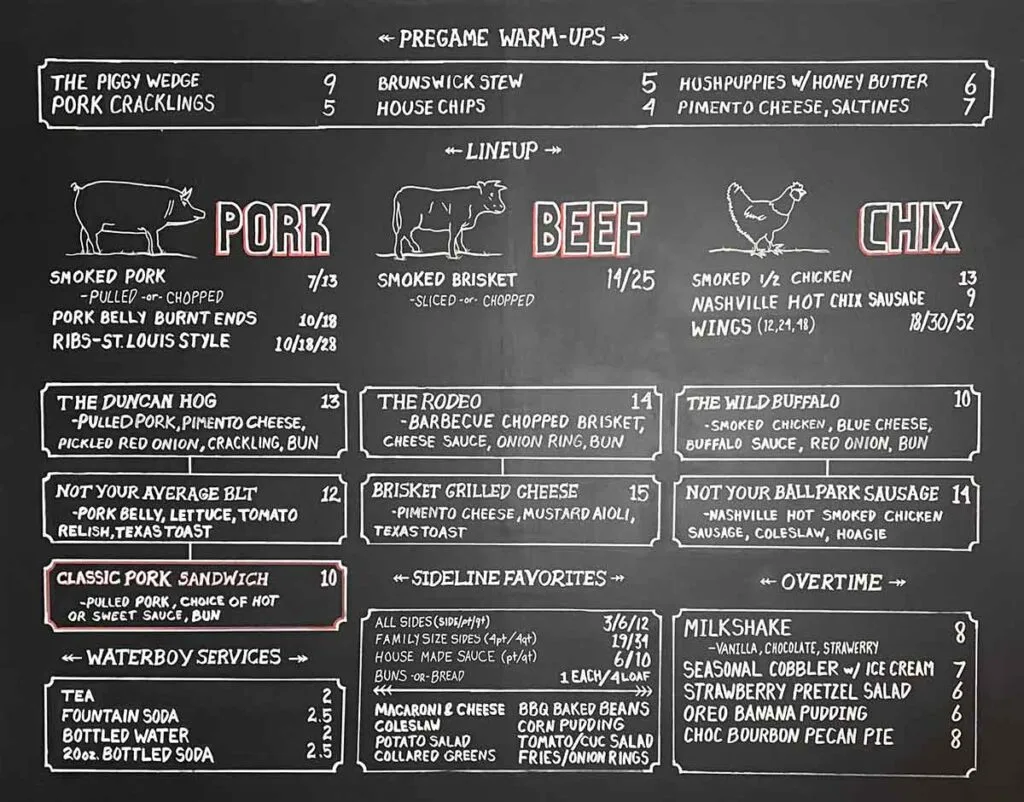 Location, Hours, Contact Info, and More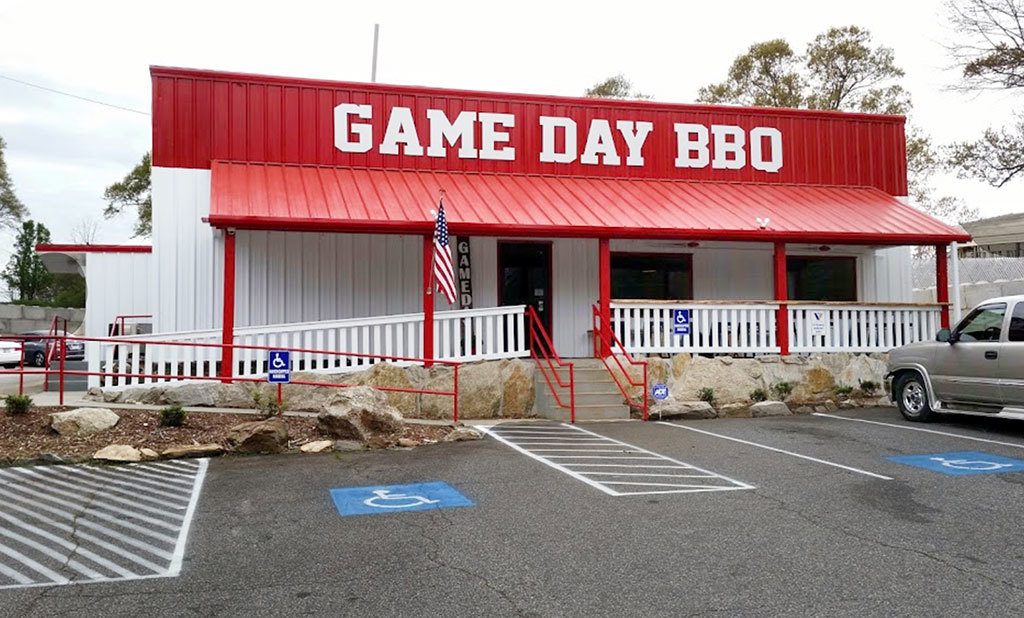 Map
Directions
Contact Game Day BBQ
165 W. Main Street
Duncan,
SC
29334
Hours of Operation
| | |
| --- | --- |
| Monday | Closed |
| Tuesday | Closed |
| Wednesday | |
| Thursday | |
| Friday | |
| Saturday | |
| Sunday | Closed |
Review Sites
Features
Cards and Cash, Hash, Heavy Tomato Sauce, Mustard Sauce