Ledyard Bar B Que Company ***Permanently Closed***
My specialty at Ledyard Bar B Que on Central Ave. in Summerville would be my Award-Winning BBQ Sauces, the art of smoking meat over hardwood coals, and my originality to BBQ.
No one does it like we do at Ledyard Bar B Que Company.
Everything here is handmade. And I mean everything…
I started with my dry rub and bbq sauces. I have made five different BBQ sauces for the restaurant.
The Sauces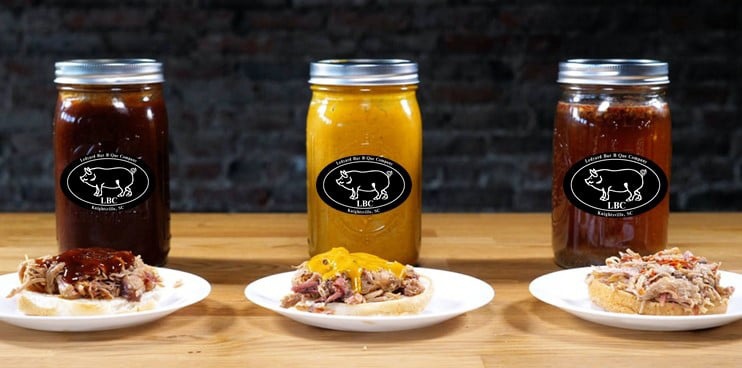 LBC Hickory BBQ sauce, my original
LBC Candy "Q," my most award-winning sauce
My N.C. Style sauce LBC Vinegar BBQ Sauce
LBC Ol' Yeller, my mustard bbq sauce for the locals
LBC Sweet Tea BBQ Sauce, my newest BBQ sauce made just for Summerville
Yes, it is made with real sweet tea, and yes, you can taste it!
Every single recipe that I serve is original to me.
The Meats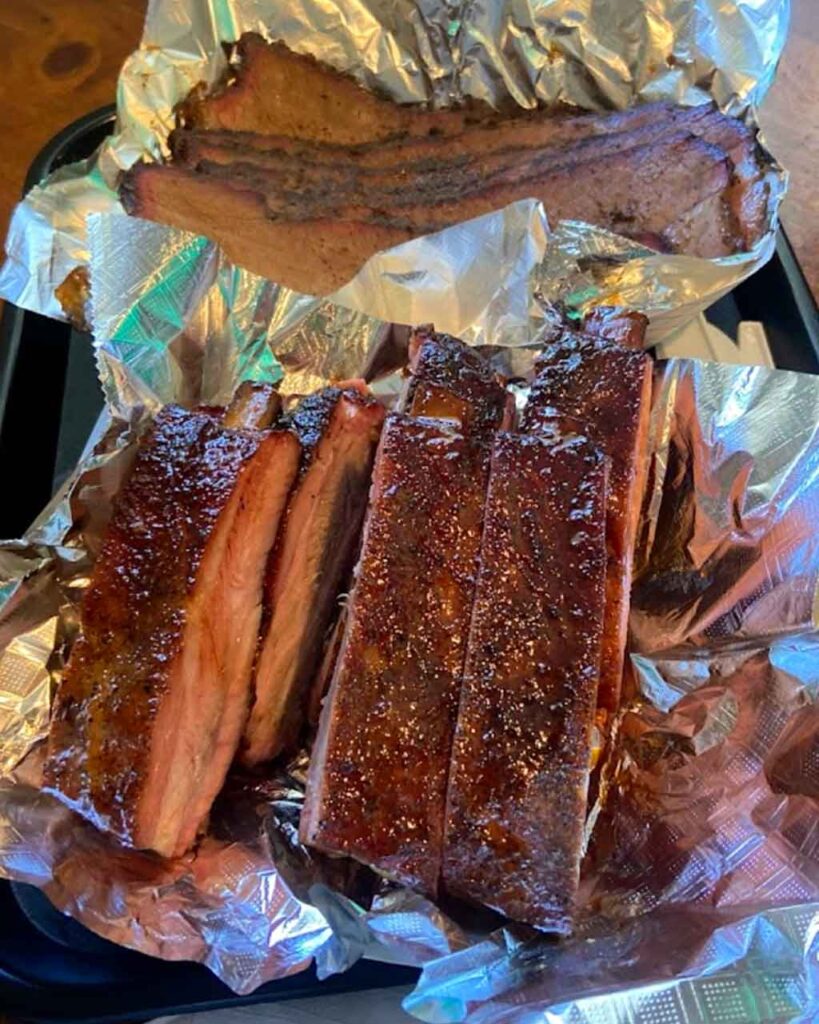 All the BBQ at Ledyard Bar B Que Company is smoked over hardwood and charcoal in custom-made water smokers made to my specifications. Our wood is delivered kiln-dried to my specifications.
We only use hardwood and charcoal. We serve pork ribs, pulled chicken, beef brisket, and burnt ends.
Every cut of meat that goes into the smoker is hand-rubbed with my signature dry rub, and I am the only one that smokes the meat. Meaning that a true Pitmaster smokes everything all the time, and this is what makes LBC different.
We also serve hash and rice. We only use select cut of meat for our hash.
At Ledyard Bar B Que Company, we do not have an hourly employee or manager running the kitchen, we have a true award-winning Pitmaster running the show!
What Folks are Saying about Ledyard Bar B Que Company
Google Review
Among the many Google Reviews, reviewer A N came away pretty impressed:
Was really impressed by the food!
Ordered the Mac attack and it was awesome. Also had a pound of pulled pork and it was spot on.
The sauces were great too! I usually am not a sauce person, but all the different varieties were really good and fun to try. My favorite was the sweet tea sauce.
The inside of the restaurant had a really cool vibe and was clean. Lastly, this seemed like it might be a family operation and that's super cool and something I love to support.
Would certainly recommend this place to others.
Yelp Review
Over on Yelp, Lee K was at no loss of words and found Ledyard's Bar B Que Company's food to be amazing:
The Location
We recently moved into the area and have been driving by Ledyard's BBQ every day to/from work, etc., and finally decided to give it a go today. We actually tried to go on their grand opening but it didn't work out in our favor!
I walked in to make a to-go order and the young man at the counter was extremely friendly and greeted me immediately upon coming in.
Sauce Station
You order at the counter and while you wait you can go ahead and start packing up some of their BBQ sauces from the pump station. They had sweet tea sauce, old yeller, hickory, and candy q.
To be honest, I wasn't a huge fan of the sauces as they were sweet and I'm a big fan of vinegar-based sauces.
Holy Cow…or Pig
But it doesn't matter, because holy cow, or pig, the meat did not need the sauce. So much flavor in the pulled pork which was ALL meat and ZERO fat.
We did 1lb a la carte of the pulled pork and added three ribs (spoken "bones" here) to try. My son, who loves ribs but is very picky, absolutely loved them. I snuck one and they were full of flavor and juicy.
Definitely will get more next time if not only those!
My wife thought the pulled pork was a bit dry but I thought it was perfect. As you can imagine, good BBQ is highly controversial!
The Sides
We added on a 16oz container of slaw which was vinegar-based, not mayo, and again it was great. Very light and complimented the smoked meats well.
We also ordered a 16oz container of the baked beans. I'll be honest, not a fan of the beans.
I can't exactly explain why but they were almost like Bush's. I'm not saying they were canned as I am not a bean expert, just that they were not what I am used to at BBQ joints.
I saw they have tater tots and mac n cheese as well but we didn't do that this time.
It would be nice if they served some craft brew but I didn't see any wine/beer offerings when there.
Long story short, amazing meat which is what a good BBQ joint should be perfect at. We definitely found our new BBQ joint and bonus it's down the street.
Menu for Ledyard's Bar B Que
Note: Menu prices and options are subject to change over time. Contact the restaurant for the most up-to-date information.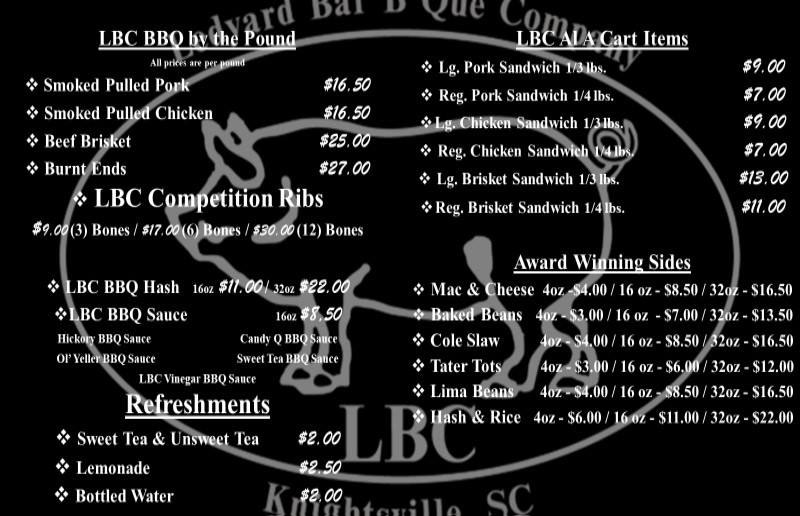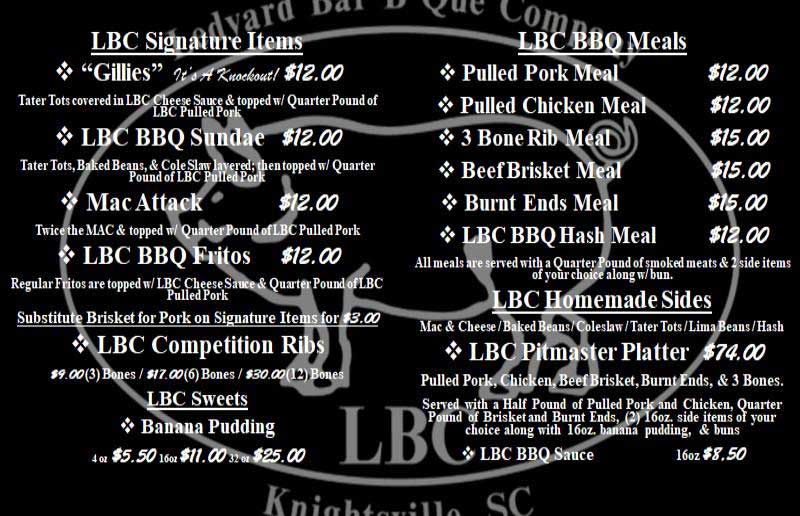 Ledyard Bar B Que Company ***Permanently Closed***
1426 Central Ave
Summerville,
SC
29483
| | |
| --- | --- |
| Monday | |
| Tuesday | |
| Wednesday | |
| Thursday | |
| Friday | |
| Saturday | |
| Sunday | |
Social Media
Review Sites
Features
Cards and Cash, Hash, Mustard Sauce, Vinegar Pepper Sauce, Light Tomato Sauce, Heavy Tomato Sauce