Country Smokehouse ***PERMANENTLY CLOSED***
This post may contain affiliate links to Amazon or other vendors I trust. Please read my disclosure policy. As an Amazon affiliate, I earn from qualifying purchases.
***PERMANENTLY CLOSED***
Country Smokehouse in Hopkins is Tru 'Cue-certified, pit-cooked barbecue. We serve our barbecue with all the classic southern sides, coleslaw, potato salad, and homemade desserts! True, pit-cooked barbecue in our on-site Smokehouse; soul food, southern favorites, and country cooking at its best.
We fill our 12' hot bar with pit-cooked barbecue (your choice of sauces). In addition, we serve at least three other types of meats, hash and rice, macaroni and cheese, and at least six to eight additional southern veggies. We have split our bar into two: 6 feet of meats and 6 feet of veggies!
At Country Smokehouse, we offer a variety of sauce recipes for you to choose from: mustard, vinegar, and tomato-based.
In addition to the items on the bar, your meal comes with our homemade cole slaw, potato salad, and homemade desserts! You may choose between two plates sizes based on your appetite.
We're open Thursday through Sunday.
So, if you find yourself traveling down Interstate 77, just hop off on Exit 9A and you will find us less than five miles away.
What do Folks say about Country Smokehouse
Local Guide Cheri Wilson wrote the following in her Google review:
"AWESOME!!!! The best smoked BBQ ever.
"They offer mustard, ketchup, and vinegar sauces. They offer other meat choices, fried chicken on Thursday, fish on Friday, smoked sausage and smoked pork chops on Saturday, and ribs on Sunday.
"Variety of sides all country cooked from cabbage, collards, green beans, baked beans, black eye peas, sweet potatoes, fried okra and much more.
"Dessert comes with the meal and there is a nice variety. All homemade. The coconut pie is fantastic. It is so good we had to purchase a whole pie.
"The staff is very friendly and treat you like family. It is very clean. Has handicapped parking within the ample parking area. It is handicapped accessible entry and seating. We eat there at least once a week.
"Worth the drive."
On Yelp, Robin S wrote about her experience with Country Smokehouse:
"I can't say enough about this little gem. Found it on the way to Sumter and so glad we decided to stop in. Some of the best bbq buffet I have ever had.
"We tried everything, green beans, Mac and Cheese, baked beans and of course spicy mustard bbq and bbq ribs. Everything — and I mean everything — was on point for Southern BBQ. Different specials Thursday thru Sunday (days open). Pot roast was tasty. Your choice of home desserts is also included in the price. We tried the cherry cheesecake and fudge pie. Sinfully delicious.
"Southern hospitality from waitstaff and customers. A customer recognized we were newbies and let us have the last piece of cheesecake. Wow just wow. So needless to say get there early and order dessert when you sit down. My only regret is sharing this place too much in a review because I still need to get a table!
"So Is it worth the 20 min drive from Columbia? YES…it is and this is now my go-to place for BBQ."
Get to Know more about Country Smokehouse
---
Menu for Country Smokehouse in Hopkins
Note: Menu prices and options are subject to change over time.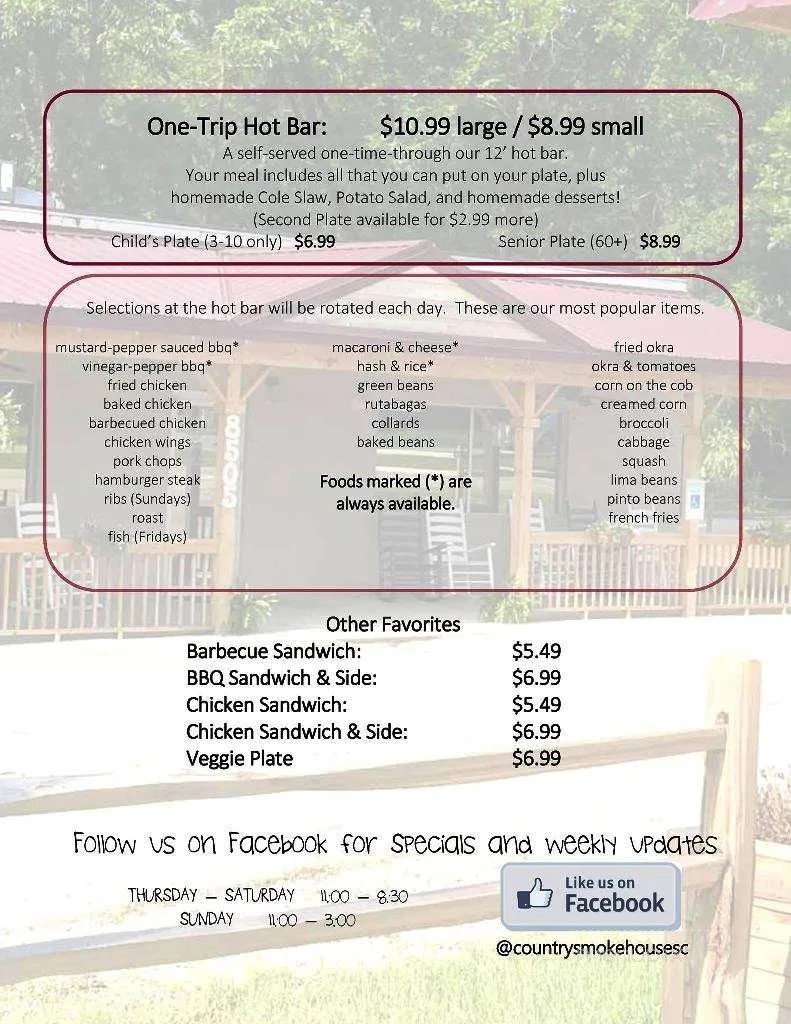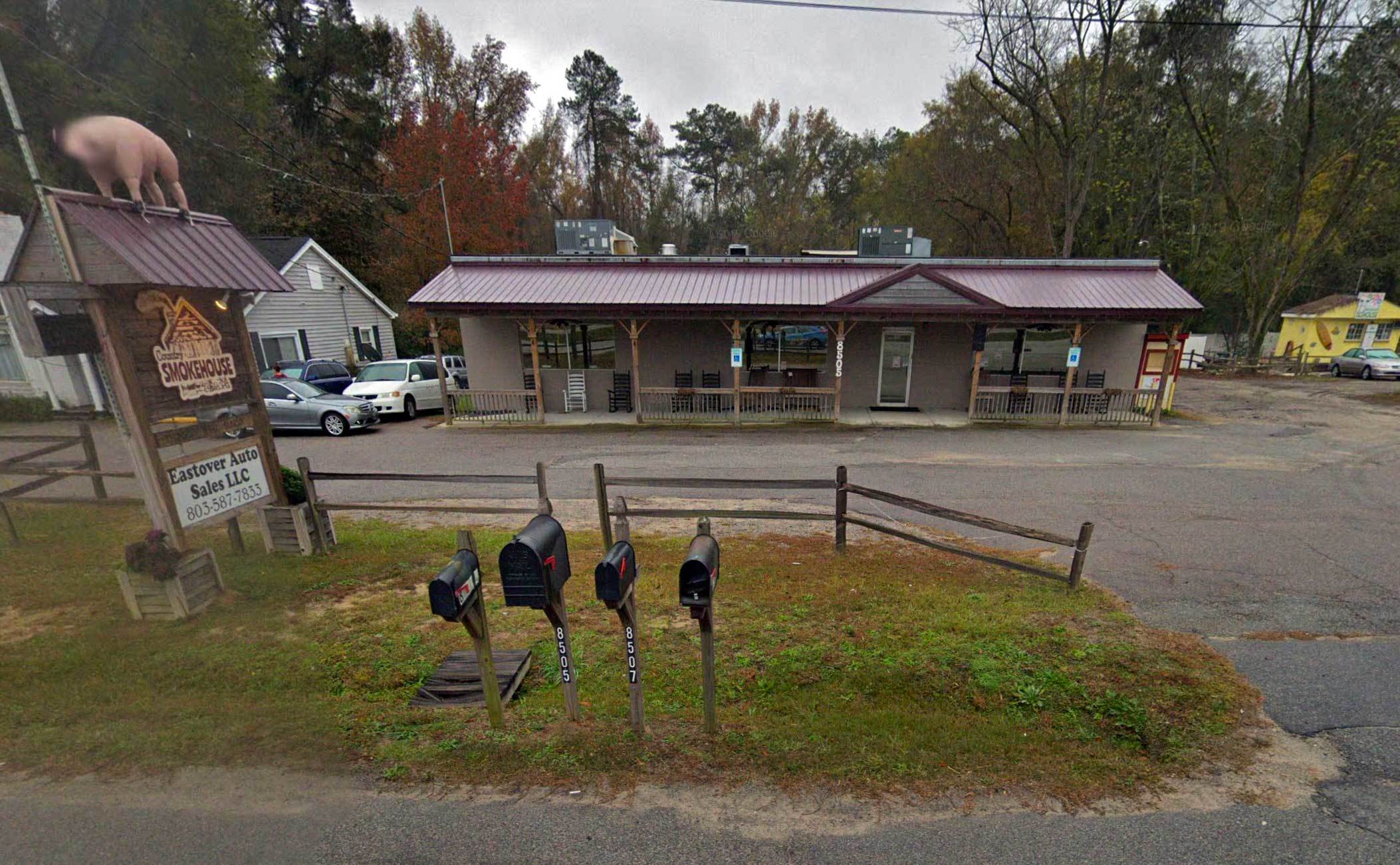 Country Smokehouse ***PERMANENTLY CLOSED***
8505 Garners Ferry Rd
Hopkins,
SC
29061
| | |
| --- | --- |
| Monday | Closed |
| Tuesday | Closed |
| Wednesday | Closed |
| Thursday | |
| Friday | |
| Saturday | |
| Sunday | |
Social Media
Review Sites
Features
Buffet, Cards and Cash, Hash, Heavy Tomato Sauce, Light Tomato Sauce, Mustard Sauce, True 'Cue Certified, Vinegar Pepper Sauce