Herb's BBQ & Seafood sits at the base of the Sampit River bridge just as you enter Georgetown from the south. Herb's features his own homemade sauce to go with his pulled pork and ribs. And, of course, there is more on the menu, including seafood and chicken.
What Folks are Saying
Google Review
Among the many Google Reviews, Local Guide Vipin could smell the smoke and knew he was in the right place:
I walked in and Herb was sitting back in a chair smoking a cigarette and I instantly knew this place was legit. Despite the cigarette smell, the strong smoked flavor of the meat conquered the little venue.
We ordered the ribs and pulled pork sandwich. The pulled pork sandwich had a little more kick than what we wanted. The ribs were hickory flavored, fall off the bone, and drizzled in sauce. Portion sizes are good and food is well priced.
Yelp Review
Over on Yelp, Laura C
If you're a local, I am sure you know Herb's. Business was brisk, both through the door and on the phone, when we stopped by as tourists passing through. Thank you, Yelpers, for guiding us here for home cooking and a respite from other tourists and higher prices.
Herb has a huge menu and as we found out, not everything is always available; but sometimes there are additions to the menu that are. These friendly people are willing to help.
The restaurant is fairly plain from the outside and where you order inside is at a counter, but there is an air-conditioned dining room separate from the front with nice restrooms if you want to dine in. Which we did. Your food still comes in Styrofoam containers, but you get everything you need to eat Herb's delicious food.
I had a seafood platter and my husband had the fried chicken dinner. Neither one of us could finish our meals. Everything was cooked perfectly. Scrumptious huge tender hush puppies with potato salad and fried oysters, fried shrimp, and fried catfish. The dark meat fried chicken was crisp, piping hot and juicy with soft baked beans and fried okra. All relatively inexpensive compared to the menus we had seen in town.
Herb's BBQ and Seafood is nearly on your way OUT of town; but so worth the few extra blocks. There's a large parking lot with a fragrant hot smoker out front and lots of friendly smiles inside at Herb's!
Read our Review of Herb's BBQ & Seafood
---
Menu for Herb's BBQ & Seafood in Georgetown
Note: Menu prices and options subject to change over time. Contact the restaurant for the most up to date information.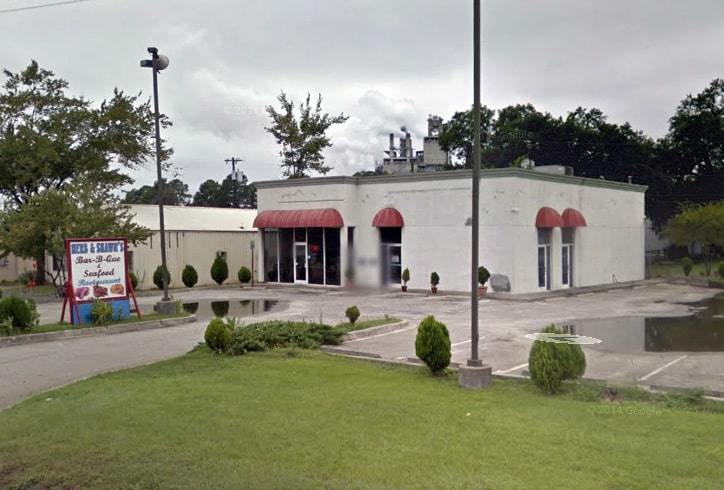 Click to get Google Map directions from your current location
Herb's BBQ & Seafood
600 S. Fraser Street
Georgetown,
SC
29440
| | |
| --- | --- |
| Monday | Closed |
| Tuesday | Closed |
| Wednesday | Closed |
| Thursday | Closed |
| Friday | |
| Saturday | |
| Sunday | Closed |
Reviews
Details
Cards and Cash, Heavy Tomato Sauce, Light Tomato Sauce