The Pot Smoker BBQ in Columbia ***Permanently Closed***
The Pot Smoker BBQ: "You can smell our butts a mile away"
This post may contain links from which I earn a commission. Please read my disclosure policy. As an Amazon affiliate, I earn from qualifying purchases.
When I started developing BBQ 14 years ago with a ceramic smoker — before the Green Egg became so popular — I would explain to friends that it was cooked in a ceramic smoker similar to a ceramic POT. So, I guess you could call it POT SMOKED which makes me THE POT SMOKER.
At The Pot Smoker BBQ, we smoke our Boston butts 10-12 hours over a mix of hickory and other exotic wood. I have spent 14 years developing what I consider to be one of the most palette-pleasing rubs on the market.
People who have tried the pulled pork rave about the fact that it is moist, full of flavor and does not need sauce. But, if you'd like sauce, we offer a ketchup-based sweet sauce, a mustard sauce, and a hot BBQ sauce.
Among other things, The Pot Smoker BBQ serves:
Pulled pork (we use a dry rub on our pulled pork)
Ribs
Smoked chicken
Crispy smoked chicken wings
Smoked chicken salad
If you are taking a road trip near Columbia, you can find us less than 5 miles from Exit 111 from Interstate 26, or if you are traveling on Interstate 20, we are just over 5 miles from Exit 64.
Our core beliefs: faith, family, friends & food.
The Reviews are In for The Pot Smoker BBQ in Columbia
Based on the reviews, those core values seem to shine through. On Google, with over 370 reviews, The Pot Smoker BBQ in Columbia has earned a 4.5 star rating, with the vast majority of them being 5 star reviews.
Local Guide Jennifer Armenti wrote the following in her review:
"WOW! Happened upon this place walking downtown. Super nice folks inside but the Q is what makes this place outstanding.
"The meat is so flavorful you do not even need to have a sauce on it. However, one of my favorite things to do is try all the different sauces. All the different styles were on point and in the end the hardest decision was if I should eat a bite with or without them.
"I will definitely find my way back here."
Kimberly Hall, also a Local Guide, had the following to say about The Pot Smoker BBQ:
"I'm happy that their spicy was actually spicy. I had a shot of pulled pork while waiting in my order – such a genuis idea.
"Nice atmosphere, friendly staff and it didn't take too long to get my order. Had the 1/3 ribs with fries and Mac and cheese plus a serving of wings with the 'Help Me Jesus' sauce (could have been spicier based on the name).
"I had to carry home most of the food, it was a lot for me."
Take a Look at The Pot Smoker BBQ's Columbia Menu
MENU
You've Got to See This!
---
Location, Hours, Contact Info, and More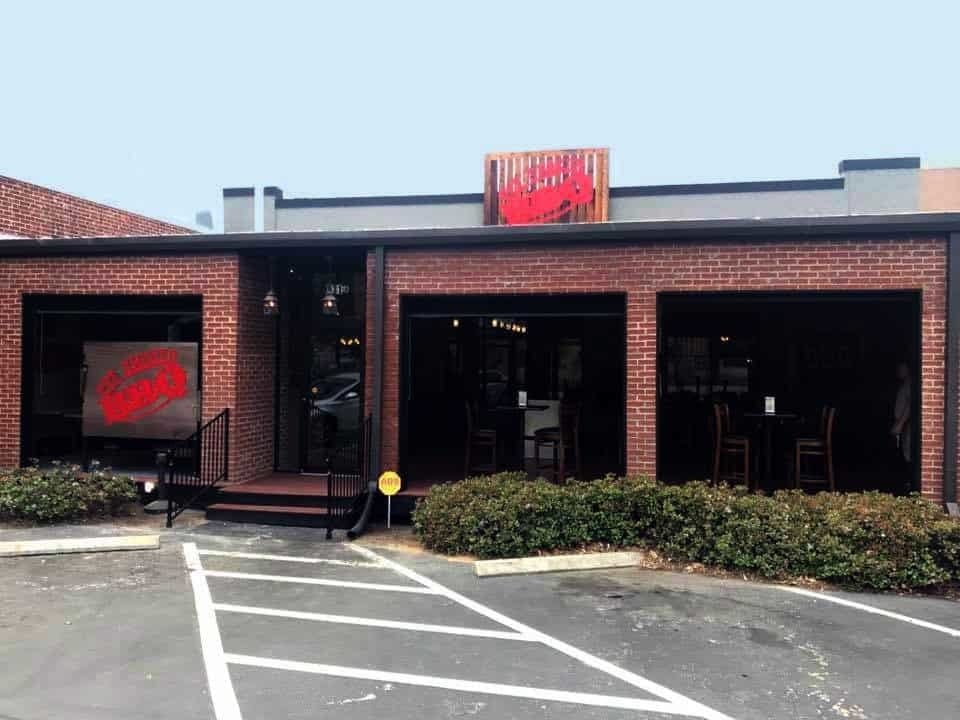 Map
Directions
Contact The Pot Smoker BBQ in Columbia ***Permanently Closed***
931-A SENATE STREET
COLUMBIA,
SC
29201
Hours of Operation
| | |
| --- | --- |
| Monday | |
| Tuesday | |
| Wednesday | |
| Thursday | |
| Friday | |
| Saturday | |
| Sunday | |
Social Media
Review Sites
Features
Cards and Cash, Hash, Heavy Tomato Sauce, Mustard Sauce