This post may contain affiliate links to Amazon or other vendors I trust. Please read my disclosure policy. As an Amazon affiliate, I earn from qualifying purchases.
Sugar Hill Bar-B-Q: The Legend of James Conyers Sr. Continues
The original Sugar Hill Bar-B-Q was founded by James Conyers, Sr., in 1954, though it has roots dating back to 1910. Today, it is run by Moise Conyers' grandson, Al Conyers.
It is no secret when Alonzo "Al Conyers" Witherspoon is up late working: All his neighbors on Oak Grove Church Road can smell his BBQ for miles around.
Origins and History
However, Witherspoon is not the first to run Sugar Hill Bar-B-Q. He is the third generation of his grandfather's family to run it. Witherspoon's father took charge in 1940. Today, Witherspoon's nephew is already training.
"We opened at this location – 3006 Oak Grove Church Road – on Labor Day weekend in 2011," Witherspoon said. "Our old location, Sugar Hill, which is where we get our name, it burned down, so we decided to put up a new shed here."
Now, Witherspoon worked in other places besides the family barbecue business. He worked a full-time job elsewhere for a while.
"I would help a little bit with my dad, but I also worked in Kingstree as a plant supervisor for eight years," he said.
The Sugar Hill Community
Growing up in the Sugar Hill community, Witherspoon graduated from Manning High School in 1973. He honors that very community in the name of his business and in efforts to support it.
"It's hard sometimes to have your own business, but it's nice to make your own hours and be your own boss," he said. "It's very rewarding. We try to do a lot for the community who has done so much for us."
Having been in business as Sugar Hill Bar-B-Q for so long has its advantages. Witherspoon loves when the "old-timers" come in and reminisce about his dad and grandfather.
"I enjoy hearing their stories," he said. "They always make me smile."
Satisfied Customers
That's not the only thing that makes him smile. Seeing the happy, satisfied faces of the customers at Sugar Hill Bar-B-Q also brings a smile to Witherspoon's face.
"My thing is pleasing people," he said. "When they walk away with a happy smile, or you see them smile after that first bite, that's one of the best things about this business."
Witherspoon plans to be behind the pit and the counter until the end.
"I will cook as long as my life lasts," he said. "I cook in my free time, or I read on cooking. Cooking is my life."
Aside from barbecue, Sugar Hill Bar-B-Q also prepares ribs and chicken and also caters events.
If you're on a Road Trip on Interstate 95 or just in the area, be sure to drop in for an authentic SC BBQ experience. Sugar Hill Bar-B-Q can be reached from either Exit 115 or Exit 119.
On the Menu:
Southern Pit Cooked Bar BBQ.
Southern food for Southerners.
BBQ Chicken, Ribs
Hash, Rice
Fresh Veggies,
Mac n Cheese
Potato Salad
Baked Beans, Coleslaw
and much more………
Walk-Ins Welcome, Good For Kids, Take Out, Delivery and Catering
What Folks are Saying about Sugar Hill Bar-B-Q
In her Google Review, Cheryl Mitchell makes her opinion of Sugar Hill Bar-B-Q clear:
AWESOME DOWN HOME COOKING – If you want delicious South Carolina Bar- B-Q, this is the restaurant for you.
Prices are reasonable and the food is delicious. The owners are just great down-to-earth people who will truly make you feel welcome in their establishment.
For those of you traveling from out of town, you might enjoy reading Deanna Passero Suppes' Sugar Hill Bar-B-Q experience:
Lovely BBQ establishment our family just visited as we travel to Florida from Long Island visiting fooderies just off I-95. We travel to FL about 3 times s year and like to try different spots each time but so far this is our favorite stop.
The food was great (amazing hush puppies and sweet tea, too) and the owners who live in the quaint house next door are so very sweet and accommodating.
We ate on their porch (but also have seating inside) and enjoyed a brief rain shower and picturesque scenery just after my husband and son had a quick game of checkers on the porch.
What a great break in our 16-hour drive!
The spot is saved in Trip Advisory so I'll always remember where to go when near the Manning/South Carolina area. One thing to note is Waze/Mapquest may tell you you're at the location already (at a house nearby) just travel a little longer and you won't miss it. It's set back from the street but in an open area.
We thoroughly enjoyed the lovely southern fare and will return to Sugar Hill Bar-B-Q soon!
---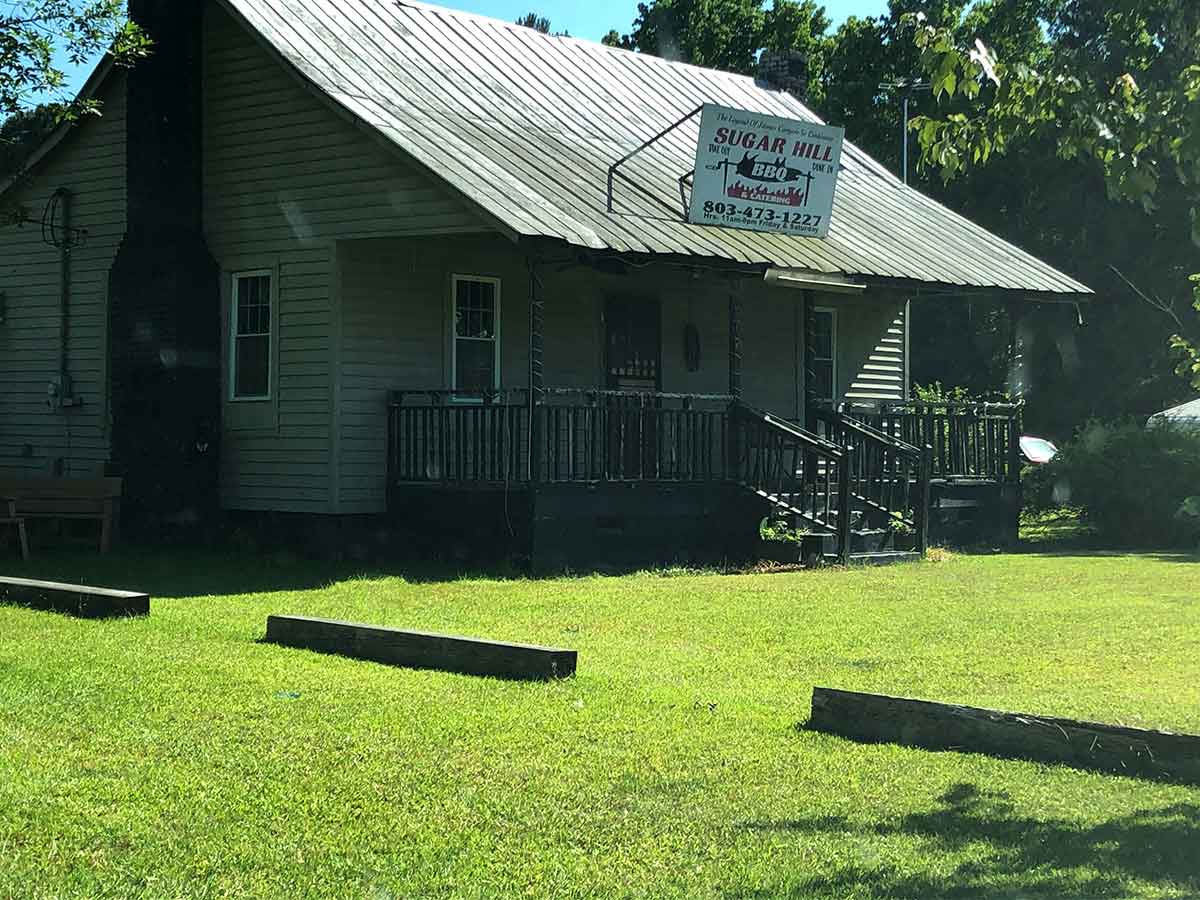 Sugar Hill Bar-B-Q
3006 Oak Grove Church Rd.
Manning,
SC
29102
| | |
| --- | --- |
| Monday | Closed |
| Tuesday | Closed |
| Wednesday | Closed |
| Thursday | Closed |
| Friday | |
| Saturday | |
| Sunday | Closed |
Social Media
Review Sites
Features
Cards and Cash, Hash, Vinegar Pepper Sauce, Whole Hog